THERE ARE FEW sexual positions more polarizing than 69. People either love it or find it really uncomfortable, but if you're someone who likes getting blowjobs and eating out your partner, there really is no better sex position.
In the 69 sex position, the two people involved (or three, if you're feeling extra frisky) give and receive oral sex simultaneously. "Engaging in this position with a partner is a way of getting super turned on before intercourse, and people find it highly intimate because of how close the two partners are to each other," says Dr. Lee Phillips, a psychotherapist and certified sex and couple's therapist. (One of you is literally on top of the other with your genitals on their face and in their mouth. What's more intimate than that?) "Another pro is that both partners receive pleasure simultaneously, which is highly erotic," Phillips says.
Sure, doing two things at once isn't the simplest thing in the world, but we have faith in your ability. Do your best not to get too distracted by how incredible it feels, even if your partner is a Throat Goat. Sometimes, one partner is so into the experience that the other partner stops while they keep going, says Venus Cuffs, a nightlife entrepreneur and retired pro-dominatrix. No one should be punished for having a magical tongue!
Now in order to get the most out of this position, both partners need to practice in order to get the hang of it. There's no need to rush. No one is perfect at anything in sex without time and attention. Honestly, that's half the fun of sex stuff anyway: the exploration and trial and error. The key is to find a style that works for both of you, where both people can find a way to do that is physically comfortable, fun to do, and hot.
With that said, let's talk about 69 and its many sexy-ass variations. This position can be a boatload of fun. It just takes enthusiasm, curiosity, and strong mouth muscles.
---
Best 69 Sex Positions
1) Classic 69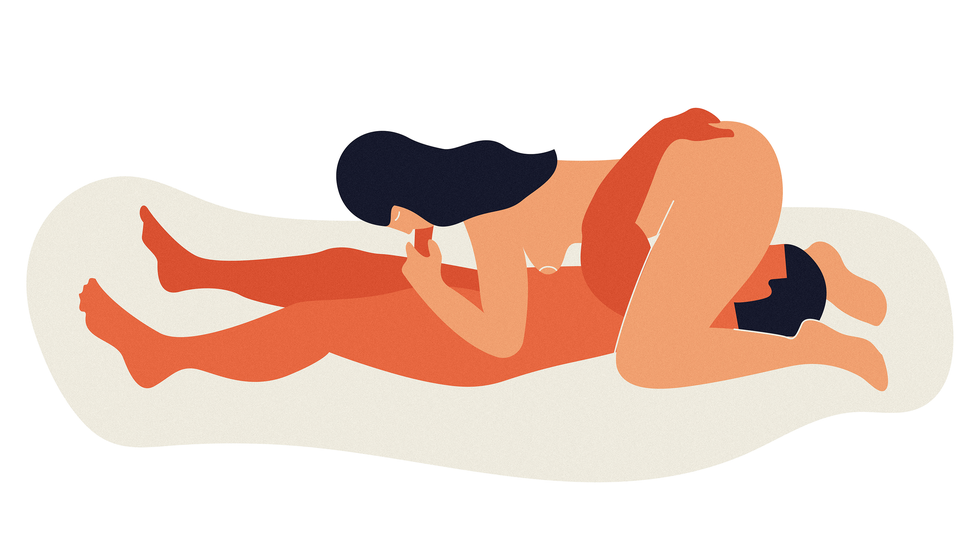 @alliefolino
How it works: Two people align themselves so that each person's mouth is near the other's genitals. This is done by having one person lie down on their back. The other lies on top of them with their knees straddling their partner's head. The two people can then perform oral sex on one another. In opposite-sex partners, the woman is typically the person on top, whereas the man is on his back.
Pro tip: "Sometimes there can be discomfort under the knees and head," says Cuffs. "And for folks with larger or curvier bodies depending on being top or bottom, it can also be uncomfortable, especially for extended periods of time." That's why Cuffs recommends using a pillow under the head, knees, or even bum. "Dame makes a sex pillow, Pillo, designed to support bodies during pleasure, that is one of the more budget-gentle options in the sex position market," Cuffs adds.
---
2) Inverted 69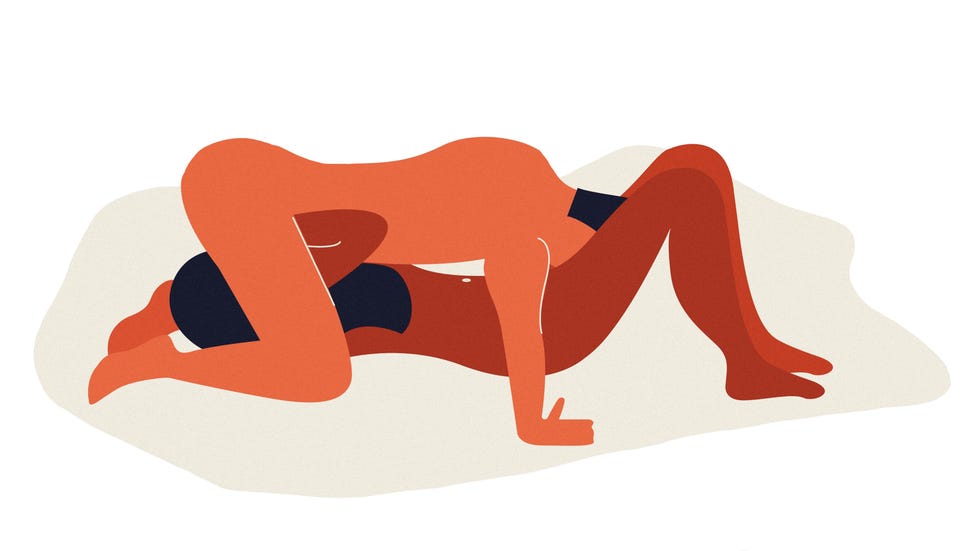 @alliefolino
How it works: It's the same as the classic, however, instead of the woman being on top, the man is.
Perks of variation: While not inherent in the variation itself, the inverted 69 position tends to be a rougher experience. "It's great if you want to try deepthroating," Phillips says. Because with the man on top, he has more control of his thrusting ability and can go a lot harder and deeper down the throat. "And if you or your partner loves testicles being in their face, this will be a turn-on," he adds.
---
3) Swinging 69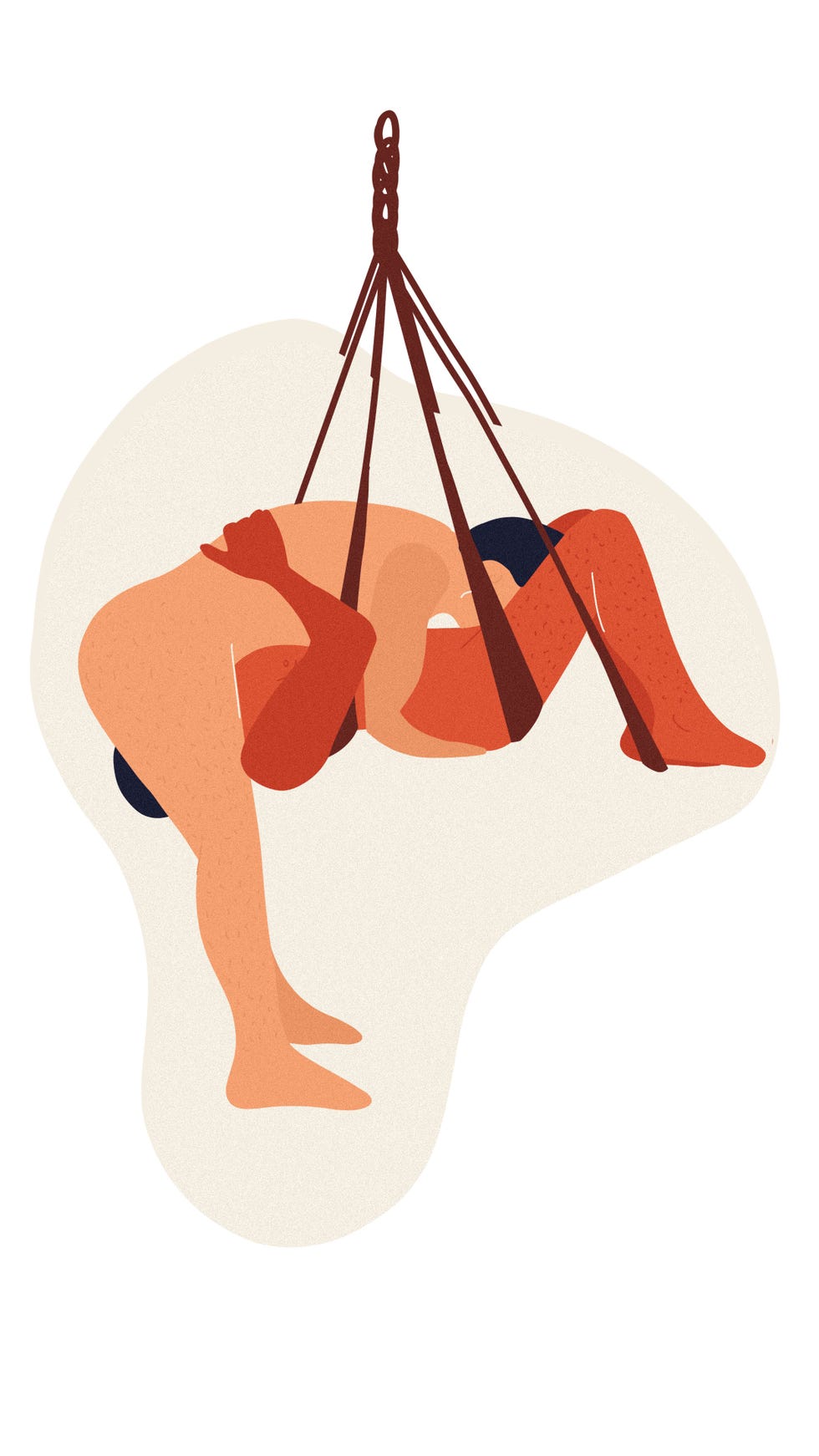 @alliefolino
How it works: If you're lucky enough to have a sex swing, then you absolutely need to try 69 while using it. One partner lays back in the swing with the straps around their back, lower butt, and heels. The second partner, with their legs firmly planted on the floor, bends over. From there, your genitals are in each other's faces, and you can start sucking!
Perks of variation: Typically, sex swing positions are much more about vaginal and anal penetration, so this is a fun way to include oral while on a sex swing.
---
4) Sideways 69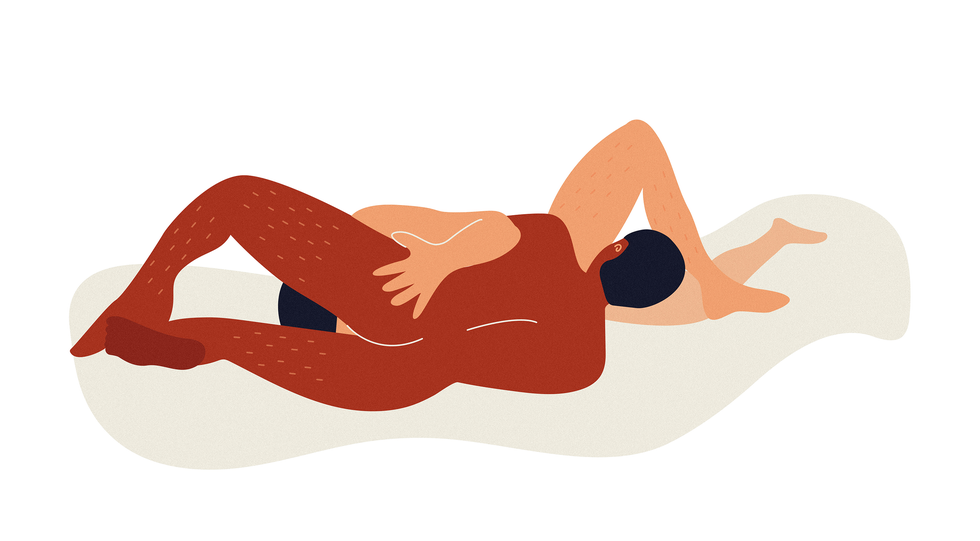 @alliefolino
How it works: Instead of positioning one on top of the other, both participants are lying on their sides.
Perks of variation: If you're struggling to reach each other's genitals with the classic 69, sideways 69 may be the position for you. In my experience, it makes it easier to reach everything. It also requires less work for the person who's traditionally on top. While on top, you're often on your knees and at least one elbow, which can get strenuous if done for long periods of time.
---
5) Sex Toy 69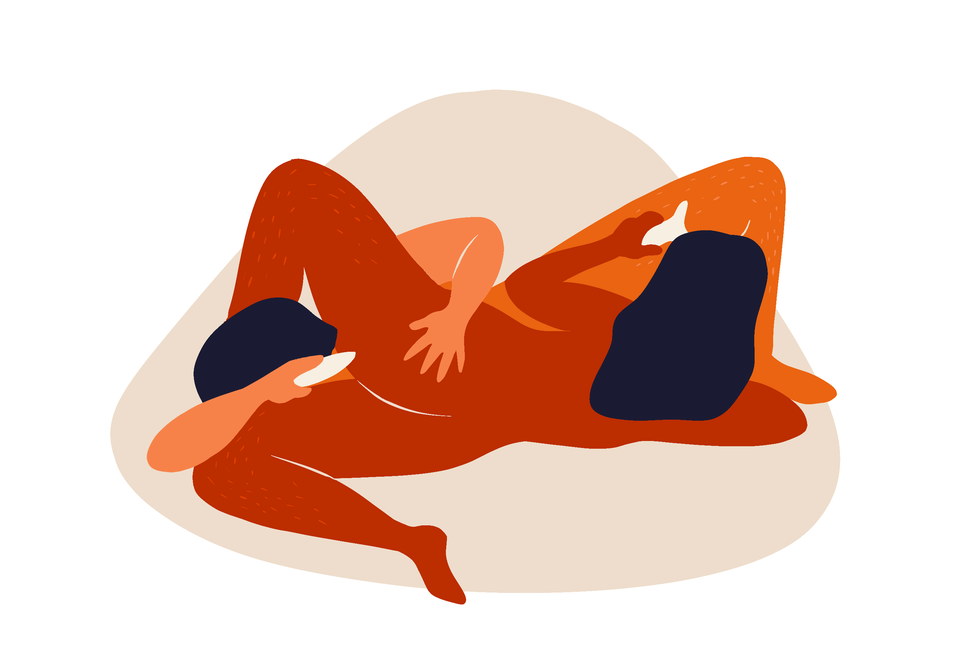 Sabah Shams
How it works: Assume the classic or sideways 69 position (or any variation that works for you). Grab your partner's favorite sex toy to use on them, while you grab your favorite sex toy for them to use on you. Clit vibrators and penis strokers can be really great for this position. Then, feel free to go to town on each other. Don't forget the lube!
Perks of variation: Not all 69-ing needs to involve mouths. Sometimes it can be just as fun to use toys while assuming the same "naughty" position. Using toys is less physical work, which can lead to increased focus on your own sensations. The distractions that come with both giving and receiving oral can make reaching climax less simple, so anything you can do to make it more straightforward is a win.
---
6) Squatting 69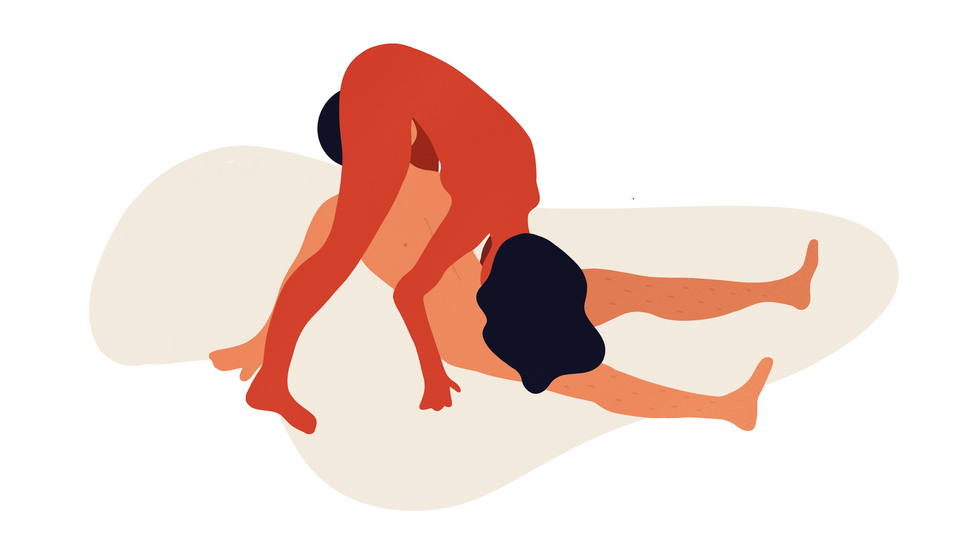 @alliefolino
How it works: Instead of having your partner lie on top of you, have them squat over you.
Perks of variation: This will require lower back, glute, and quad strength and flexibility, but if they have it, it's a fun variation of the classic. The squat variation also allows for better ass slapping.
---
7) The Standing 69 (aka Upright 69)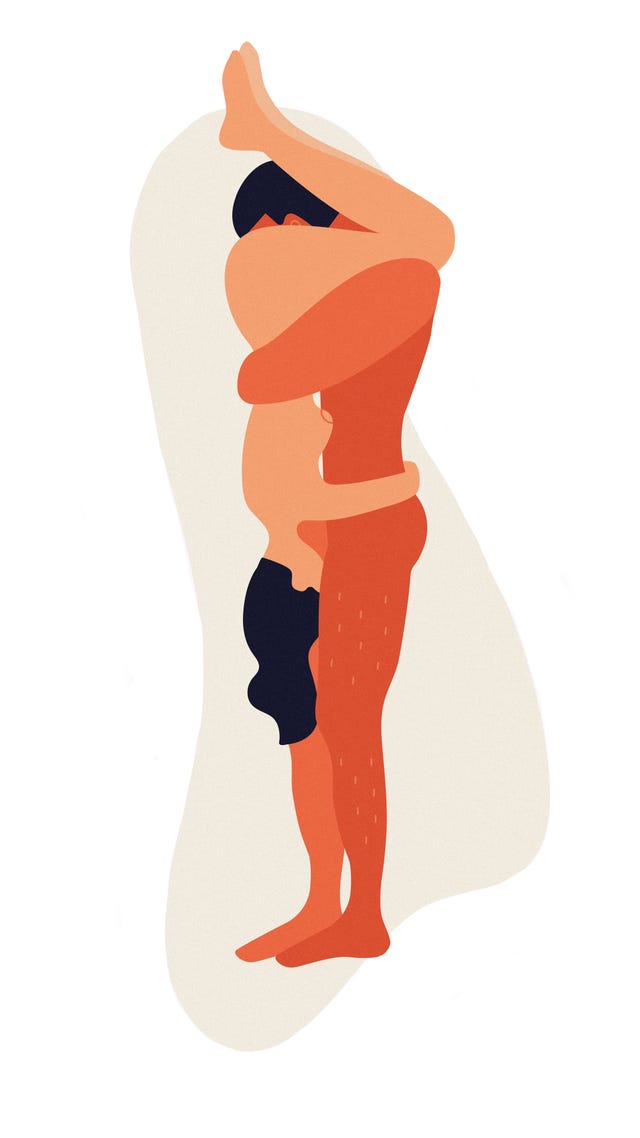 @alliefolino
How it works: Rather than lying on a flat surface, you actually hold your partner upside-down while you're standing.
Perks of variation: You will feel like a god if you're able to pull this off.
Cons of variation: Unless you are a muscle daddy, odds are you won't have the strength to pick up your partner safely. That's why this position is ideal when your partner is particularly petite.
---
8) Penetrative 69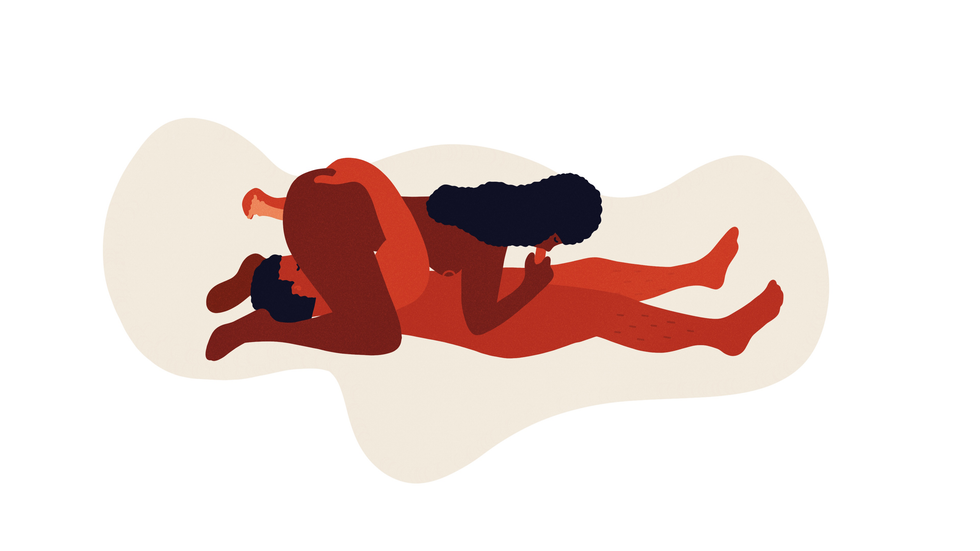 @alliefolino
How it works: In addition to orally stimulating your partner, use either your fingers or a sex toy to penetrate them. If your partner has a vagina, you can lick/suck their clitoris while digitally penetrating her vagina. Or, if your partner is into it, you can eat their vagina while you finger their anus (or vice-a-versa). You can do this with men, too. While being blown, have your partner massage your prostate for more intense pleasure.
Perks of variation: With internal stimulation, pleasure rises exponentially for both parties involved.
---
9) Analingus 69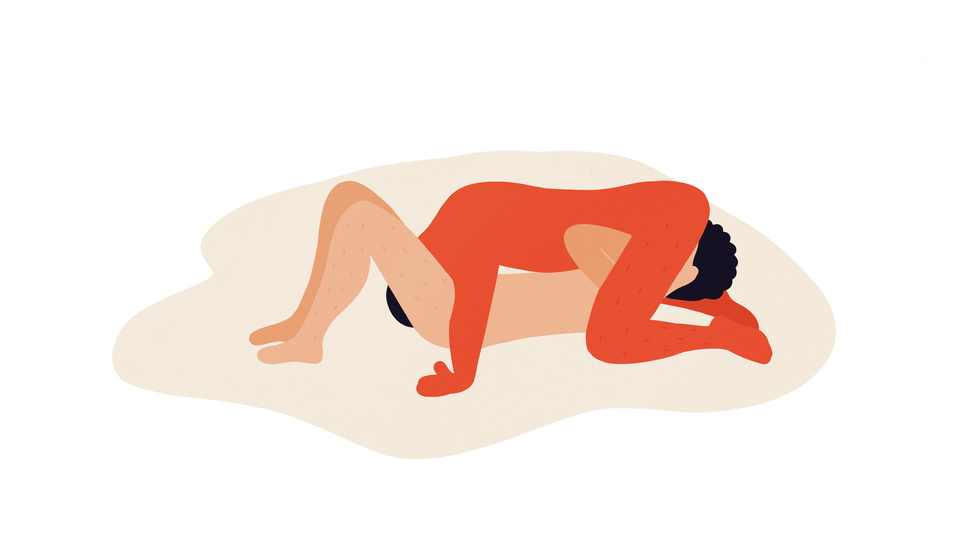 @alliefolino
How it works: While we're on the topic of anal-inclusive 69 variants, you can just eat out your partner's booty exclusively. Or, a variation that is common among two men is when the "bottom" (the one receiving anal) blows their partner, where the top (the man who will insert his penis into his partner) eats out their partner's anus. It's a form of foreplay to loosen and warm up the bottom for penetrative anal sex.
Perks of variation: If you're into anal and/or prostate play, this is for you.
---
10) Threesome 69 (aka The Triangle)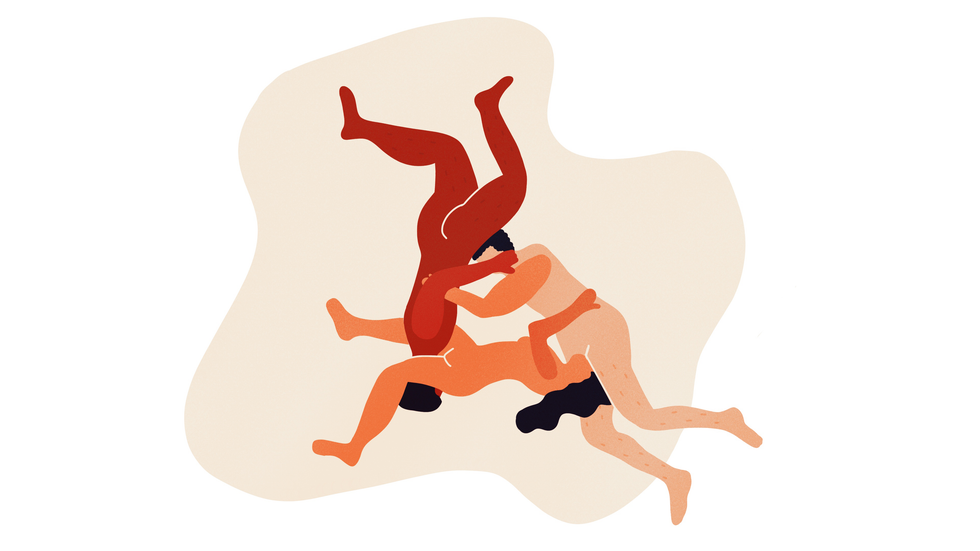 @alliefolino
How it works: Well, first and foremost, you need to bring a special third in for the threesome 69. While lying on your side with your partners in a triangle formation, each partner performs oral on the next person. In this position, you will perform oral on one partner and receive oral from the other.
Perks of variation: It's hot to have a third person in on all the fun. It's also a threesome position that's equally inclusive of all parties involved.

Gigi Engle is a writer, certified sexologist, sex coach, and sex educator. Her work regularly appears in many publications including Brides, Marie Claire, Elle Magazine, Teen Vogue, Glamour and Women's Health.