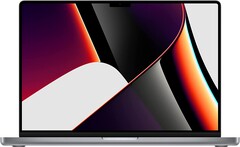 The 2021 Apple MacBook Pro is now available at a substantial discount on Amazon. Savings of nearly US$1,160 can be had with a configuration that features a 10-core M1 Pro SoC, 16 GB RAM, and 512 TB SSD, which original retailed for US$2,699 at launch. Upgrading the storage to 1 TB can still net a substantial US$994 off.
The 2021 Apple MacBook Pro 16 received good praise in our review for its fast, efficient performance and a great display. The MacBook Pro 16 2021 debuted at a starting price of US$2,699 featuring an M1 Pro 10-core Soc, 16-core GPU, 16 GB unified memory, and a 512 GB SSD. Now, an even more powerful configuration can be had with significant savings.
Amazon US is now offering the 2021 MacBook Pro 16 for just about US$1,704.95. This gets you a 10-core M1 Pro, 16 GB unified memory, and a 1 TB SSD. That's a massive US$994 in savings combined with double the storage. Alternatively, if 512 GB storage is enough for your needs, you can shave off an additional US$165.72 for a total of nearly US$1,160 in savings.
Although the M1 Pro is a couple of years old by now, it's no performance slouch and should be able to tackle all modern Mac workflows with relative ease and improved power efficiency. As shown in our M2 Pro and M2 Max analysis, the M2 Pro 10-core only seems like an iterative improvement over the M1 Pro.
While the M2 Pro does show decent gains in multi-core and GPU benchmarks over the M1 Pro, the latter still makes for a great chip and you're unlikely to notice major differences in daily usage. Unless you're chasing performance numbers, the massive savings definitely outweigh any perceivable advantage the M2 Pro brings to the table.
Grab the deal while stocks last at the below link:
Disclaimer: Notebookcheck is not responsible for price changes carried out by retailers. The discounted price or deal mentioned in this item was available at the time of writing and may be subject to time restrictions and/or limited unit availability.
Related Articles
Though a cell and molecular biologist by training, I have been drawn towards computers from a very young age ever since I got my first PC in 1998. My passion for technology grew quite exponentially with the times, and it has been an incredible experience from being a much solicited source for tech advice and troubleshooting among family and friends to joining Notebookcheck in 2017 as a professional tech journalist. Now, I am a Lead Editor at Notebookcheck covering news and reviews encompassing a wide gamut of the technology landscape for Indian and global audiences. When I am not hunting for the next big story or taking complex measurements for reviews, you can find me unwinding to a nice read, listening to some soulful music, or trying out a new game.
Vaidyanathan Subramaniam, 2023-07-20 (Update: 2023-07-20)