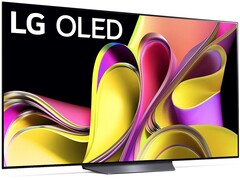 The mid-range model of LG's latest 2023 model year of OLED TVs has dropped to its most affordable price since its release earlier this year and thereby becomes a reasonable pick for prospective television buyers who don't want to pay extra for the higher peak brightness of the higher-end sister models.
The B-series usually offers one of the best values in LG's OLED lineup. Although the C3 and beautiful G3 are a great choice for affluent home theater enthusiasts with a larger budget, the LG B3 OLED strikes a nice compromise as it features the same smooth 120Hz refresh rate, deep black levels and perfect contrast ratio that make these sets so attractive.
Fittingly, the 2023 LG B3 has now dropped to its lowest sale price so far as a well-known third-party Amazon seller has introduced a substantial 25 percent for the 65-inch version of the OLED TV, which was originally sold for US$2,399. The resulting deal price of US$1,795 is the lowest ever for this model variant of the LG B3 OLED, as indicated by the usually accurate price history from Keepa. Please make sure to select "Beach Camera" as the seller since the other offers on Amazon are currently charging more than that.
One of the most noteworthy concession that new owners of an LG B3 OLED will have to make is the lower peak HDR brightness, which maxes out at around 600 nits compared to the roughly 800 nits that the higher-priced C3 can reach. Apart from that, these two TVs perform quite similarly, and both feature HDMI 2.1 ports for full compatibility with current-gen gaming consoles such as the Sony PlayStation 5 and Xbox Series X/S. Even though these 2023 sets will receive even steeper discounts in the future, this is the cheapest opportunity yet to grab one of the market leader's latest 65-inch OLEDs with native 120Hz.
Disclaimer: Notebookcheck is not responsible for price changes carried out by retailers. The discounted price or deal mentioned in this item was available at the time of writing and may be subject to time restrictions and/or limited unit availability.
Related Articles
Enrico Frahn – Tech Writer – 2101 articles published on Notebookcheck since 2021
My fascination for technology goes back a long way to the Pentium II era. Modding, overclocking and treasuring computer hardware has since become an integral part of my life. As a student, I further developed a keen interest in mobile technologies that can make the stressful college life so much easier. After I fell in love with the creation of digital content while working in a marketing position, I now scour the web to bring you the most exciting topics in the world of tech. Outside the office, I'm particularly passionate about motorsports and mountain biking.
Enrico Frahn, 2023-07-22 (Update: 2023-07-22)