Image: Michael Crider/Foundry
At a glance
Expert's Rating
Pros
Lots of features for a fair price
Fun retro colors and feel
Dual Bluetooth and 2.4GHz wireless
Cons
May be too noisy for some
Extra buttons are huge
No adjustable feet
Our Verdict
8BitDo's first keyboard is definitely all-in on the retro aesthetic, but high-quality parts and solid wireless functionality make it a pretty darn good keyboard all on its own. The huge add-on buttons don't add much, and it may be too noisy for the office.
Best Prices Today: 8BitDo Retro Mechanical Keyboard
$99.99
The very first 8BitDo product I used was its first Bluetooth controller, a faithful recreation of the NES brick with a few extra buttons and Bluetooth. While 8BitDo has expanded its repertoire greatly in the last decade, the Retro Keyboard feels like a return to this original design, in both aesthetic and sensibility. It's basically a mechanical keyboard that's supposed to look like it would feel at home in a 1985 living room, but competently made with some modern bells and whistles. 
Make no mistake: This keyboard is all about the nostalgia. While it's perfectly capable of serving as your primary — or even your only — keyboard, it's definitely going to seem out of place unless your desk is littered with Mario and Zelda merchandise. (And perhaps the somewhat older and far less ergonomically sound N30 mouse to complete the setup.) But while it is a nostalgia piece, that doesn't mean it's a mere novelty. The Retro Keyboard is competent, shockingly so for such a stylized device, and that's high praise. 
Further reading: See our roundup of the best mechanical keyboards to learn about competing products.
8BitDo Retro Keyboard design: Longing for the '80s
The Retro Keyboard is an exercise in painstaking tribute. Every shade of plastic, every bit of printing is meant to evoke the design of the NES, from the two-tone case and keycaps to the splash of red in the text and the gigantic "A" and "B" buttons beneath the right Shift. Even the printed arrow keys' barely visible black-on-gray have the same chunky shape as the embossed arrows on the NES controller's D-pad. Good grief, there's even an old-fashioned bubble LED power indicator. 
Michael Crider/Foundry
The font printed on the keycaps, the striping on the slightly transparent sticker at the top of the case, even the dark gray base of the body itself — the whole thing looks like it's the official NES keyboard that Nintendo never made. The dedication to retro aesthetic even extends beyond the parts that could actually be associated with the NES itself. An analog volume dial, radial switch for power and wireless modes, and the high-profile keycaps all harken back to consumer electronics from 40-odd years ago. 
(I should point out that this review unit has the colors of the U.S. and international version of the NES, the "N" version. If your retro sensibilities demand original Japanese Famicom colors, the "Fami Edition" of this keyboard is what you want.)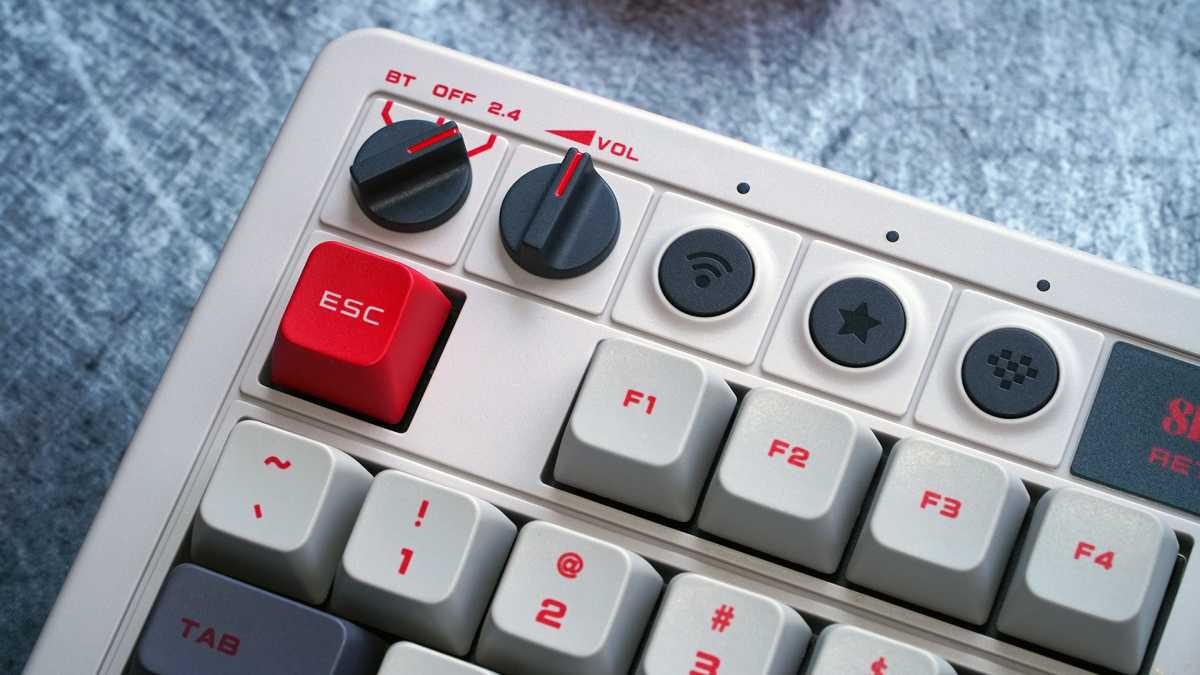 Michael Crider/Foundry
Outside of the retro presentation, this board has a few things you won't find on a normal TKL layout. The left-most dial at the top lets you click between Bluetooth and 2.4GHz wireless dongle connections, with an Off setting between them. Next to that is an old-school volume dial, reminiscent of ye-olde boom boxes. Next is the Bluetooth pairing button, the programming button (more on that later), and the profile switcher. 
On the top end you'll find a magnetic cubby for the wireless dongle, the USB-C charging port, and four barrel ports labeled A, B, X, and Y. These tie into perhaps the keyboard's most visually striking feature: gigantic add-on buttons. There's one set of two in the box, labeled A and B, but you can buy up to three more wired pairs for a total of eight programmable buttons.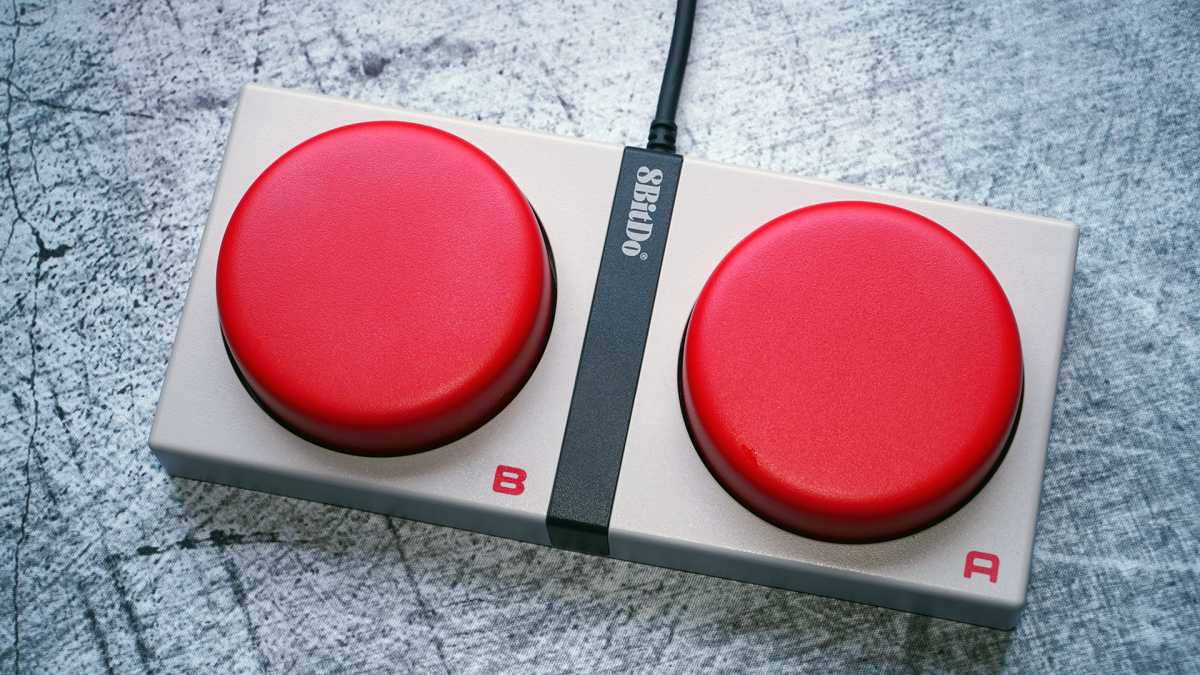 Michael Crider/Foundry
These gigantic facsimiles of the NES controller's primary buttons are a bit of a gimmick, to be honest. Pop open the plastic tops and you can see that they'e just huge covers for two ordinary mechanical switches. That makes these two buttons, and all additional ones you might choose to connect, basically just an elaborate macro row. And one that takes up an enormous amount of space, especially if you've got four wires running out of them…which rather defeats the purpose of a wireless board. 
While I appreciate having additional functionality via macro keys, and some may find the oversized aesthetic charming, I'd really rather just have a few extra buttons on the keyboard itself. After the requisite testing for this review, I put away the add-on pad and didn't miss it.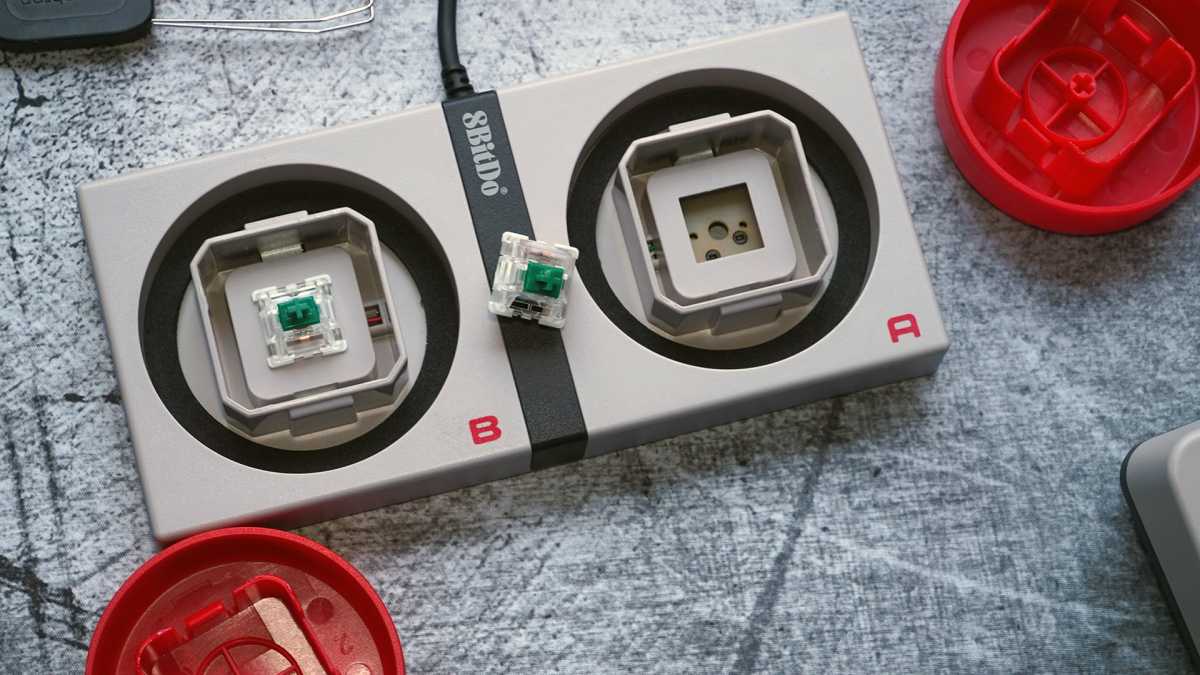 Michael Crider/Foundry
And that's your lot. It's a very nice-looking board, in that extremely specific way that will probably appeal to anyone who can draw a Super Mario sprite from memory. Note that there are no RGB LEDs, because rainbow gamer keyboards didn't exist in the '80s. But how does it compare to more serious keyboards? 
8BitDo Retro Keyboard performance
Surprisingly well, actually. Let's start with those retro-inspired keycaps. The layout is standard TKL, so you could swap them out with almost any custom set. But if you're interested in buying this board, you're never going to do that. Which is just as well, because the high-quality PBT caps are also dye-sublimated. That's a fancy way of saying the legends will never wear off, no matter how many retrospective reviews of the original Metroid you write.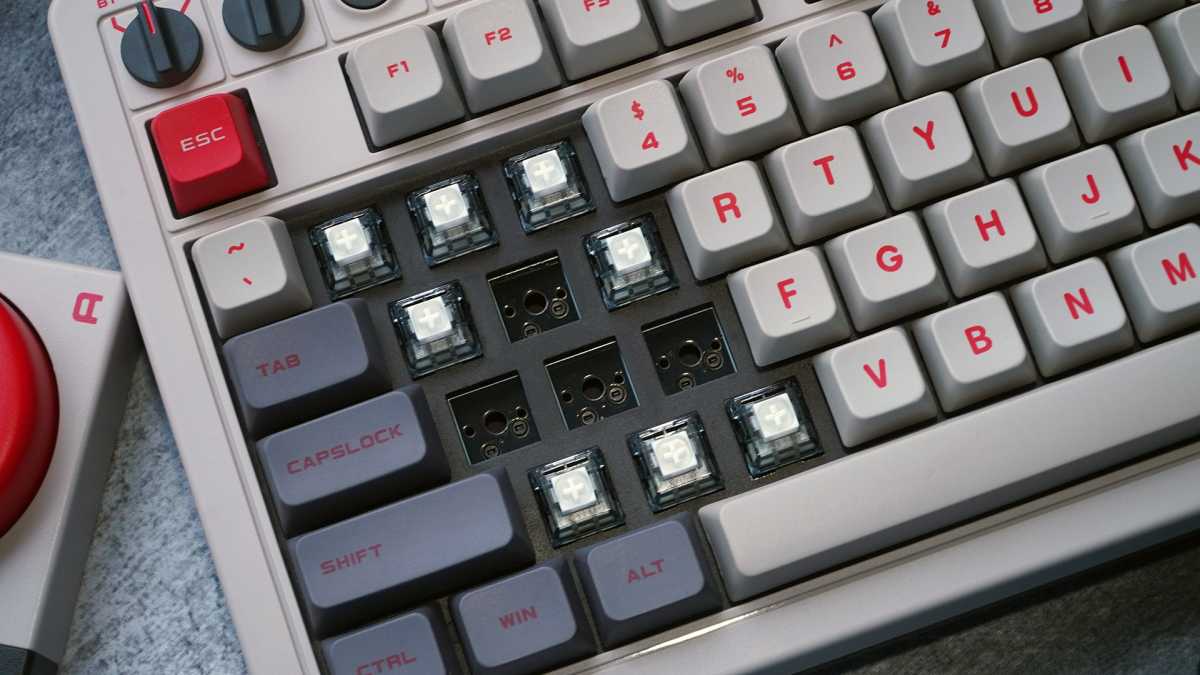 Michael Crider/Foundry
Underneath the tall but comfy caps are Kailh Box White V2 switches. These are rather loud and clicky, which I wasn't expecting — you'd think that 8BitDo would go for fast linear switches in a board aimed ostensibly at gamers. My second guess is that they're trying to emulate the loud click-clack of the famous IBM keyboards of the '80s. Either way, know that while these are quality switches with very smooth, stable action, they are loud, considerably louder than even standard mechanical boards. 
If that's not your thing, then don't worry, you can swap them out. 8BitDo has included hot-swap switch sockets on this board, a premium feature that I'm a little surprised to see, but nonetheless happy for. So if you prefer something faster you can swap in standard Red switches, or even go for any number of "silent" options. (And yes, the clicky green switches on the add-on buttons are hot-swappable too.)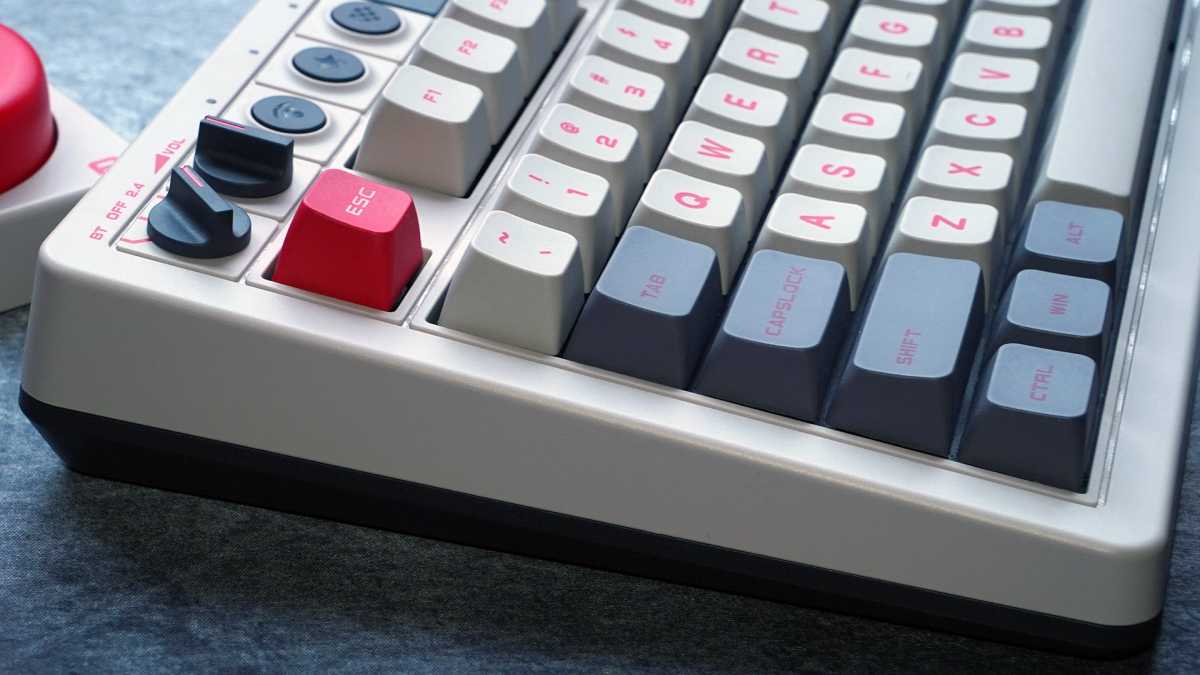 Michael Crider/Foundry
Typing on the Retro Keyboard is satisfying, with the plastic deck and case offering a bit of give. The stabilizers rattle a little, so keyboard snobs like me might bemoan the lack of lubing, but it's more than acceptable for regular users. Again, it's very loud and clicky, which won't be everyone's cup of tea. Ditto for the old-fashioned high-profile keycaps — if you're used to something like Logitech's MX line, or just a solid laptop keyboard, this will require some serious adjustment. 
Gaming is a bit of a mixed bag. While the keyboard offers a wired connection and a 2.4GHz dongle for speed (don't try gaming on Bluetooth, it's too slow), plus N-key rollover, the included Box White switches aren't ideal for twitchy shooters or even fast-paced strategy or MOBA games. It just takes too long to depress the keys to a register point and wait for them to bounce back. If you want to build this keyboard into a desktop gaming setup, I'd recommend springing for faster linear switches and swapping them out. 
Michael Crider/Foundry
There's one last omission that I noticed: The keyboard has no adjustable feet, which is more or less standard on any plastic case. So you'd better be happy with the relatively high profile of the chunky body, because it can't be adjusted. 
8BitDo Retro Keyboard programming options
Programming is available via a stand-alone Windows-only executable. It's pretty nice as these things go, and I appreciate that it can program the board (standard layout, alternate profiles, and macros) and update firmware without needing a full installation. But if all you really want to do is assign some keys or macros to those big add-on buttons, you don't even need the software, you can do it all with button combos. Overall, very well thought out.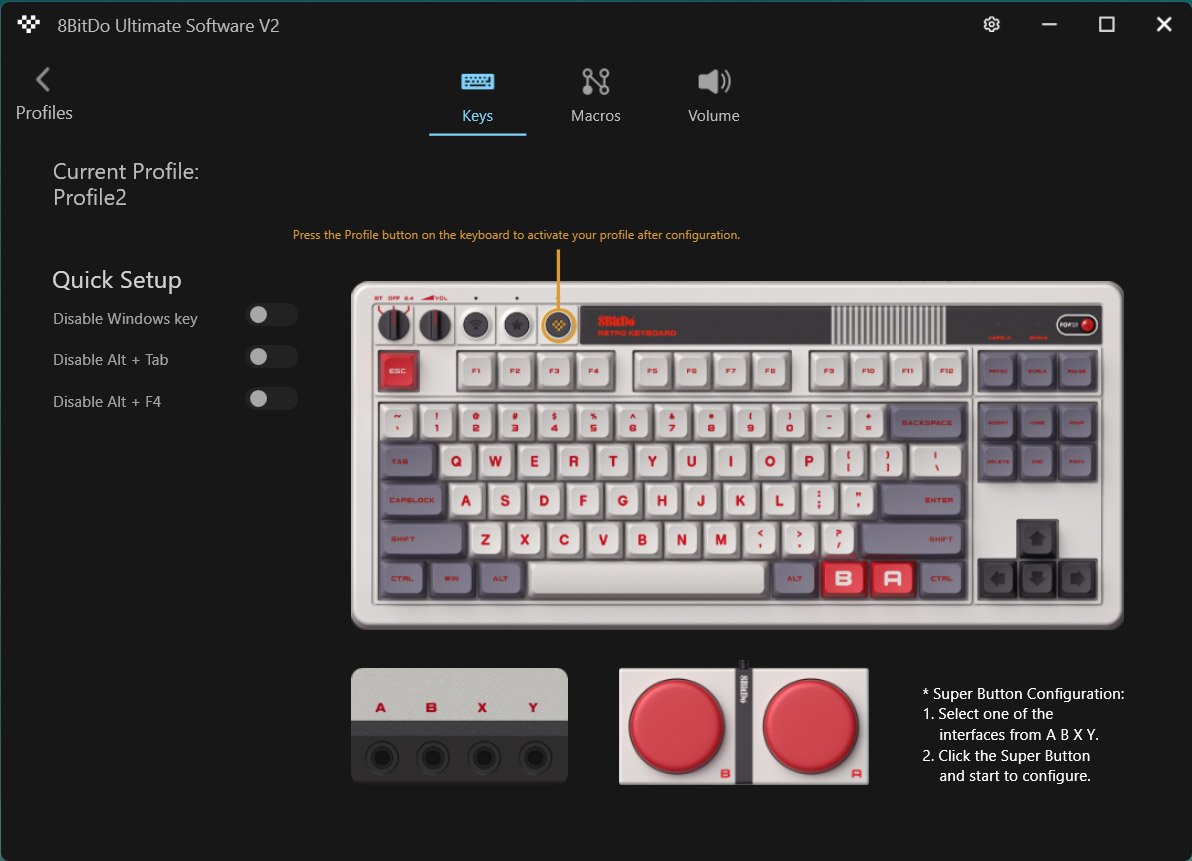 Michael Crider/Foundry
Is the 8BitDo Retro Keyboard worth it?
Generally, novelty retro hardware comes with a bit of a price hike, but 8BitDo is also known for solid value. And at $99.99, the Retro Mechanical Keyboard is indeed a good value. You'd be hard-pressed to find a board with PBT keycaps, hot-swap switches, and dual wireless options for that price, to say nothing of the add-on buttons and expansion capability. (Heck, there are outlets that will make you pay that much just for the keycaps!)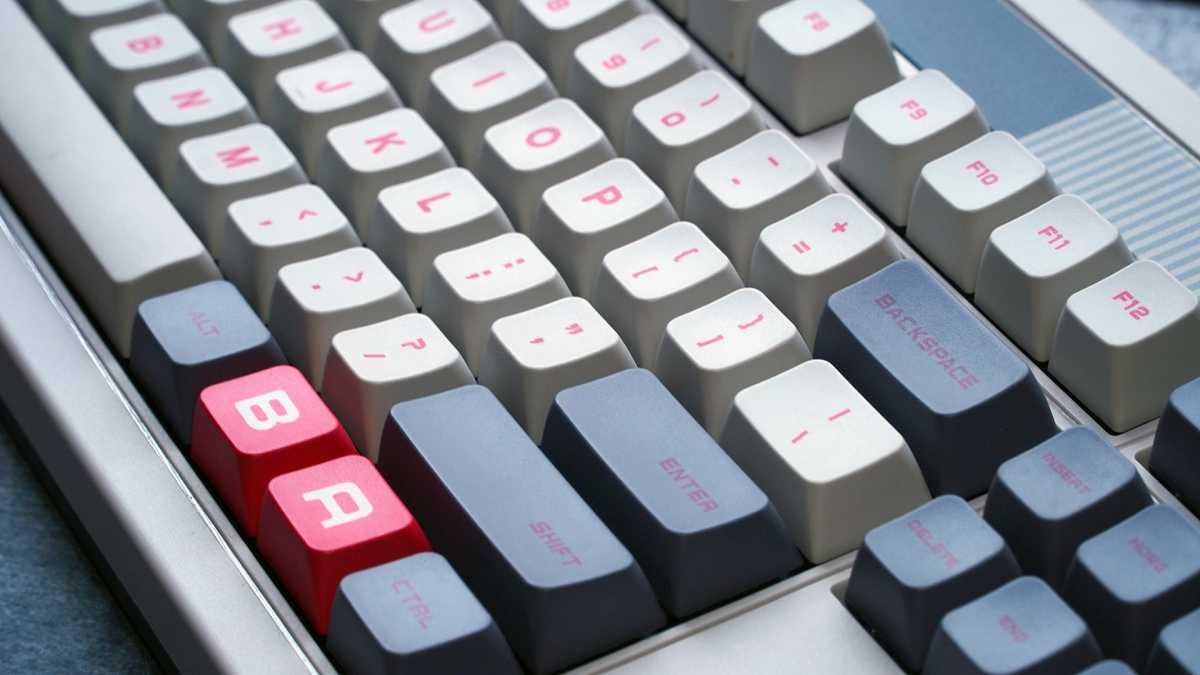 Michael Crider/Foundry
The styling of this board is going to be the make-or-break call for most users, but if you like the looks, rest assured it's a solid choice in its own right, and well worth the price tag. While I wish it had more switch choices and was a little less noisy, it's hard to remember the last time I had this much fun just looking at a keyboard. 
Best Prices Today: 8BitDo Retro Mechanical Keyboard
$99.99