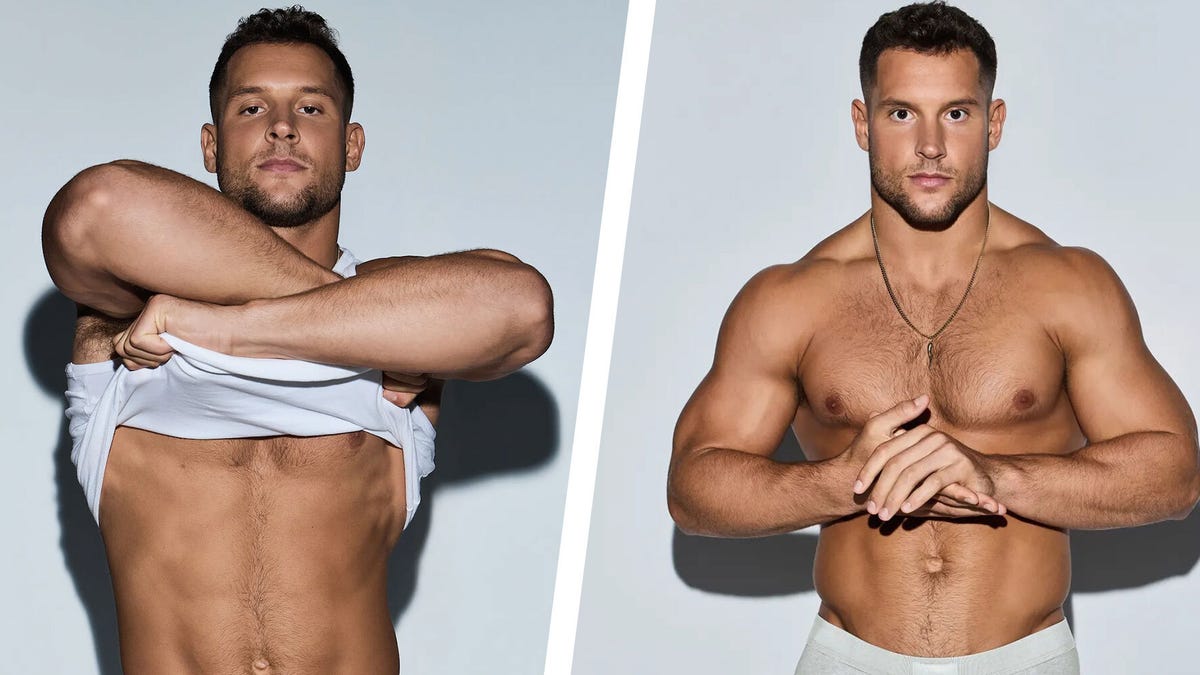 Kim Kardashian is expanding her clothing empire, and she's recruiting some of the fittest athletes in the world to model the new range from her Skims shapewear company. Following the brand's first experimental foray into menswear with the Boyfriend Collection in 2020, Kardashian has responded to subsequent demand with Skims Men's, a line of socks, underwear and T-shirts.
"We've never had a bigger request than to launch men's," she told GQahead of the October 26 launch.
As with anything that Kardashian does (or even lends her name to), this venture is already garnering plenty of attention—thanks in no small part to San Francisco 49ers defensive lineman Nick Bosa, whose sculpted, shirtless physique takes center stage in the thirsty A.F. promotional photos.
In addition to Bosa, Kardashian tapped Brazilian soccer player Neymar Jr. and Oklahoma City Thunder point guard Shai Gilgeous-Alexander to be the new products' inaugural spokesmodels.
"I was surprised by how many men, especially athletes, gravitated to the brand," said Skims co-founder Jens Grede, who has previously helped NFL GOAT Tom Brady launch his own apparel line, Brady Brand. "They would say, 'If you ever do men's, we will be in the campaign. If you ever do men's, you got to think of me first.'"
As a result of the line-up of Bosa, Neymar and Gilgeous-Alexander in the campaign, Skims Men's has essentially been gilded as a de facto athletic brand upon its launch—and Kardashian is more than happy with that connection.
"Having someone from each sport, and me traveling the world to go to these soccer games with my son and all of his friends—getting some of their idols in the campaign is like a 'pinch me' moment," she said.
Philip Ellis is News Editor at Men's Health, covering fitness, pop culture, sex and relationships, and LGBTQ+ issues. His work has appeared in GQ, Teen Vogue, Man Repeller and MTV, and he is the author of Love & Other Scams.
Advertisement – Continue Reading Below
Advertisement – Continue Reading Below