Outside of George Lucas himself, there aren't many people who have had a larger impact on Star Wars, over a more sustained period of time, than Dave Filoni. While Filoni isn't as much of a household name as Lucas (who created Star Wars), J.J. Abrams (who directed two of the three sequel trilogy films), or even Mandalorian creator and partner-in-crime Jon Favreau, he's the person behind some of the best-received stuff in the entire Galaxy Far, Far Away.
After working on Avatar: The Last Airbender, Filoni was brought in to work on the 2008 animated film Star Wars: The Clone Wars by George Lucas himself, before eventually becoming involved with the long-running animated series of the same name and creating the much-acclaimed Star Wars: Rebels.
In this process, Filoni created the character of Ahsoka Tano, who began as Anakin Skywalker's Jedi padawan and who in the years since, through appearances across these animated series, live-action (in both The Mandalorian and The Book of Boba Fett) and even a novel (titled Ahsoka), become one of the most popular characters in the entire franchise.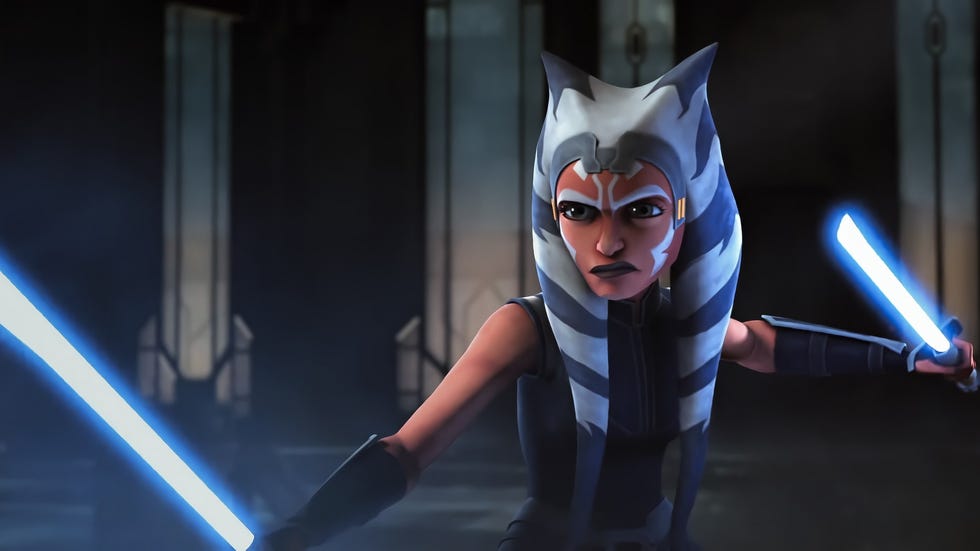 Lucasfilm//Disney
In frequently working with Favreau on Mandalorian and Boba Fett, Filoni got the opportunity to tee things up for what will likely be his biggest project yet: Ahsoka, a live-action series focused on actress Rosario Dawson's live-action take on the titular character.
However, Ahsoka will be a tricky gambit to pull off. Filoni and Favreay will have the unenviable task of needing to make a show that is accessible to potential new fans, and also one that pays dividends to the countless die-hard fans who've invested their ever-valuable free time into watching (and rewatching) The Clone Wars, Rebels, and more.
After Andor and Season 3 of The Mandalorian, the bar on TV is set high. Can Filoni top it?
Does Ahsoka tie in with The Mandalorian?
It sure does. Ahsoka Tano made her live-action debut in The Mandalorian, before appearing again in one of the Din Djarin-focused episodes of The Book of Boba Fett.
Season 3 of The Mandalorian also contained some major hints about Grand Admiral Thrawn—Ahsoka's nemesis and likely primary villain of the Ahsoka series.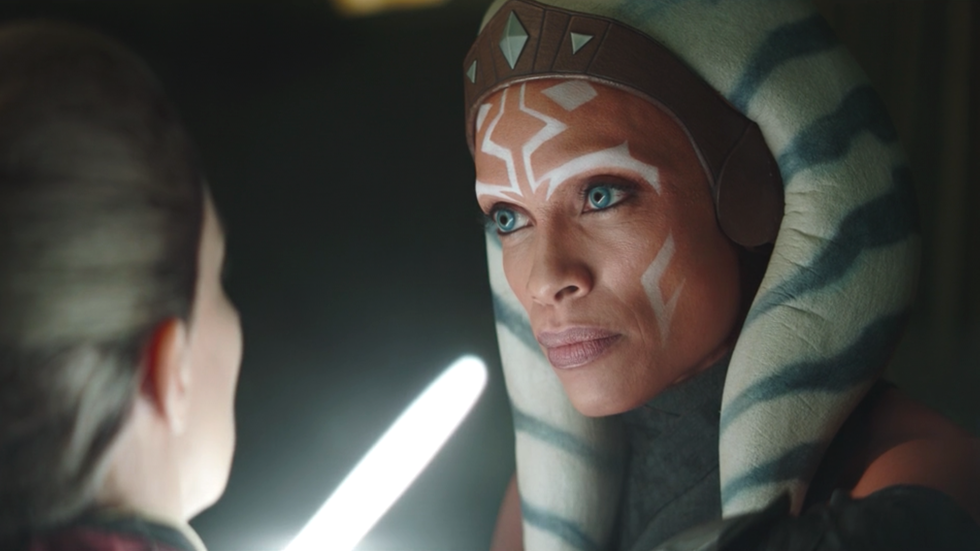 Disney
When is Ahsoka coming out on Disney+?
We don't have a specific date yet, but Ahsoka will hit Disney+ in August 2023.
If we had to take a guess, we'd say that the show will debut on August 9; the Marvel Cinematic Universe series Secret Invasion will wrap up its own six-episode run on July 28, which would leave August 2 as a one week buffer before Ahsoka kicks off on August 9.
How many episodes of Ahsoka will there be?
Ahsoka will have 8 episodes in its first season. It's unknown at this time if the show is seen as an ongoing project (like The Mandalorian), a limited series (like Obi-Wan Kenobi), or something in between (like Andor, which was always planned to run for two seasons).
What do I need to watch before Ahsoka?
We can't determine that right now. But we'd assume that anyone could probably watch Ahsoka and enjoy it without having even seen anything else; it's not officially a sequel to any live-action or animated series. If you come into Ahsoka cold, you'll be pretty OK.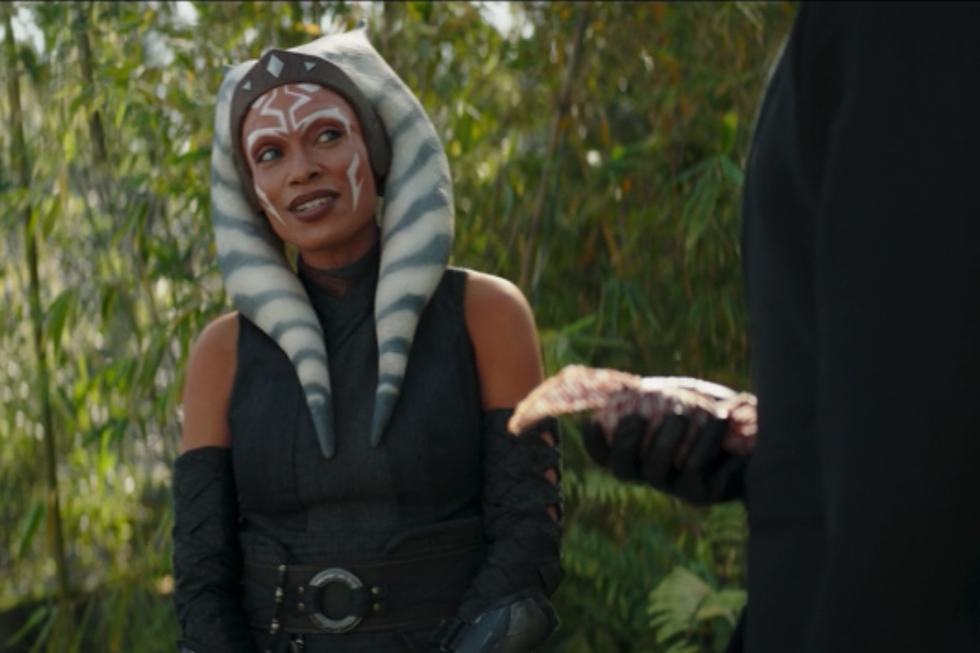 Disney+
That being said, there's plenty you can watch that will likely enhance your experience. The live-action version of Ahsoka Tano appeared, played by Rosario Dawson, in both The Mandalorian (in Season 2, Episode 5, "The Jedi") and The Book of Boba Fett (in Episode 6, "From the Desert Comes a Stranger"); both of these should directly lead into the live-action Ahsoka series.
Watch "From the Desert Comes a Stranger" Here
Ahsoka is also prominently featured in the Star Wars animated series, starting as a young Padawan to Anakin Skywalker in the 2008 Clone Wars film. This leads directly into the Star Wars: The Clone Wars series (of which there are 133 episodes), and also, perhaps more importantly, Star Wars: Rebels (of which there are 75 episodes). Many of the Rebels characters, including Sabine Wren and the villainous Grand Admiral Thrawn, will appear in live-action in Ahsoka.
Watch Star Wars: The Clone Wars (2008) Here
Watch Star Wars: The Clone Wars Series Here
If this seems daunting but you still don't want to go in 100% cold, there's a section in the Star Wars section of Disney+ labeled "Ahsoka Tano Essential Episodes" that should serve as a solid CliffNotes on the character.

Disney+
What will Ahoska be about?
Ahsoka will pick up with an older Ahsoka Tano (played again by Rosario Dawson) in the years following the fall of the Empire and her appearances in both The Mandalorian and The Book of Boba Fett. In "The Jedi" episode of The Mandalorian, Ahsoka revealed that she was searching for Grand Admiral Thrawn—likely her primary motivation in the Ahsoka series as well.
Characters from Star Wars: Rebels, including Ezra Bridger, Sabine Wren, Hera Syndulla, and Grand Admiral Thrawn will appear and be part of the story, along with Mon Mothma, who we last saw in Andor. Anakin Skywalker will also appear, likely as either a Force Ghost or through flashbacks
There's also a teaser trailer, which looks like an absolute blast:
Who's in the Ahsoka cast?
Rosario Dawson will once again play the titular character, and she'll be joined by Mary Elizabeth Winstead playing Hera Syndulla, Natasha Liu Bordizzo as Sabine Wren, Lars Mikkelsen (brother of Mads, who played Galen Erso in Rogue One) as Grand Admiral Thrawn, Genevieve O'Reilly as Mon Mothma, and Hayden Christensen as Anakin Skywalker.
Outside of Thrawn, the series will also feature a trio of villains: Ray Stevenson as Baylan Skoll (a turned Jedi with a very cool orange lightsaber), Ivanna Sakhno as Shin Hati, and Diana Lee Inosanto as Morgan Elsbeth (a character who also appeared in "The Jedi" episode of The Mandalorian).

Evan is the culture editor for Men's Health, with bylines in The New York Times, MTV News, Brooklyn Magazine, and VICE. He loves weird movies, watches too much TV, and listens to music more often than he doesn't.