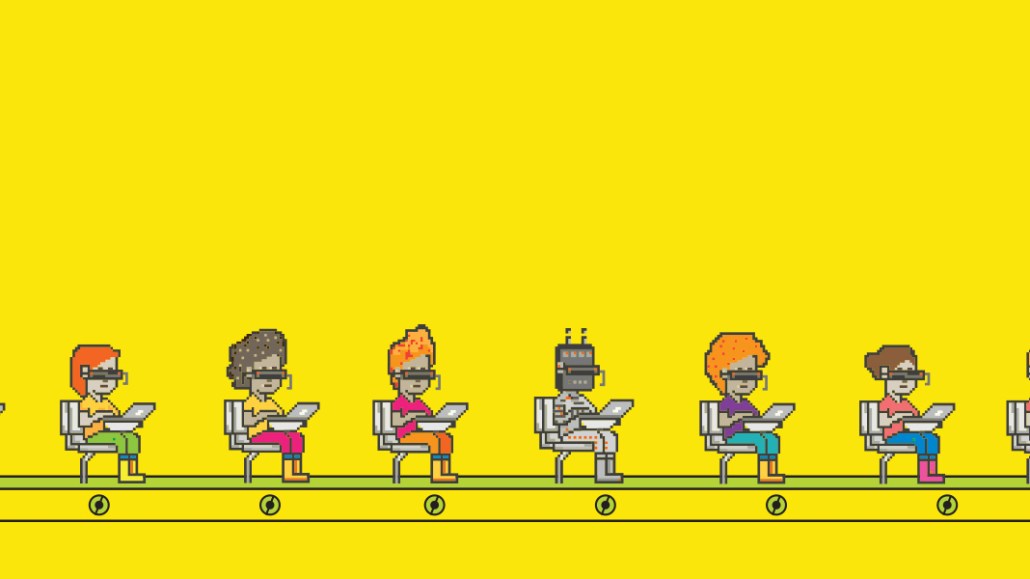 As top tech leaders visited Capitol Hill last week for more AI conversations — some under oath and others behind closed doors — several of the largest platforms released even more generative AI tools for marketers and creatives.
Last week, Adobe expanded its Firefly AI platform beyond beta to make it generally available across Adobe's Creative Cloud and Experience Cloud. The new features in Photoshop and Illustrator will let people use AI to recolor photos, add or remove images and other tasks. Meanwhile, other programs like Premiere Pro and After Effects will sport new AI-powered features including ways to remove filler words and background noise with text-based editing.
Along with all the creative tools, Adobe announced something called "content credentials," which embeds tamper-evident metadata into Firefly-generated content to show when images are created or edited with AI. The data won't reveal any personally identifiable data, but will include info such as an output thumbnail, who issued the credential (Adobe), a summary of the content, which app or device was used, the AI tool that created the image, and actions taken during the editing and creation process.
"It's not as if people are using generative AI to create bespoke [images and videos]," Deepa Subramaniam, Adobe's vp of product marketing, told Digiday. "They're oftentimes taking human-taken source materials like a photo on your phone or your photography hard drive and then using generative technology on top of that as an edit. That distinction is clear in the content editing credential."
Since its debut in March, Firefly's been used to generate more than 2 billion images, according to Adobe, with around 1 billion generated in just the past month. (The company also cited the new tools as part of the reason for increasing subscription prices by around 10%, which will take effect in November.)
Along with all the new AI features, Adobe also announced a new plan to pay stock photo contributors a bonus when their content is used to train Firefly. The news follows a related announcement by Bria AI — a much smaller startup backed by Getty Images — which earlier this month announced a way to pay content creators when AI-generated images are made with data from their content.
Here are some other major developments that took place last week:
AI policy and politics
Lawmakers continued their AI-related meetings and hearings in Congress, with the CEOs of major tech companies visiting Capitol Hill. The Senate Judiciary Committee held a hearing about how to legislate AI, with testifying witnesses including Microsoft president Brad Smith, Nvidia chief scientist William Dally and Boston University law professor Woodrow Hartzog. Meanwhile, top tech CEOs also met behind closed doors with U.S. Senator Chuck Schumer as part of the majority leader's Democratic's AI initiatives.
A bi-partisan AI bill recently introduced in Congress has already won some endorsements. Last week, the Center for AI And Digital Policy endorsed the U.S. AI Act, which aims to create a framework for U.S. regulations for AI. (On a related note, companies including Nvidia, Palantir and IBM also joined the White House's previously introduced AI Bill of Rights pledge.)
A day before Google's antitrust court case began, the company announced a new Digital Futures Project, which aims to research and foster discussions around responsible AI. The initiative also will provide $20 million in grant funding for think tanks and academics. The first groups to receive grants include the Aspen Institute, Brookings Institution, Carnegie Endowment for International Peace and various others such as MIT, R Street Institute and SeedAI.
Other AI product news
AI was a hot topic during Salesforce's Dreamforce last week in San Francisco, where the business giant announced a number of new AI products for Marketing Cloud and Salescloud. At a press conference ahead of Dreamforce, Salesforce AI CEO Clara Shih said "it's kind of like what 1999 was for the cloud, we're living it for AI." In addition to a new conversational AI assistant for companies, employees and customers, Salesforce also debuted Einstein Copilot Studio, a prompt builder for customers that want to customize prompt templates. (Salesforce is also letting companies use its new Einstein 1 Data Cloud for free with a cap of 10,000 profiles.)
YouTube also debuted a new AI tool last week that provides "creative guidance" to help optimize video campaigns. The feature uses AI to detect voiceovers, video length and aspect ratio and if a brand's logo appears prominently in the first five seconds.
Niantic rolled out new genAI tools for augmented reality, including new ways to help developers build WebAR experiences. With its new Character Engine, developers can also create "AI-driven brand ambassadors and characters" that can "learn, adapt, remember and navigate conversations." (Niantic's also tapped OpenAI's Dall-E and ChatGPT so developers can create AI-generated images and text.)
Beyond the giants, Runway released a Director Mode so users can control virtual camera movement when creating AI-generated videos on the platform. (If you're having a hard time picturing what this looks like, here's a demo.) Right now it's just for web browsers, but an iOS version is coming soon.
Additional AI coverage across Digiday
Agency giants have also continued developing new genAI capabilities. Last week, Dentsu debuted a new tool called d.Scriptor, which helps write copy for and optimizing paid search ads to increase creative volume and reduce time spent developing them. 
https://digiday.com/?p=518328