Image: Matt Smith
At a glance
Expert's Rating
Pros
The best motion clarity available today
Bright, vivid image quality
Compact ergonomic stand
AMD FreeSync model gets a price drop
Cons
Lackluster HDR
Still expensive for a 25-inch monitor
Our Verdict
Alienware's AW2524HF ditches Nvidia G-Sync for AMD FreeSync, but it retains 500Hz in all its high-refresh glory. If you're someone who wants a competitive edge and will settle for nothing short of the best then this display is the one to get.
In March 2023 Alienware released the first 500Hz monitor, the Alienware AW2524H. Priced at $829.99, it provided fantastic motion clarity and Nvidia G-Sync support at a steep price. As a follow-up Alienware has introduced the AW2524HF, which retains the 500Hz refresh rate but instead supports AMD FreeSync Premium Pro. It also cuts the price to $650.
Further reading: See our roundup of the best gaming monitors to learn about competing products.
Alienware AW2524HF: The specs
The Alienware AW2524HF's specifications are typical of a 25-inch esports monitor. It sticks with a 1080p IPS panel and provides just a handful of connectivity options. The star of the show is obviously the 500Hz refresh rate, which remains the highest refresh rate of any computer monitor currently available.
Display size: 24.5-inch
Native resolution: 1920×1080
Panel type: IPS LCD
Refresh rate: Up to 500Hz
Adaptive Sync: AMD FreeSync Premium Pro, VESA Adaptive Sync
HDR: Yes, HDR10
Ports: 1x HDMI 2.1, 2x DisplayPort 1.4, 4x USB-A 3.2 Gen 1, 1x headphone-out 3.5mm jack, 1x audio-out 3.5mm jack
Stand adjustment: Height, swivel, tilt, pivot
VESA mount: Yes, 100x100mm
Speakers: No
Price: $649.99 MSRP
Alienware's AW2524HF is extremely similar to its sibling, the AW2524H. The main difference is found in Adaptive Sync: The less expensive AW2524HF supports AMD FreeSync Premium Pro and VESA Adaptive Sync, while the AW2524H supports Nvidia G-Sync. The AW2524HF also has two DisplayPort 1.4 ports and one HDMI 2.1, while the AW2524H has one DisplayPort 1.4 port and two HDMI 2.1, plus two audio line-out jacks. Finally, the AW2524H includes customizable LED lighting not found on the AW2524HF.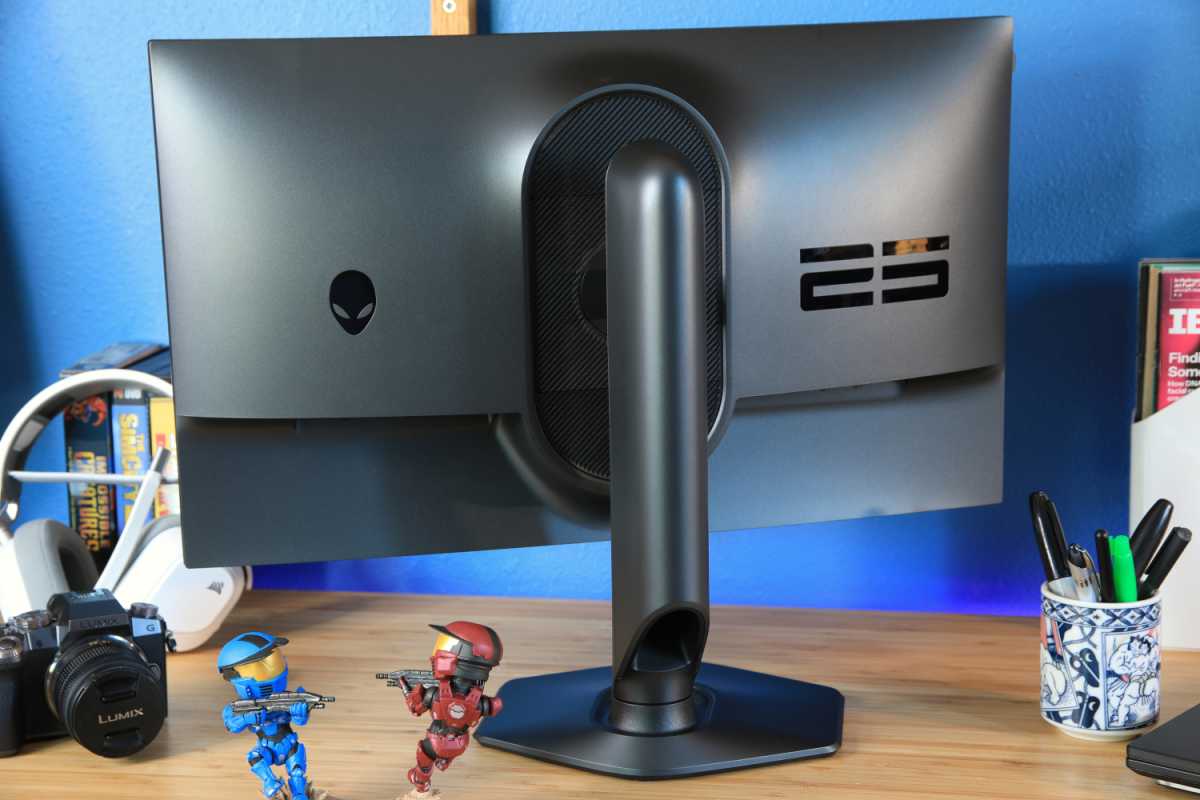 Matt Smith
Alienware's AW2524HF uses the company's now-familiar "Legend" design language, a mix of flowing curves and texture variations that come together for a retro sci-fi look. The monitor looks exceptionally similar to its G-Sync cousin, the AW2524H, and older Alienware monitors like the AW2524HF.
The only notable difference between the new AW2524HF is the absence of LED lighting accents. That's a difference from the AW2524H, which has them—and a bit disappointing. Yes, the AW2524HF is the "affordable" 500Hz monitor, but it still carries an MSRP of $650.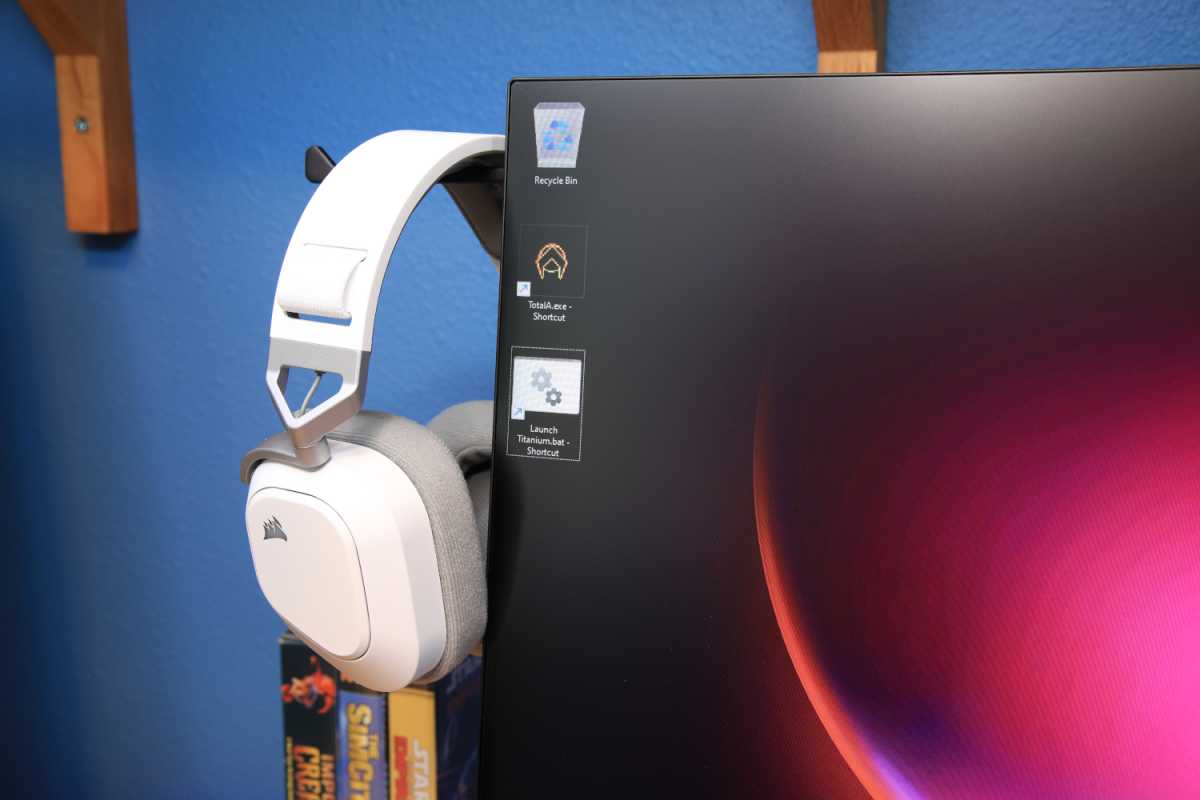 Matt Smith
Missing LEDs aside, the AW2524HF continues Alienware's tradition of excellent build quality. The monitor's exterior panels are plastic, but the materials used feel thick and the use of varying textures provides an upscale feel. The monitor also has a spring-loaded headset stand on its left flank, a feature it shares with the AW2524HF.
The monitor is supported by a compact stand with a hexagonal footprint. A small stand is good news if you have a small desk and can also prove useful for esports players, as some prefer wide, sweeping mouse movements that consume a great deal of desk space.
Ergonomic adjustments include height, tilt, and swivel. The monitor can even pivot 90 degrees for portrait orientation, though I doubt that adjustment will see much use given the monitor's focus on esports. A 100x100mm VESA mount is supported, too, for use with third-party monitor arms and stands.
Alienware AW2524HF: Features and menus
The new Alienware AW2524HF slightly alters its video connectivity, dropping one HDMI 2.1 port in favor of an extra DisplayPort 1.4, for a total of two DisplayPort ports. This is a smart choice, as HDMI 2.1 supports a maximum refresh rate of 240Hz at 1080p resolution. While I expect most owners will connect just one device (a high-end gaming desktop), it's nice to have the option to add a second PC and enjoy the maximum refresh rate of 500Hz.
Alienware tosses in a USB hub driven by a single USB-B upstream port. The hub connects to four additional USB-A downstream ports (two on the rear, and two on the monitor's lower lip). USB-C is absent, unfortunately—a feature I'd like to see Alienware embrace, since a USB-C hub can be so useful. Still, the presence of four USB-A downstream ports is good for a gaming monitor. Most stick with two.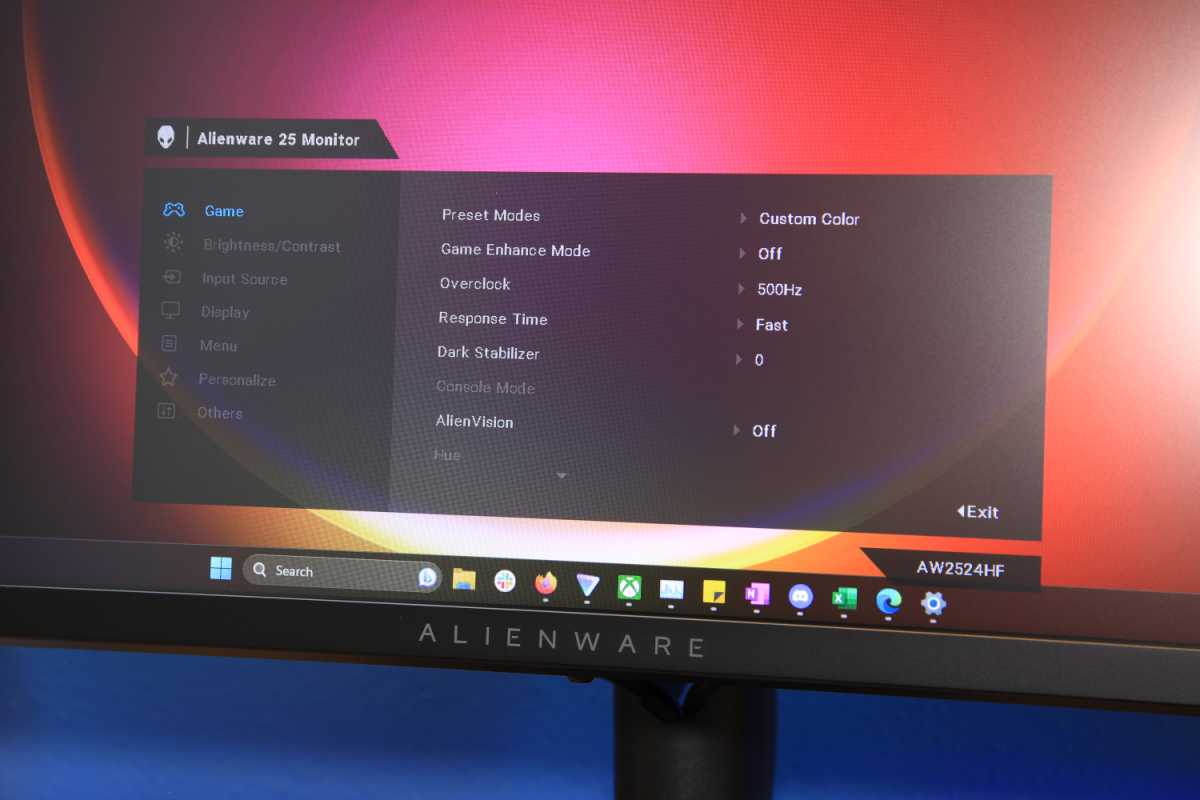 Matt Smith
A joystick centered on the monitor's lower lip provides access to the on-screen menu. It's quick to respond and sensibly arranged, with a fantastic quick-select menu for minor adjustments. The full menu is equally easy to navigate, but image quality options are a bit limited. The monitor has numerous custom presets, an sRGB mode, and a custom color mode with RGB color adjustment across gain, offset, hue, and saturation. However, the monitor lacks color temperature and gamma options (aside from a generic "warm" and "cool" mode).
The monitor includes the usual array of gaming features including a crosshair, timer, FPS counter, and dark stabilizer, which makes foes easier to see by increasing the brightness of dark areas. Alienware also tosses in several unique "Alienvision" modes that adjust image clarity in different ways, like a heat-vision style effect called "Chroma." I'm a bit skeptical of their utility, but they're there.
Speakers aren't included with the AW2524HF. That's common for a gaming monitor, and especially for one focused on esports and competitive play: Most gamers will be using a headset, anyway. The monitor also lacks audio line-out jacks, so external speakers (or a headset) must be connected directly to your PC.
How is the Alienware AW2524HF's SDR image quality?
It's reasonable to expect the Alienware AW2524HF to behave like its predecessor and sibling, the AW2524H. They're both 24.5-inch, 1080p, 500Hz monitors, and even share extraordinarily similar model numbers. This is broadly true, though there's some minor variance between them.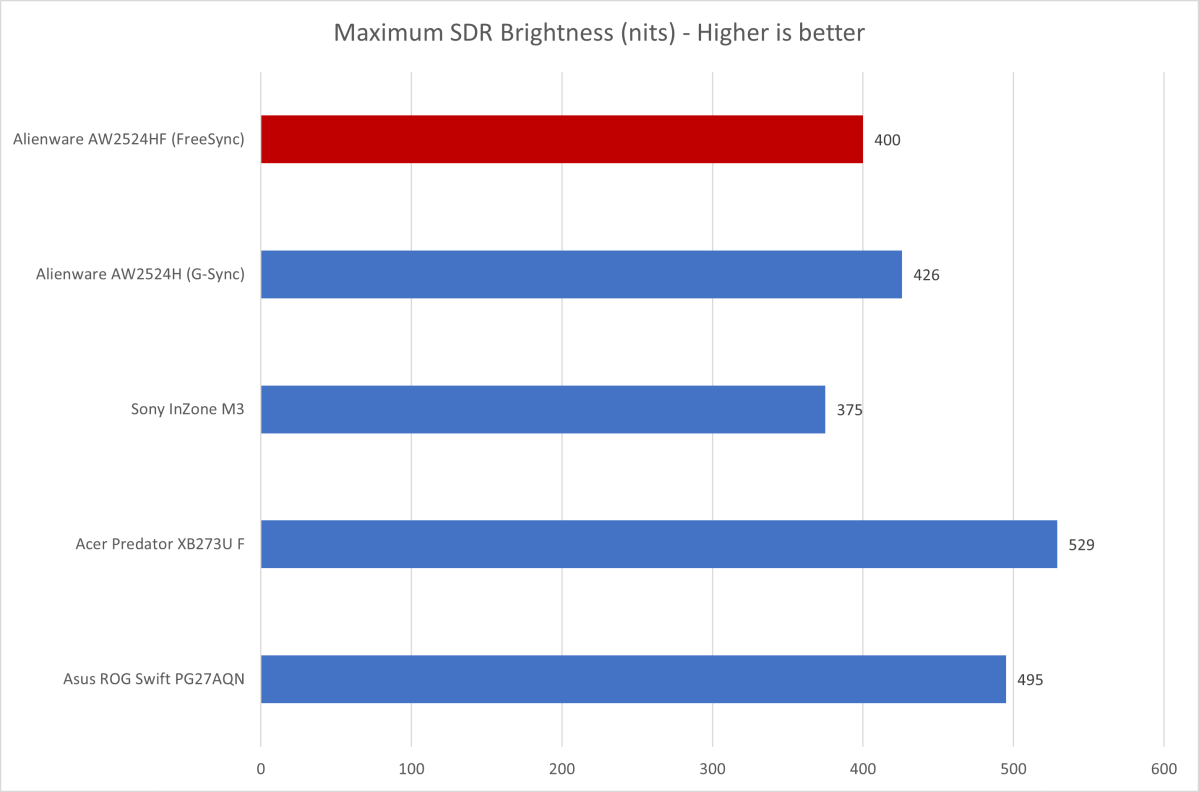 Matt Smith
Brightness pegged the AW2524HF's maximum SDR brightness at a nice, round figure: 400 nits. That's quite high for SDR content and more than enough to make the monitor usable in any situation it's likely to be used in. It's not exceptionally bright for a high-end gaming monitor, though, and that will have consequences when it comes to HDR performance.
Matt Smith
The AW2524HF delivered a surprise with a maximum measured contrast ratio of 1480:1. That's quite good for a monitor with an IPS panel. In fact, it's the best contrast ratio I've ever recorded from a gaming monitor with an IPS panel (and without a Mini-LED backlight).
Don't get too excited: A ratio of 1480:1 is still meager in a world where OLED alternatives can achieve infinite contrast, and Mini-LED competitors come close. But an improved contrast ratio is always nice to see, and it dampens the hazy "IPS glow" that can ruin dark scenes on many IPS monitors. It's there, but it's only distracting in extremely dark games played in a very dark room.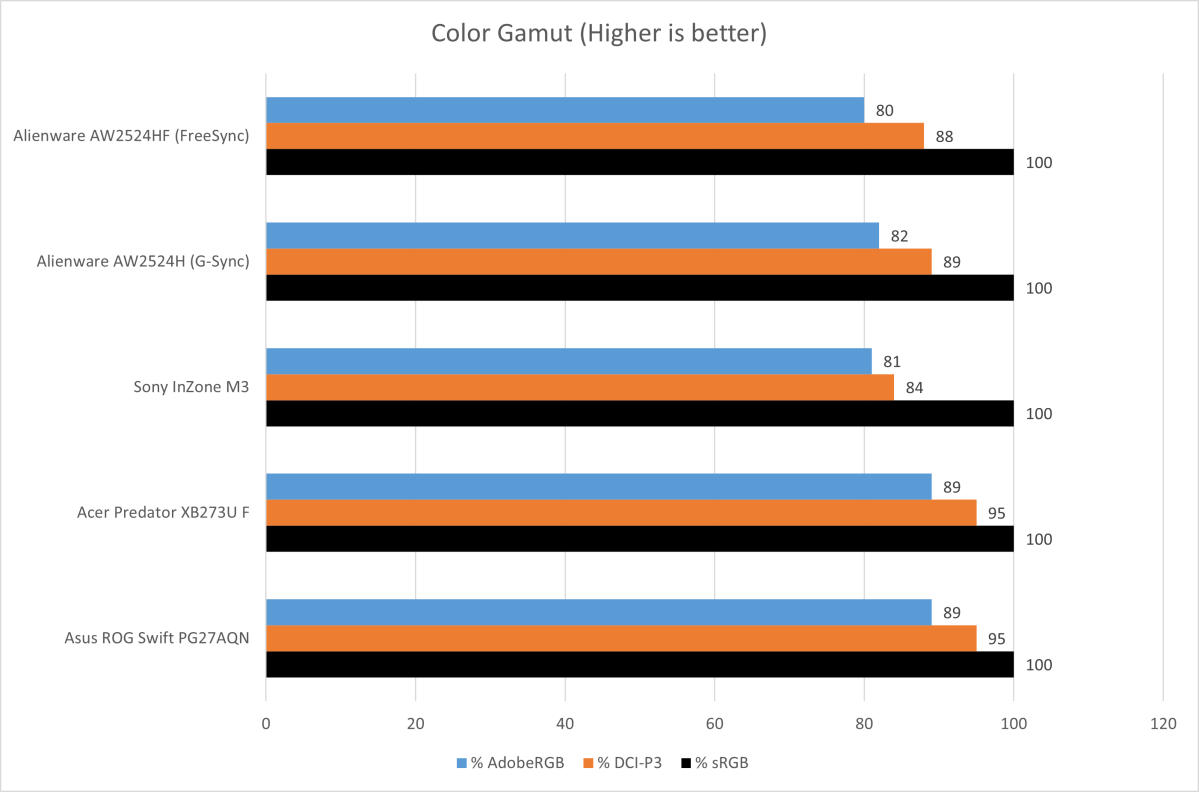 Matt Smith
The AW2524HF hits a color gamut that covers 100 percent of sRGB and 88 percent of DCI-P3 (essentially identical to the AW2524H). I wouldn't consider this Alienware a "wide gamut" monitor, but it's an upgrade over older competitive gaming monitors. The old Alienware AW2521H, for example, only achieved 74 percent of DCI-P3.
A respectable color gamut helps the AW2524HF deliver vivid, saturated color that looks attractive but doesn't creep into the hyper-saturated look of monitors with an extremely wide color gamut. That's a good fit for games. Content creators, on the other hand, may find the color gamut limiting, since it's too narrow to be ideal for editing photos and videos.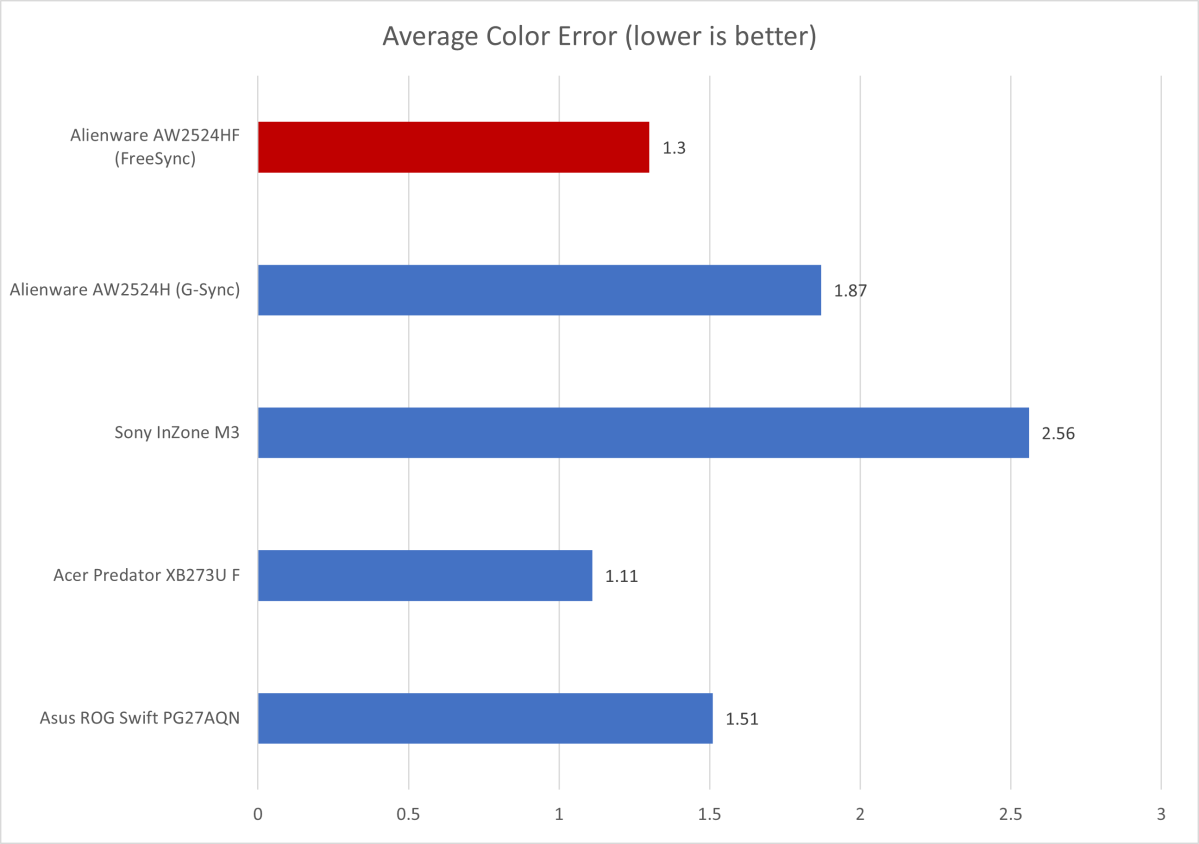 Matt Smith
Color accuracy is respectable, with a solidly midrange result that fits smack in the middle of similar monitors. While color accuracy could be better in theory, it's good enough to provide a realistic, lifelike image in games, and it won't look out of sorts against competitors.
The AW2524HF also achieved a default gamma curve of 2.3, slightly off the target of 2.2. This indicates content appears a bit darker than it should — but it's a small variance, and I found it difficult to notice outside of testing. The same can be said of the monitor's default color temperature of 6400K, which is just a smidge warmer than the target of 6500K. This, too, is difficult to notice.
You will notice the AW2524HF's lack of sharpness, however. The monitor's 24.5-inch 1080p panel packs roughly 90 pixels per inch (ppi), which isn't a lot. A 27-inch 1440p monitor has 109 ppi, and a 27-inch 4K monitor provides 163 ppi. Low pixel density leads to a soft look in video and photos, jaggedness around fine fonts, and more noticeable aliasing artifacts in 3D games.
The AW2524HF's image quality is unremarkable when compared to all monitors, but it's quite good for a monitor in the esports category. Its brightness, color gamut, and color accuracy are competitive with other top-tier competitive gaming monitors, and its excellent contrast ratio (for an IPS monitor) provides a better sense of depth and immersion than some alternatives. I think most gamers will be pleased, especially if upgrading from an older esports monitor that used a TN panel or early generation Fast IPS panel.
How is the Alienware AW2524HF's HDR image quality?
The Alienware AW2524HF supports HDR but, unlike the AW2524H, it's not VESA DisplayHDR 400 Certified. This, it turns out, is indicative of reduced HDR performance, as I measured a maximum sustained brightness of 402 nits in HDR mode — a significant reduction from the 465 nits of the AW2524H.
In truth, neither 500Hz monitor can deliver a passable HDR experience. That's a disappointment, but one shared with other high-refresh monitors. No computer monitor above 240Hz offers an OLED panel or a Mini-LED backlight, so brightness is inevitably restricted. And that's a problem in HDR, since improved brightness (and luminance detail) is much of the point.
How is the Alienware AW2524HF's motion performance?
Matt Smith
Design, connectivity, and image quality matter, but the Alienware AW2524HF's 500Hz refresh rate is the headline feature — and it delivers.
The AW2524HF has a native refresh rate of 480Hz, which can be overclocked to 500Hz. The gap between them is completely trivial — I expect that Alienware picked the 500Hz target because it could (and it sounds cool), not because it's necessary. Still, the monitor provides stellar results at both 480Hz and 500Hz.
Motion clarity is as close to perfect as any computer monitor I've ever witnessed. Scrolling test images from League of Legends and DOTA 2 show that nearly all details are preserved in character, terrain, and spell effects. Character names are easy to read, health bars are crisp, and smaller characters remain easy to pick out among a crowd.
Upgrading to 500Hz provides advantages even over alternative 360Hz monitors. This is most noticeable when viewing small, complicated details, like character names hovering over foes or fine text in a wall texture. A 360Hz monitor, like the Acer Predator XB273U F, can hint at these details, but they're usually difficult or impossible to read. The AW2524HF can bring these details to the fore. Similar improvements are visible when rapidly turning in a first-person shooter. This normally obscures the background but, on the AW2524HF, I found the image nearly as clear as when standing still.
It's not perfect, of course. Small text is readable, but can still cause some strain, and a rapid about-face will still show some blur that obscures detail. But the improvement over 360Hz is present. Nothing else comes close.
The Alienware AW2524HF supports AMD FreeSync Premium Pro and VESA Adaptive Sync. This differs from its sibling, the AW2524H, which supports Nvidia G-Sync and Nvidia Reflex Analyzer, a tool for testing total system latency on your PC. Compatibility aside, I didn't notice any difference in how each monitor performed with Adaptive Sync. Both provide a slick experience that feels so responsive it seems wired to your brain.
Alienware provides three response time modes: Fast (the default), Super Fast, and Extreme. The Super Fast and Extreme modes are sharper in theory, but I found the difference extremely hard to notice. The Extreme mode looks a bit sharper than Fast, but I also felt I noticed minor overshoot, which caused shimmering in fine textures and around edges—though it was extraordinarily subtle.
The 500Hz refresh rate is an undeniable advantage for the AW2524HF, but gamers eyeing this display should make sure they're prepared. A 500Hz display requires a frame rate of 500 frames per second (FPS) to fully use every last hertz, which, obviously, is a tall order. Some games have an in-engine frame rate cap well below 500 FPS, while others will struggle to hit 500 FPS because they're too graphically demanding. I recommend gamers double-check their favorite games, and the capabilities of their video card, to ensure it's a good fit for the monitor.
If everything checks out, though, you're sure to be impressed—the AW2524HF's motion clarity is the best available today.
Should you buy the Alienware AW2524HF?
The Alienware AW2524HF is an excellent esports and competitive gaming monitor. It has a 500Hz refresh rate that delivers superb motion clarity and fluidity that no current competitor can match. The AW2524HF also provides a significant price cut relative to its predecessor, the AW2524H (from $829.99 to $649.99). $650 is still a lot to ask for a 1080p monitor, but the advantage over 360Hz monitors is notable. It's still not for every gamer—but those who enjoy competitive titles should give the AW2524HF serious consideration. Its motion performance remains unmatched.
Matthew S. Smith is a freelance technology journalist with 15 years of experience reviewing consumer electronics. In addition to PCWorld, his work can be found on Wired, Ars Technica, Digital Trends, Reviewed, IGN, and Lifewire. Matthew also covers AI and the metaverse for IEEE Spectrum and runs Computer Gaming Yesterday, a YouTube channel devoted to PC gaming history.