Floyd Mayweather Jr is one of the most popular boxers of all time. The former five-division world champion dominated the sport during his professional career. And has an impeccable record without any losses. Amongst all the glory, Mayweather Jr always enjoyed a flashy lifestyle and immense luxury. In contrast, the champ has also had his name echoed by numerous girls. And, his fame only fueled such echoing.  Mayweather Jr had numerous girlfriends over time. But he never married.
UFC champion Aljamain Sterling's old clip of accusing Mayweather Jr has resurfaced on the internet ahead of his title defense fight against Henry Cejudo. His recollection might come as a shock to the fans.
Floyd Mayweather Jr tried stealing Sterling's girlfriend
ADVERTISEMENT
Article continues below this ad
In a podcast with Barstool Sports, The reining Bantamweight champion accused the five-division world champion of trying and stealing his girlfriend by sending members from his team. The clip is more than a year old when Sterling was a guest on the podcast.
Sterling recalled the story: "He sent over his minions to try to pick her up." The 33-year-old clarified that the story was from 2016. He added, "I think he sent over a guy first. And told u, like yeah, we can both come down. Man, I ain't stupid like that. When we come over there, you guys gonna take her and push me back."
Trending
Sterling was not willing to accept these shenanigans from Mayweather Jr himself. And he did not hesitate to give an open challenge to him. The 'Funk Master' told one member of the team Mayweather sent that he was willing to fight. He said, "Then he brought a girl with him. I said I know how the scene is. Floyd is undefeated in boxing; I am undefeated in MMA. If you want to figure out what's the better sport, you could find out today. "
ADVERTISEMENT
Article continues below this ad
 Who is Floyd Mayweathe Jr currently dating?
Mayweather Jr's personal life has not been a part of the public spotlight. The former five-division world champion has had many girlfriends over time. And the most recent news of his girlfriend comes from 2021. Floyd Mayweather is reported to be dating Lisa Hernandez.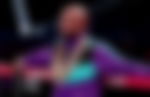 The two have made numerous public appearances together. And the two sparked dating rumors after the champ's split from TikTok sensation Gallienne Nabila. It is uncertain whether he is still in a relationship with Hernandez or not. As there have been no updates regarding his personal life. What do you think about Sterling's story? Let us know in the comments.
ADVERTISEMENT
Article continues below this ad
Watch This Story: Floyd Mayweather General Trivia Quiz: How Well Do You Know 'TBE'?