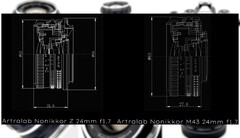 Hong Kong-based ArtraLab has revealed that it will soon be expanding its handsome, retro-themed NONIKKOR lens line-up with a 24 mm f/1.7 pancake lens for both Micro Four Thirds and Nikon Z-mount cameras. The YouTube video that makes mention of the lenses suggests that the Z-mount version will be particularly suited for Nikon's APS-C cameras, like the Zfc.
A few short months after releasing its 35 mm NONIKKOR f/1.4 lenses for Nikon Z-mount lenses, ArtraLab has gone on the Plastic Photo YouTube channel to tease the existence of an upcoming 24 mm f/1.7 pancake lens, which will arrive for both Nikon Z-mount and Micro Four Thirds cameras.
The teaser diagram gave us an idea of the eventual size of the lenses, with the Nikon Z-mount version of the NONIKKOR 24 mm f/1.7 protruding just 31.6 from the front of whatever camera it gets mounted to. The M4/3 version, on the other hand, is even more compact, measuring just 27.6 mm from the lens flange.
While they are designed for use on full-frame bodies, the NONIKKOR Z-mount lenses seem best-suited for use on the Nikon Zfc, which would give the 24 mm unit an equivalent focal length of 36 mm, after the 1.5x crop factor. On the other hand, the 24 mm Micro Four Thirds lens will have the equivalent focal length of a 48 mm full-frame lens.
ArtraLab provided no indication of pricing, but its current crop of NONIKKOR lenses come in at a rather pricey US$379. Part of that cost is surely justified by the full-metal construction and unique industrial design, although it's not difficult to spend US$350 on a modern lens with autofocus. Potential trade dress and copyright infringement aside, the NONIKKOR lenses certainly stand out in a modern market filled with smooth plastic lens barrels.
As far as release date, nothing is concrete just yet, but given the design tease, the lenses should launch within the next few months.
Buy a Fujfilm X-S20 Mirrorless Digital Camera with XF18-55mm Lens Kit on Amazon.
Related Articles
Julian van der Merwe – Magazine Writer – 275 articles published on Notebookcheck since 2022
My interest in tech started in high school, rooting and flashing my Motorola Defy, but I really fell down the rabbit hole when I realised I could overclock the i7 930 in my Gigabyte pre-built PC. This tinkering addiction eventually lead me to study product design in university. I think tech should improve the lives of the people using it, no matter the field. I like to read and write about laptops, smartphones, software and trends in technology.
Julian van der Merwe, 2023-07-22 (Update: 2023-07-22)