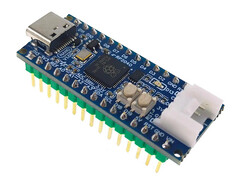 The ArtronShop RP2 Nano is a new single-board computer (SBC) based around the Raspberry Pi RP2040 microcontroller. Inexpensive, the ArtronShop RP2 Nano also supports Arduino IDE, microBlock IDE and MicroPython for programming.
ArtronShop has introduced the RP2 Nano, a single-board computer that measures 45 x 18 mm. In other words, the RP2 Nano conforms to the Arduino Nano 3.0 form factor, which ArtronShop adorns with a USB Type-C port for data, programming and power, plus the following expansion options:
2x 15-pin Arduino Nano headers
1x I2C
I2S support via Raspberry Pi Programmable IOs (PIO)
1x SPI
2x UART
4x Analog input pins (3.3V)
22x GPIOs configurable as PWM pins
Vin, 5V, 3.3V, GND
4-pin I2C Grove connector
Additionally, the RP2 Nano utilises the Raspberry Pi RP2040 microcontroller, which features two ARM Cortex-M0+ cores and 264 kB of embedded SRAM. Moreover, ArtronShop complements the RP2040 with 2 MB SPI flash storage. Reportedly, the RP2 Nano supports programming via Arduino IDE, microBlock IDE and MicroPython.
Currently, the RP2 Nano is orderable from ArtronShop for THB 230, which converts to US$6.70 at current exchange rates. While it remains to be seen whether the RP2 Nano will be available more widely, CNX Software notes that there are no direct equivalents on marketplaces like AliExpress yet. Please see ArtronShop's listing for more details.
Related Articles
Alex Alderson – Senior Tech Writer – 8286 articles published on Notebookcheck since 2018
Prior to writing and translating for Notebookcheck, I worked for various companies including Apple and Neowin. I have a BA in International History and Politics from the University of Leeds, which I have since converted to a Law Degree. Happy to chat on Twitter or Notebookchat.
Alex Alderson, 2023-08- 1 (Update: 2023-08- 1)