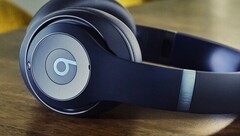 Apple has introduced the Beats Studio Pro as its latest headphones. They are rated for "Class 1" Bluetooth – yet are also rated to support "lossless" audio thanks to its DAC for wired connections – which are done via USB type-C rather than Lightning. Beats has also thrown active noise cancellation (ANC) with a Transparency mode along with new 40mm drivers into these new cans.
Apple and Beats have finally presented the Studio Pro as the latter's latest headphones. Despite the six-year gap between their release and that of their predecessors, Dr. Dre's brainchild has decided to stick with more or less the same design language in this generation.
Nevertheless, Beats asserts that the Studio Pro cans' internal updates reduce distortion by up to 80% compared to the Studio3s. They also pack drivers that integrate upgrades including a "two-layer diaphragm, refined micro-venting, and 25% stronger magnetsPanasonic releases its latest M-series wireless headphones".
The resulting "Iconic Sound" comes with "Personalized Spatial Audio", another upgrade touted to create the effect of "being surrounded by 64 speakers (hopefully larger than a HomePod) at once". The Studio Pro's ANC is also backed to be fully adaptive in a way that "filters" environmental sounds "to cancel noise at 48,000 times per second".
The Beats Studio Pro also offer DAC-accorded lossless sound, which can be accessed via a USB type-C cable that would extend from the base of 1 ear-cup – although they also boast a "3.5mm analog input" on the opposite side.
On that note, the Studio Pros also carry a battery rated for up to 40 hours of use per charge, which is also done via the USB port. However, all this potential good news does not come cheap – the headphones are now available to buy via Beats or Apple for US$349.99, and are yet to join the Studio3s on sites such as Amazon at the time of writing.
Related Articles
Deirdre O Donnell – Senior Tech Writer – 6524 articles published on Notebookcheck since 2018
I became a professional writer and editor shortly after graduation. My degrees are in biomedical sciences; however, they led to some experience in the biotech area, which convinced me of its potential to revolutionize our health, environment and lives in general. This developed into an all-consuming interest in more aspects of tech over time: I can never write enough on the latest electronics, gadgets and innovations. My other interests include imaging, astronomy, and streaming all the things. Oh, and coffee.
Deirdre O'Donnell, 2023-07-20 (Update: 2023-07-21)