Ben Affleck has opened up about the circumstances that led to him departing DC's big screen extended universe prior to James Gunn's planned reboot. Affleck, who played Bruce Wayne aka Batman in Batman v Superman: Dawn of Justice and Justice League, stated in an interview with The Hollywood Reporter that while he was originally slated to direct a standalone Batman feature, he is stepping away from the franchise for good.
He went on to clarify that the prolonged, extremely troubled production of DC's Justice League contributed to his decision, describing the departure of director Zack Snyder and Joss Whedon's efforts to turn the movie around as the "worst experience" of his career.
"Retroactively, it's a hit. All of a sudden I was getting congratulated for the bomb I'm in. But I was going to direct a Batman, and [Justice League] made me go, 'I'm out. I never want to do any of this again. I'm not suited,'" said Affleck. "That was the worst experience I've ever seen in a business which is full of some shitty experiences. It broke my heart. There was an idea of someone [Joss Whedon] coming in, like, 'I'll rescue you and we'll do 60 days of shooting and I'll write a whole thing around what you have. I've got the secret.' And it wasn't the secret. That was hard."
Affleck went on to say that the experience of finishing Justice League led to serious burnout, triggering his ongoing issues with alcohol.
"I started to drink too much," he said. "I was back at the hotel in London, it was either that or jump out the window. And I just thought, 'This isn't the life I want. My kids aren't here. I'm miserable.' You want to go to work and find something interesting to hang onto, rather than just wearing a rubber suit, and most of it you're just standing against the computer screen going, 'If this nuclear waste gets loose, we'll …' That's fine. I don't condescend to that or put it down, but I got to a point where I found it creatively not satisfying. Also just, you're sweaty and exhausted. And I thought, 'I don't want to participate in this in any way. And I don't want to squander any more of my life, of which I have a limited amount.'"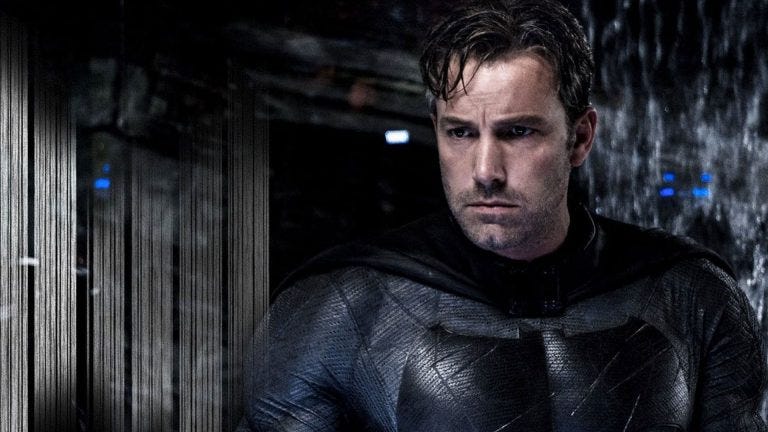 Warner Bros.
This isn't the first time Affleck has spoken frankly about his drinking. In a 2020 interview, he spoke about how he struggled with an addiction to alcohol following his divorce from Jennifer Garner.
"I drank relatively normally for a long time," he said. "What happened was that I started drinking more and more when my marriage was falling apart… You're trying to make yourself feel better with eating or drinking or sex or gambling or shopping or whatever. But that ends up making your life worse. Then you do more of it to make that discomfort go away. Then the real pain starts. It becomes a vicious cycle you can't break. That's at least what happened to me."
Philip Ellis is a freelance writer and journalist from the United Kingdom covering pop culture, relationships and LGBTQ+ issues. His work has appeared in GQ, Teen Vogue, Man Repeller and MTV.