We may receive a commission on purchases made from links.
Many of us are struggling to meet the economic demands of modern life as inflation spins out of control, the world plunges into recession, and global events rock our financial security — but it's not all bad news! Even in these times of austerity, you can find a high-quality smartphone for under $500. The Android options in this list represent the best in a competitive market that caters to all, with some even giving higher-priced phones a run for their money.
As far as basic features go, there is little difference between a budget Android phone and its flagship equivalent, although you will have to compromise on build quality and performance. However, for day-to-day usage, the best phones for under $500 are more than suitable for most applications, and you won't suffer a mild panic attack when it gets misplaced or swallowed by a couch cushion. Android fans who don't wish to spend a fortune on a phone but still want fast processing, a quality camera, or an acceptable amount of RAM and storage should certainly consider the following models.
In our search for the best Android phone under $500, we have considered certain qualifying factors that everyone should demand from a recent model. These include a battery life that lasts at least a day on a single charge, a decent screen with a minimum 1080p display with a fast refresh rate, a good primary camera that has a relatively high resolution, and enough storage space to meet the demands of apps, media, and files –- or expandable storage at a pinch. Here are the best Android phones you can find for under $500 right now.
Samsung Galaxy A14 5G
The Samsung A series has long been a ringleader in the affordable smartphone segment, and this entry-level offering is a worthy upgrade to the frankly excellent Samsung Galaxy A13. While you cannot expect too much from a smartphone costing just $199.99, such as a waterproof rating or wireless charging, the Samsung A14 5G crams enough impressive features into its moderately-priced frame to make our list of the best phones for under $500.
While storage is a mediocre 64 GB on the A14 5G, Samsung redeems this device by including a MicroSD slot, making it expandable by up to 1 TB. It then goes a step further with the addition of a 90 Hz FHD+ LCD screen, and it is powered by the next-generation Exynos 1330 chipset with 5G connectivity. The Galaxy A14 5G runs the Android 13 OS, and Samsung guarantees it will be upgradable with four security and two OS updates, so it promises good longevity with careful use. Other features include a handy side-mounted fingerprint sensor inset into the chassis, a 13-megapixel front camera, and a 50-megapixel main shooter, although the plastic shell finish is expectedly basic.
Other minor gripes with the Samsung Galaxy A14 5G are its single speaker, its large V-notch for the front-facing camera, and a wide lower bezel. However, it does include a 3.5mm headphone jack and boasts a two-day battery life, both of which are becoming something of a rarity in modern smartphones. As far as bang for your buck is concerned, you don't just get what you pay for with the Samsung Galaxy A14 5G -– you get a whole lot more besides.
OnePlus 10T 5G
The OnePlus 10T 5G can be found hovering near the top of the OnePlus product line, just below its flagship OnePlus 11, and this sheriff's deputy is keen to perform as well as its superior — albeit for the lesser price of just $499.99 for the 8 GB version. However, in doing so, the 10T 5G seems to have compromised on many of the features that made the OnePlus 10 Pro such an outstanding phone, having ditched its Hasselblad optics and sharper display.
In their place is a range of optimized features that cannot be dismissed, as they significantly improve the OnePlus 10T 5G's speed and performance, and yet we cannot help but feel that OnePlus has sold its soul a little in its quest for greatness. While it does offer users ultra-quick charging and exceptional battery life, many of us would prefer wireless charging and a fully-adaptive screen refresh rate, as is standard on most premium phones.
Those who use their phone for gaming will appreciate the improved Qualcomm Adreno GPU and the HyperBoost Gaming Engine that facilitates responsive and smooth play. Its GPU Load Control feature optimizes the phone for reduced power consumption when rendering graphics, letting you play for longer. This also makes it a suitable work phone, as it'll go the distance when performing demanding tasks.
All things considered, the OnePlus 10T 5G has plenty going for it, especially for a phone at this price point. This is a worthy phone that will satisfy most applications, albeit with a couple of trade-offs as far as flagship features are concerned, offering users a premium feel without having to pay premium prices.
Motorola Moto G Stylus 5G
Motorola has long been a trailblazing company that brought us the world's first handheld mobile phone with 1984's DynaTAC before going on to create such legendary clamshell designs as the StarTAC and RAZR. Fast forward to the present day, and the Motorola Moto G Stylus 5G is undoubtedly one of the more interesting phones to make this list.
The Moto G Stylus 5G is notable for its stylus, which is included in the reasonable $499 package, although the phone can be purchased for as little as $179.99. This is a smooth operator, thanks to its 120 Hz refresh rate and a build quality that makes it feel more like a flagship phone. Other features include a 6.8″ Max Vision Full HD+ display, 128 GB of storage, a Qualcomm Snapdragon 480 5G processor, and a purported two full days of battery life. As might be expected for a phone of this price range, it carries an uninspiring IP52 waterproof rating, which will only protect against splashes and light rain.
The cameras on the Motorola Moto G Stylus 5G can best be described as adequate, as while it does boast a 48-megapixel main sensor, it is not adept at capturing close-ups and low-lighting images. However, if you are not too worried about photography, the stylus pen works well, the button-mounted fingerprint reader is accurate, and the everyday performance of the phone should be more than satisfactory for most people's requirements. In short, if you are looking for a cheaper alternative to Samsung's S22 Ultra, this could be the phone for you.
Samsung Galaxy A32 5G
This midfielder in Samsungs' budget range represents some of the best value for money to be found in a smartphone. As 5G connectivity becomes more prevalent, cheaper phones are starting to support it and the Samsung Galaxy A32 5G provides faster networking speeds for around $300 – albeit with a few shortcomings.
Let's start with the positives. Those looking for a phone to last can buy an A32 knowing they're entitled to four years of security patches and three years of platform updates. Its 48-megapixel camera is good for this price point and suitable for casual use, while its 13-megapixel front-facing camera works for video conferencing and the odd selfie. The A32 ships with 4 GB of RAM and 64 GB of storage, which, while unimpressive by flagship standards, is good enough to satisfy most people's requirements, plus its MicroSD slot enables expansion of up to 1 TB, giving you plenty of room for your ever-expanding collection of media and files.
Of course, budget phones always have compromises, and the Samsung Galaxy A32 5G falls a little short in the display department. It features a TFT LCD, which, while adequate, is not equal to AMOLED options or even IPS LCD screens, as featured on the comparable OnePlus Nord N200 5G. Benchmark tests show the phone faring well compared to its similarly-priced competitors, although you may find it starting to struggle when asked to perform demanding tasks under its Mediatek Dimensity 720 chip. 
That said, if you can overlook the cheap feeling exterior, you are left with a phone that provides a good battery life, 5G connectivity, and years of updates — which is more than enough for most folks' needs.
OnePlus Nord N20 5G
Going by name alone, you could be forgiven for thinking that the OnePlus Nord N20 5G is inferior to the Nord N200 5G — perhaps by a factor of ten. However, this is not the case, and the Nord N20 5G is actually a more powerful budget phone with a very reasonable $284.99 price tag. This attractive model ticks most of the right boxes, with key features that include multiple high-quality cameras, a premium-feeling build, a microSD slot, and the increasingly rare 3.5mm headphone jack.
If you are looking for premium features at an affordable price point, then the Nord N20 5G should be on your radar, as it is 5G enabled, has a 64-megapixel camera, an ample 4500mAh battery, an in-display fingerprint sensor, FHD+ AMOLED display, and 33W fast charging, all of which might be found on a much more expensive phone. Storage is a respectable 128 GB, which is expandable by up to 512 GB, as well as 6 GB of RAM and a Snapdragon 695 SoC, which makes the phone fast enough to run most applications and games.
On the downside, an IP52 waterproof rating means that you probably shouldn't take it in the shower with you, and you get a plastic case that won't suffer dings like its toughened glass and metal counterparts. A single downward-firing speaker robs you of stereo sound, and you will need to use the included OnePlus proprietary charger to achieve the impressive optimal charging speed. 
Still, all the negatives seem like small potatoes when considering a phone that is a little over half the qualifying cost to make this ranking. In terms of value for money, the OnePlus Nord N20 5G is very hard to beat.
Google Pixel 6A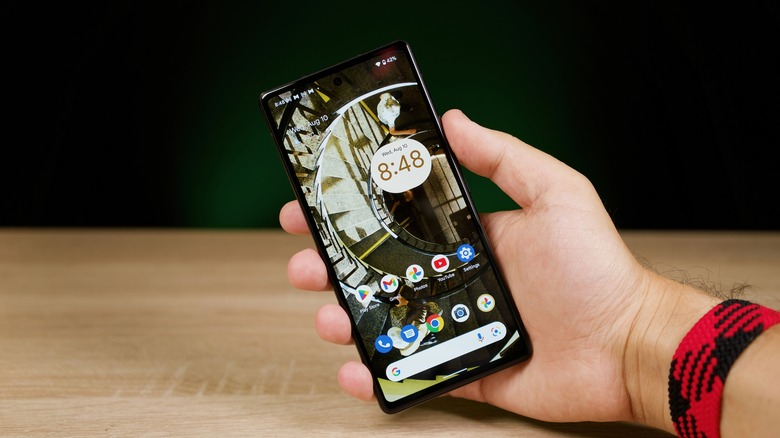 Mr.Mikla/Shutterstock
The Google Pixel range has become increasingly competitive with each of its flagship phones since the excellent Pixel 5. Its budget Pixel A series offers many of the features of its premium phones but uses different manufacturing materials and specifications to keep the price low. With a Google phone, much like Apple's iPhone, the same company creates the hardware, native Tensor chip, and operating system, resulting in an optimized, streamlined phone that focuses on performance. This principle extends to the Pixel 6A, which packs a lot into its $449 asking price.
Converts from Apple will find the 6A a worthy competitor to the iPhone SE, although it outclasses Palo Alto's cheapest offering in many respects. Those looking for a flagship-quality camera in an affordable package should consider the Pixel 6A, whose relatively low-resolution 12.2-megapixel wide-angle shooter, plus an additional 12-megapixel ultra-wide option, delivers excellent results. Meanwhile, its 8-megapixel front-facing camera has impressive clarity, even in low-light conditions. An equally impressive array of software, including multiple editing modes, ensures you get the most out of your photos.
The OLED display on the Pixel 6A is a joy to behold, and Google offers Android updates up to July 2025, plus security updates until 2027. Of course, there are compromises, and buyers should prioritize according to their needs. Battery life is adequate but not exceptional, with a charge lasting around one day. Storage isn't expandable, so you are stuck with the 128 GB of allotted space, and Google no longer offers unlimited free storage. Premium features like face recognition accessibility and wireless charging aren't available on a phone of this price, making it seem basic compared to its flagship peers. However, it remains one of the best phones under $500 for anyone who puts build quality and performance first.
Samsung Galaxy A54 5G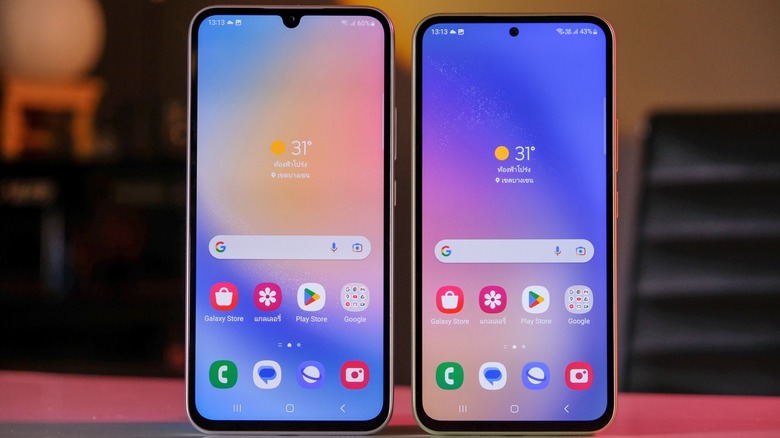 Framesira/Shutterstock
The Samsung Galaxy A54 5G provides an inexpensive and comprehensive solution that meets the demands of modern lifestyles. This is the best value phone Samsung currently makes and the best phone under $500 you can buy right now.
While lesser phones might have premium features, the A54 5G has a premium finish with a flagship feel to it thanks to its plastic chassis being sandwiched in Gorilla Glass 5. Its vibrant Super AMOLED display lives up to its build quality and leaves its predecessor, the A53, far behind. The phone also carries an IP67 waterproof rating, making it among the most resilient phones within its price range.
The Samsung Galaxy A54 5G performs well with its Exynos 1380 processor, and its impressive benchmark scores translate to a very satisfying real-world user experience. One minor gripe is the lack of wireless charging, but it's important to remind ourselves that the Galaxy A54 5G can be bought unlocked for under $400. Its 25W charging speed enables it to power up to a full tank in a couple of hours, so most people wouldn't have any complaints in this department. Additionally, the Galaxy A54 5G boasts a 50-megapixel main sensor camera and a 32-megapixel front-facing lens. Meanwhile, its 6 GB of RAM and 128 GB of internal storage is perfectly adequate, especially given that it contains a Micro SD slot, giving it an edge over the Google Pixel 6A.
The Samsung Galaxy A54 5G delivers a truly excellent product that exceeds our expectations of a $500 phone. Deciding on any phone purchase comes down to several factors, including price, camera, storage, build quality, aesthetics, and performance. But if we had to pick one phone under $500 to rule them all, it has to be the excellent A54 5G.