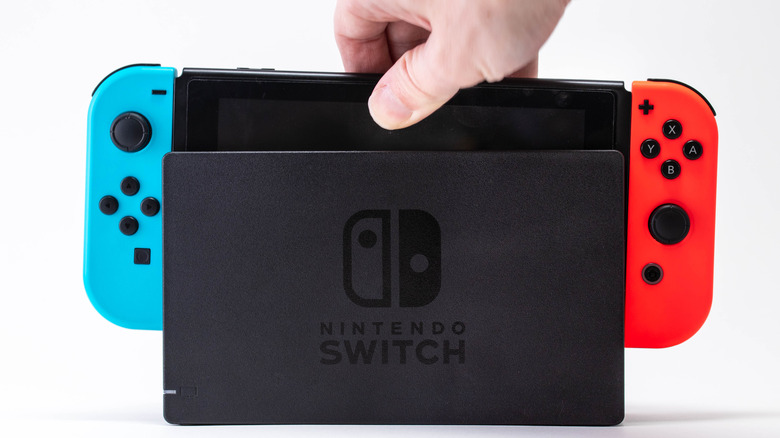 Sadie Mantell/Shutterstock
We may receive a commission on purchases made from links.
Every Nintendo Switch and Nintendo Switch OLED comes with its own official dock that both charges the device and allows you to play on a big screen — but there are a few compelling reasons to want a couple of extras. Firstly, if you have multiple rooms in your house where you want to play in docked mode, setting up each TV with its own dock will save you from unplugging and replugging in your original. Secondly, if you like to travel with your Switch and have the option to play docked on any TV you stumble upon, a small-sized third-party dock can better serve your portability needs.
While a quick search will bring up endless numbers of third-party docks, it's important to check reviews and buy from reputable brands when possible. This is because third-party products aren't without their dangers — improper power supply and other issues connected to third-party dock sets have been known to brick Switches in the past. On the r/NintendoSwitch subreddit, you'll even find a bot that comments with a cautionary message on any post containing the phrase "third-party dock." 
As well, even if a third-party dock works perfectly initially, there's always the risk that a future Switch software update could introduce problems. For that reason, the official Switch dock from Nintendo is always the ideal option. If you're willing to take the risk, though, there are a number of models that have solid ratings from users and, in some cases, offer features not found with the official dock.
Nintendo Official Switch Dock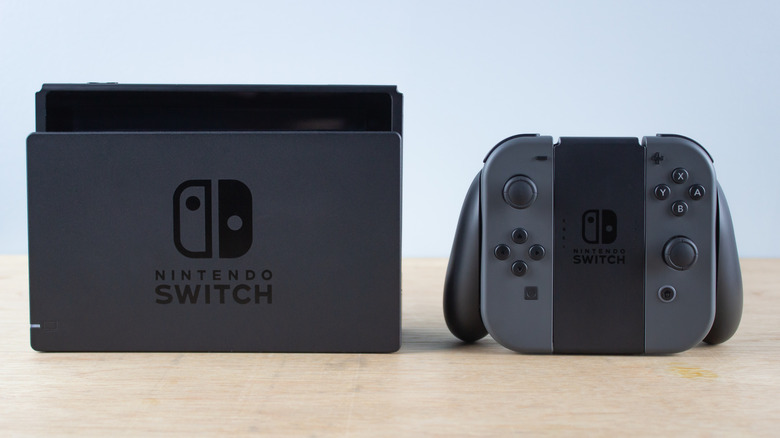 DM Media/Shutterstock
Let's start with the simplest solution for any dock-desiring individual: buying another official dock directly from Nintendo. You know it will do the job, and there's a zero percent chance of it bricking your console or affecting its battery life. If you're not familiar with the term "bricking," it means to reduce your Switch's functionality to that of a brick, which is not ideal at all. If you buy new, a full Nintendo dock set (including HDMI cable and AC adapter) will cost you $89.99 on Amazon – and yes, it is one of the most expensive docks on this list.
However, if you need to bring the price point down a little, there is another option. Nintendo also directly sells refurbished docks for $39.99, which come in great condition and are guaranteed to work. They also come with the standard 90-day warranty. Stock willing, it's even possible to get a hold of a refurbished special edition dock like the "Animal Crossing" edition.
If you were really hoping to get a more portable dock product, there's even a way to magic an official dock into a smaller casing if you're willing to do a bit of DIY. Products like the eXtremeRate AiryDocky DIY Kit provide you with a replacement shell and the tools you need to migrate the official circuit board chip into the new casing. The result is a lightweight, portable, and one hundred percent safe dock for your Switch or Switch OLED.
SIWIQU TV Dock Station
Moving on to third-party options, the SIWIQU Switch Dock is an affordable option that's color-coded to match the original neon blue and red Joy-Cons. The bar-like design is similar to the official Steam Deck dock — it's plain and simple at the front, with all the ports you need lined up at the back. Unlike the official Switch dock, the SIWIQU model leaves the Switch screen completely uncovered and offers a display-switching feature that allows you to play on the native screen while docked and charging. The product includes one HDMI port, two USB ports, and one USB-C port.
It doesn't come with its own charging cable, and it's highly recommended that you use the official Nintendo power adaptor with the product. This is good advice for most third-party docks, as it helps maintain proper power supply to your console and keep it safe. The SIWIQU isn't the most portable dock on this list but it is still far more portable than the official Nintendo dock. It probably won't fit into a standard Switch carry case but it will slip into most bags quite easily. You can purchase this product on Amazon for around $30.
Rocketfish TV Dock Kit
A popular but somewhat expensive third-party option is the Rocketfish Switch dock. It's a little bulkier than some of its competitors, but it still keeps the screen uncovered and is substantially smaller than the official dock. This dock can display your Switch, charge it, and let you play on big screens but it doesn't allow you to play on the native screen while docked.
The product includes cooling vents to prevent overheating and provides a USB port to connect and charge controllers or other accessories. The dock comes with its own AC power adaptor which can't be switched out for the official Nintendo version. The product was originally released under the name Insignia in 2017 with a USB-C charger and later switched to the current AC adapter — both versions have received good reviews over the years from Switch owners. You can find the Rocketfish Switch dock at Best Buy for around $50.
Genki Covert Dock
Originally launched as a Kickstarter project, the Genki Covert Dock is an extremely portable dock alternative hidden inside of a charger, making it great for travel. The product includes a USB-C port, a USB port, and an HDMI port and works by plugging directly into the wall. It's 10 times smaller than the official Nintendo dock and provides the exact right amount of power to your Switch. 
You can also choose a global version that comes with three extra adaptors that let you use the product in over 150 countries. It can also be used as a dock for the Valve Steam Deck or for streaming and charging other products like laptops, iPads, and Android devices. One thing to keep in mind though, is that this tiny dock nearly costs as much as Nintendo's official Switch dock set. You can buy it directly from Genki's website or on Amazon for $75.
REAKA Upgraded Multiport Hub
This portable dock hub is under four inches in length and works with a variety of products including the Nintendo Switch, Samsung DeX, and a range of laptops and tablets. For Switches, the hub plugs into the console with its USB-C connector and allows you to power the device with your official Nintendo power adapter. The HDMI port is located at the end of the hub, while a USB-C and two USB ports are located on the side.
The device itself is small and flat enough to fit into the mesh pocket of a standard Switch carry case so you can keep it with you at all times. For use with laptops and other devices, the hub supports up to 4K resolution so you can stream movies in high quality. The downside is that you'll need a separate stand to prop up the Switch if desired. You can purchase the REAKA Hub on Amazon for under $30.