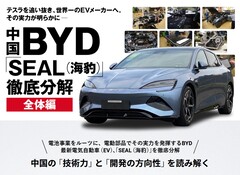 After BYD took apart Corollas in days past to see how they are made, it's now Japan's turn to learn about making electric vehicles from China. The largest Japanese publishing house will issue a rather pricey BYD Seal disassembly and surface manual with preface saying that is how the 'future EV leader' does cars.
The biggest publishing house in Japan – Nikkei BP – has bought a BYD Seal electric car and taken it apart completely in order to understand the thought process of "the Chinese manufacturer that will lead the world of EVs in the future," according to the preface. The full disassembly and service manual will be released September 15 alongside a video documenting the process.
Called "China BYD SEAL Thoroughly Disassembled (Complete Edition)," the manual consists of 350 pages of disassembly photos, component explanations, and repair guidelines. It is priced at the whopping US$6,340 equivalent, indicating that it is aimed at part OEMs and automotive R&D decision makers, rather than individual owners.
Japan has a history of doing such dismantling operations to gauge where a competing nation stands, just like BYD was taking apart Toyotas and Hondas in the dawn of its gas-powered vehicle production era. This prompted that same Nikkei BP publishing house to release a lengthy Chinese car industry analysis back in 2003 that concluded China is ten years behind Japan in automotive know-how.
Now that the tables have turned and BYD may even surpass Tesla to become the world's largest EV maker, Japan took apart its bestselling Seal – a direct Model 3 competitor – to see what makes it tick. After examining the cell-to-pack chassis technology with integrated Blade Battery, the design and other components, they came away "believing that BYD has surpassed Tesla to become the world's number one EV manufacturer, and that BYD has the foresight to lead the world standard in design."
Nikkei BP has also done similar disassembly manuals for Tesla vehicles, as well as other EVs, so it has a good basis for comparison. A Toyota exec recently said that its engineers have taken apart a Model Y and came away impressed with how efficiently it is built, with barely a redundant component in sight. Now Toyota, Honda, and other Japanese automakers that are transitioning to the EV era can find another great electric car build example in the BYD Seal, too, courtesy of the pricey Nikkei BP teardown manual.
Related Articles
Daniel Zlatev – Tech Writer – 764 articles published on Notebookcheck since 2021
Wooed by tech since the industrial espionage of Apple computers and the times of pixelized Nintendos, Daniel went and opened a gaming club when personal computers and consoles were still an expensive rarity. Nowadays, fascination is not with specs and speed but rather the lifestyle that computers in our pocket, house, and car have shoehorned us in, from the infinite scroll and the privacy hazards to authenticating every bit and move of our existence.
Daniel Zlatev, 2023-06-12 (Update: 2023-06-12)