Image: Google
Happy 15th birthday, Chrome! Google's Chrome has become the default browser for the majority of users (sorry, Microsoft Edge!) and Google has begun showing off its updated user interface with an emphasis on its Material You design scheme.
In describing the new interface, Google says it "refreshed Chrome's icons with a focus on legibility," and added "new color palettes that better complement your tabs and toolbar."
One helpful design change visually differentiates between your browser tabs and windows for both work and personal use. Google also said that Chrome now hooks into operating systems like Windows even better, so flipping between light and dark modes will reflect your choices in the browser, too. Finally, Google tweaked and improved the Chrome settings menu, with faster access to Google translations, extensions, Google Password Manager, and more. The menu can be accessed by clicking the three-dot ellipsis menu in the upper-right corner.
Google's new visual changes will be reflected in its store, too. Following Amazon and Microsoft's decision to incorporate AI into the Microsoft Store app and Amazon reviews, Google is now carving out a portion of its Chrome Web Store for AI apps. The public preview of the new Chrome Web Store also includes more personalized recommendations and an Editor's Spotlight.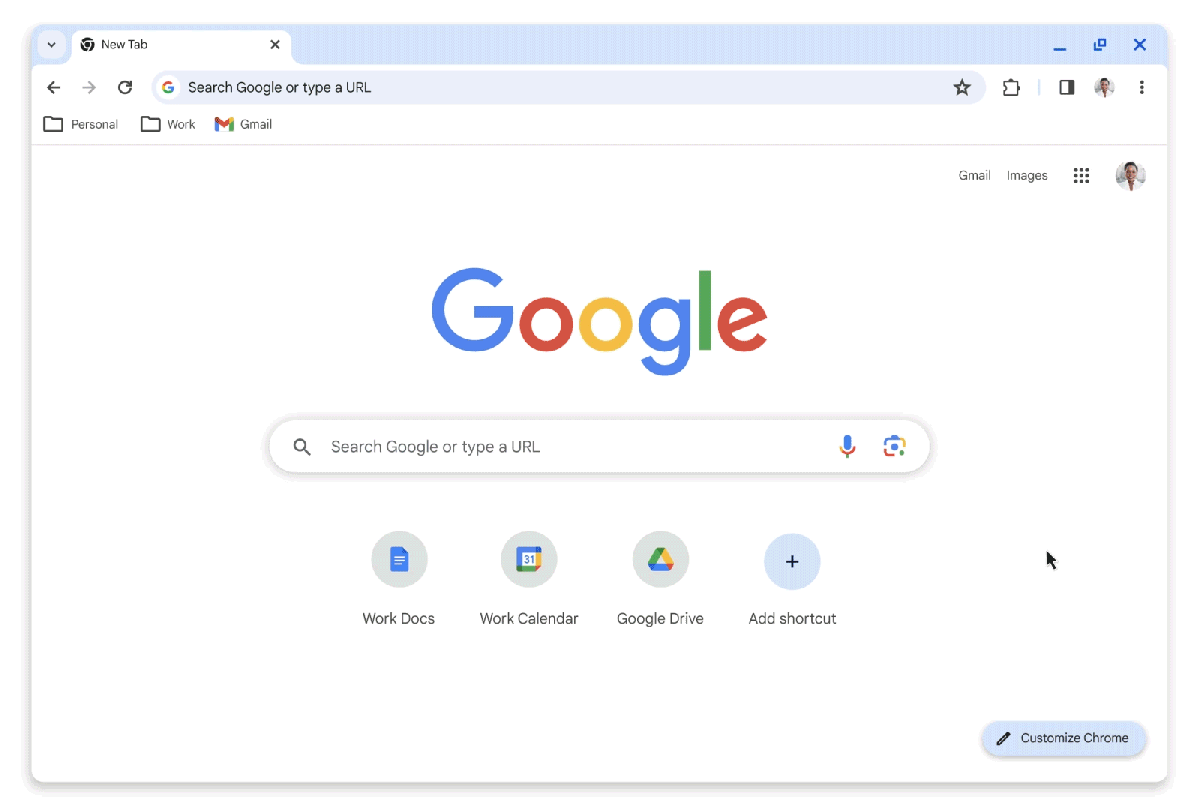 Google
Google is also highlighting Edge-like features that allow you to open a side panel where you can "Search this page with Google" to allow Google to suggest searches and follow up on related topics.
In terms of security, Google is also getting faster and more responsive with Google Safe Browsing.
"Previously, [Google Safe Browsing] worked by checking every site visit against a locally stored list of known bad sites, which is updated every 30 to 60 minutes," Google said. "But phishing domains have gotten more sophisticated — and today, 60% of them exist for less than 10 minutes, making them difficult to block."
Google
If you browse to a website in Chrome, Chrome will now begin checking the site against a current database of bad actors, in real time. Or, rather, that feature will roll out to Chrome in the coming weeks.
Google rolled out its first beta for Windows on September 2, 2008, according to Wikipedia, debuting the first 1.0 release on December 11 of the same year. That puts us in the gray area between preview and formal release as far as the anniversary celebration is concerned. Google Chrome developers are probably keeping the party hats on for the next few weeks anyway… which makes me wonder — will Chrome put a little party hat on users' profile pics?