Image: Jon L. Jacobi
At a glance
Expert's Rating
Pros
Scintillatingly fast
2GB-per-TB DRAM cache
Five-year warranty
Our Verdict
The Corsair MP700 Pro finished in a virtual tie with the Adata Legend 970 for best-in-class PCIe 5.0 performance. If you have the necessary M.2 slot and want maximum speed, it's a short-lister.
Price When Reviewed
1TB: £185 I 2TB: £310
Best Prices Today: Corsair MP700 Pro PCIe 5.0 NVMe SSD
£166.91
Though PCIe 5.0 M.2 slots are still relatively rare, if you have one, a premium SSD such as the Corsair MP700 Pro will provide a nice bump in overall performance.
When I say premium, I'm talking about performance that's right there with the best NVMe SSDs we've tested. And yes, I also mean it's priced like a top-tier performer.
Further reading: See our roundup of the best PCI3 4.0 SSDs to learn about competing products.
What are the Corsair MP700 Pro's features?
As intimated, the MP700 Pro is a PCIe 5.0 x4, NVMe SSD in the 2280 (22mm wide, 80mm long) form factor. The controller is a Phison PS5026-E26 and the NAND is 232-layer TLC (Triple-Level Cell/3-bit). There's a whopping 2GB of DRAM primary cache for every 1TB of capacity–double the norm. Nice.
The 2280 MP700 Pro is available with or without a rather hefty and tall, fan-cooled heatsink (shown below with the power cable for the fan). Either way the drive is warrantied for five years or 700TBW (terabytes that may be written) per 1TB of capacity.
Jon L. Jacobi
If you weren't aware, TBW mitigates the warranty term as miles do in an automobile warranty. Corsair's 700TBW is 100TBW above average, but nowhere near the Seagate FireCuda 540 or Seagate Game Drive PS5's level, which is almost double that still.
How much does the Corsair MP700 Pro cost?
The Corsair MP700 Pro with heatsink is currently available in 1TB and 2TB (tested) versions, for $190 and $325, respectively. Sans heatsink, it's $180 and $315.
Corsair didn't send us the 1TB version, hence we're not sure if it sports a smaller heatsink/cooler that's worth only half the premium. No pricing was announced for an upcoming 4TB capacity.
How fast is the Corsair MP700 Pro?
Corsair's MP700 Pro traded blows with the fast-in-the-real-world Adata Legend 970 to an overall statistical draw.
If we ranked solely on CrystalDiskMark 8 sequential test the MP700 would've dominated the Adata, even though it lost by a small margin to the also-formidable Crucial T700.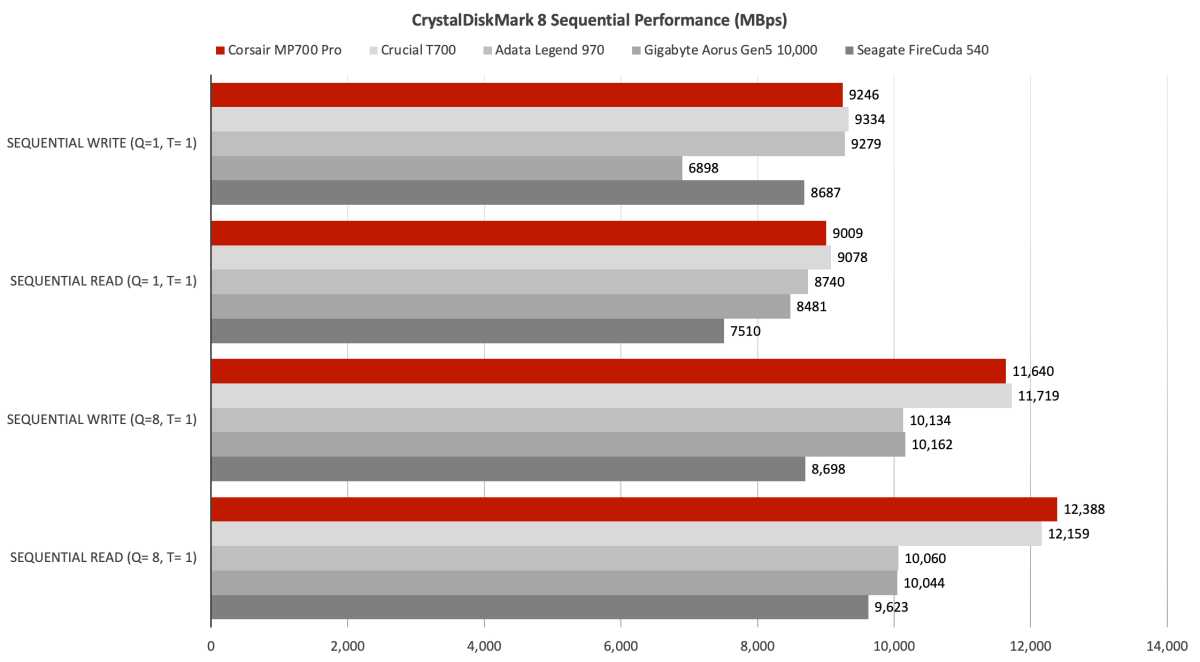 CrystalDiskMark 8 4K file performance was a slightly different story with the Adata besting the the MP700 Pro by more than a little, largely because of the latter's drop-off in the 32-queue write.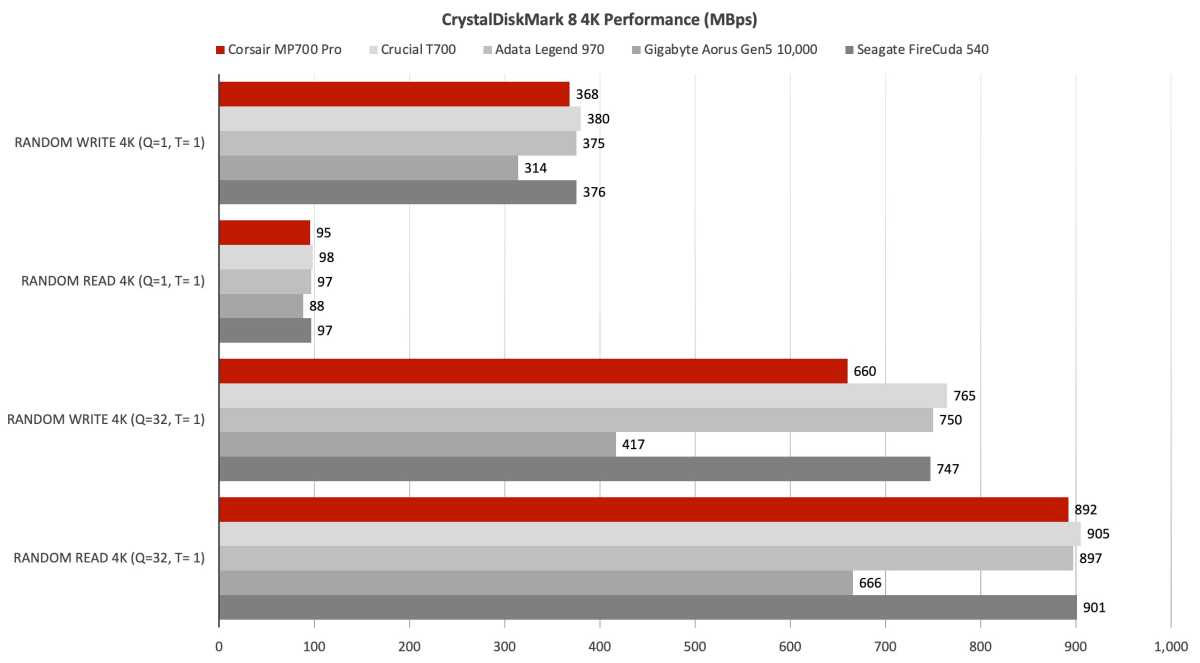 None of the other drives could match the Seagate FireCuda 540 in the 48GB transfers. It wasn't even particularly close, though the MP700 Pro is still among the fastest. For some reason, late-model host memory buffer (HMB) designs (none shown) do very well on this and the 450GB write tests.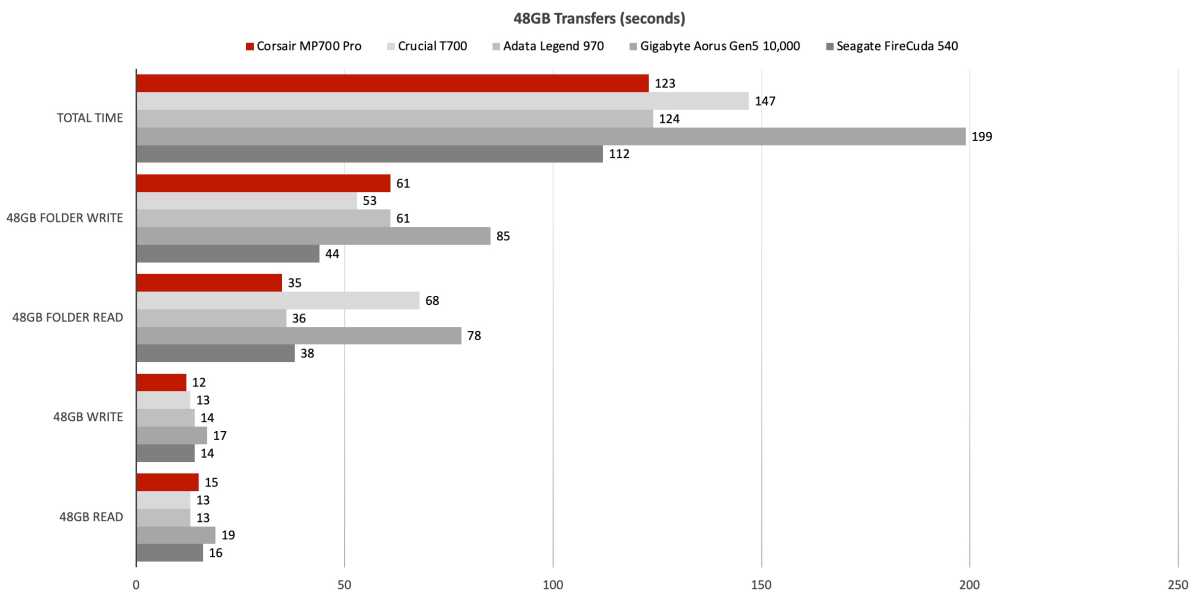 As you can see below, there's little difference between the first three late model PCIe 5.0 NVMe SSDs in the 450GB write test–well within the normal statistical variance. Having called out the Seagate FireCuda 540 for its superior 48GB transfers, I must also note that it was rather slothful for a PCIe 4.0/5.0 SSD in this test.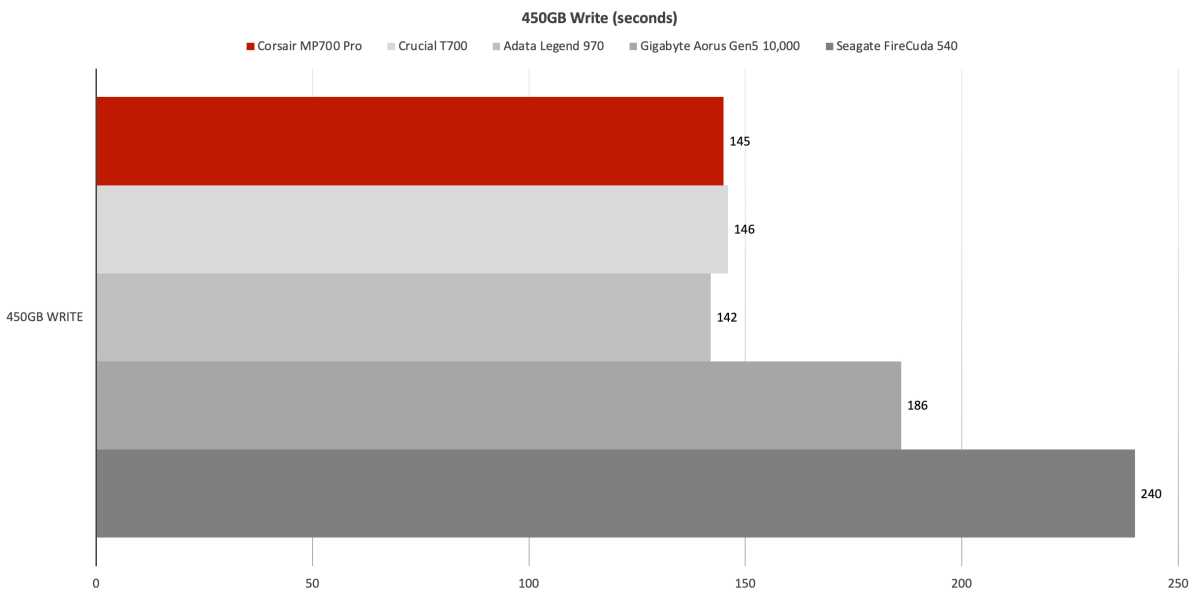 Note that many of the fastest drives in the 450GB write test are PCIe 4.0 with, again, some being host memory buffer (HMB) designs.
We did notice some oddities: It took the MP700 Pro nearly 30 seconds to format rather than the normal 5 to 10 seconds. There was also a momentary steep dip at end of the 450GB write to around 950MBps. That's hardly tragic, but it was noticeable.
Also, when we wrote an additional 1.35TB in two large files to fill the 2TB MP700 Pro to near capacity, writes vacillated between 120MBps and 3.2GBps though largely towards the latter. No doubt the dip and vacillations were the smart caching allotting more secondary cache on the fly (NAND written as SLC instead of TLC).
The MP700 Pro finally leveled off at about 950MBps around the 1200GB mark of the second write. Note that writing 1.35TB in two large files is a scenario few will ever subject the MP700 to, and nearly 1GBps is still pretty fast in the grand scheme, so most users can ignore that behavior.
Should you buy the Corsair MP700 Pro?
The Corsair MP700 is an excellent NVMe SSD that will provide top-flight performance in any system sporting a PCIe 5.0 M.2 slot. However, the Adata Legend 970 and Crucial T700 are right there with it performance-wise, so I'm calling the buying decision a pick'em based on current pricing and brand preference.
How we test
Drive tests currently utilize Windows 11, 64-bit running on an X790 (PCIe 4.0/5.0) motherboard/i5-12400 CPU combo with two Kingston Fury 32GB DDR5 4800MHz modules (64GB of memory total). Both 20Gbps USB and Thunderbolt 4 are integrated to the back panel and Intel CPU/GPU graphics are used. The 48GB transfer tests utilize an ImDisk RAM disk taking up 58GB of the 64GB of total memory. The 450GB file is transferred from a 2TB Samsung 990 Pro which also runs the OS.
Each test is performed on a newly formatted and TRIM'd drive so the results are optimal. Note that in normal use, as a drive fills up, performance may decrease due to less NAND for secondary caching, as well as other factors. This can be less of a factor with the current crop of SSDs with far faster late-generation NAND.
Caveat: The performance numbers shown apply only to the drive we were shipped and to the capacity tested. SSD performance can and will vary by capacity due to more or fewer chips to shotgun reads/writes across and the amount of NAND available for secondary caching. Vendors also occasionally swap components. If you ever notice a large discrepancy between the performance you experience and that which we report, by all means, let us know.
Best Prices Today: Corsair MP700 Pro PCIe 5.0 NVMe SSD
£166.91
Jon Jacobi is a musician, former x86/6800 programmer, and long-time computer enthusiast. He writes reviews on TVs, SSDs, dash cams, remote access software, Bluetooth speakers, and sundry other consumer-tech hardware and software.