Image: Friedrich Stiemer
At a glance
Expert's Rating
Pros
Sliding keypad
Precise sensor
Flexible connectivity: 2.4GHz, Bluetooth, USB cable
Long battery life
Robust workmanship
Cons
Bulky design
Higher weight compared to other gaming mice
Learning curve for MMO mouse newcomers
Different operating modes could confuse beginners
Only suitable for right-handers
Our Verdict
The Corsair Scimitar Elite Wireless presents itself as a serious competitor in the MMO mouse segment. With a current online price of $130, it is in the higher price segment, but offers a wealth of features that should appeal to MMO gamers and streamers in particular.
Best Prices Today: Corsair Scimitar Elite Wireless
$129.99
Gaming mice specifically for MMO gamers are rather rare. But it is precisely this target group that is addressed by the Corsair Scimitar Elite: A large, side-mounted keypad, which can even be moved, is the highlight of this model, along with the snappy wireless connection. But can it convince in practice? We have tested it extensively to find out.
Further reading: See our roundup of the best wireless gaming mice to learn about competing products.
Corsair Scimitar Elite Wireless design and comfort
The Corsair Scimitar Elite Wireless has a rather bulky, asymmetrical design. The mouse has a matte surface, which, in combination with a textured surface on the outer right-hand side, provides an overall good grip. The RGB lighting, which illuminates both the logo on the back and the button field, gives the mouse a further gaming touch.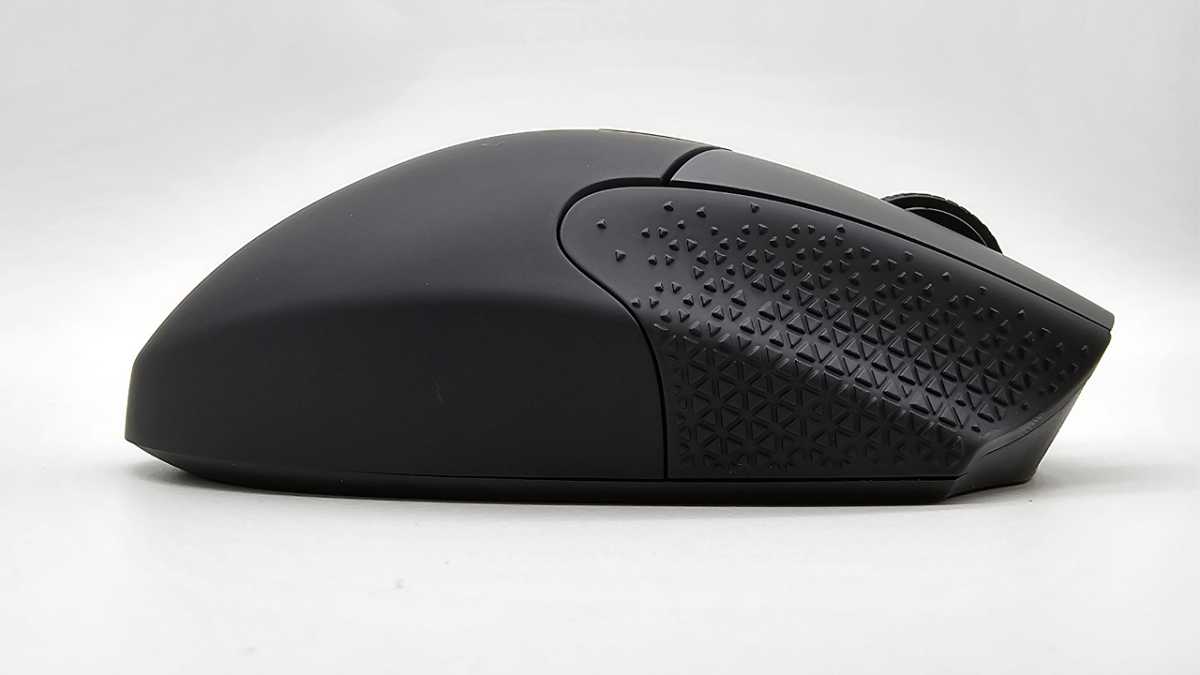 Friedrich Stiemer
However, the design might seem too cumbersome for some users, especially those who prefer a lighter weight in their gaming mice. This is because the Corsair Scimitar Elite Wireless weighs 4 ounces (114 grams), which makes it anything but light. At least the gliding behavior of the mouse is quite decent thanks to the integrated PTFE mouse skates. However, we think that even larger gliding surfaces would have been beneficial here.
Friedrich Stiemer
Equipment and technology
The Corsair Scimitar Elite Wireless is equipped with the Corsair Marksman optical sensor, which allows a maximum DPI level of 26,000, which can of course be adjusted in several steps in increments of 1. Together with the decent acceleration of 50G and sampling of 650 IPS, high accuracy and responsiveness in fast-gaming situations is guaranteed.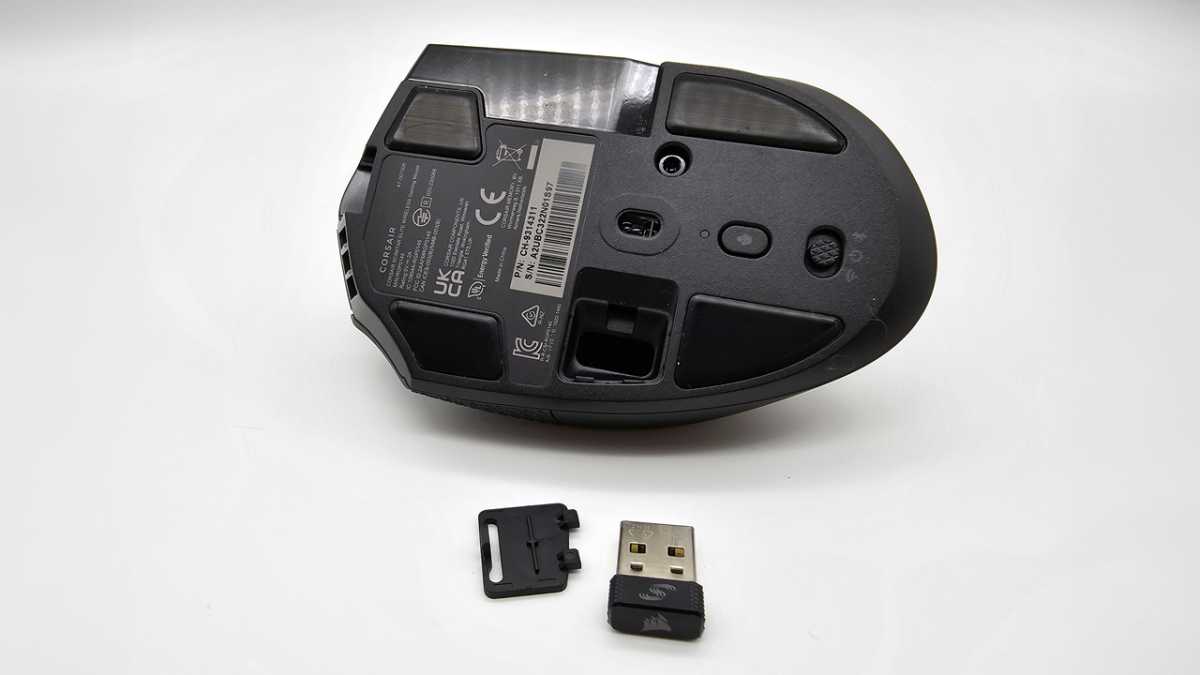 Friedrich Stiemer
The mouse also offers an adjustable polling rate of up to 2,000 hertz, which ensures almost lag-free transmission — even in wireless mode via the in-house Slipstream technology (2.4GHz radio)! The argument that wireless gaming mice react with a delay compared to wired mice is no longer true.
Flexible connectivity
The Corsair Scimitar Elite Wireless offers reliable wireless technology with the already mentioned Slipstream connection, which is made possible by the included USB dongle. This ensures interference-free transmission and minimizes latencies, which is particularly advantageous in fast-gaming situations. Alternatively, the slide switch on the underside can be used to switch to Bluetooth 4.2 LE in order to use the gaming mouse on many other devices, such as smart TVs.
Friedrich Stiemer
For those who still prefer a wired connection, however, a USB-C cable is also included. This is definitely necessary to replenish the integrated lithium-polymer battery with new energy. Fortunately, this isn't a frequent need: In Slipstream mode, the battery lasts 120 hours of runtime without illumination, and in Bluetooth mode 150 hours.
Adaptability thanks to the sliding keypad
The Corsair Scimitar Elite Wireless scores with its high adaptability. With 16 fully programmable buttons, it offers enough options to assign all the necessary actions and macros. The left and right mouse buttons are also equipped with optical switches for quick responsiveness and durability.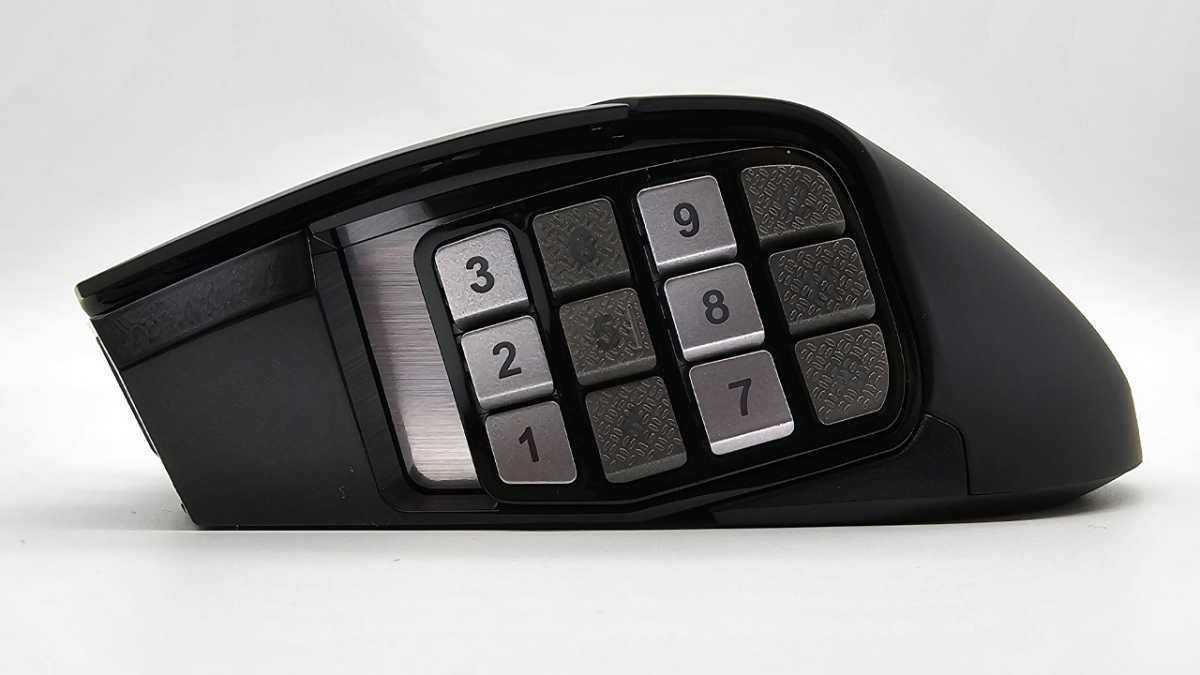 Friedrich Stiemer
The highlight, however, is the side keypad, or "Key Slider:" It offers 12 mechanical keys on the outer left side, which were developed especially for MMO and MOBA players. The special feature of this keypad is its adaptability: With the included hexagonal key, the screw in the bottom can be loosened to move the keypad a few centimeters depending on the size of the player's hand and grip style. The aim is to ensure optimal comfort and quick access to the keys. This allows for precise and individual adjustment, which can give the decisive advantage in heated moments of play. But beware: The design is only suitable for right-handers!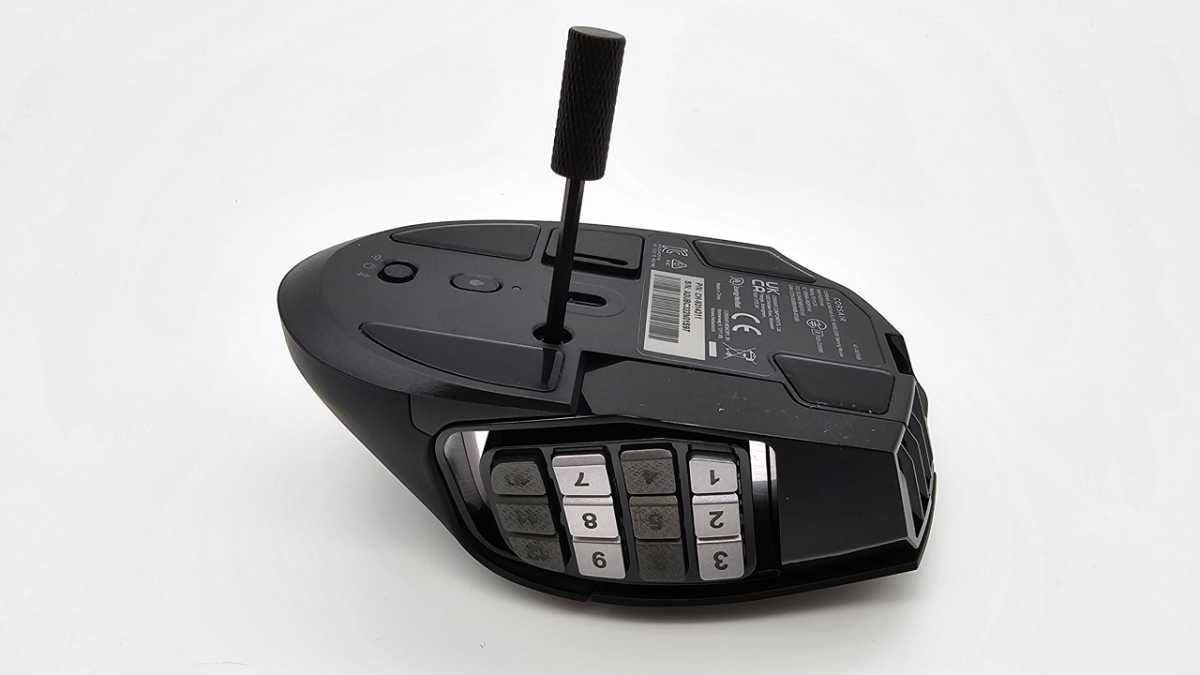 Friedrich Stiemer
Different operating modes
Corsair's iCue software ecosystem allows gamers to configure the wireless gaming mouse to their liking and synchronize RGB lighting effects. It should be noted, however, that the mouse offers two different profile settings for software and hardware operating modes, which might be confusing for beginners at first.
If a PC does not have iCue installed, the Corsair Scimitar Elite runs in hardware mode, in which it is only possible to switch between five onboard DPI profiles, which can also only be changed in steps of 50. In terms of lighting, too, only predefined effects are celebrated. More precise settings can only be made in software mode with iCue on the computer.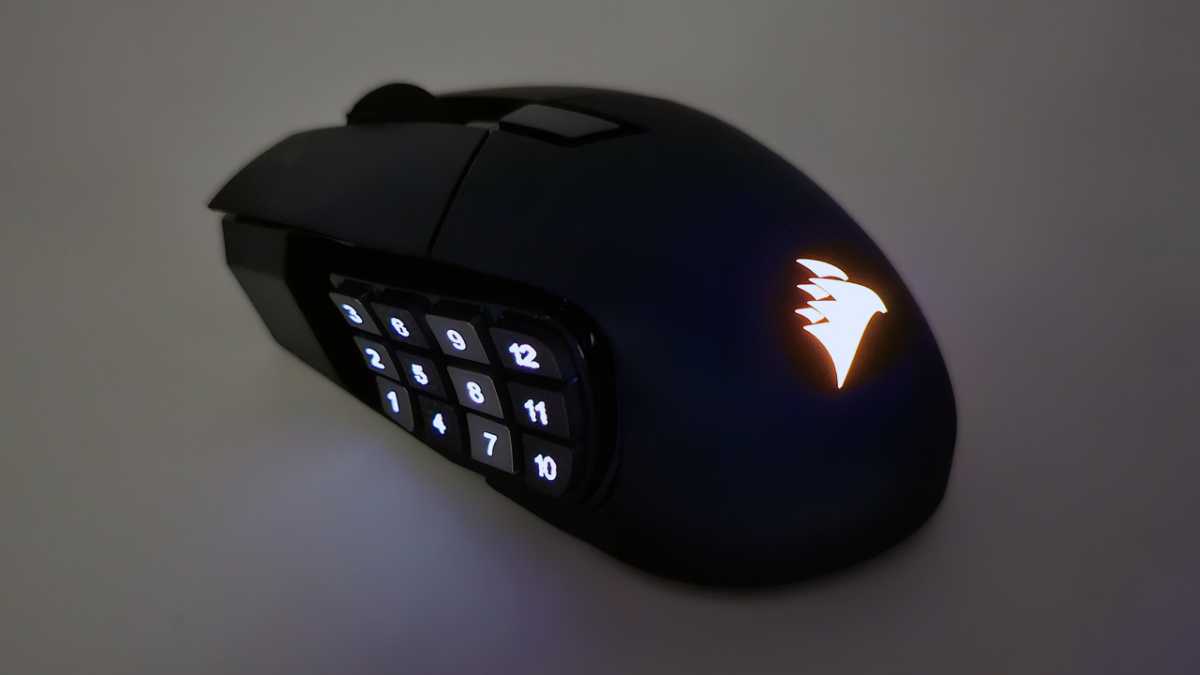 Friedrich Stiemer
What's included with the Corsair Scimitar Elite Wireless?
The Corsair Scimitar Elite Wireless includes not only the mouse itself, but also a sleeved USB charging cable and the USB dongle for the wireless Slipstream connection — the latter can also be safely stored in the bottom of the rodent.
How does the Corsair Scimitar Elite Wireless perform?
In practice, the Corsair Scimitar Elite Wireless convinces with its precision and responsiveness. In MMOs, where a multitude of key combinations and macros are required, the mouse enables fast and accurate inputs. The side button panel proves particularly useful as it facilitates quick access to frequently used commands.
Streamers who need to control their broadcasts in addition to gaming will appreciate the multitude of programmable buttons, as they make switching between scenes, starting/stopping streams and other functions easier. One possible point of criticism could be the acclimatization period, especially for those who have not used an MMO mouse before.
This review was translated from German to English and originally appeared on pcwelt.de.
Best Prices Today: Corsair Scimitar Elite Wireless
$129.99