Image: Jon L. Jacobi
At a glance
Expert's Rating
Pros
Excellent PCIe 4.0 performance
Very affordable for an NVMe SSD with DRAM
Up to 2TB of capacity
Available with low-profile heatsink
Cons
Very slow when secondary cache runs out
600TBW-per-1TB rating is merely average
Our Verdict
The T500 is one of the fastest PCIe 4.0 NVMe SSDs I've tested. It's affordable for its ilk and available with a low-profile heatsink for another $10.
Price When Reviewed
500GB: £90 I 1TB: £120 I 2TB: £170
Best Prices Today: Crucial T500 NVMe SSD
£60.99

£156.95
Crucial is at it again, delivering a PCIe 4 NVMe SSD with excellent performance at an affordable price point. Of course, it's not the equal of the PCIe 5.0 T700, but it's highly competitive with the best of the PCIe 4.0 SSDs that I've tested.
Further reading: See our roundup of the best PCIe 4.0 SSDs to learn about competing products.
What are the Crucial T500's main features?
The T500 is a PCIe 4.0 x4 M.2, 2280 (22mm wide, 80mm long) NVMe SSD utilizing a Phison PS5025-E25 controller and 232-layer Micron TLC (Triple-Level Cell) NAND. It also employs 1GB of DRAM per terabyte of capacity for primary caching duties.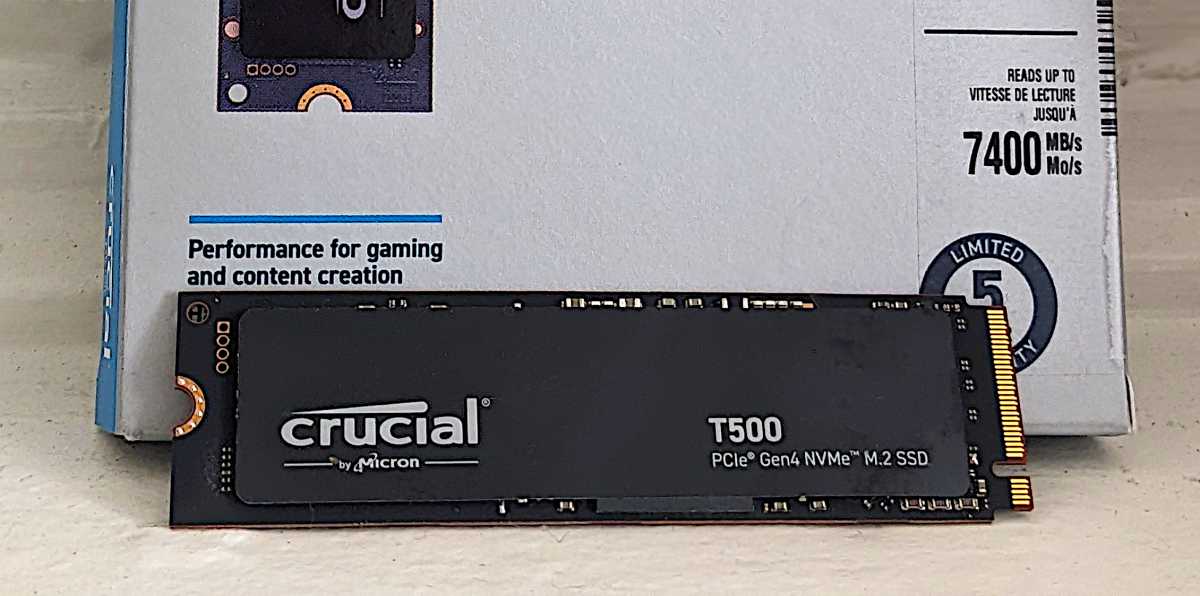 We've seen a number of good-performing HMB (Host Memory Buffer) SSDs recently, but they can't match DRAM cache for the fastest random access and 4K performance. Translation: DRAM makes your operating system livelier.
How much does the Crucial T500 cost?
The T500 is available in 500GB, 1TB, and 2TB capacities for $90, $120, and $170, respectively. That's with a simple heat spreader. A larger, low-profile heatsink is available with the 1TB and 2TB models, which raises those prices $10, to $130 and $180.
Jon L. Jacobi
How long is the T500 warranty?
Crucial warranties the drive against failure for five years, or 600TBW (terabytes that can be written) per terabyte of capacity. That is, the drive allows you to write up to 600 terabytes for every 1TB of NAND without any drop in capacity, or going into read-only mode due to cells wearing out.
How fast is the Crucial T500?
Short answer: The Crucial T500 is very fast. It didn't quite match the excellent Solidigm P44 Pro overall, but it wasn't far behind and bested that rival in several individual tests.
Note that the Solidigm P44 Pro and Kingston Fury Renegade are both PCIe 4.0 SSDs with DRAM cache. The Lexar NM790 shown on the charts below is the fastest of the host memory buffer (HMB) drives I've tested.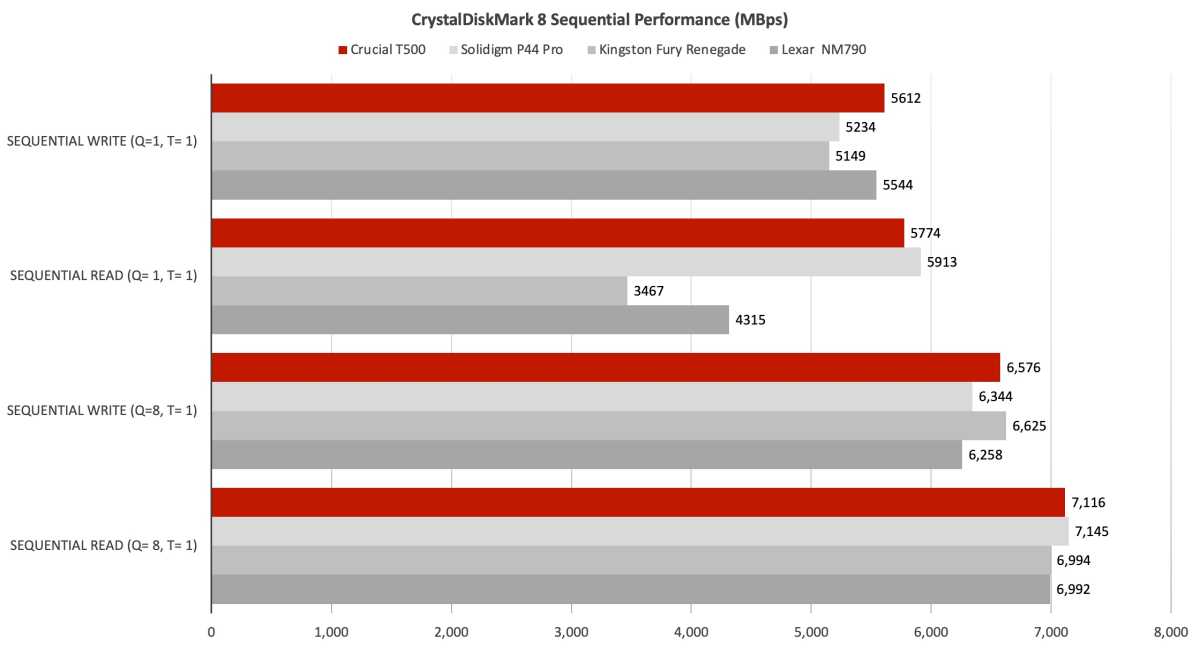 The T500 carried through its excellent CrystalDiskMark 8 performance in the 4K tests.
The T500 did quite well with our real-world 48GB transfers (shown below), only truly falling off the pace of the Solidigm and Lexar NM970 in writing the 48GB group of smaller files and folders.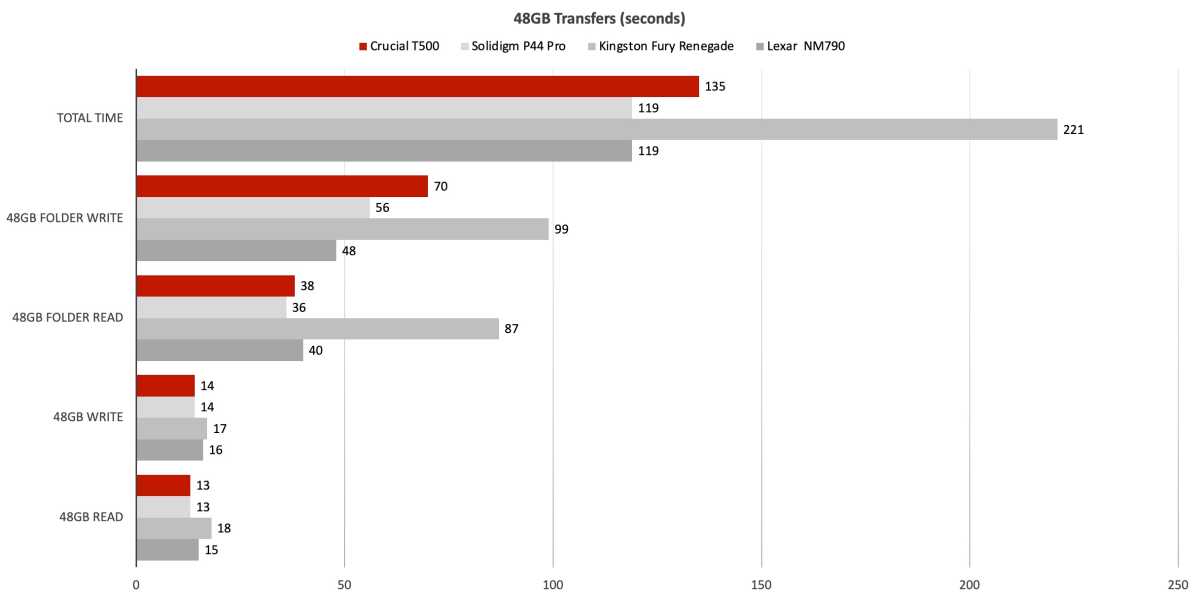 The T500 actually set a new record (even besting PCIe 5.0 types) in our 450GB write; however, that's not to say the drive is the best we've seen at sustained writes. Writing another 500GB to the drive exhausted its secondary cache and the speed dropped to less than 150MBps only about 100MB into the process.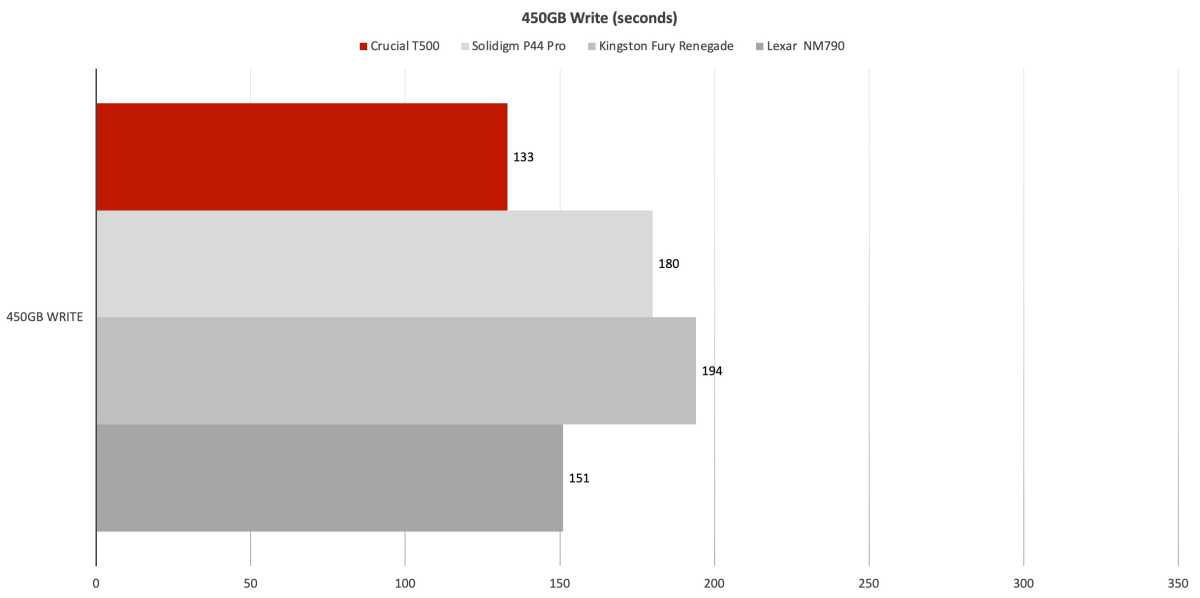 After some time off, the drive recovered nicely, and despite having only around 200MB of capacity left on the 2TB drive, it wrote another 48GB at over 3GBps. Put another way, you can't write more than 600MB before write speeds drop, but the drive will still perform well even when nearly full. Obviously, the slowdown will occur sooner on the 1TB model.
Should you buy the Crucial T500?
If you want excellent PCIe 4.0 performance at a good price, the T500 should be on your tire-kicking list. And thanks to the onboard DRAM and its quick random performance, it's also a great drive to run your operating system off of.
How we test
Internal drive tests currently utilize Windows 11, 64-bit running on an X790 (PCIe 4.0/5.0) motherboard/i5-12400 CPU combo with two Kingston Fury 32GB DDR5 4800MHz modules (64GB of memory total). Both 20Gbps USB and Thunderbolt 4 are integrated to the back panel and Intel CPU/GPU graphics are used. The 48GB transfer tests utilize an ImDisk RAM disk taking up 58GB of the 64GB of total memory. The 450GB file is transferred from a Samsung 990 Pro 2TB which also runs the OS.
Each test is performed on a newly formatted and TRIM'd drive so the results are optimal. Note that in normal use, as a drive fills up, performance will decrease due to less NAND for secondary caching, as well as other factors.
Caveat: The performance numbers shown apply only to the drive we were shipped and to the capacity tested. SSD performance can and will vary by capacity due to more or fewer chips to shotgun reads/writes across and the amount of NAND available for secondary caching. Vendors also occasionally swap components. If you ever notice a large discrepancy between the performance you experience and that which we report, by all means, let us know.
Best Prices Today: Crucial T500 NVMe SSD
£60.99

£156.95
Jon Jacobi is a musician, former x86/6800 programmer, and long-time computer enthusiast. He writes reviews on TVs, SSDs, dash cams, remote access software, Bluetooth speakers, and sundry other consumer-tech hardware and software.