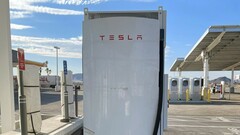 Starting near its new Gigafactories in Mexico and Texas, the proposed Tesla Megacharger corridor will be stretching all the way up to California. Tesla is asking for US$100 million in state and federal funding to roll out Semi chargers there that could benefit the Cybertruck as well.
Tesla is looking to tap into the multibillion federal EV charging program that aims to build a nationwide network with a proposal for a 1,800-mile Megacharger stretch from California to Texas. The actual output of the piles on the new fast charging route will be 750kW, and Tesla is on record saying that both its Semi rig and its Cybertruck pickup will be able to benefit from its Megachargers.
This could mean that the Cybertruck will be the first Tesla vehicle built on a modern 800V architecture, corroborated by the rumor that Tesla has developed a special Cyber cell for its 4680 battery pack that has higher energy density.
Interestingly enough, Tesla is asking for US$97 million in federal funding to build the Megacharger corridor starting in Laredo at the border with Mexico, rather than the Austin Gigafactory. There, it will be just 140 miles from the new Mexico Gigafactory that will reportedly produce the mass market Model 2, as well as Cybertruck components.
In California, the new Megacharger route goes to Tesla's Fremont factory which is now in the process of 4680 battery production expansion. Tesla will contribute US$24 million of its own money to the project, and has tasked the Texas Department of Transportation and California's South Coast Air Quality Management District to lobby before the US Department of Transportation's Federal Highway Administration for US$97 million more in taxpayer money.
The US government transportation entity is distributing the grants with a US$7.5 billion war chest set aside  for a nationwide EV charging network buildout in the Inflation Reduction Act, and will be announcing the winners later this year.
Related Articles
Daniel Zlatev – Tech Writer – 828 articles published on Notebookcheck since 2021
Wooed by tech since the industrial espionage of Apple computers and the times of pixelized Nintendos, Daniel went and opened a gaming club when personal computers and consoles were still an expensive rarity. Nowadays, fascination is not with specs and speed but rather the lifestyle that computers in our pocket, house, and car have shoehorned us in, from the infinite scroll and the privacy hazards to authenticating every bit and move of our existence.
Daniel Zlatev, 2023-08- 1 (Update: 2023-08- 1)