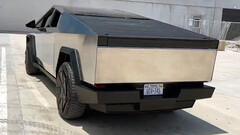 A full 360 walkaround video of the Cybertruck Release Candidate that recently got off the production line at Giga Austin has appeared confirming the minute details of the stainless steel body design. The Cybertruck has also been caught in motion sporting new, flatter wheel covers.
The finalized design of the first production Tesla Cybertruck has been caught on video and the full walkaround footage catches its Texan number plate, the 5MP HW4 camera in the front bumper, as well as the interior with the new yoke steering wheel and the giant central console display.
This one still sports the known wheel covers that could be seen on earlier prototypes, but in the meantime one of the camo-wrapped Cybertruck test mules was filmed with brand new wheel covers on. It is unclear if those will make it to the retail Cybertruck edition, but the are flatter and look more aerodynamic compared to the older, edgier covers.
While they are more in tune with the Cybertruck's angular design, different Model Y wheel covers do affect drag coefficient hence range to a certain extent. Perhaps not as much as the presence of side mirrors, though, which Elon Musk previously mentioned could lower highway driving range as much as 5% when installed. Tesla had made them easily removable on the Cybertruck, even though federal regulations still require them.
The Lotus Eletre recently started shipping with digital mirrors as soon as the local regulators allowed it, saying that the solution would increase the field of view, nighttime visibility, and add to the SUV's range by lowering the drag coefficient.
While Tesla recently bragged with the first production Cybertruck, which it calls a Release Candidate, the electric pickup's deliveries are scheduled for the fall, and that's when it will reveal more about the exact Cybertruck price and specs.
Get the KAVANIC Gemini wheel covers for 2020-2023 Model Y on Amazon
— Greggertruck (@greggertruck) July 31, 2023
Related Articles
Daniel Zlatev – Tech Writer – 832 articles published on Notebookcheck since 2021
Wooed by tech since the industrial espionage of Apple computers and the times of pixelized Nintendos, Daniel went and opened a gaming club when personal computers and consoles were still an expensive rarity. Nowadays, fascination is not with specs and speed but rather the lifestyle that computers in our pocket, house, and car have shoehorned us in, from the infinite scroll and the privacy hazards to authenticating every bit and move of our existence.
Daniel Zlatev, 2023-08- 2 (Update: 2023-08- 2)