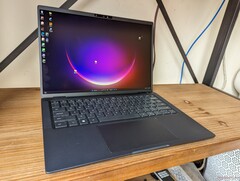 New and interesting features are nice to see, but the changes to the Latitude 9440 almost feel like a beta test when compared to the more reliable physical buttons and clickpad of the Latitude 7440.
After several years of essentially the same chassis design for the XPS 13 series, Dell went all out with the 2022 XPS 13 Plus and its exotic looks. Many of its defining features were eventually incorporated onto the high-end business-centric Latitude 9440 including the Zero Lattice keyboard, touch-sensitive LED buttons, and extra-large clickpad that would stretch to the front edge of the laptop. In our review of the Latitude 9440, however, we found many of these to be inconsequential or even detrimental at worst to the overall user experience.
Thankfully, the midrange Latitude 7440 skips over many of the exotic features for a more traditional approach. Business users arguably prefer laptops that "just work" instead of unfamiliar features that may appear nice at first, but might do very little to help in practice. The aforementioned edge-to-edge clickpad on the Latitude 9440, for example, is spongier and overly sensitive than the traditional clickpad on the Latitude 7440 while the touch-sensitive LED buttons just aren't as reliable as regular tactile keys.
The lighter Latitude 7440 also has the advantage in terms of port selection. Though the future is moving towards USB-C, most business users are likely not yet ready to give up on every other port just yet. The Latitude 7440 integrates a variety of ports ranging from USB-A to HDMI instead of the USB-C-only approach of the Latitude 9440.
More articles related to this device
Dell Latitude 7440 (Latitude Series)
Related Articles
Allen Ngo – Lead Editor U.S. – 5099 articles published on Notebookcheck since 2011
After graduating with a B.S. in environmental hydrodynamics from the University of California, I studied reactor physics to become licensed by the U.S. NRC to operate nuclear reactors. There's a striking level of appreciation you gain for everyday consumer electronics after working with modern nuclear reactivity systems astonishingly powered by computers from the 80s. When I'm not managing day-to-day activities and US review articles on Notebookcheck, you can catch me following the eSports scene and the latest gaming news.
Allen Ngo, 2023-07-18 (Update: 2023-07-17)