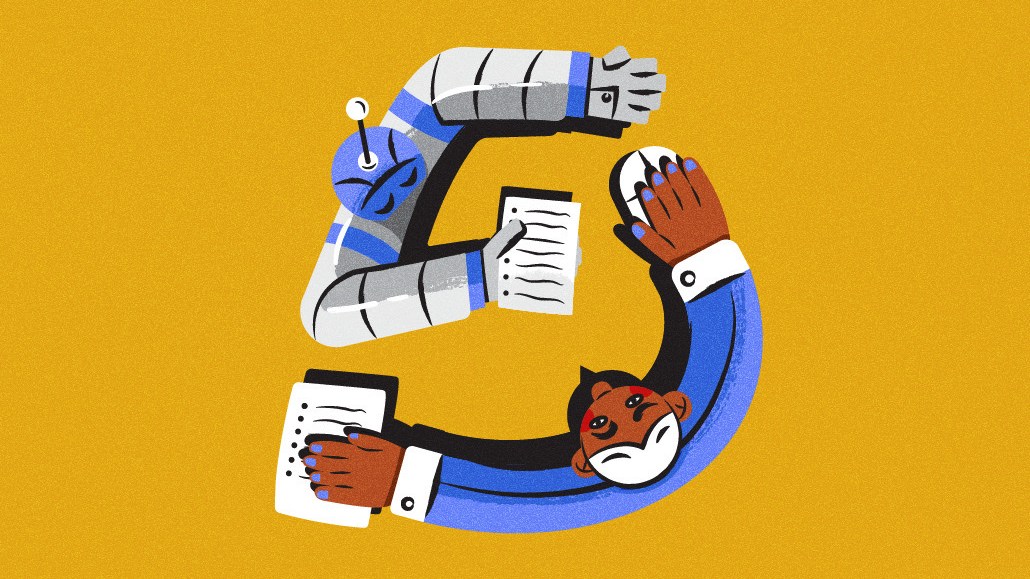 Ivy Liu
Interested in sharing your perspectives on the media and marketing industries? Join the Digiday research panel.
Generative artificial intelligence technology has become inescapable in almost every industry. Just ask ChatGPT — it will take mere seconds to tell you all about it. In publishing specifically, there's been significant talk about how to apply generative AI technology, and whether to apply it at all.
Digiday+ Research surveyed 72 publisher professionals and found that, when it comes to generative AI, publishers are split down the middle — and use of the technology is poised to grow in the media industry.
It turns out that nearly half of publishers are already using generative AI technology, Digiday's survey found. To be exact, 49% of publisher pros said their companies currently use generative AI, and 51% said their companies are not making use of the technology — yet.
Of the publishers who said they're not currently using generative AI, more than half (54%) said they plan on incorporating the technology sometime in the next year. Although, 46% of those not using generative AI said they have no plans to start in the next 12 months.
The amount of interest in generative AI among publishers shows the role the technology is already playing in the media industry, and even how much further it is likely to go.
It's worth noting that BuzzFeed, BridgeTower Media, Forbes, Ingenio and Trusted Media Brands now have dedicated teams for overseeing their own AI initiatives — which run the gamut from determining how to test AI and developing company policies on AI and machine learning, to looking at how AI can cut down on the use of third-party vendors and creating new AI-based products.
Meanwhile, Ingenio used generative AI to publish more than 11,000 articles and created a chatbot using the technology. And BuzzFeed, Dotdash Meredith, Gannett and The Arena Group have expressed that generative AI will be an area of focus as they look to cut costs and and find new revenue opportunities in a tough media market.
Among the publishers who said in Digiday's survey that they're already using generative AI, the largest percentage said they're using the technology for writing copy. Nearly two-thirds of publisher pros using generative AI (63%) said this, followed by 49% who said they use the technology for research, and 46% who said they use generative AI for marketing purposes.
Forty percent of publisher pros told Digiday they're using generative AI for content creation, and just over a quarter (26%) said they use the technology for data management — rounding out the top five uses of generative AI among publishers.
Notably, 14% of publishers said they're using generative AI in areas not included on Digiday's list. Some of the "other" ways publishers are incorporating generative AI into their operations include search engine optimization (a strategy shared by Ingenio, Team Whistle, BuzzFeed and Gannett), creating artwork for articles, coding and business communications.
As part of the Digiday+ community, don't miss our member-only live analysis on how publishers are using AI. Tomorrow at 2 p.m. ET, Digiday Media research director Li Lu and Digiday senior media reporter Sara Guaglione will reveal the results of the AI installment of Digiday's research series on emerging technologies. They'll discuss how publishers are fueling data-driven personalization efforts, what natural language processors, like AI chatbots, publishers are using and where publishers expect growth with generative AI. Register for this virtual event.
https://digiday.com/?p=503211