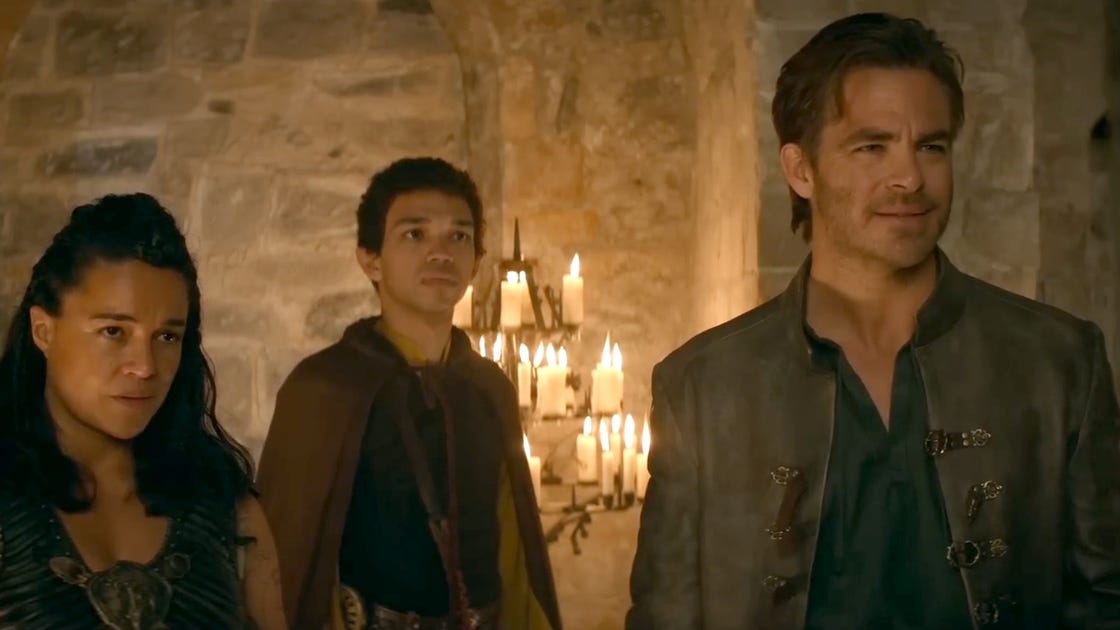 The action-packed adventure movie Dungeon & Dragons: Honor Among Thieves brings the high fantasy escapism of the hugely popular tabletop roleplaying game Dungeons & Dragons to the big screen.
The movie follows loveable rogue Edgin Darvis, played by Chris Pine, and his rag-tag team of magical misfits, including barbarian Holga (Michelle Rodriguez), paladin Xenk (Rege-Jean Page), and sorceror Simon (Justice Smith), who must face off against adventurer-turned-tyrant Forge Fitzwilliam (Hugh Grant).
This isn't Paramount's first attempt to adapt D&D; there was a trilogy of movies in the early 2000s which are probably better left forgotten, but the script and ensemble cast in Honor Among Thieves are garnering far more glowing reviews, and leading viewers to speculate that this could be the first in a new series of stories set in the D&D fantasy world.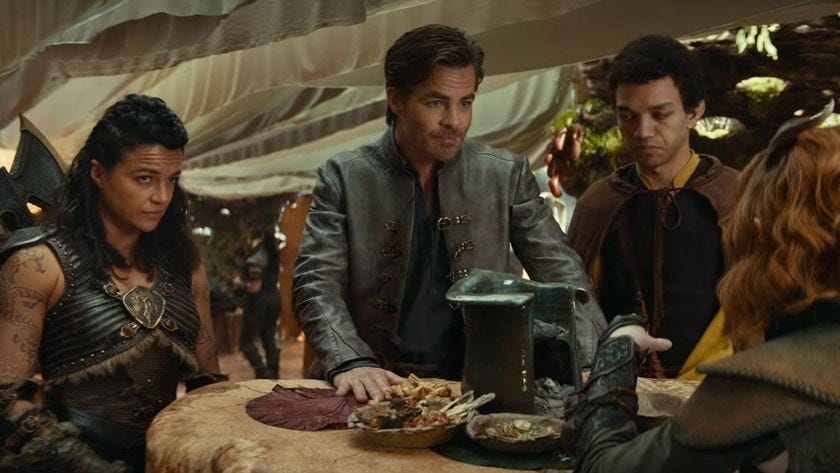 Paramount
And if we've learned anything from the Marvel Cinematic Universe, it's that a surefire way to get audiences talking about potential future installments is to leave them with a little tease in the form of a post-credits scene.
Is there a post-credits scene in Dungeons & Dragons: Honor Among Thieves?
After Chris Pine and co. have defeated the bad guy and saved the day, all that's left is for the music to play and for the credits to roll… but you won't want to leave the theater right away because yes, Dungeons & Dragons: Honor Among Thieves does include a post-credits scene.
Or more accurately, a mid-credits scene: after the initial animated credit sequence, the characters make one more appearance. However, it is not to leave the door open for future adventures, but rather a callback to one of the movie's earlier comic setpieces. We won't spoil it for you here, just stay in your seat and enjoy.
Philip Ellis is a freelance writer and journalist from the United Kingdom covering pop culture, relationships and LGBTQ+ issues. His work has appeared in GQ, Teen Vogue, Man Repeller and MTV.