THAT JOHN WICK has become a "franchise" at all is, quite frankly, something of a miracle. 2014's John Wick was planned as a one-off revenge thriller, based on a spec script from writer Derek Kolstad, for a modest budget that sat somewhere between $20 and $30 million dollars. In fact, that original film wasn't even called John Wick; instead, it was Scorn, a title star Keanu Reeves disliked so much that he just kept referring to it as John Wick. Lionsgate eventually changed the title—quite late in the game—as a result.
The first John Wick became a hit (grossing $86 million against that small budget) thanks to a cocktail of things—good word of mouth, a thirst for strong action movies—but mostly thanks to Keanu Reeves' one-of-kind combination of specific on-screen persona and utterly badass action skills. The franchise continued to grow through the years, gaining budget on the back end (making each John Wick movie bigger than the last) and tallying longer and longer box office receipts along the way. And that's almost all thanks to the leading man with the gun and the suit.
Part of what makes the John Wick franchise (now up to four feature films, with more already being teased) unique and different from other similar series like Mission Impossible or Fast & Furious is the utter simplicity of the story—John Wick takes on bad guys is essentially it—mixed with some very intense world building. And while the John Wick films just give audiences a taste of the lore and mystery involved with both The Continental hotel (a haven for assassins), Peacock's new show The Continental: From the World of John Wick is diving all the way in, filling in spaces that may have previously been left blank on purpose.
And to tell that story, The Continental is heading back in time—to the '70s, following a younger version of Winston Scott (Ian McShane's character in the films, played here by The Flight Attendant 's Colin Woodell) as he navigates his own version of New York City before managing the hotel himself. And to get where we know he eventually does, he's going to need to take on the hotel's then-manager, a ruthless crime lord named Cormac (played by the unnecessarily-cast Mel Gibson).
But is it even really part of the John Wick world without John Wick himself?
Is Keanu Reeves in The Continental as John Wick?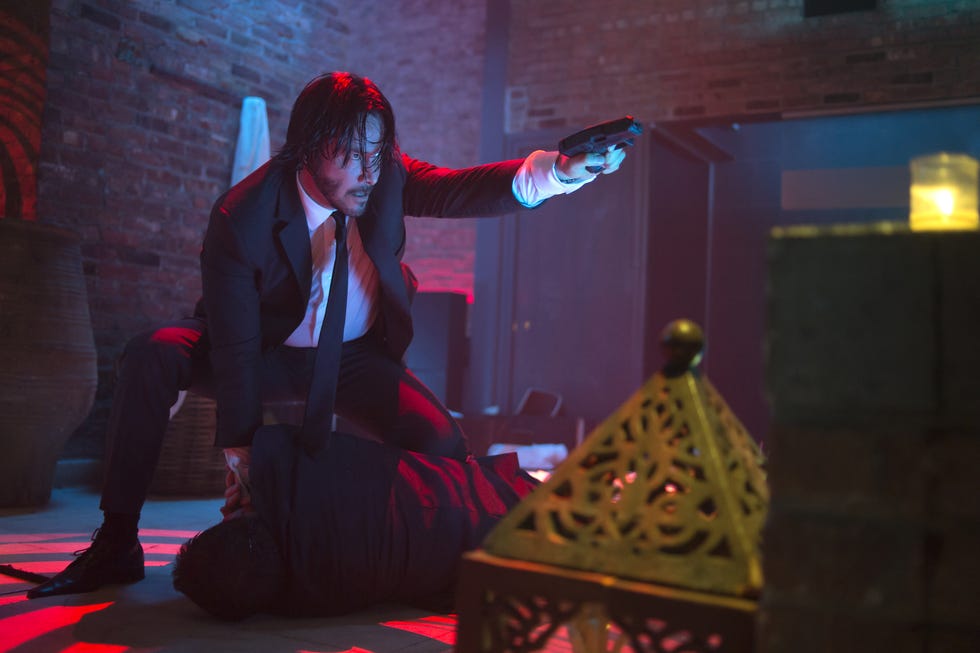 Warner Bros.
At this time, Keanu Reeves is not a part of The Continental: From the World of John Wick.
This wasn't always the plan, though. Back in 2017, when the series was first announced as a Starz orignal, the series was meant to take place in a "hyper-real version of Los Angeles" rather than the '70s-era New York City that we ended up getting. And at that time, there were plans for John Wick himself to remain a part of the world in the John Wick universe series.
"Keanu is an executive producer, and I think you can expect to see him at some point in the series," Starz president of programming Carmi Zlotnik said, according to Indiewire. "That is part of the ongoing conversation." (Reeves is not an executive producer of the 2023 version of The Continental either, though the original film's co-directors Chad Stahelski and David Leitch both are.)
Times change, and things change, though. The long road to existence for The Continental found the series moving from Starz to Peacock, from LA to NYC, and from the present day to the '70s. And somewhere along the way, it lost Reeves as well.
At least it makes sense for John Wick not to appear at this point; if the character is about the same age as Reeves himself, John Wick would've only been about 10-15 years old at the time when the show is set. Hardly an appropriate age to be acrobatically shooting people!
There is some good news, though: Reeves will, however, appear in 2024's Ballerina, starring Ana de Armas, itself a spinoff that takes place between the third and fourth John Wick films.
Will someone else play John Wick in The Continental: From the World of John Wick?
It would be a fairly predictable (though also sensible) easter egg for a young/teenage John Wick to appear at some point in The Continental. After all, Winston in the films has always seemed like a father-figure to John, and John seems to have essentially been birthed into this bizarre, eccentric, world of killers.
We won't count this possibility out.

Evan is the culture editor for Men's Health, with bylines in The New York Times, MTV News, Brooklyn Magazine, and VICE. He loves weird movies, watches too much TV, and listens to music more often than he doesn't.