THE CURSE WAS destined to be a great, weird thing. Anyone familiar with the work of Nathan Fielder—who last year made one of the great weird shows in HBO's The Rehearsal, and also previously made Nathan For You and produced How to With John Wilson—and Benny Safdie—who, along with his brother Josh, wrote and directed the films Uncut Gems and Good Time—knew that we were in for an all-timer of weird when they decided to link up. Add in one of the most charismatic and talented actresses of her generation in Emma Stone (an Academy Award winner for La La Land), and The Curse became just about a n0-doubter.
The show has a premise that sells itself (if you're into the very specific type of dark, dry humor that all of the above thrive in): a couple named Asher and Whitney (Stone and Fielder) are making a new HGTV show that's deeply problematic. They are, essentially, wealthy, upper class real estate developers who are trying to use modern culture and language to mask what they're really doing—gentrifying a neighborhood and driving its original residents out of town.
The filmmaker helping them make their show, Dougie, (Safdie) may just be the worst of the bunch; he has zero ethics, and is willing to do just about anything to get a reaction shot that would make for good TV. We won't get too deep into spoiler territory, but when Dougie shows off a video reel of one of his previous reality TV projects to Asher and Whitney… it's one of the most messed-up, strange, and hilariously absurd things you'll ever see.
The Curse dives into this sort of social unease as its currency of choice, not a single one of these three main characters is innocent—and the show is fully aware of that. Throughout the episodes, we revel in their misdeeds, can't look away as they convince themselves they're not so bad, and make us crack up immensely along the way.
Here's how you can catch every episode of The Curse.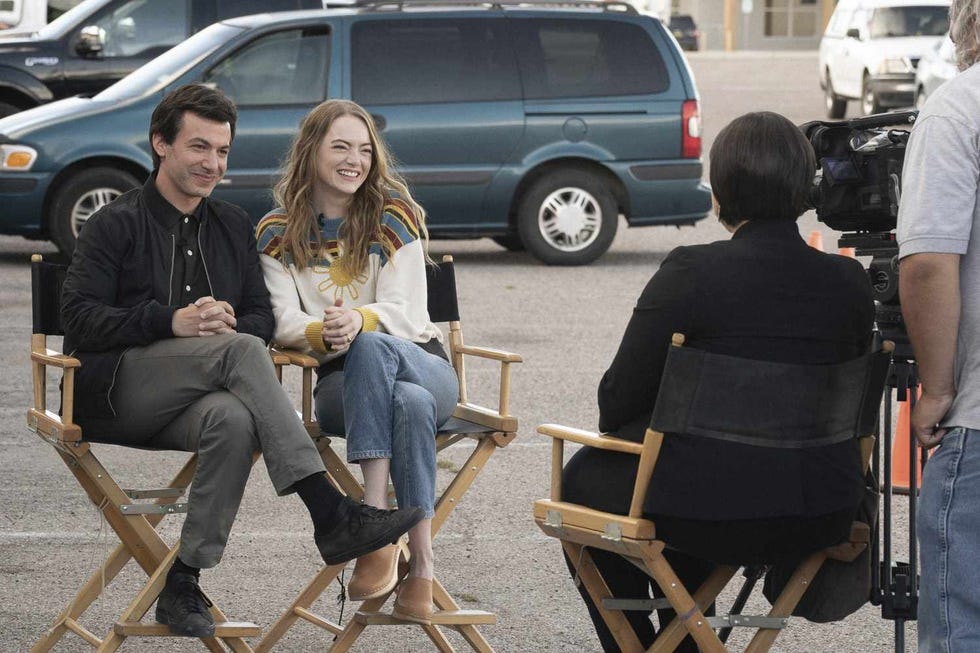 Showtime
What time do new episodes of The Curse premiere?
There are several ways to watch The Curse. The show will first debut on streaming, on both Paramount+ and the Showtime app, on Fridays. New episodes of The Curse will then debut on linear TV, on Showtime, at 10 p.m. on the following Sunday.
When is the next episode of The Curse?
The next episode of The Curse premieres on Friday, November 24 on Paramount +, and will air on Showtime on Sunday, November 26.
How many episodes are in The Curse?
There are 10 episodes of The Curse, which means there are now 8 episodes left.
Here's the complete release schedule for The Curse:
New episodes will stream on Fridays, then air on Sundays at 10 p.m. on Showtime.
Episode 1: Streaming as of November 10
Episode 2: Streaming as of November 17, Airs on Showtime on November 19
Episode 3: Streaming on November 24, Airs on Showtime on November 26
Episode 4: Streaming on December 1, Airs on Showtime on December 3
Episode 5: Streaming on December 8, Airs on Showtime on December 10
Episode 6: Streaming on December 15, Airs on Showtime on December 17
Episode 7: Streaming on December 22, Airs on Showtime on December 24
Episode 8: Streaming on December 29, Airs on Showtime on December 31
Episode 9: Streaming on January 5, Airs on Showtime on January 7
Episode 10: Streaming on January 12, Airs on Showtime on January 14

Evan is the culture editor for Men's Health, with bylines in The New York Times, MTV News, Brooklyn Magazine, and VICE. He loves weird movies, watches too much TV, and listens to music more often than he doesn't.