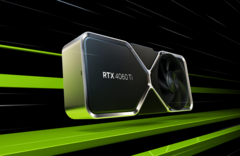 NVIDIA confirmed last month that the RTX 4060, the cheapest RTX 40 board, will be available to buy in July. However, according to a new report from Paul of RedGamingTech which was later supported by MEGAsizeGPU on Twitter, the RTX 4060 will release later this month. Additionally, Paul has confirmed that the RTX 50 Blackwell GPUs will follow the release pattern of previous GeForce launches.
NVIDIA launched the US$399 RTX 4060 Ti 8 GB last month with the promise that the US$499 RTX 4060 Ti 16 GB and the US$299 RTX 4060 would come sometime in July. However, NVIDIA may be launching the RTX 4060 earlier than expected if a new report from RedGamingTech is accurate.
According to Paul, the RTX 4060 release date is set for June 29 with the review embargo lifting a day earlier. This would mean that the RTX 4060 is coming to the market a little over a month after the RTX 4060 Ti 8 GB. The report is further substantiated by MEGAsizeGPU who has leaked what appears to be an official NVIDIA document detailing the RTX 4060 review and release dates of 28 and 29 June respectively.
Moving on, Paul also alleges that the GeForce RTX 50 "Blackwell" GPUs are going to be launched in the same September/October release window as previous NVIDIA cards. NVIDIA typically introduces a new GPU architecture every two years. For instance, the RTX 20 "Turing" series kicked off in September 2018 followed by the debut of the RTX 30 "Ampere" GPUs in September 2020. Similarly, the first RTX 40 "Ada Lovelace" boards launched in October 2022. Based on this pattern, we may see the RTX 50 Blackwell GPUs release next year in late Q3 in September or early Q4 in October.
All in all, it looks like NVIDIA could launch the RTX 4060 at the end of this month. The move makes some sense, as the RTX 4060 Ti seemingly hasn't had a good reception. So, the company might be hoping to win the consumers back with a budget card.
Related Articles
Fawad Murtaza – Tech Writer – 465 articles published on Notebookcheck since 2021
I am Fawad, a fellow tech nerd. As a tech junkie, my relationship with technology goes back to my childhood years. Getting my first Intel Pentium 4 PC was the start of journey that would eventually bring me to Notebookcheck. Finally, I have been writing for tech media since 2018. From small no-name projects to industry leaders, I have worked with a number of tech publications.
Fawad Murtaza, 2023-06-12 (Update: 2023-06-12)