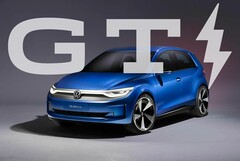 A new trademark registration has sparked rumours that Volkswagen is reinventing the Golf GTI for the age of electrification. Volkswagen has previously stated that it is committed to the petrol-powered Golf GTI until at least 2030, but it left the door open for speculation about the potential electric hot hatch coming in the years following.
While Volkswagen has a bit of an odd relationship with nostalgia and old vehicle nameplates, there are few vehicle brands that are as recogniseable as the Volkswagen Golf GTI when it comes to hot hatches, so it stands to reason that VW may want to consider an electric Golf GTI. If recent trademark filings are to be believed, Volkswagen may be planning just that, although it is still early days (via Carbuzz).
A trademark application in the German Patent and Trade Mark Office reveals a redesigned GTI logo for a possible electric Golf GTI. It appears as though the German marque wants to use the GTI reputation to bolster excitement for its future electric vehicles, since it has kept the same lettering, but replaced the "I" in "GTI" with a lightning bolt.
It's likely that VW altered the branding slightly because GTI stands for Grand Touring Injection, which wouldn't apply to EVs that have no fuel injection.
Reasonable speculation suggests that any attempt at an electric Golf GTI would come in the form of an upgraded ID.2all, which, although it's still a concept, is predicted to start at around €25,000. How VW would alter the ID.2all to reach Golf GTI heights is unclear, but if and when it eventually comes to market, the Golf GTI will have plenty to contend with.
If a prospective Golf GTI EV does arrive in the coming years, it will need something special to compete with the likes of the upcoming Renault 5 EV and the already-released electric Mini Cooper — which just got a massive upgrade for next year — and the Fiat and Abarth 500e.
Although there are hints of at least some sort of electric GTI trim coming in the near future, a Golf GTI EV may be further out than we all hope for, since VW is committed to the petrol-powered Golf GTI until at least 2030. On the other hand, the Golf GTI celebrates its 50th anniversary in Europe in 2025, presenting VW the perfect opportunity to launch a special-edition electric concept or generate hype for an electric production Golf GTI.
Current VW performance EVs feature GTX branding, but it's unclear whether this will be replaced by the new GTI logo or if it will be repurposed for another trim or variant. Perhaps we'll see GTX represent something like the Kia GT-Line trims, which are slightly less potent but more affordable than their GT variants.
Buy a BEEZRC RocHobby 1/12 RC Crawler KOMMANDEURWAGEN Type 82E 4-RWD Offroad Truck on Amazon.
Related Articles
Julian van der Merwe – Magazine Writer – 302 articles published on Notebookcheck since 2022
My interest in tech started in high school, rooting and flashing my Motorola Defy, but I really fell down the rabbit hole when I realised I could overclock the i7 930 in my Gigabyte pre-built PC. This tinkering addiction eventually lead me to study product design in university. I think tech should improve the lives of the people using it, no matter the field. I like to read and write about laptops, smartphones, software and trends in technology.
Julian van der Merwe, 2023-08- 4 (Update: 2023-08- 4)