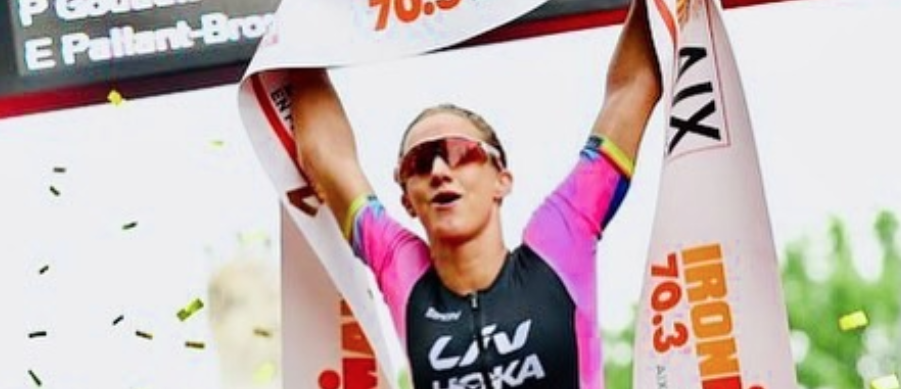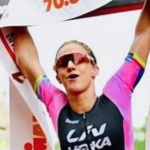 Britain's Emma Pallant-Browne had to fight hard for it at first, but has just recorded a fairly comfortable victory at Ironman 70.3 Swansea. In the men's race, the win went somewhat surprisingly to Spaniard Antonio Benito López.
That win was not so much surprising because there was such a particularly strong field of competitors – really big names were missing from the starting list for the men's race – but rather because basically everyone had taken Justus Nieschlag into account. The German had a significant lead during the bike ride, but then either material problems or a crash occurred, as he suddenly lost minutes and with it his lead. Not much later, Nieschlag would leave the race.
In any case, it opened doors for Benito López, who came out of the water in front after the swim, but had to acknowledge his superiority to Briton Andrew Horsfall-Turner during the bike ride. On his own, Horsfall-Turner took off to eventually return in T2 with a 5:33 minute lead over a chasing group with Jack Moody, Harry Palmer and Benito López as well.
Moody and Benito López moved up together and needed about half of the half-marathon to catch up to Horsfall-Turner. That was immediately the moment López not only took the lead in the race, but also left Moody behind. In the end, Benito López won the race in 4:00:29, finishing 2:43 minutes ahead of Belgian Dieter Comhair, who ran to second place in the final kilometer. Moody finished third at 3:28 minutes behind.
In the women's race, of course, the main focus was on Emma Pallant-Browne, but while five women came out of the water at the same time – including the top British athlete – it was Denmark's Sif Bendix Madsen who boldly took the lead during the cycling. She did well to do so, as she visibly hurt Pallant-Browne, and after just over 50 kilometers Pallant-Browne even had to let go of her Danish competitor. Once back in T2, Bendix Madsen had a lead of just under three minutes over Pallant-Browne.
Yet it did not take Pallant-Browne long to close her gap, as after only six kilometers into the run she was already leading the race by one minute. Bendix Madsen did consolidate and did not lose time as quickly in the following kilometers, but she definitely wasn't in the mix for the win anymore. Victory went to Pallant-Browne in a time of 4:27:33. In the closing stages, Nikki Bartlett passed Bendix Madsen, placing Bartlett second in 4:34:38. Bendix Madsen finished third in 4:35:48.
Related
Comments
Triathlon Today – Your News, Our Passion
Newsletter

Subscribe here to receive our weekly newsletter with our most popular news!
Links