Endurance phenomenon Sean Conway has achieved an incredible feat by completing 102 Ironman triathlons in 102 days.
The 43-year-old put together a 2.5-mile swim, a 112-mile bike and a 26.2-mile run (a marathon) EVERY DAY for 102 days to set a new world record. Astonishing stuff as he surpassed the previous best of 101 set by American triathlete James 'Iron Cowboy' Lawrence in 2021.
If you put all of that together, the man from the Welsh mountains travelled a staggering 14,351.4 miles during his three-month journey of endurance. More than double the distance between London and Cape Town and richly deserving of the £70,000 his stellar effort has so far raised for a children's charity.
Popular Stories Right now
Conway's daily routine
Conway's daily routine began around 5am in a leisure centre in Mold, and saw him battle all weathers plus chest infections and an assortment of muscle injuries. Each day finished around 7pm – leaving just enough time for physio, family time with wife Caroline and his two children, and sleep. Before, of course, rinse and repeat.
Sean needed considerable fuel to get him through this feat of human endurance – consuming between 6000 and 8000 calories per day including pots of double cream, Welsh cakes, biltong, bananas and a ton of pasta.
A journey which began way back on April 10 ended late on Thursday as he completed that 102nd Ironman in as many days. He reflected on his world record achievement with raw honesty and pride.
Sean Conway on Ironman feat
He revealed: "It's been by far the toughest three months of my life. I wouldn't wish what I've been through on my worst enemy but I'm so proud of what the team and I have achieved.
"Thinking back, my lowest moment was early on in the challenge. On day two I almost missed the 17 hour cut off by a matter of minutes and the realisation that I might have bitten off more than I can chew.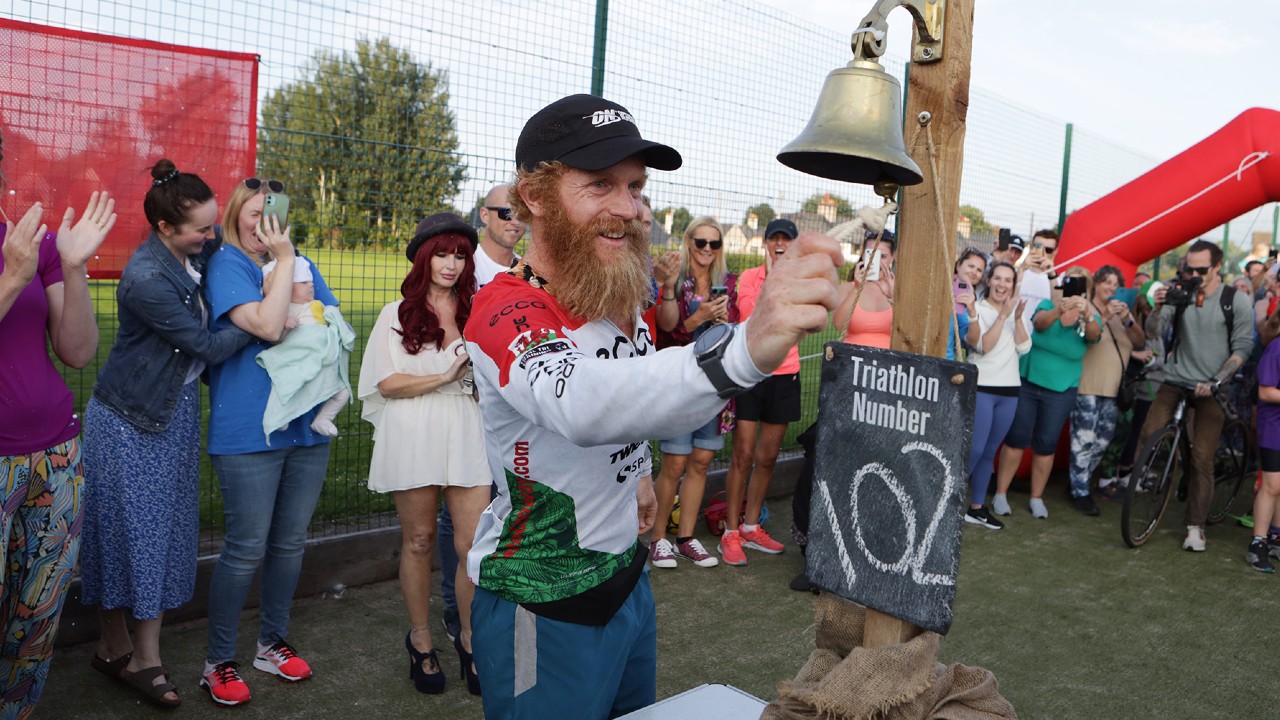 "The best bit by far has been the community of swimmers, cyclists and runners who selflessly came out day after day no matter the weather to support me. You know who you are, I'll be forever grateful.
"I hope to inspire a new generation of ultra-endurance athletes. I couldn't have done it without my dedicated support crew and the incredible backing of the community that followed the challenge on the road and online. You kept me going and I can't thank you enough."
It doesn't appear Sean is ready to stop at 102 either, on Friday morning he posted on social media to say he was back again for 103 as he prepared to start his daily swim…
As you might imagine, this is not the first insane challenge that Sean has accepted and completed. Some of his previous mighty achievements include a 4200-mile Triathlon around the coast of Britain (another world record) and becoming the first person to swim the length of Britain.
To date, Sean's amazing effort has raised £70,000 for his chosen charity partner, True Venture; a charity which aims to help kids TRY sport, LOVE sport and STAY in sport.  To donate, please visit trueventure.org.uk/donate.