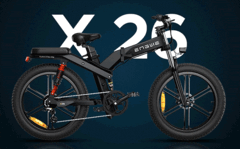 ENGWE has started to hype new and "Super" additions to its X series of foldable electric bikes ahead of their imminent 2023 launch. They consist of new X20 and X24 models, as well as an updated version of the OEM's crowdfunding hit, the X26. All three bikes are backed to beat range anxiety while boosting comfort with features such as fat tires, "triple" suspension and dual-battery systems across the board.
ENGWE premiered its "all-terrain" X series on Indiegogo with the X26, and has now announced that the same bike is due an "update" in the upcoming second wave of these e-mobility solutions. The newer two-wheeler is to be joined by an X24 of a similar build, as well as an X20 with more of a conventional urban e-bike build.
Regardless of design, all 3 are slated to launch with 24×4.0-inch tires across the board for superior "stability", as well as 1,200W motor for a top speed of 31 miles per hour (or ~50 kilometers per hour (km/h))…just like the original X26.
Then again, the new version is touted to achieve a potentially vastly improved range of up to 230km (~143 miles), with an even better estimate of 240km (~149 miles) for the X24. The X20, on the other hand, may only go 200km (~124 miles) between charges – nevertheless, this is touted as up to 38% more range compared to "other" competitors. 
On that note, the new "Super X" range is destined for "19.2Ah + 10Ah" dual-battery systems, as well as "hydraulic" disk brakes for stopping power when necessary. Pricing and availability for all 3 new e-bikes will be unveiled during their formal August 7, 2023 launch.
Related Articles
Deirdre O Donnell – Senior Tech Writer – 6568 articles published on Notebookcheck since 2018
I became a professional writer and editor shortly after graduation. My degrees are in biomedical sciences; however, they led to some experience in the biotech area, which convinced me of its potential to revolutionize our health, environment and lives in general. This developed into an all-consuming interest in more aspects of tech over time: I can never write enough on the latest electronics, gadgets and innovations. My other interests include imaging, astronomy, and streaming all the things. Oh, and coffee.
Deirdre O'Donnell, 2023-08- 3 (Update: 2023-08- 3)