Image: Eureka
Keeping the floors of your home clean can be a tiring business. An old vacuum cleaner that's lost its suction can make carpets much harder work than they should be, and if you want to do all the floors then you'll need a brush and even a mop for all the different surfaces.
All that, and you'll probably have to use several different outlets to plug in your vacuum, and dealing with annoying cables as you clean. It shouldn't be this hard, and with the Eureka NEW400 it isn't.
Cleaning the fast and easy way
Thanks to its innovative design and features, the Eureka NEW400 is the perfect tool for cleaning your floors, whether they're carpet, wood or tiles. Its lightweight construction means that moving around is effortless, aided by a clever self-propelling feature that means you barely have to push at all.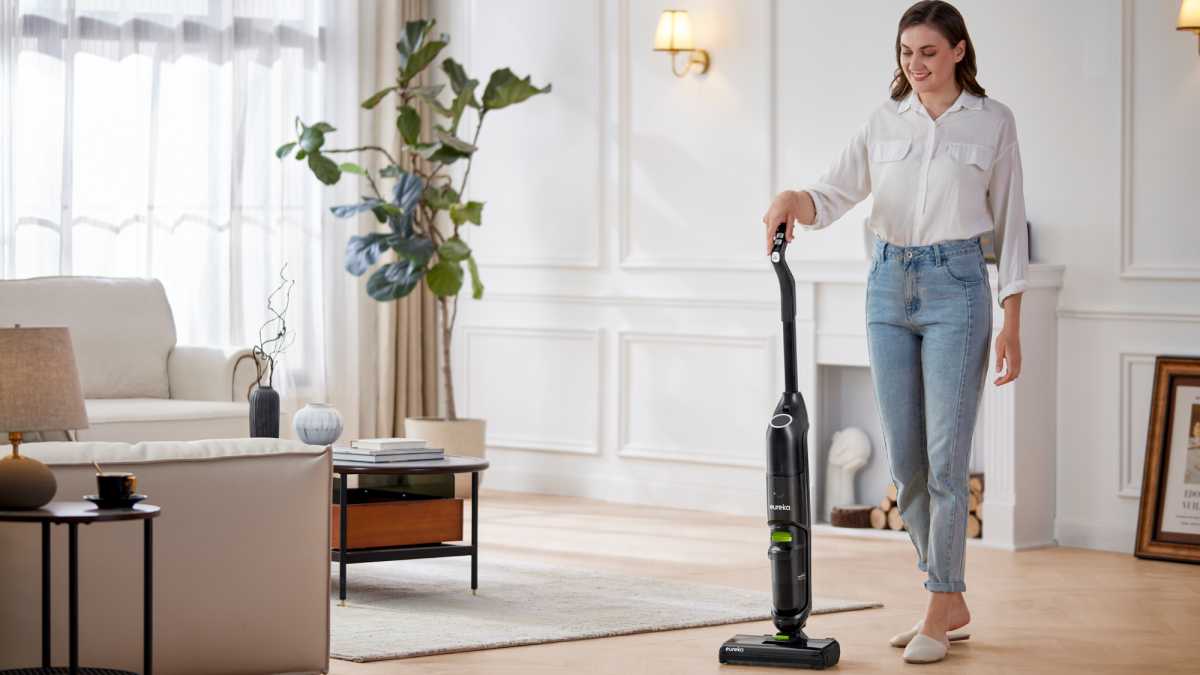 Eureka
There's also a built-in rechargeable battery so you won't have to contend with cables or outlets as you move through your home. When you want to pause, simply return the Eureka NEW400 to its upright position and it will instantly power down so you don't waste any of the charge. So simple. So easy. 
One vacuum for all floor types
A 120W motor provides all the suction power you'll need for quickly picking up dirt and dust from carpets and rugs, but the Eureka NEW400 is just as capable and comfortable on hard flooring.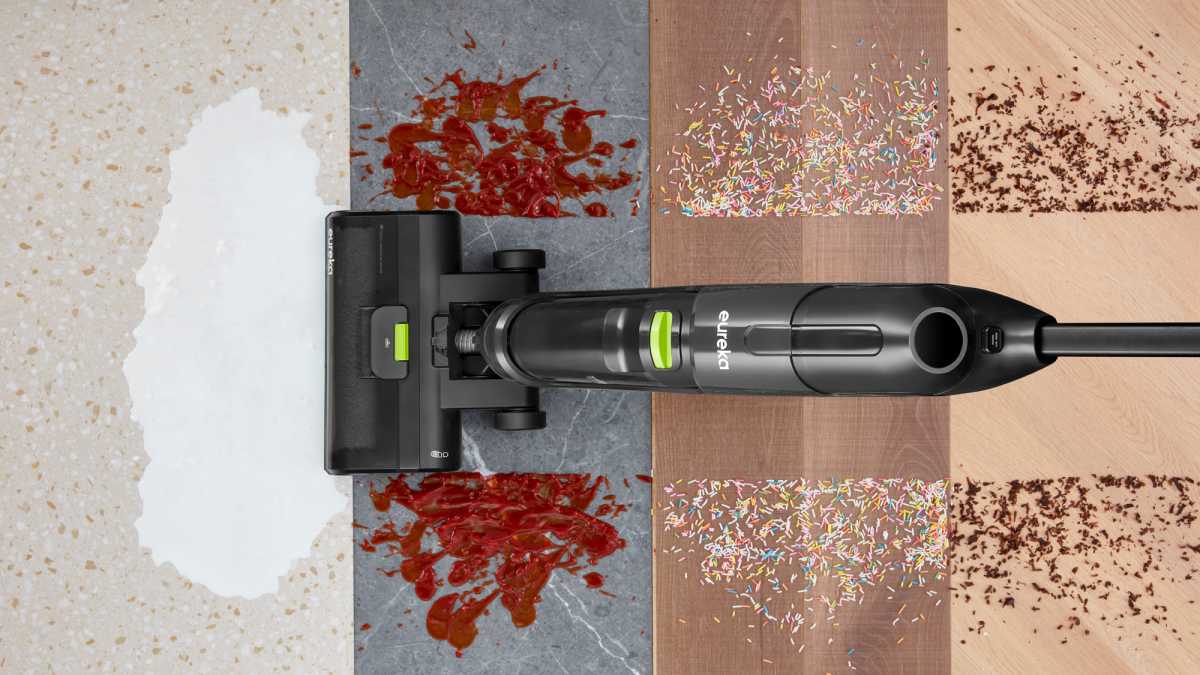 Eureka
An ingenious water filtration system allows you to mop up any spills. The 90% recovery rate makes it much more effective than a traditional mop. Stubborn stains can also be washed away by the powerful cleaning system, with a special liquid solution making it easy to sterilise floors and odours while remaining safe for pets. 
Hassle-free Cleaning
The New400 is equipped with a dual water tank system. This feature guarantees the use of fresh water for each cleaning pass, eliminating the problem of recycling dirty water – a common flaw in traditional steam mops that often just redistribute dirt. When the dirty water tank is full, you just need to use the quick release button to remove it, empty the water, then put it back on to continue cleaning.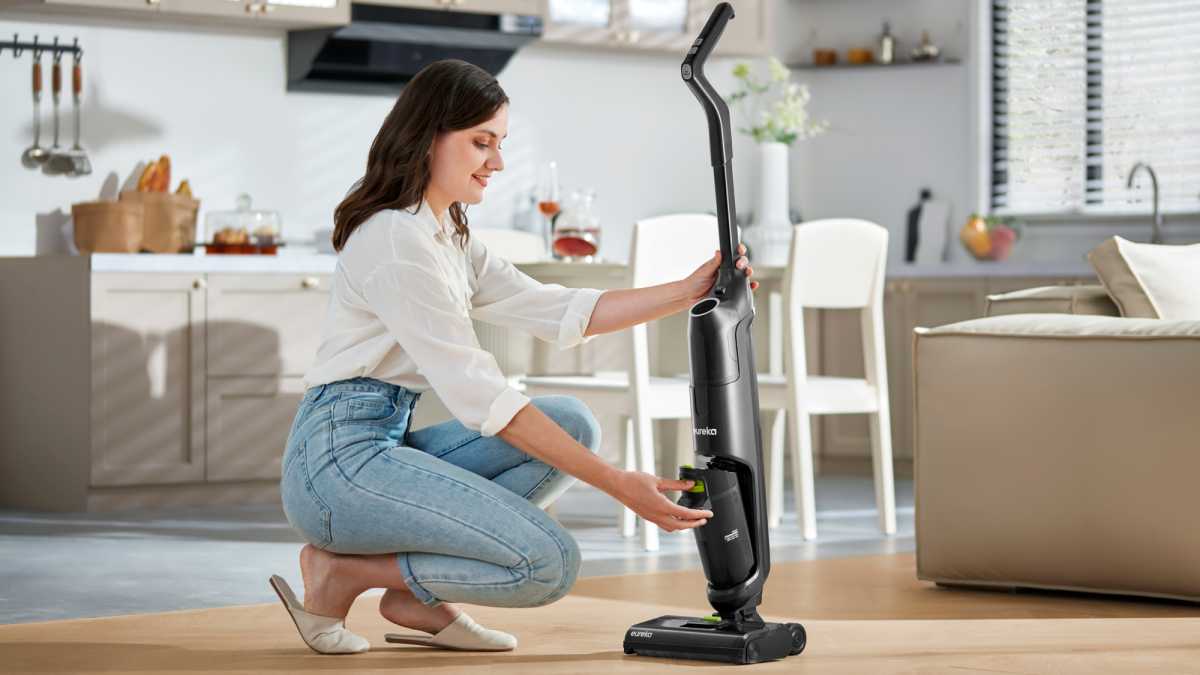 Eureka
A top-highlight is the self-cleaning mode. Simply return the cleaner to its stand, press a button, and the NEW400 initiates an automatic cleaning cycle. This feature eliminates the hassle of disassembling the brush roll for cleaning, adding unparalleled convenience to your routine.
Huge cleaning power; small price
When you consider all the features and convenience that the Eureka NEW400 offers, it wouldn't be unreasonable if it had a high price tag. But that's one of the best parts: you can get this premium home cleaning solution for less than $200!  The Eureka NEW400 will mop, wash and vacuum all your floors, but it won't clean out your bank account.
You can order the Eureka NEW400 today direct from Amazon or find it through all good home appliance retailers.