The Crown has shown us the ins and outs of the personal and professional lives of the British royal family since its premiere back in 2016, and it's covered topics including Queen Elizabeth's ascension to the throne, the marriage and eventual divorce between Prince Charles and Diana, Princess of Wales, and the relationship between the throne and the UK prime ministers. This behind-the-scenes look at these major events has thrilled fans, but it's now time to say goodbye to the series, as Season 6 will be its last.
Season 6 was always going to be the last season of The Crown, but it was later announced that the series would instead end with Season 5. However, as Deadline reports, series creator and writer Peter Morgan later changed his mind, saying, "as we started to discuss the storylines for Series 5, it soon became clear that in order to do justice to the richness and complexity of the story we should go back to the original plan and do six seasons. To be clear, Series 6 will not bring us any closer to present-day—it will simply enable us to cover the same period in greater detail."
The sixth season covers the period between 1997 and 2000, which means you can expect to see the rise of Tony Blair, the tragic death of Diana, Princess of Wales, and the start of Prince William and Kate Middleton's relationship. But unlike previous seasons, Season 6 is the first one to be split into two parts. Volume one just premiered on November 16, but the second part is still on the way. Here's what we know about The Crown Season 6, Volume 2.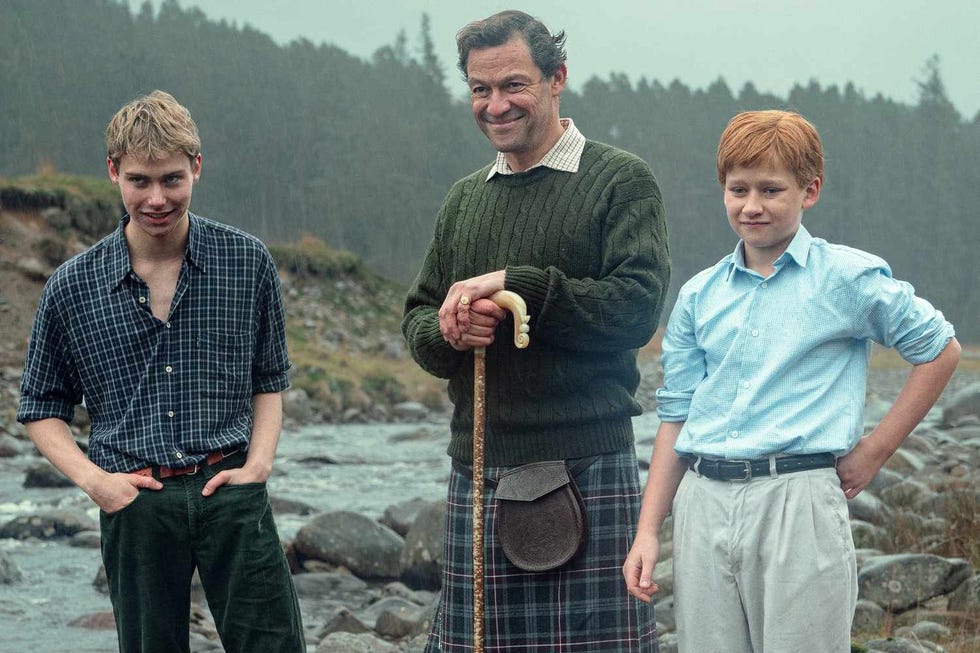 Apple
When is the second part of The Crown Season 6 premiering?
The Crown Season 6, Volume 2, will premiere on December 16, and all of the episodes will drop at once.
How many episodes Season 6, Part 2 have?
Volume 2 has 6 episodes, which when combined with the four episodes of Volume 1, puts Season 6 at a total of 10 episodes, just like all of the previous seasons.
What will Season 6, Volume 2 be about?
The four episodes of Volume 1 focus on Princess Diana and her untimely death, so it's expected that Volume 2 will start up again after that time. Volume 2 will likely include the passings of Princess Margaret and Queen Elizabeth The Queen Mother, the introduction of Kate Middleton, and the relationship and eventual marriage of Charles and Camilla Parker Bowles.
Who is in The Crown Season 6, Volume 2?
Elizabeth Debicki will star as Diana, the Princess of Wales, while Imelda Staunton stars as Queen Elizabeth II. It also features Jonathan Pryce as Prince Philip, Lesley Manville as Princess Margaret, Dominic West as Prince Charles, Olivia Williams as Camilla Parker Bowles, Khalid Abdalla as Dodi Fayed, Salim Daw as Mohamed Al-Fayed, and Bertie Carvel as Tony Blair.
Rufus Kampa will play the young Prince William while Ed McVey will play William as he goes to university and dates Kate Middleton. Similarly, Fflyn Edwards will play Prince Harry as a boy, and Luther Ford will play him as a teen. Meg Bellamy will also join the cast as Kate Middleton.
Why is The Crown Season 6 divided into two parts?
The season's split is likely the result of two different factors: Netflix has also experimented with two-part seasons before, with Stranger Things Season 4 releasing in two separate volumes (and other shows, like You and Ozark doing the same thing). This allows for more conversation, anticipation, and buzz around the show, as Netflix still releases episodes in a binge model, versus Disney+ and others that take things week by week.
Story wise, the two parts make sense for The Crown. The first volume is incredibly deep and heavy, and Volume 2 may jump a year or two to continue the events in the time span it's going to cover.
Is this the last season of The Crown?
While we believe in never saying never, this will be the last season of The Crown. While many were expecting the series to showcase William and Kate's wedding, the birth of their children, Harry and Meghan Markle's wedding, their retreat from the royal family, Prince Andrew's lawsuit and resignation from royal life, and maybe even the Queen's eventual passing, the creator and team behind the show felt it was best to end the show in the 2000s.
"Peter [Morgan, the show's creator] has said it very articulately, that he simply can't write something unless there has been time to gain a proper perspective. And I think he's always felt 10 years is the minimum amount of time that he can see something in a historical context, to allow him to really understand it. I don't think he'll deviate from that," executive producer Suzanne Mackie told Broadcast Now, as reported by Stylist Magazine. "We all know these stories, but what Peter does so brilliantly is get underneath that, and understand the landscape in a more nuanced, complex, surprising way. The minute he starts trying to do that sooner, it will inevitably feel contrived or artificial. So, although this has been an absolute career highlight for me, it will absolutely be time to move on."
Additionally, Morgan told The Hollywood Reporter why he doesn't like to write about modern events. "I just think you get so much more interesting [with time]. Meghan and Harry are in the middle of their journey, and I don't know what their journey is or how it will end…I sort of have in my head a 20-year rule. That is enough time and enough distance to really understand something, to understand its role, to understand its position, to understand its relevance. Often things that appear absolutely wildly important today are instantly forgotten, and other things have a habit of sticking around and proving to be historically very relevant and long-lasting. I don't know where in the scheme of things Prince Andrew or indeed Meghan Markle or Harry will ever appear."

Temi Adebowale was previously an Editorial Assistant at Men's Health, covering shows like Survivor, Peaky Blinders, and Tiger King. Prior to her entertainment work at MH, she was Newsroom Fellow, writing news stories across Hearst Digital Media's brands. Temi likes Rihanna, the StairMaster, and tacos.