Image: Falcon Northwest
At a glance
Expert's Rating
Pros
Extremely powerful, especially for the size
Tiny custom FragBox chassis is beautiful and meticulously designed
Extremely customizable
Ice-cool and whisper-quiet, an amazing feat considering the size and power
Excellent warranty (Falcon Overnight is unparalleled), perks, documentation, QA
Default Windows install is fast, up to date, and bloatware-free
Falcon Fuel tastes amazing
Cons
You pay up for perfection
Our Verdict
The Falcon Northwest FragBox epitomizes why you buy a boutique custom PC. I can't find a single thing to complain about. It packs extreme power into an unbelievably small, cool, and quiet custom chassis, while Falcon Northwest's warranty, buying experience, and Windows/software setup is second to none.
When the day inevitably comes that I hang up my PC toolkit for good, I'm buying a Falcon Northwest FragBox.
That's high praise coming from a lifelong PC builder. But Falcon Northwest absolutely nails every aspect of the Core i7-14700K FragBox I was sent to review, both large and small. This diminutive desktop PC features a fully custom chassis — and even custom fans — along with impeccable attention to detail to deliver a delightfully portable, ferociously powerful, and damned-quiet PC that's easy to lug around, and it absolutely chews through everything you throw at it.
It doesn't stop there. The FragBox is fully customizable, and Falcon Northwest performs intensive burn-in testing on every system it ships. The preinstalled Windows 11 image is wonderfully clean, with none of the bloatware and crap infesting PCs from big box retailers. And Falcon Northwest's extensive support and warranty is a delicious cherry on top in the off chance something hiccups in your build.
I'm in love. If you can afford to splurge on a Falcon Northwest FragBox, you will be too. There's a reason 100 FragBoxes powered Epic's recent Fortnite Championship in Denmark and the UnrealFest UE5 classrooms, and why Falcon Northwest is the choice of studios and superstars alike.
Let's dig in.
Above: Watch Adam walk through the design of all Falcon Northwest desktops, including a detailed look at the FragBox's interior.
Falcon Northwest's storied history
Before we dig into the specifics of the FragBox, it's worth spending a moment catching you up on Falcon Northwest's background.
Falcon Northwest, located in Oregon, literally introduced the first prebuilt gaming PC when it rolled out the legendary Mach V in 1993, a year after its inception. Building high-performance systems with a keen attention to detail has been baked into this company's DNA from the get-go.
Its custom-made computers aren't built on an assembly line. "It's just the way we've always done it: one technician building one system specifically for one client," Falcon Northwest's About page proudly declares. "It's a decidedly labor-intensive and time-consuming way to produce technology products, but we believe that the finer things in life are made by caring hands."
Falcon Northwest
It shows, and it's showed for decades. PCWorld's own Gordon Mah Ung reviewed the very first prototype for the FragBox ever made (dubbed the "FragBox II," as the first was a proprietary barebones PC built around the FIC Ice Cube) for Maximum PC all the way back in 2004, giving it a sterling 9 rating and the magazine's coveted Kick Ass award. "We have to admit that we didn't expect the FragBox II to be much of a match for this year's Dream Machine, but when Falcon showed up with this monster, we started sweating bullets. Its performance is even more amazing considering its size."
Nearly 20 years later, the Falcon Northwest FragBox is still kicking ass and taking names. The amount of raw firepower this tiny cube pumps out is nothing short of amazing.
The Falcon Northwest experience
The attention to detail starts before you even open the box. It starts when you open the other box that accompanies your order.
It's not advertised on the Falcon Northwest website, but every system the company ships comes with a "thank you" box packed with goodies: a gorgeous large-sized FNW desk mat, a Falcon Northwest-branded coffee mug, a package of delicious "Falcon Fuel" coffee that Full Nerd regulars already know tastes absolutely delicious, and a signed note from founder Kelt Reeves. It's a delightful surprise when you're spending up for a top-tier custom PC.
There's a practical aspect to it as well. The secondary box also includes your Windows install disc and other paperwork, extra motherboard accessories, and a folder that's jam-packed with page after page of helpful, deeply nerdy information.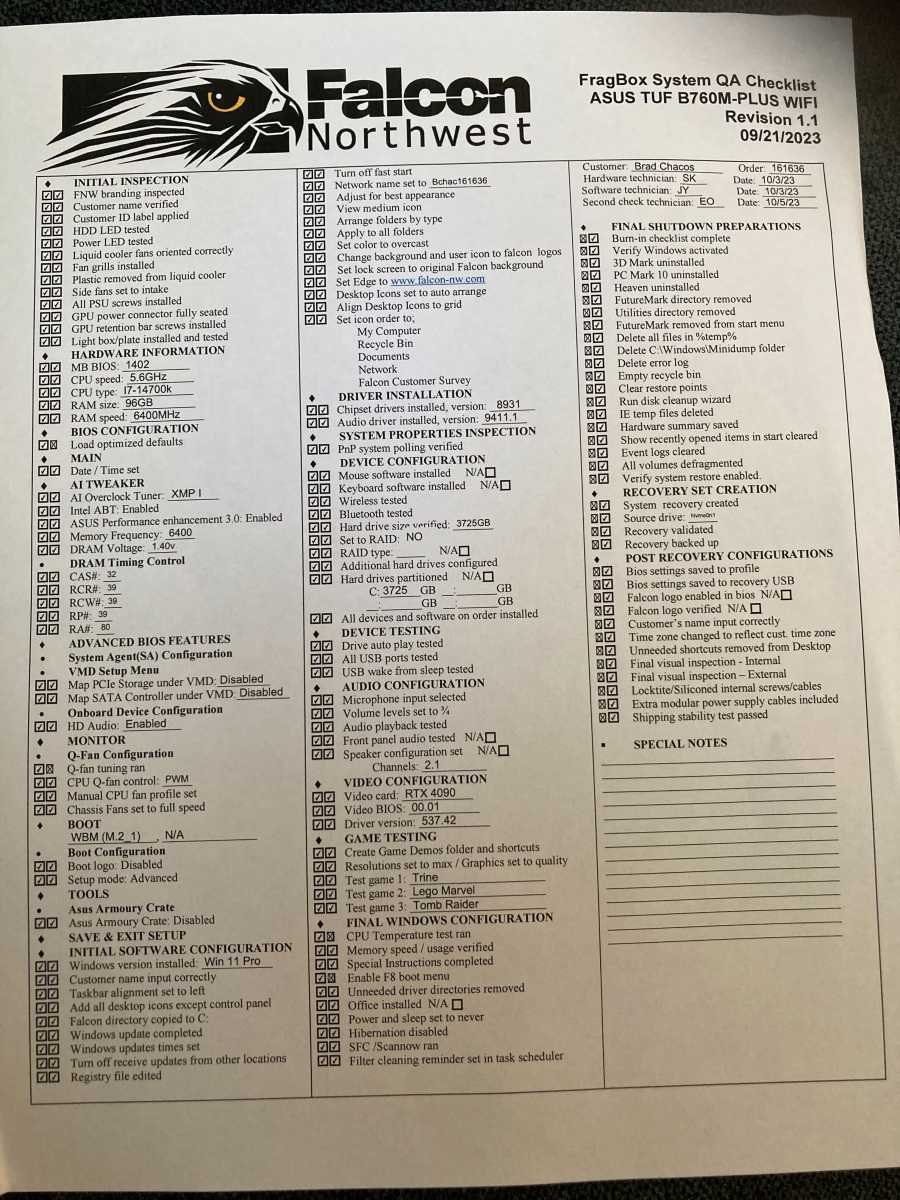 Falcon Northwest
Not only will you find an invoice with your order number, sales rep's name, and detailed breakdown of all your hardware and Windows version, you'll also find a shipping checklist that the company uses to ensure everything you ordered is in the box. But it goes even deeper! A second QA checklist (seen above) meticulously chronicles every aspect of your system, including beautifully nerdy details like your RAM timings; which XMP profile was activated; RAID storage details (if applicable); which specific games were used to test system stability; various BIOS and driver version installed; your hardware, software, and "second check" technicians; and a whole lot more, as shown below.
You'll also find another page dedicated to the performance results your PC spat out during burn-in testing. You'll find individual scores for Unigine's Heaven and 3DMark's Timespy and Firestrike GPU benchmarks, Cinebench for CPU testing, Crystal Diskmark results for SSD performance, details about a long-term Memtest86+ burn-in test to make sure your memory is all set, and PCMark 10 scores to gauge whole-system performance. Falcon Northwest also includes the maximum reported temperature each of your major components reached during its burn-in tests. It's wonderfully thorough — and deeply insightful if you're a geek who can parse what those scores mean.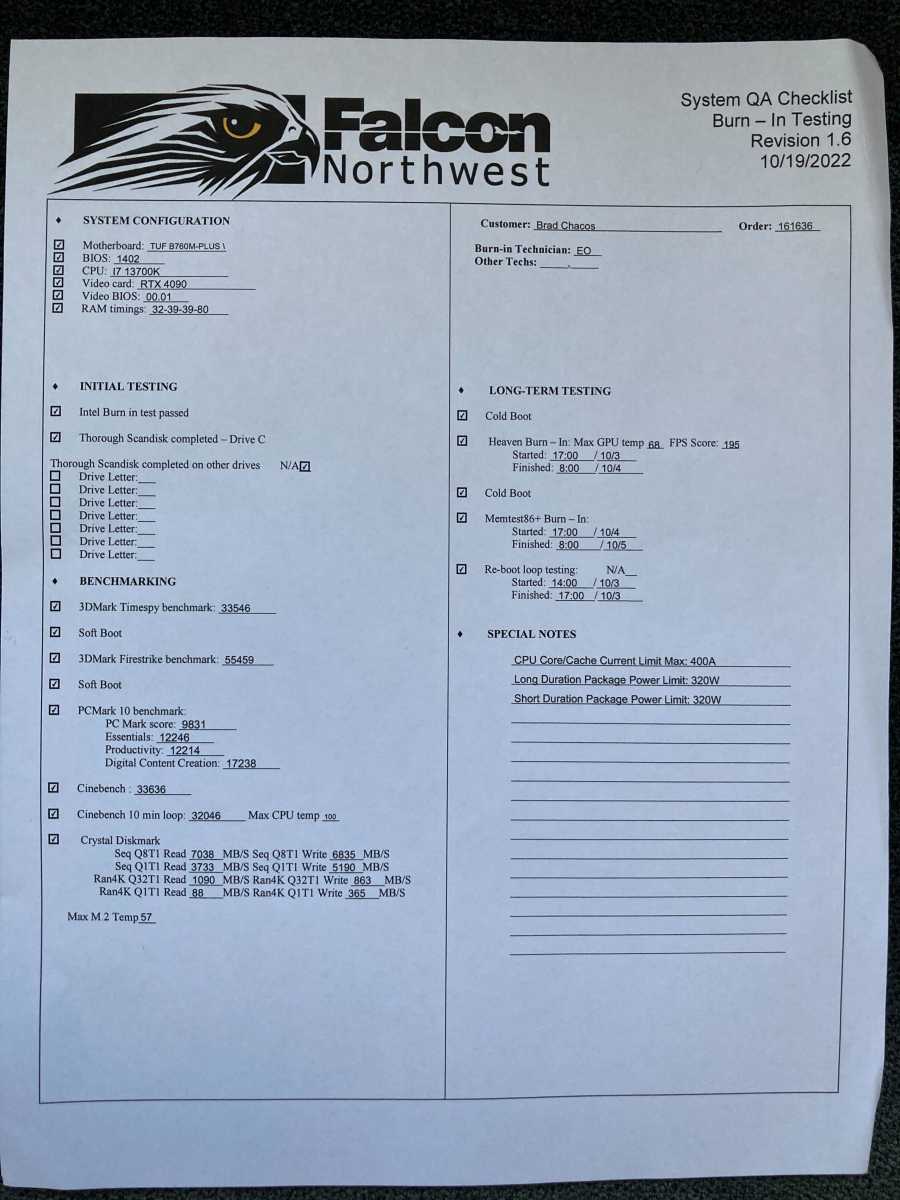 Falcon Northwest
If you're not a benchmark-spewing nerd, you'll appreciate the helpful multi-page Starting Guide that Falcon Northwest includes, which covers everything from the initial hardware setup, tips to make sure your computer's all-in-one cooler doesn't gargle, driver and update advice, how to keep your system clean and running fast, how to use the Windows USB rescue drive, and more. Another illustrated diagram in the FragBox's container describes how the airflow for the tiny system works, providing guidance on how to position it for best performance.
Finally, Falcon Northwest's welcome packet also describes the company's generous warranty. In addition to a 30-day money back guarantee and a three-year warranty that covers parts and labor, you get a year of Falcon Overnight service. If you encounter a serious hardware problem that can't be fixed with a call to FNW's U.S.-based technical support, the company will "pick it up via overnight courier, correct any problem, fully test the system, and overnight it back to you."
That's a perk no other major computer company offers. Falcon Northwest says it's able to do so because of the company's "extremely low defect rate." All that extensive testing I previously mentioned ain't just for nerd cred.
Welp, I just spent a lot of words on stuff that isn't even specific to the FragBox itself. But every sentence was necessary — when you spend up for a custom boutique PC, the experience, warranty, and attention to detail are a big part of the reason why. Falcon Northwest simply blows away the competition here. From the beginner-friendly starting guide to nerd-friendly benchmark results, from extensive pre-shipment testing to a borderline ludicrous Falcon Overnight warranty, Falcon Northwest does everything it can to make sure your system is kicking butt and running stable.
Plus you get a rad deskmat and some delicious coffee. Onto the FragBox itself!
Falcon Northwest FragBox design and build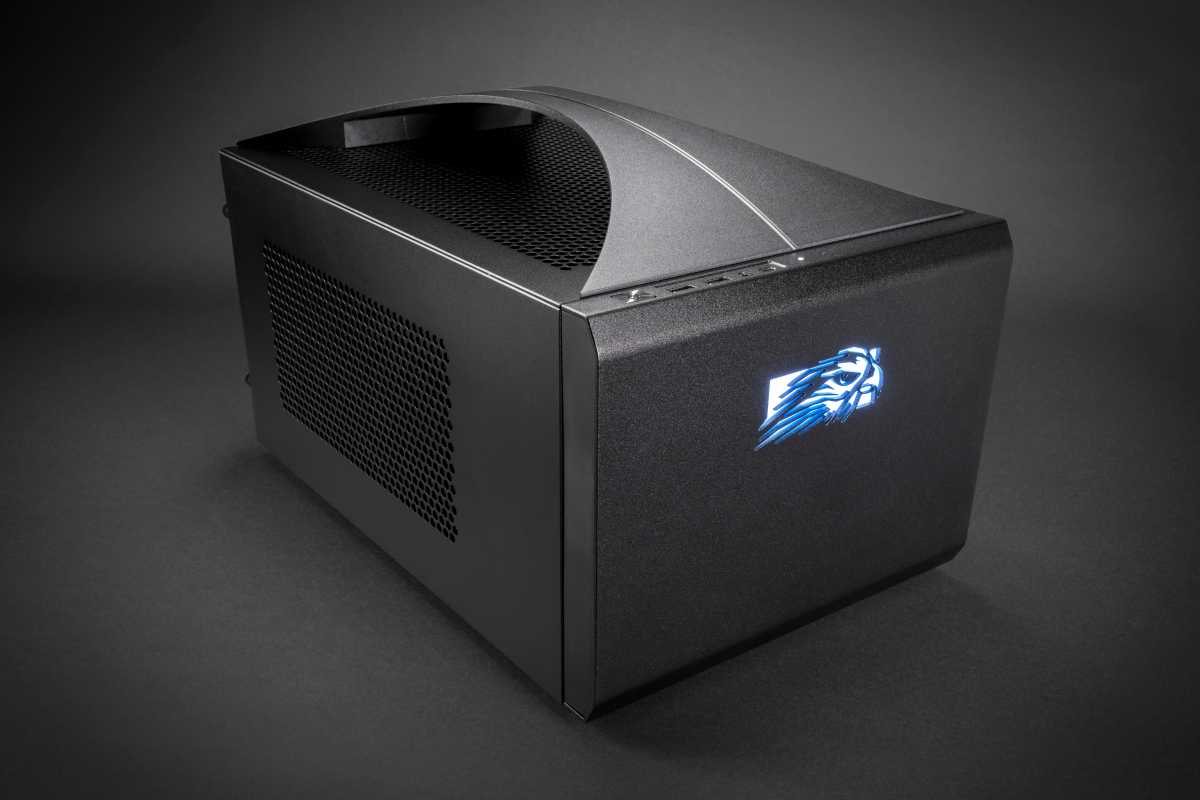 Falcon Northwest
You'll be struck by the FragBox's unique beauty the moment you yank it out of its shipping container by its aluminum metal handle. Yes, a handle; this beast is built for traveling to LAN parties or being schlepped between different locations when you need heavy computing firepower in the field.
Falcon Northwest's diminutive titan isn't quite as small as the smallest custom mini-ITX PCs you can build by hand — it's more winter boot box-sized than shoebox-sized — but this mini-ATX monster is almost unbelievably small considering the overwhelming hardware firepower it packs inside.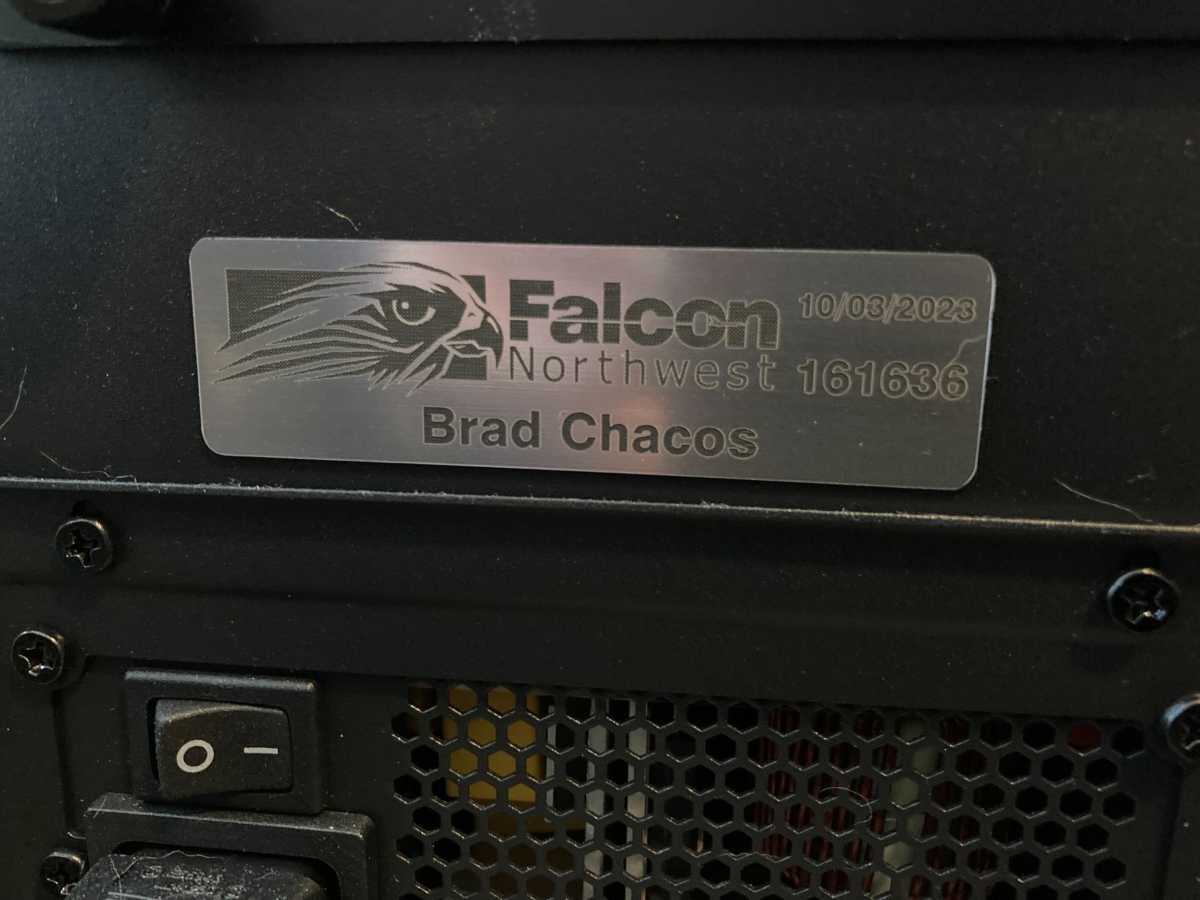 Falcon Northwest
The FragBox's sleek all-black aluminum chassis was designed in-house by Falcon Northwest to fit its demanding needs. You can't get it anywhere else. It's a beauty to look at, punctuated by an illuminated FNW "falcon" logo on the front, and a discrete metal plate engraved with your name on the rear. The broad, swooping handle gives this stylishly understated case an unmistakable identity. It's damned impressive, though some edges of the case could stand to be smoothed out a bit. (The chamfered handle itself feels wonderful in hand.)
The case is about more than aesthetics though. It features abundant cooling holes punched into the lid, under the handle, as well as more intake/outtake holes carved out in precise areas on the sides and bottom of the case to maximize airflow for this rig's exact dimensions.
Falcon Northwest
Despite the insane configuration in my FragBox review unit — an Intel Core i7-14700K, Nvidia GeForce RTX 4090 Founders Edition, 4TB SSD, and 96GB of high-clock memory — Falcon Northwest's rigorous design manages to keep it running cool and quiet with just four internal fans. Four. And in a testament to FNW's impeccable attention to detail, two of those four fans are custom-made 120mm units designed to provide plenty of airflow directly to the RTX 4090 FE. These run at just 1,000 RPM out of the box so they're almost silent! Dual 140mm fans on the other side round out the intake cooler, with air flowing out through the CPU cooler's 280mm radiator and fans at the top of the case.
Even the bottom of the case is well thought out; not only is it just as beautiful as the rest, but it includes rubber feet for sound and vibration dampening. Given how quiet this rig runs, it's a very welcome touch.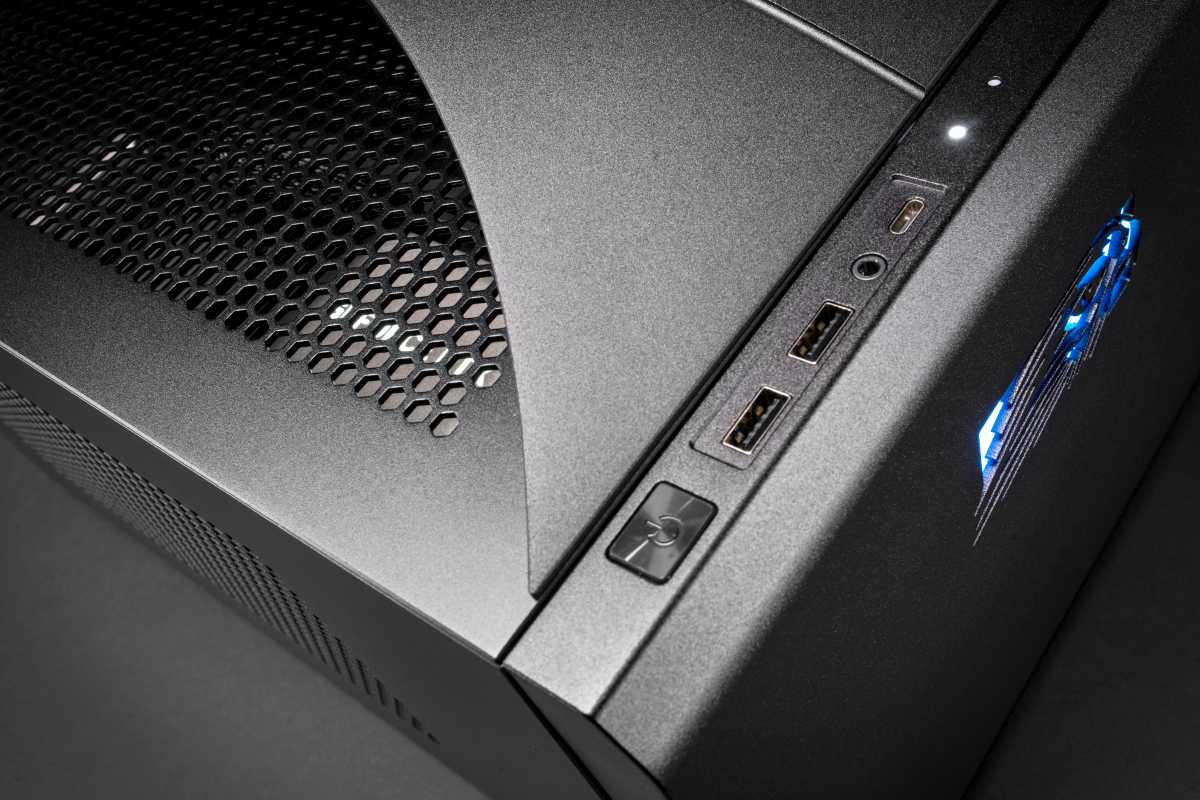 Falcon Northwest
On the front of the case you'll find two type-A USB ports, a type-C USB port, a combination mic/headphone jack, and the power button. The rear of my review unit also came brimming with ports, courtesy of the Asus TUF Gaming B750M Plus WiFi motherboard inside, but your configuration will depend on the motherboard of your choosing.
Falcon Northwest FragBox software and out-of-the-box experience
Before we delve deeper into the hardware of my review unit, I want to touch on Falcon Northwest's out-of-the-box Windows experience. No surprise here: It's outstanding.
The prebuilt PCs you buy from the major multinational companies and big box retailers almost universally come bogged down with intense amounts of bloatware: antivirus trials, Dropbox trials, various mobile-esque games, subscription service trials, and on and on. That's because PC makers who pump out identical systems on a factory line earn a bit of extra money for each of those software installations. Slapped into thousands of systems, it pays off, even though most people I know hate it.
Falcon Northwest's FragBox has none of that.
Instead you'll find a remarkably clean desktop with none of the crap, just like you'd get if a PC enthusiast built your computer with a clean custom Windows image (which is essentially what you're paying for here). Falcon Northwest ships its systems with all the latest drivers and BIOS updates already installed. You just turn on your system, it boots in mere seconds, and you're ready to rock.
It's a stark, welcome difference to the typical prebuilt PC experience, and another example of Falcon Northwest truly nailing every aspect of the FragBox.
Falcon Northwest FragBox hardware: Ultimate customizability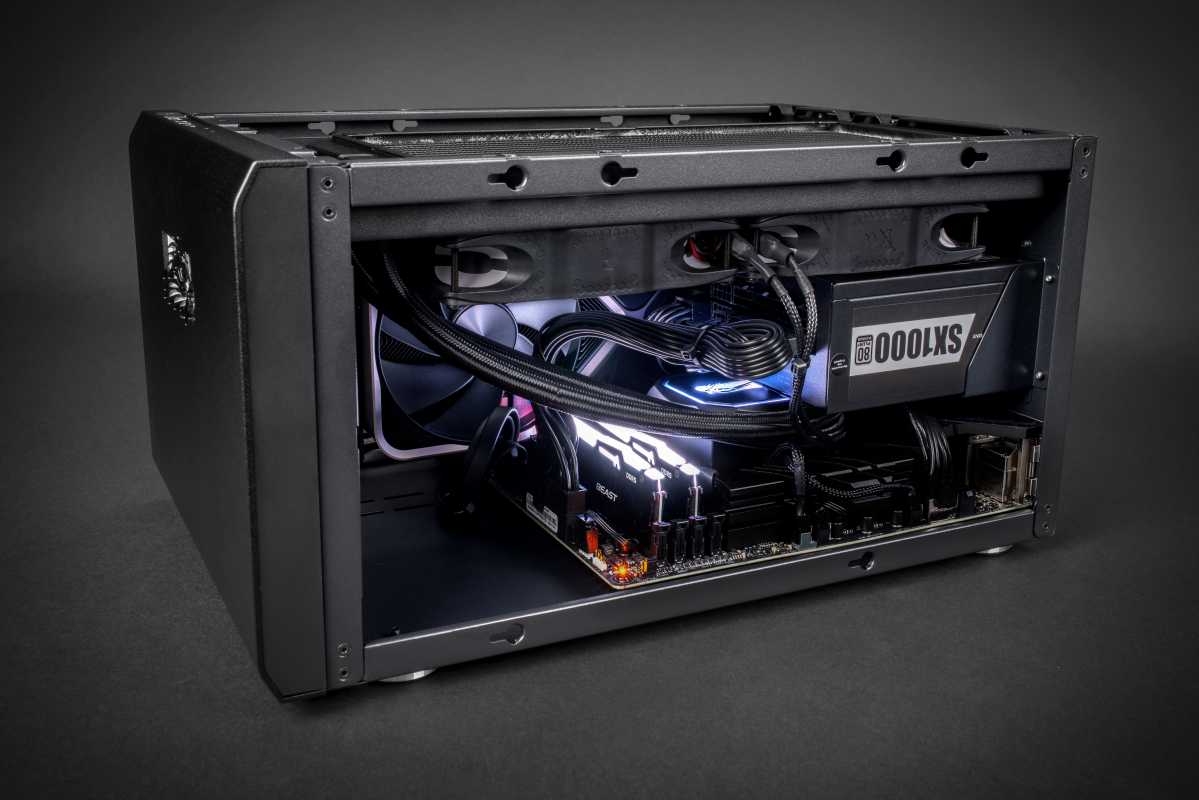 Falcon Northwest
The hardware inside the FragBox is fully customizable when you place your order. Despite its tiny stature, the system can support some truly ferocious firepower, as evidenced by my no-compromises test unit.
The FragBox starts at $2,966, outfitted with a Core i5-14600K, a PNY GeForce RTX 4060 Verto, an Asus TUF Gaming B750M Plus WiFi motherboard, a 2TB Kingston Fury SSD, 32GB of 6000MHz Kingston Fury RAM, Windows 11 Pro, Falcon Northwest's custom 280mm all-in-one liquid cooler, and a SilverStone SX SFX-L Platinum 1000 watt power supply.
But you can change most of that.
Every aspect of the internals are up to your choosing. You can choose from Intel or AMD, Radeon or GeForce, consumer GPUs or workstation GPUs, several Kingston Fury RAM capacities and speeds, up to four different storage drives, which version of Windows you want, and so on. Falcon Northwest can also bundle in high-quality monitors, peripherals, and surge protectors if you want. Pretty much the only things that can't be changed are the power supply and custom FNW AIO, which are needed to fit the FragBox. You can even opt what style of FNW logo faceplate you want, or ask for a custom high-quality UV print to adorn your case.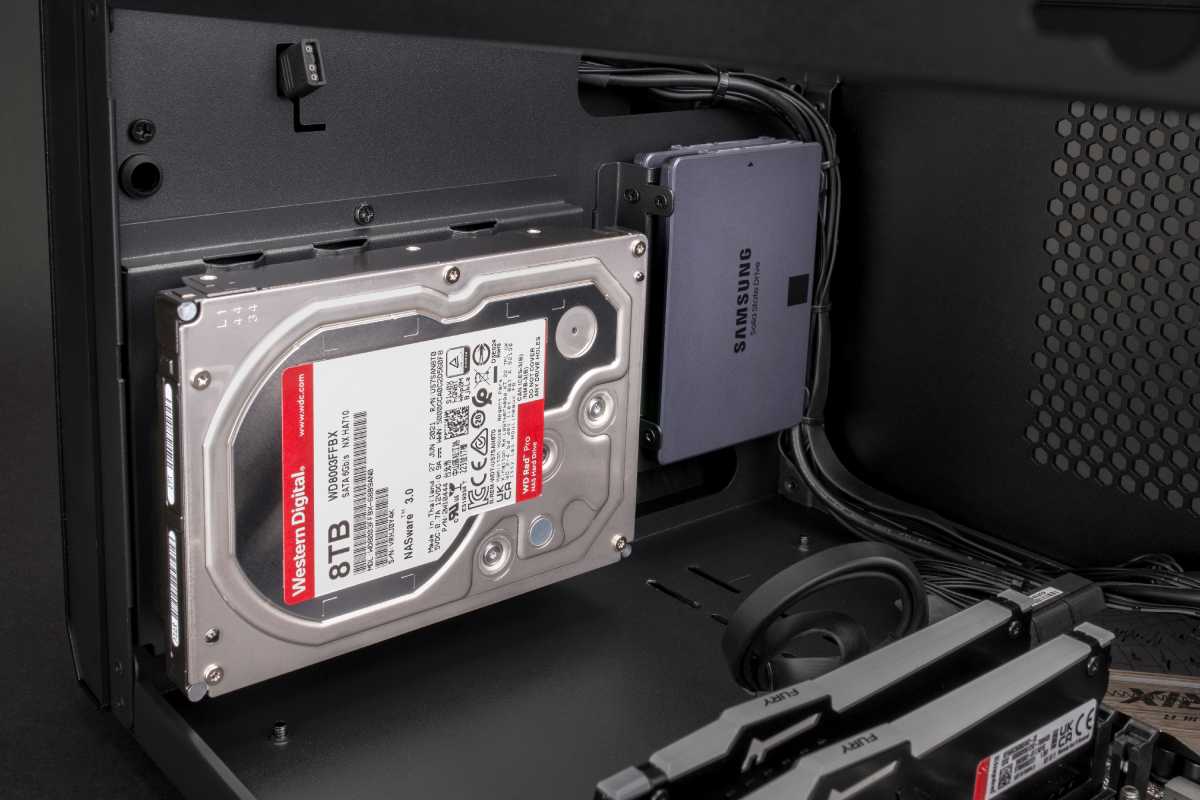 Falcon Northwest
And since the FragBox is built with standard PC components, it offers a ton of expansion and upgradability.
Because of that extreme level of customization it's hard to review the FragBox as a standalone set of hardware specifications. Few systems are the same, and each is built and tested by hand. If you know your workload needs but aren't sure which parts you require, the company's sales team can also work with you to help configure a rig focused firmly on the tasks you tackle.
My Falcon Northwest Fragbox configuration and performance
I got a taste of that when setting up this review unit. Founder Kelt Reeves wanted to show off the power of the new Intel 14th-gen FragBox, but asked me what I'd envision using a PC like this for. As PCWorld's resident gamer guru, I wanted a system that had plenty of oomph to tackle competitive shooters and glitzy 4K games alike, but with enough supporting hardware to stash plenty of recorded gameplay clips and be able to handle video editing if needed. The ultimate portable work-and-play box, ready to frag and crunch data alike.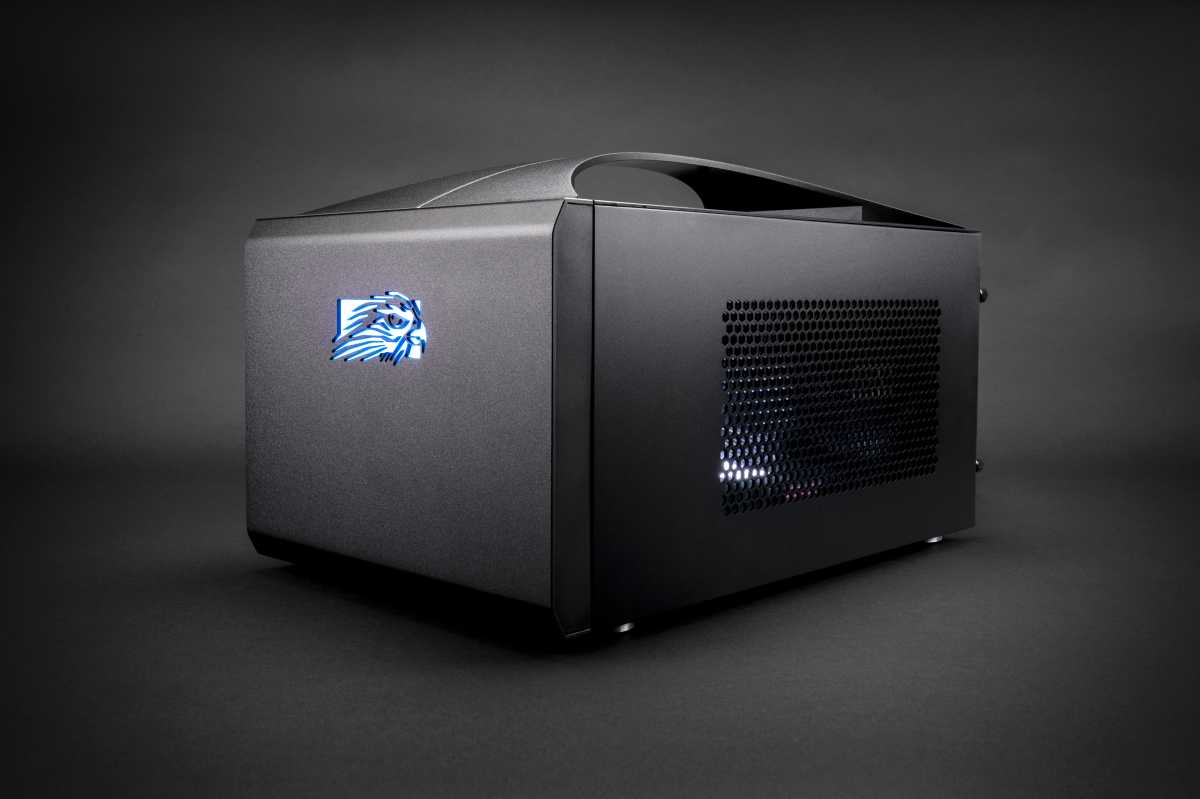 Falcon Northwest
I wanted a smaller system. Since my apartment recently burned down I'm working in a much more limited space now, sometimes having to shift my workspace depending on who is working from home that day. Enter the FragBox over a full-sized Talon or the smaller, but less portable Tiki mini-desktop.
Since I'm a gamer-first user who prefers quieter systems, Reeves and I decided to opt for the Core i7-14700K rather than the flagship 14900K. The 14900K is obviously faster when it comes to content production, but the 14700K is still great at production and virtually just as fast in gaming, while using significantly less power (and thus running cooler). The RTX 4090 Founders Edition isn't only the fastest consumer graphics card for gaming and video creation around, it also unlocks Nvidia's awesome DLSS 3 feature and extensive ray tracing support — good for both eye-dropping visuals and faster high-quality rendering.
Since I don't regularly create large videos, this FragBox was outfitted with a single Kingston Fury Renegade 4.0 M.2 SSD (Ryzen FragBox systems include PCIe 5.0 options, but Intel m-ATX motherboards reserve those faster lanes for GPUs) for all my files.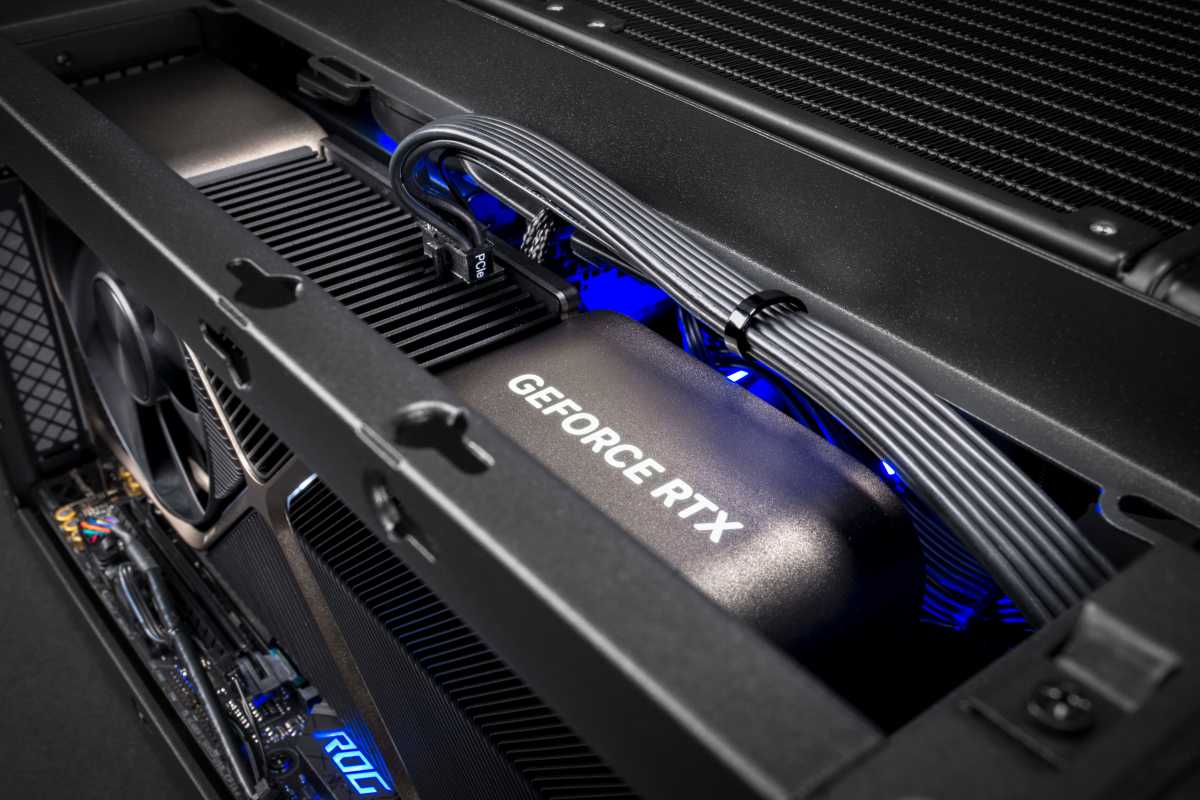 Falcon Northwest
The memory configuration is a bit of a flex, though. My FragBox runs a massive 96GB capacity tuned to 6,400MHz, for a very specific reason: It's the largest capacity you can reliably run at ultra-high speeds. While the Asus TUF Gaming B750M Plus WiFi motherboard inside has four DIMM slots for up to 192GB of capacity, filling up all the DIMM slots causes speeds to drop to ensure stability. This is the fastest, biggest two-stick RAM kit you can run on Intel's latest platform. (You can find 7,200MHz kits, but they didn't pass Falcon Northwest's qualification tests; that rigorous testing and focus on quality is another benefit of opting for a custom PC build from a boutique builder like FNW.)
All told, my FragBox's particular high-end configuration costs $5,850 in Falcon Northwest's configurator. Yes, that's a lot of cash, but considering the complete Falcon Northwest package and the no-compromises performance in the tiny, portable FragBox chassis, it feels worthwhile — especially if you aren't interested in the hassles of DIY.
And friends, this FragBox screams.
That shouldn't come as a surprise, as the FragBox is built from off-the-shelf components, and everything in here is at or near the top of the charts. The Core i7-14700K and GeForce RTX 4090 are both absolutely ferocious in their own right, as is the big, fast RAM and Kingston's speedy 4TB SSD. Put them all together and this baby rips.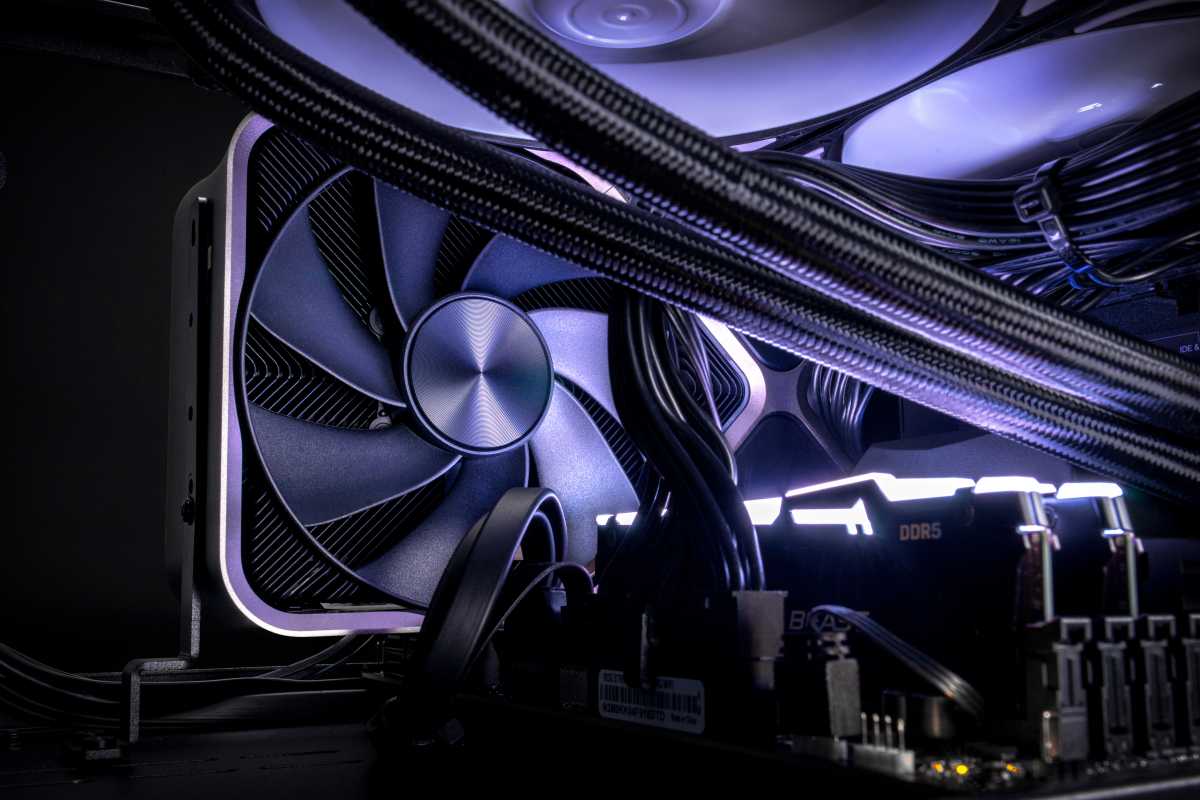 Falcon Northwest
We don't have a deep stash of prebuilt desktop benchmarks to compare the Falcon Northwest FragBox against, and the point would be kind of moot anyway, since you can configure it to your heart's content.
But rest assured that the FragBox roared through everything I threw at it. The 14700K chewed up and spit out Cinebench runs, thanks to its four additional E-cores compared to the 13700K, and games ran buttery smooth in full fidelity even at 4K resolution. Most games run at well over 100 frames per second even without DLSS enabled, while Cyberpunk 2077's Ultra preset cruised well past 70fps at native resolution. Turning on ray tracing drops that, of course, but correspondingly flipping on DLSS and/or DLSS 3 Frame Gen sent frame rates skyrocketing alongside all those juicy rays. Shadow of the Tomb Raider averaged over 200 frames per second!
So yes, the Falcon Northwest FragBox screams — but not literally. Despite packing all this high-end hardware and only wielding four well-thought-out internal fans, the FragBox remained whisper-quiet the entire time I used it, even during the most punishing tasks. Component temperatures remained nice and chilly too.
Ultra-powerful, ultra-portable, ultra-quiet, ultra-cool — there's nothing I can complain about on the hardware front here.
Should you buy the Falcon Northwest FragBox?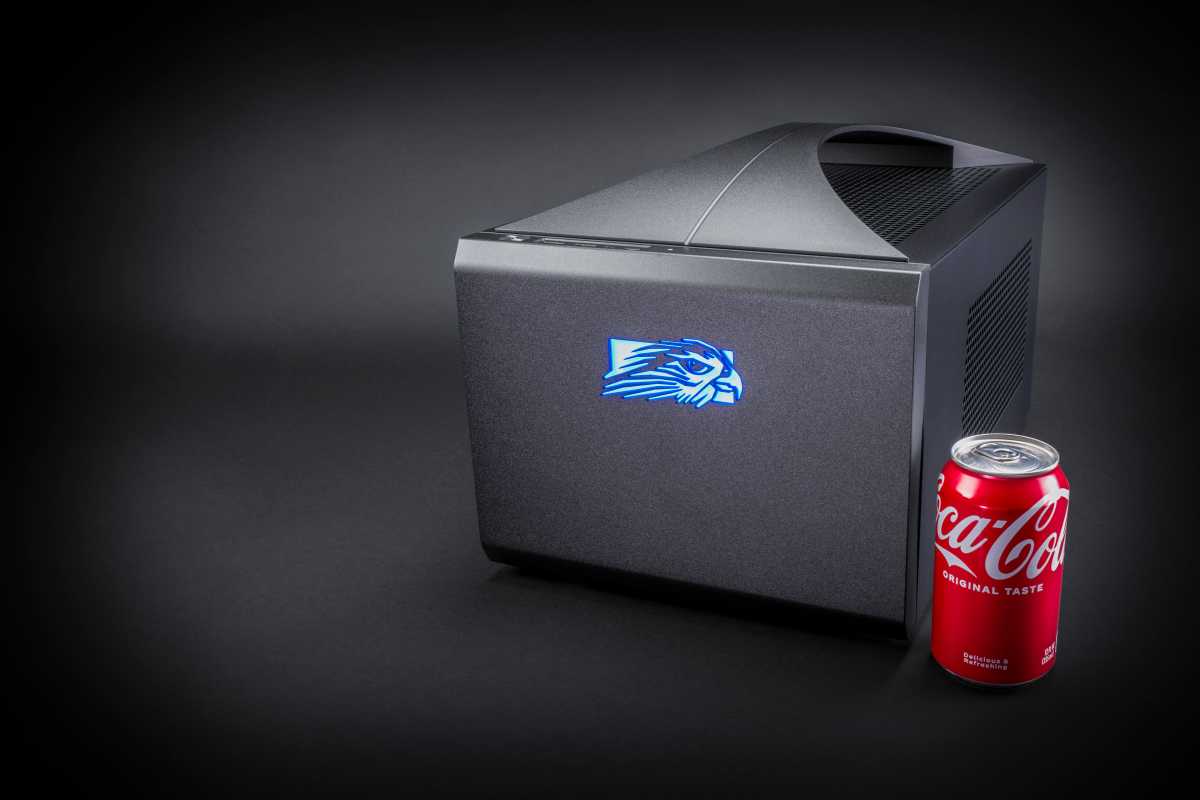 Falcon Northwest
That's true for virtually every aspect of the FragBox. I can't find anything to complain about. Falcon Northwest's deep know-how and keen attention to detail creates a flawless PC experience, from the hardware to the software to the excellent welcome package and unparalleled warranty.
The only aspect you may take issue with is the price. Falcon Northwest systems aren't cheap. The FragBox starts at $2,966 and our chart-topping configuration sells for $5,850. Alaina Yee, the resident deal hunter on PCWorld's Full Nerd podcast, would probably faint just reading that.
But high-quality perfection never comes cheap. Buying the FragBox means buying a system that was hand-built by a single technician, using parts that passed Falcon Northwest's rigorous qualification tests, and then extensively tested again to ensure stability before it ships your way. It means getting a fantastic Falcon Overnight warranty, and a fast, up-to-date, deliciously bloatware-free Windows experience right out of the box. It means getting ferociously powerful performance in a much smaller box than you'd expect thanks to FNW's custom-engineered, meticulously tuned FragBox case.
As my colleague Gordon Mah Ung said when he reviewed the original FragBox decades ago, "Its performance is even more amazing considering its size."
Like I said at the top, there's a reason 100 FragBoxes powered Epic's recent Fortnite Championship in Denmark and the UnrealFest UE5 classrooms, and why Falcon Northwest is the choice of studios and superstars alike. There's a reason FNW systems are used by NASA's Jet Propulsion Labs, Oculus, Lockheed Martin, Walt Disney, Nvidia, Dartmouth, and more. Every aspect of this system is top-notch. You get what you pay for.
And that's why when the day inevitably comes that I hang up my PC toolkit for good, I'm buying a Falcon Northwest FragBox. I've never encountered another PC — much less a prebuilt PC — that oozes excellence like the FragBox. Highly, highly, highly recommended.
Brad Chacos spends his days digging through desktop PCs and tweeting too much. He specializes in graphics cards and gaming, but covers everything from security to Windows tips and all manner of PC hardware.