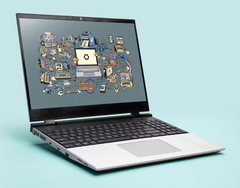 The Framework Laptop 16, a modular gaming notebook Framework announced in March, is now available for pre-order. While the price for a DIY version starts at US$1399, adding a discrete GPU module bumps the price by $400 to $1799. A fully assembled model starts at $1699 without the dGPU and $2099 with one.
The Framework Laptop 16 is a 16-inch notebook from Framework, a company made famous by the modular Framework Laptop 13. Announced in March, the Framework Laptop 16 (or "Framework 16," as many call it) retains the modularity of its littler brother while focusing on power and gaming. The Framework Laptop 16 is now available for pre-order from Framework.
As its name implies, the Framework Laptop 16 features a 16-inch 2560×1600 165 Hz screen. The Laptop 16 is powered by either an AMD Ryzen 7 7840HS or Ryzen 9 7940HS APU, both of which feature AMD Radeon 780M integrated graphics. For storage, the Laptop 16 has an M.2 2280 drive slot and an M.2 2230 slot, both of which support NVMe SSDs. It has two DDR5 RAM slots for up to 64 GB of DDR5-5600 memory. Wireless connectivity is handled by an AMD Rz616 WiFi 6E card, and the notebook supports Bluetooth 5.2. 
The big draw of the Framework Laptop 16 is the swappable GPU module. Currently, Framework only offers a single discrete GPU option: the AMD Radeon RX 7700S (32 CUs, 100 Watt TGP, 8GB GDDR6 VRAM). This module is optional, and the laptop will work just fine without it. However, it is possible for end users to relatively easily add the GPU at a later date (or remove it, if desired). The GPU module will run an extra US$400 and adds roughly 300 grams of weight (2.1 kg vs 2.4 kg with module) and 3 mm of thickness (17.95 mm vs 20.95 mm with module) to the laptop. 
The Framework Laptop 16 also has 6 USB-C ports. Two of these support USB4 (40 Gbps), one supports USB 3.2 (10 Gbps) with DisplayPort, and the other three operate at USB 3.1 speeds (5 Gbps). Like the ports on the Framework Laptop 13, these USB-C ports are recessed and support Framework's myriad expansion cards, allowing users to configure the laptop's ports based on their need. These small cards sit flush with the sides of the laptop and include ports like HDMI, DisplayPort, SD card readers, USB-A ports, storage, and more.
Lastly, the Framework Laptop 16's keyboard is configurable. While it ships with a standard laptop keyboard, users can shift the keyboard to the side and add in a number pad. End users can also shift the trackpad slightly to the left or right for better accommodation. 
Framework is currently accepting pre-orders for the Laptop 16. A barebones DIY unit (which users will have to assemble themselves, a process Framework says takes 10-20 minutes) costs US$1399, while a fully assembled laptop with Windows pre-installed costs $1699. Including the dGPU module adds $400 to the cost of each version, raising the price to $1799 and $2099, respectively. Users can bump other specs for additional costs. Each pre-order also includes a copy of Starfield: Premium Edition, but only for those that also purchase the dGPU module. 
You can pre-order the Framework Laptop 16 at Framework's website. The first few batches are already sold out (as of press time), but the next batch is expected to ship in Q4 of 2023 with subsequent batches to ship out in Q1 of 2024. 
Sam Medley – Senior Tech Writer – 1265 articles published on Notebookcheck since 2016
I've been a computer geek my entire life. After graduating college with a degree in Mathematics, I worked in finance and banking a few years before taking a job as a database administrator. I started working with Notebookcheck in October of 2016 and have enjoyed writing news and reviews. I've also written for other outlets including UltrabookReview and GeeksWorldWide, focusing on consumer guidance and video gaming. My areas of interest include the business side of technology, retro gaming, Linux, and innovative gadgets. When I'm not writing on electronics or tinkering with a device, I'm either outside with my family, enjoying a decade-old video game, or playing drums or piano.