The following story contains spoilers for The Flash (2023).
---
WHEN JAMES Gunn was named co-CEO of DC Studios last year, it didn't take long for one thing to become abundantly clear: he was going to start most things over. Black Adam? Not continuing. Henry Cavill? Not Superman anymore. Gal Gadot? Don't expect too much more of her as Wonder Woman. While Aquaman and the Lost Kingdom will still be released in theaters at the end of 2023, the writing was always on the wall that The Flash was going to, essentially, wrap up the entire DCEU era of the DC Comics characters in film.
That became even more clear in 2023 as Gunn began slowly revealing details for his first major slate—titled "Gods and Monsters"—for his new universe, dubbed the DCU. And so it's essential to go into The Flash with the understanding that, in essence, this was going to be the final chapter of a story that, while it certainly had its ups and downs, was being written for essentially the last decade.
The Flash treats itself like that too, bringing all sorts of characters back for their DCEU curtain calls, including Ben Affleck as Bruce Wayne, Jeremy Irons as Alfred Pennyworth, Gal Gadot as Wonder Woman, and Michael Shannon as Zod. It's the end of a chapter.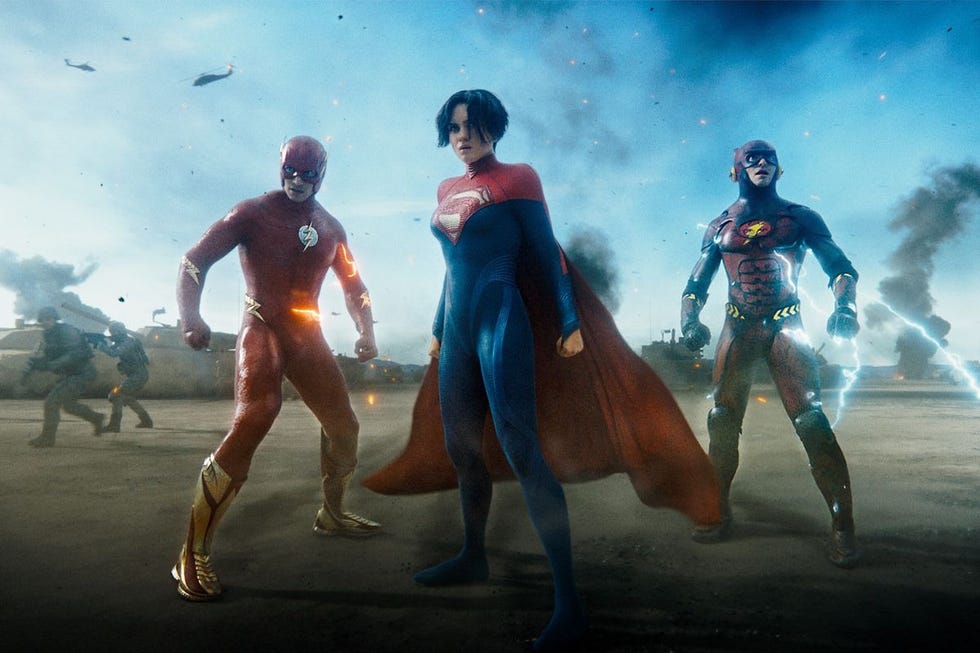 Warner Bros.
And the movie seems to understand that too, as the movie leaves those three heroes early on, sending Barry Allen (Ezra Miller) on a mission that finds him traveling back in time to save his late, doomed mother, and irreparably changing the present we've all known; he finds Batman with an older face (now looking and sounding like Michael Keaton), Superman replaced by his cousin Supergirl (Sasha Calle), and Aquaman (Jason Momoa), well, he never even was born because his dad bought a bunch of dogs instead.
Ultimately, Barry comes to realize that certain things in his past are inevitabilities and lead to a future that, in superhero and determinist terms, is simply untenable. Barry goes back in time and fixes what he changed… with only the most minor of changes as an attempt to keep his father (Ron Livingston) from being wrongfully charged with his mother's murder.
His attempt works—with (seemingly) only one minor change: Bruce Wayne no longer looks like his old friend Ben Affleck Bruce Wayne. He's, again, a little older—this time, he looks like George Clooney.
Why is George Clooney Bruce Wayne/Batman at the end of The Flash?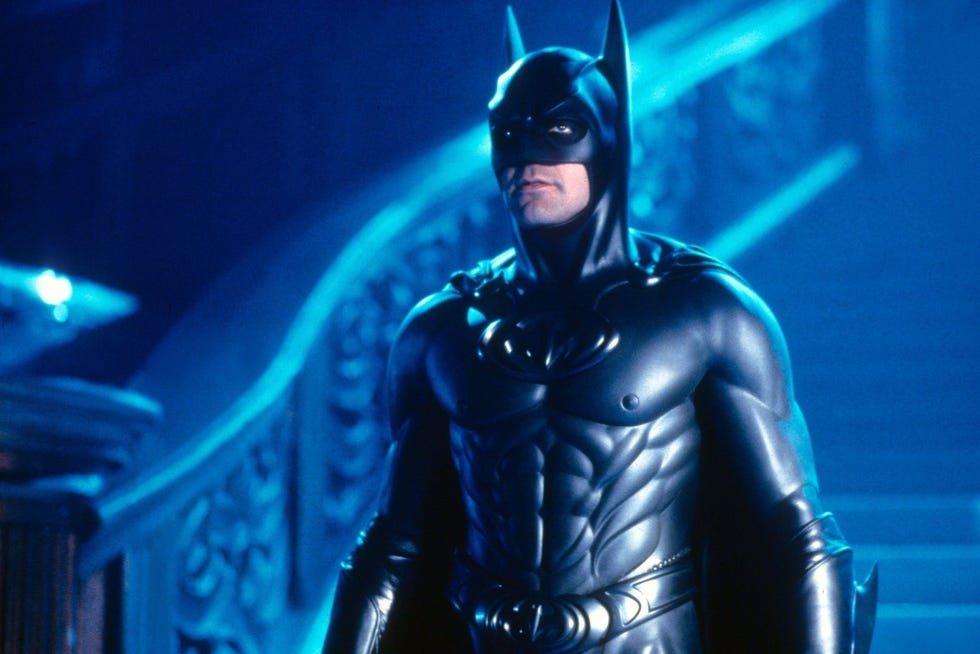 Warner Bros.
That is a damn good question. And if it's one you're asking, then we feel like making sure you have an important bit of context. You probably know George Clooney best these days from his role in movies like the Ocean's Eleven series or perhaps his work in Michael Clayton, with the Coen Brothers, or even his Academy Award-winning role in Syriana.
But for the purpose of The Flash, it's important that you know that Clooney played Bruce Wayne/Batman—the fourth actor to play the character on the big screen in the '90s—in Batman & Robin, a colorful, campy, and infamously disliked installation of the franchise that was directed by the late Joel Schumacher and released in 1997. The movie has a 12% on Rotten Tomatoes from critics and a 16% from audiences. "I always apologize for Batman & Robin," Clooney said during an appearance on The Graham Norton Show. "I actually thought I destroyed the franchise until they brought it back."
There have been rumors for decades that Clooney offers fans refunds for their tickets to the movie.
So: that's just a bit of important context so you know that it's not random when Bruce Wayne shows up at the end of The Flash looking like none other than George "I Thought I Destroyed the Franchise" Clooney.
There are two ways to read things from that point.
The first read: by entering the universe/timeline where there's irrefutable evidence that Barry's dad is innocent, one major change is that the Ben Affleck Bruce Wayne never existed. He now looks like George Clooney, and while they have had adventures in the past—this Bruce knows Barry—it's not the past that Barry remembers with his Ben Affleck Batman. With The Flash signaling the end of the DCEU, Clooney's casting is just having a simple bit of fun with the character's history through good and bad times. This universe will be its own thing while our on-screen adventures move in whatever direction Gunn takes them in.
The second read: this is the Batman & Robin universe. By finding the timeline where his father was exonerated, Barry found his way into the world where, back in 1997, Bruce Wayne faced off with Arnold Schwarzenegger's Mr. Freeze and Uma Thurman's Poison Ivy. Barry is just going to have to make things work in the Clooneyverse if he wants to have an existence where his dad isn't behind bars. One problem? Well, the production design we see here is a whole lot different from the colorful, campy Gotham City of Batman & Robin. Oh well.
At the end of the day? We're probably overthinking it just as much as anyone, and it's neither of these options. The real explanation for George Clooney? He was another Batman, and it's funny and self-depreciating to see him back in the role he so clearly does not think highly of—26 years later.
And it's a pretty good bit.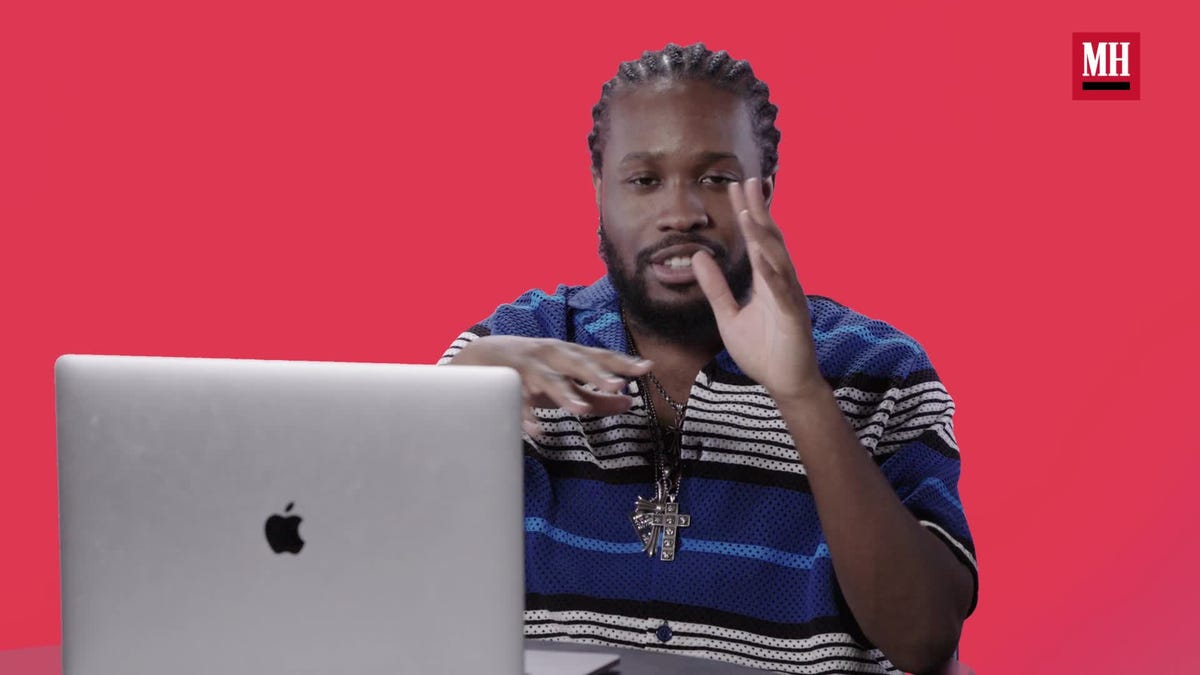 Evan is the culture editor for Men's Health, with bylines in The New York Times, MTV News, Brooklyn Magazine, and VICE. He loves weird movies, watches too much TV, and listens to music more often than he doesn't.