Image: Matt Smith
At a glance
Expert's Rating
Pros
Plenty of connectivity and menu options
Good contrast ratio
Solid color performance
Up to 144Hz refresh rate with good motion clarity
Cons
Stand setup uses screws instead of clip mechanism
Modest maximum brightness
HDR is supported but lackluster
Our Verdict
The Gigabyte GS34WQC is a 34-inch ultrawide that delivers excellent value at a budget price.
Buying a 34-inch ultrawide monitor requires some understanding of the nuances that separate seemingly identical monitors. Most 34-inch ultrawides provide the same 3440×1440 resolution, a refresh rate between 120Hz and 165Hz, and many even look similar with black plastic casings and large standards. The Gigabyte GS34WQC doesn't buck this formula but executes well enough on each point to earn an easy recommendation.
Further reading: See our roundup of the best gaming monitors to learn about competing products.
What are the Gigabyte GS34WQC's specs and features?
The Gigabyte GS34WQC's specifications are boilerplate for a 34-inch ultrawide monitor. It provides 3440×1440 resolution, by far the most common among monitors of this size, and a 120Hz refresh rate with 135Hz overclock mode. Adaptive Sync is provided through AMD's FreeSync.
Display size: 34-inch ultrawide
Native resolution: 3440×1440
Panel type: Vertical Alignment (VA)
Curved: Yes, 1500R
Refresh rate: 120Hz with 135Hz overclock
Adaptive Sync: FreeSync
HDR: HDR10
Ports: 2x HDMI 2.0, 1x DisplayPort 1.4, 3.5mm audio
VESA mount: 100x100mm
Speakers: None
Price: $329.99 MSRP
What's most notable about the monitor is its price. Though not the most inexpensive 34-inch ultrawide available (alternatives like the Monoprice 35-inch Zero-G V2 dip below $300), it's certainly towards the low end of the market. Gigabyte makes this happen with concessions in connectivity: The monitor lacks USB.
How is the Gigabyte GS34WQC's design?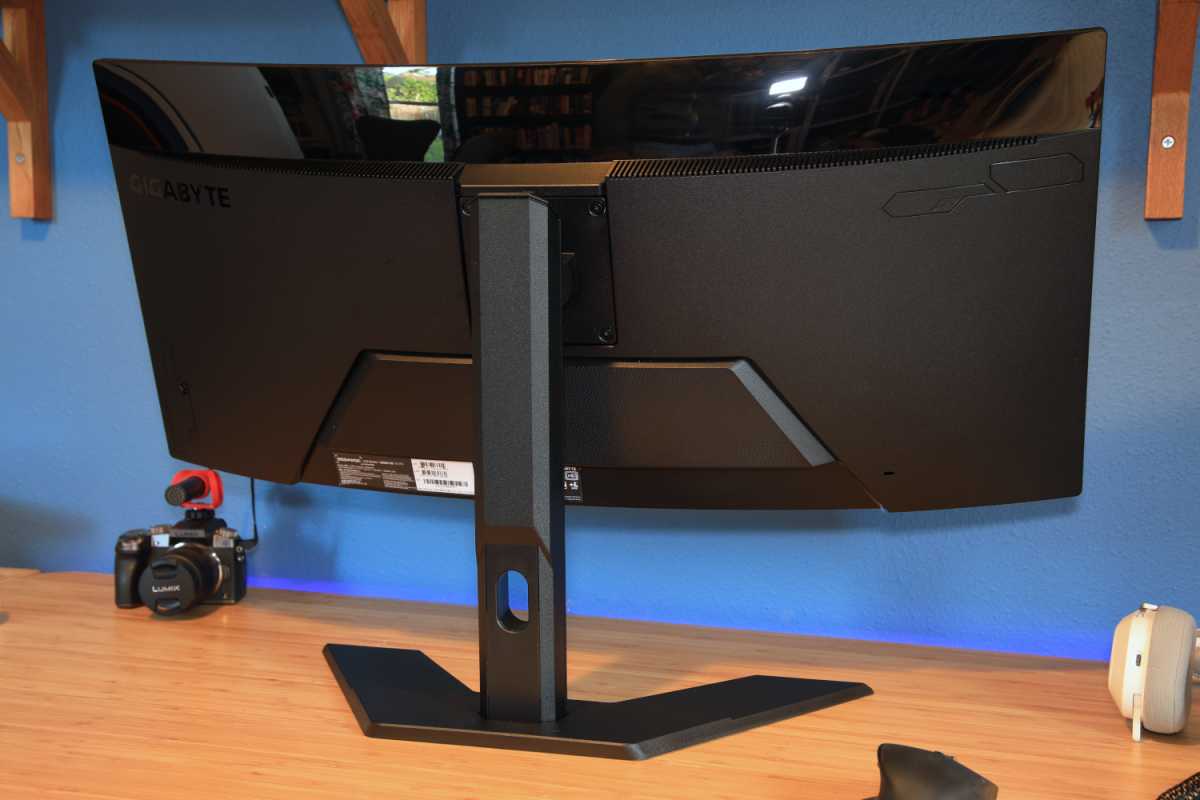 Matt Smith
Gigabyte keeps things simple with the GS34WQC which, given its price, is not a surprise. Matte-black plastic is the order of the day, though the design does enjoy a few glossy piano-black highlights to spice up the look. The monitor avoids garish touches like chrome or colored inserts and it lacks RGB lighting—which I don't mind, but may disappoint those looking to add some flair to their setup.
Build quality is fine. The GS34WQC's plastics might benefit from more texture but feel reasonably solid in-hand. And there's no disputing that stand's heft. It's an absolute unit that takes up considerable desk space and keeps the monitor planted. This is normally a problem, but Gigabyte opts for a flat stand base, so the space it takes on your desk remains (mostly) usable.
Yet I have a beef with the stand. It mounts to a standard 100x100mm VESA bracket but doesn't include a clipping mechanism, so it must be screwed to the rear of the monitor with four provided screws. That's not the end of the world, but it's a hassle. I also found the screws a bit finicky as the metal they used was soft and easily stripped if too much force was applied. The stand also adjusts only for tilt and height, but doesn't swivel, which is available with some monitors around this price point.
How is the Gigabyte GS34WQC's connectivity and menu?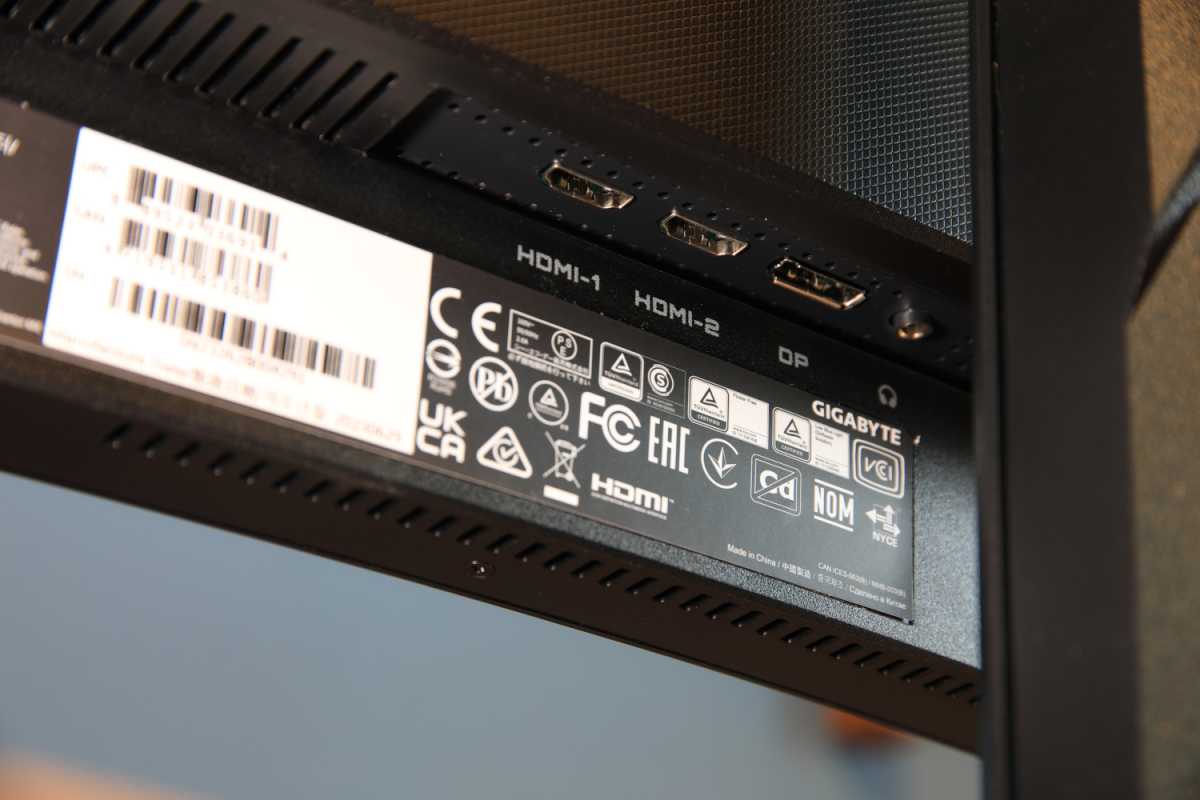 Matt Smith
The Gigabyte GS34WQC's connectivity has strengths and weaknesses. It provides a total of three video inputs—two HDMI and one DisplayPort. That's typical for an inexpensive ultrawide monitor.
However, the monitor lacks USB connectivity. There's no USB-C input and no USB-A downstream ports, so the monitor can't be used as a USB hub. That's a bit unusual even for an inexpensive ultrawide monitor. A 3.5mm audio jack for passthrough audio is included, at least.
What the monitor lacks in connectivity it gains in menu options. The GS34WQC has a responsive, easy-to-use menu controlled by a joystick on the lower-right bezel. A helpful downward-facing LED makes this joystick easy to find.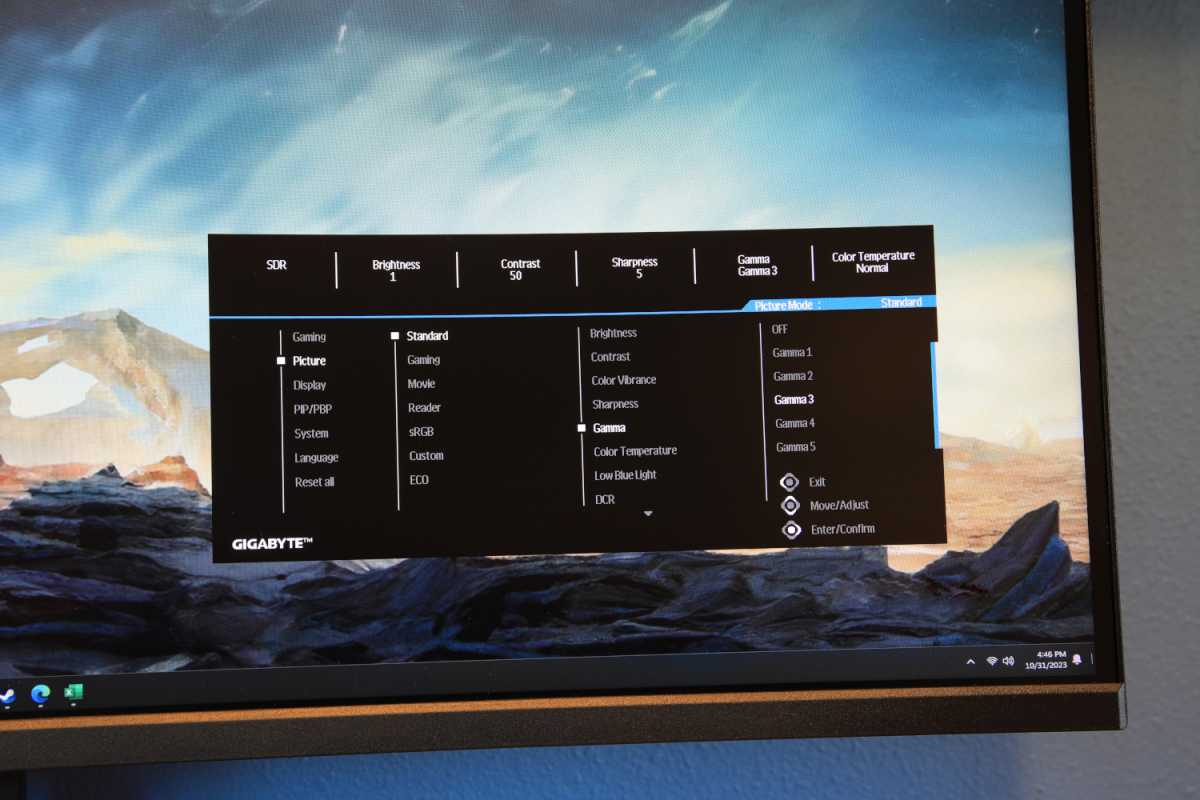 Matt Smith
Menu options are extensive, too. There's several color temperature and gamma modes, RGB color customization, and an sRGB preset, alongside the usual brightness and contrast settings. There's also several gaming-centric features, such as an on-screen crosshair. The wide range of image quality adjustments is excellent to see in an inexpensive ultrawide and will help owners customize the monitor's look to their preferences, if desired.
Speakers aren't included. That's no surprise, especially at this price. Headphones or external speakers are mandatory.
How is the Gigabyte GS34WQC's SDR image quality?
The Gigabyte GS34WQC uses a Vertical Alignment (VA) panel, a type of display panel technology that is common among larger monitors and many budget to mid-range televisions. It performs well here, providing a reasonable contrast ratio and attractive color well suited to playing attractive modern 3D games.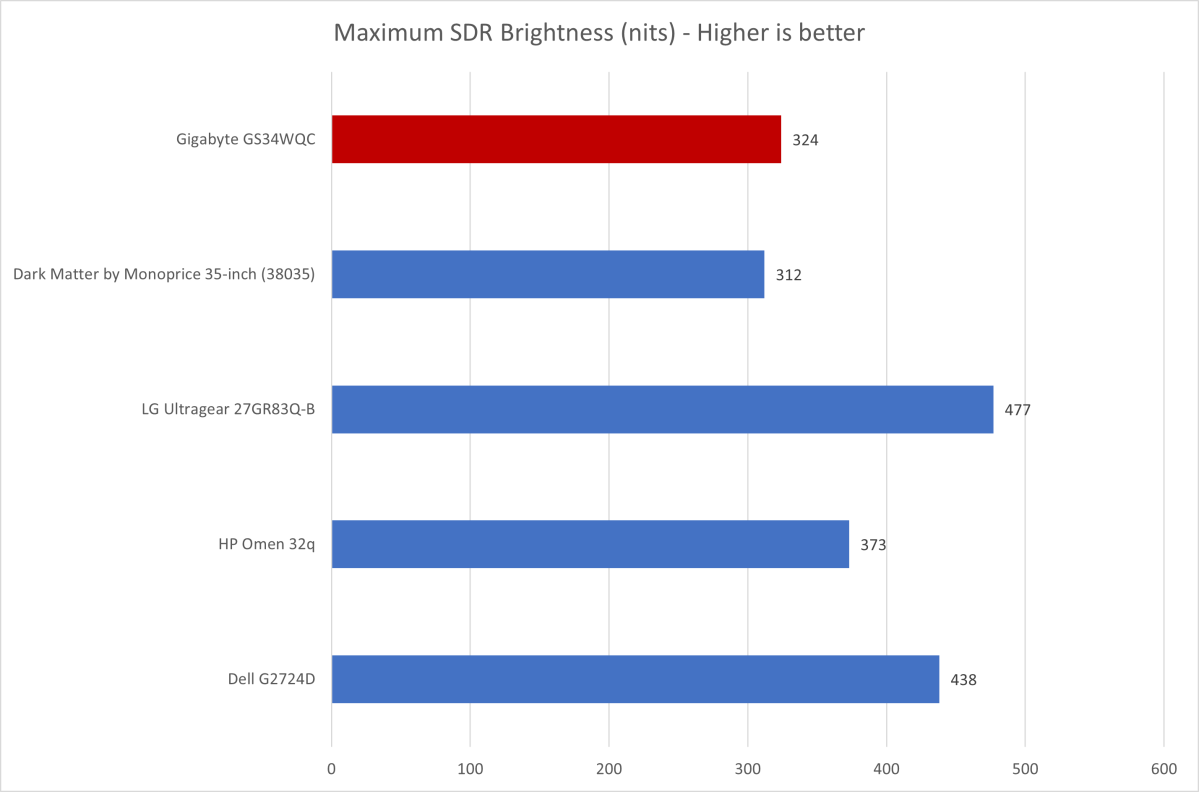 Matt Smith
With that said, brightness is among the monitor's weaker points. It achieved a maximum brightness of 324 nits in SDR, which (spoiler alert) doesn't go much higher in HDR. This is towards the low end of what's possible from any modern gaming monitors.
This, to be fair, is not really an issue for gaming or entertainment in SDR content, which is typically viewed in a darkened room where you'll have control over the ambient light. But the monitor may seem dim in a very bright, sunlit room or corporate office. And while the panel has a semi-gloss finish, the 1500R curvature can act as a focal point for glare.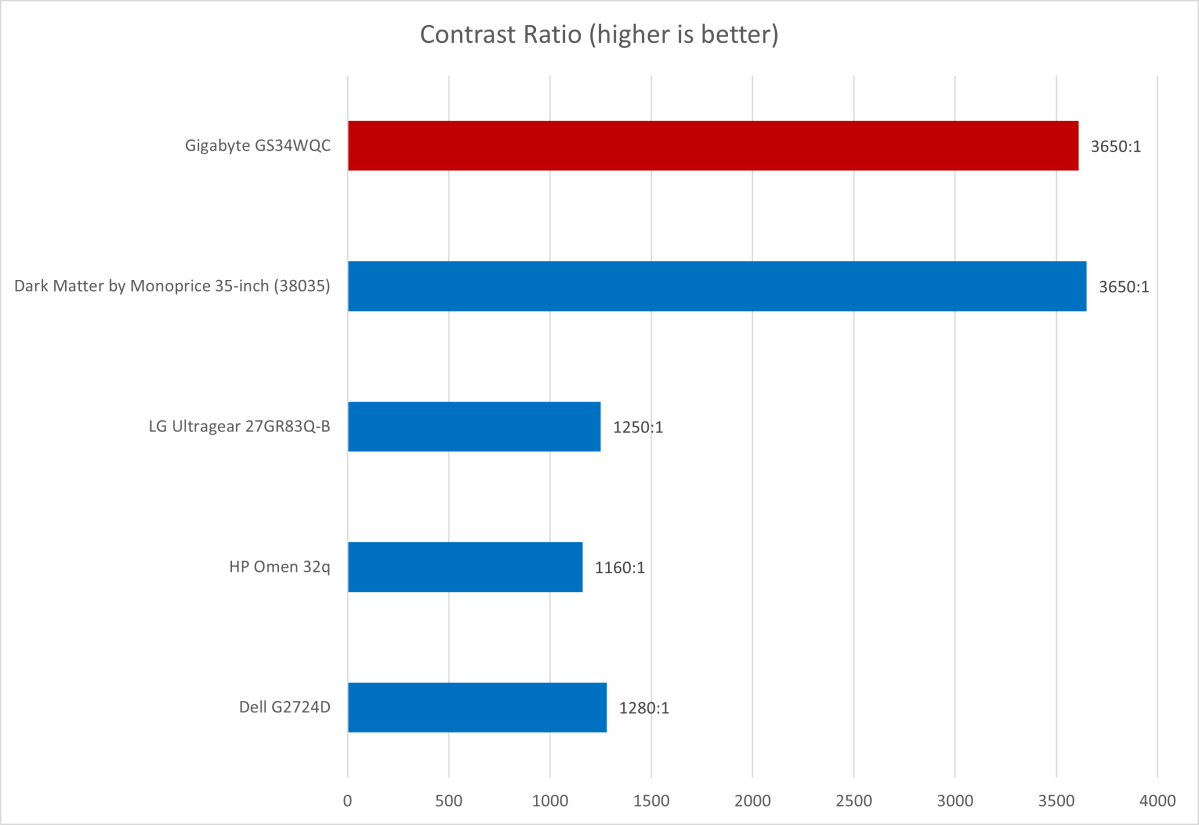 Matt Smith
Next up is contrast, where the GS34WQC provides a convincing maximum contrast ratio of 3610:1. That's essentially identical to the Monoprice 35-inch V2 curved ultrawide, and it's much better than most similarly priced widescreen monitors (which tend to opt for IPS display panel technology instead).
A better contrast ratio provides an improved sense of depth and immersion in games and movies. And, in this case, the contrast ratio improves not because the panel is bright, but because it can become dark. That provides good detail in dark, shadowy scenes that may look gray and washed-out on other monitors.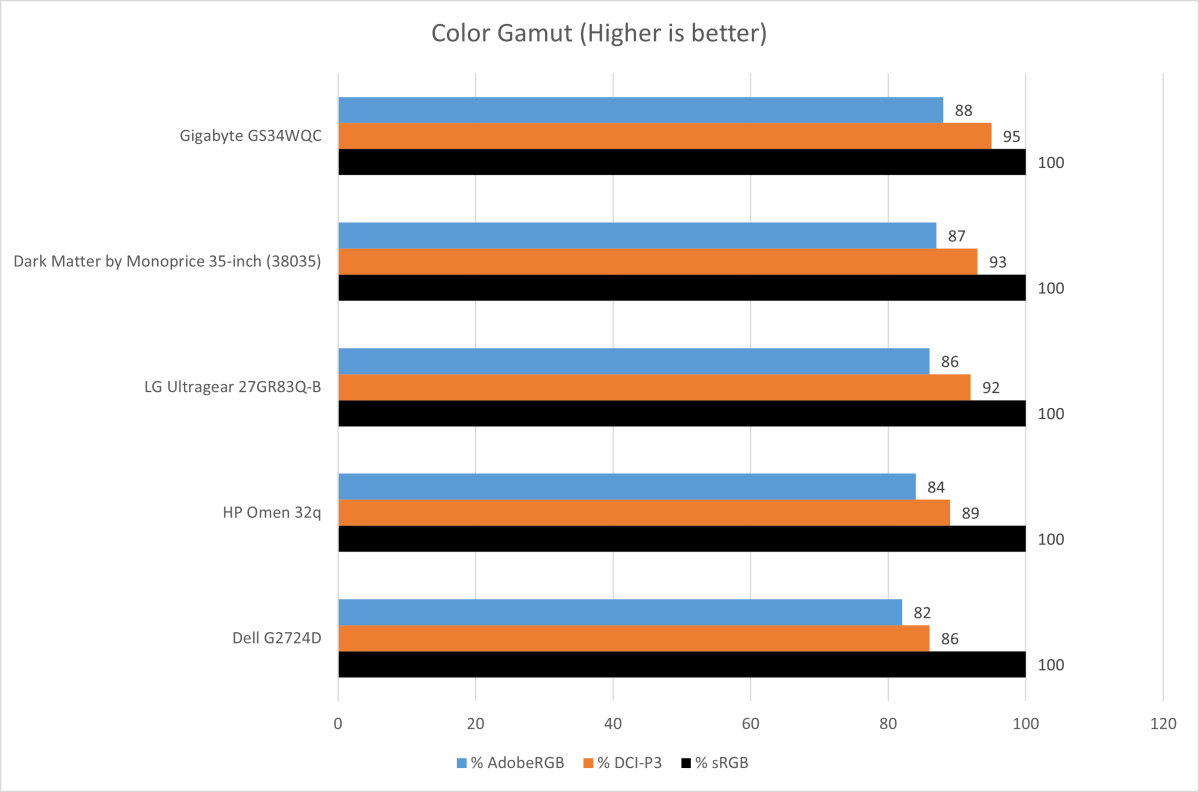 Matt Smith
Color gamut is a win, as the GS34WQC can display 95 percent of the DCI-P3 color gamut and 88 percent of AdobeRGB. These figures put it slightly ahead of many similar monitors.
A wide color gamut is a benefit in entertainment, as it can deliver a more saturated and vivid look that most viewers will enjoy. It's also good for content creation, as the monitor can literally display more colors, an important perk if you're color grading video or editing professional photography.
The GS34WQC's color gamut isn't wide enough to recommend for serious professional creators, but its performance is more than adequate for sketching out ideas or editing a YouTube video (unless you're Marques Brownlee).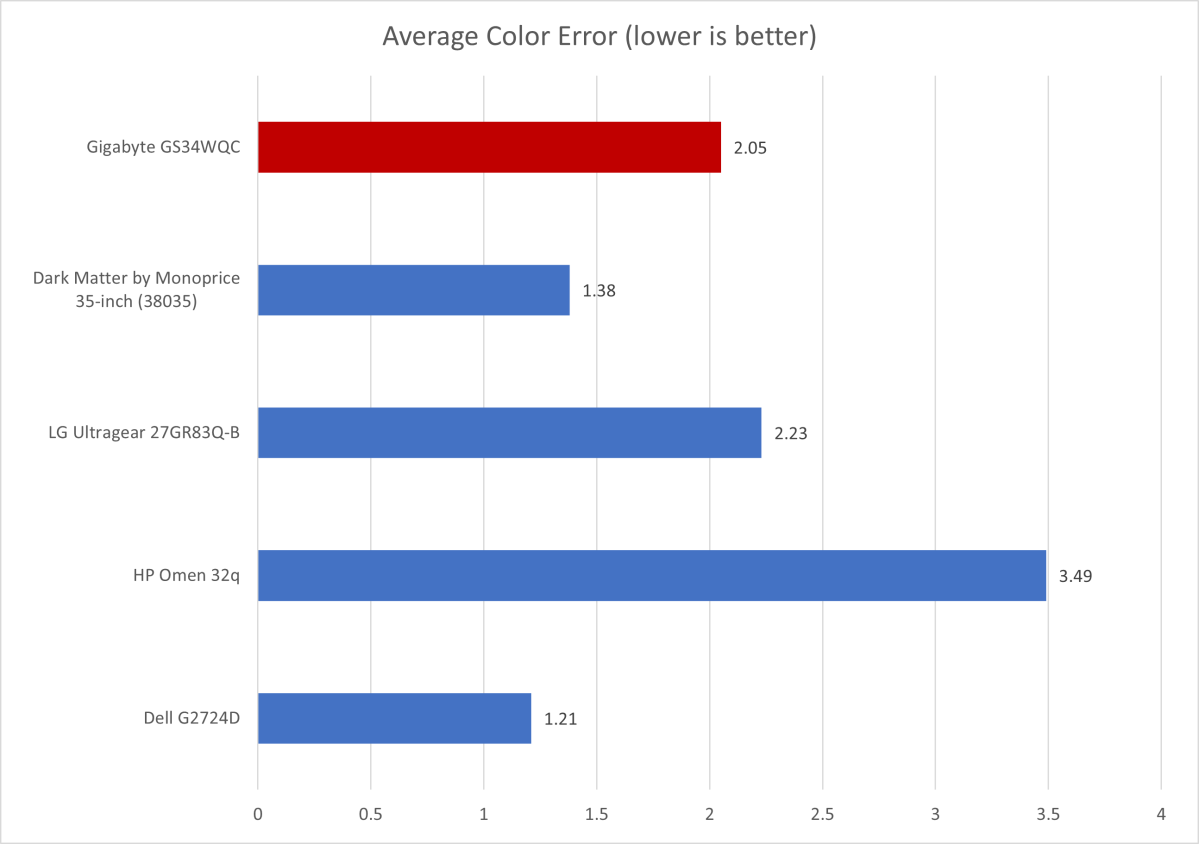 Matt Smith
It's a similar story with color accuracy, where the GS34WQC delivers a mid-pack result. Colors mostly look realistic and convincing. The monitor's color errors were actually more prominent in the grayscale (which is to say, shades between black and white), which I find is less noticeable in typical use.
Speaking of which, the GS34WQC hit a default gamma curve of 2.1. That indicates content may look a tad brighter than it should, and I did notice that in use. Fortunately, the monitor's menu provides ample gamma settings to adjust for your needs. The same is true of color temperature, where I recorded a default color temperature of 6800K, off the target of 6500K. That indicates the monitor appears a bit more cool and sterile than our ideal, but the included color temperature settings can adjust this.
Sharpness is good, as the monitor's resolution of 3440×1440 provides roughly 109 pixels per inch. That's similar to a 27-inch 1440p monitor and a big upgrade over a 27-inch 1080p monitor, which has roughly 82 pixels per inch. Some pixelation may be visible around small fonts and aliasing can appear across fine objects in games, but it's rarely a major distraction. Those looking for improved sharpness should consider a 5K ultrawide like the LG 34WK95U-W—but that monitor is more than three times the Gigabyte GS34WQC's price.
How is the Gigabyte GS34WQC's HDR image quality?
HDR is available on the Gigabyte GS34WQC, but it's not great.
The GS34WQC sustained a maximum brightness of just 333 nits in my testing. The lack of brightness will obscure fine details in bright scenes, which is half the point of HDR. It's certainly possible to view HDR, but I'm not sure why you'd want to. It's not going to appear as it should.
I don't hold this against the GS34WQC. No monitor below $500 offers a good HDR experience: The least expensive monitors we recommend for HDR start around $700. Just be warned: HDR is supported, but it won't look how you hope.
How is the Gigabyte GS34WQC's motion performance?
Matt Smith
Gamers will be pleased by the Gigabyte GS34WQC's 120Hz refresh rate, which can be increased to 135Hz in Overclock mode. The monitor also supports AMD FreeSync for smooth gameplay with compatible AMD video cards.
Motion clarity was much better than I'd expected. Monitors with a Vertical Alignment (VA) panel usually suffer a problem called "dark smear." It appears as a dark blur or trail behind dark objects and is caused by slow pixel response times when displaying darker colors. This problem is visible on the GS34WQC but far less noticeable than expected. The G34QWC absolutely outperforms the Monoprice Dark Matter 35-inch ultrawide.
Clarity is otherwise good for a 120Hz/144Hz monitor. Scrolling test images from League of Legends show that character silhouettes and terrain are easy to make out and that hitpoint bars are visible, though the individual ticks in the hit points bar aren't distinguished. Character names are almost impossible to read in motion, too. This is what I'd expect to see from a monitor with this refresh rate and a major improvement over a 60Hz monitor.
How does it compare to a similarly priced 27-inch monitor, like the LG Ultragear 27GR83Q-B? The Gigabyte GS34WQC is noticeably less impressive, mostly due to the lack of clarity in moving text and small interface elements, such as hitpoint bars. I don't consider this a knock against the Gigabyte, as it's providing a larger display at a lower price. Still, highly competitive gamers may prefer a smaller monitor with a higher refresh (like the LG).
Should you buy the Gigabyte GS34WQC?
The Gigabyte GS34WQC is a great 34-inch ultrawide for gaming, entertainment, and entry-level content creation. It scores well by most metrics of image quality, offers many image quality adjustments, and delivers attractive motion clarity, all at a reasonable price and alongside a basic but practical design. The lack of USB connectivity is a bit disappointing, but nowhere enough to hold back the monitor. It's an easy recommendation if you want to enjoy the benefits of a 34-inch ultrawide at a price no higher than most quality 27-inch monitors.
Matthew S. Smith is a freelance technology journalist with 15 years of experience reviewing consumer electronics. In addition to PCWorld, his work can be found on Wired, Ars Technica, Digital Trends, Reviewed, IGN, and Lifewire. Matthew also covers AI and the metaverse for IEEE Spectrum and runs Computer Gaming Yesterday, a YouTube channel devoted to PC gaming history.