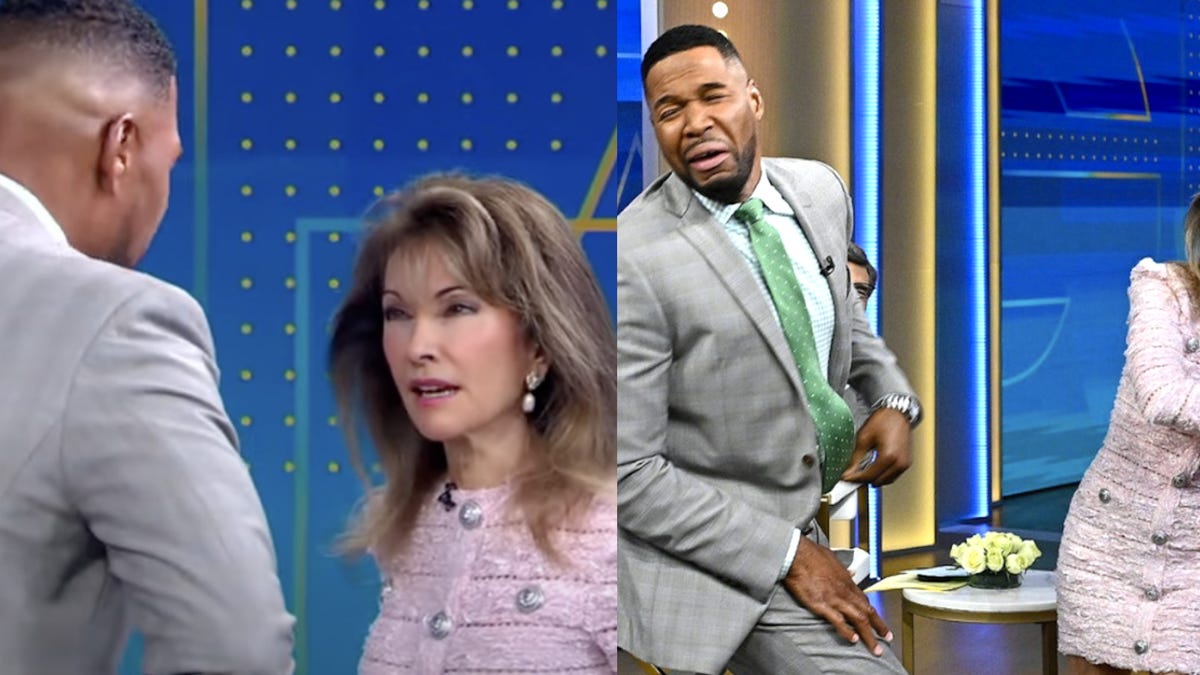 Michael Strahan just learned the art of an iconic gesture in soap operas, and it came from none other than TV legend Susan Lucci.
The actress recently appeared on a taping of Good Morning America to discuss heart health and how it relates to Stroke Awareness Month. As she sat alongside Michael, Robin Roberts and George Stephanopoulos, the discussion quickly turned to her work on All My Children. Being the inquisitive journalist, the former NFL player touched on one particular thing Susan often did while portraying her character Erica Kane.
"You are known for the slap," he said on the ABC show, causing Susan to laugh. "OK, you can dish that slap out. I'm here — you can teach me how to do the … Can you teach me how to do the fake slap?"
As the two stood up and faced each other, Susan explained how the slap would be staged. She elaborated that it was usually written into a scene, and it needed to have intention behind the action in order for both actors to "sell" the moment. What's more, the Daytime Emmy Award-winning star explained that the camera had to be at the right angle because she wouldn't actually hit the person in front of her.
After clarifying how a soap opera slap was done, it was time for Susan and Michael to perform a scene. The duo jokingly yelled at one another, saying how they couldn't believe they did something to one another. This led to Susan pretending to hit The $100,000 Pyramid host in the face. Committing to the lesson, Michael landed on the floor and folks in the studio roared with laughter.
"You sold that!" Susan said afterward. "You know what? My life is now made. I've retired, everybody!" Michael added.
When highlights of the segment began to circulate on social media, GMA fans loved how both Michael and Susan got into the moment. Without skipping a beat, viewers immediately shared how much they enjoyed it in the comments section on Instagram.
"She is an icon. Absolutely love her! Hoping to see more of her in 2023!" one person wrote. "This was so cute!" another added. "She is EVERYTHING!!! 😍," a different follower agreed.
If he plays his cards right, it looks like Michael may have found himself a new job.
Editorial Assistant
As the entertainment and news editorial assistant for Good Housekeeping, Adrianna (she/her) writes about everything TV, movies, music and pop culture. She graduated from Yeshiva University with a B.A. in journalism and a minor in business management. She covers shows like The Rookie, 9-1-1 and Grey's Anatomy, though when she's not watching the latest show on Netflix, she's taking martial arts or drinking way too much coffee.