Image: Michael Crider/IDG
At Microsoft's fall event today, the company's signature tablets appear to be a no-show. But that doesn't mean there's no new hardware to show off. Both the low-price Surface Laptop Go and the high-end Surface Laptop Studio are getting refreshed with new chips, the latest Windows 11 AI-focused features, and a few exterior touches that might be hard to spot at first. Both the Surface Laptop Go 3 and the Surface Laptop Studio 2 will be availble on October 3.
The Surface Laptop Go 3 gets an extremely gentle update — in fact, it would be hard to tell at a glance that this is a new product at all, aside from some of the color choices. Underneath, the laptop is running a 12th-gen Intel Core processor, with the i5-1235U being the sole choice at launch. The base model will use 8GB of DDR5 RAM, more capacious and speedier than the 4GB DDR4 offering on the last generation, with a choice of 128GB, 256GB, or 512GB of SSD storage.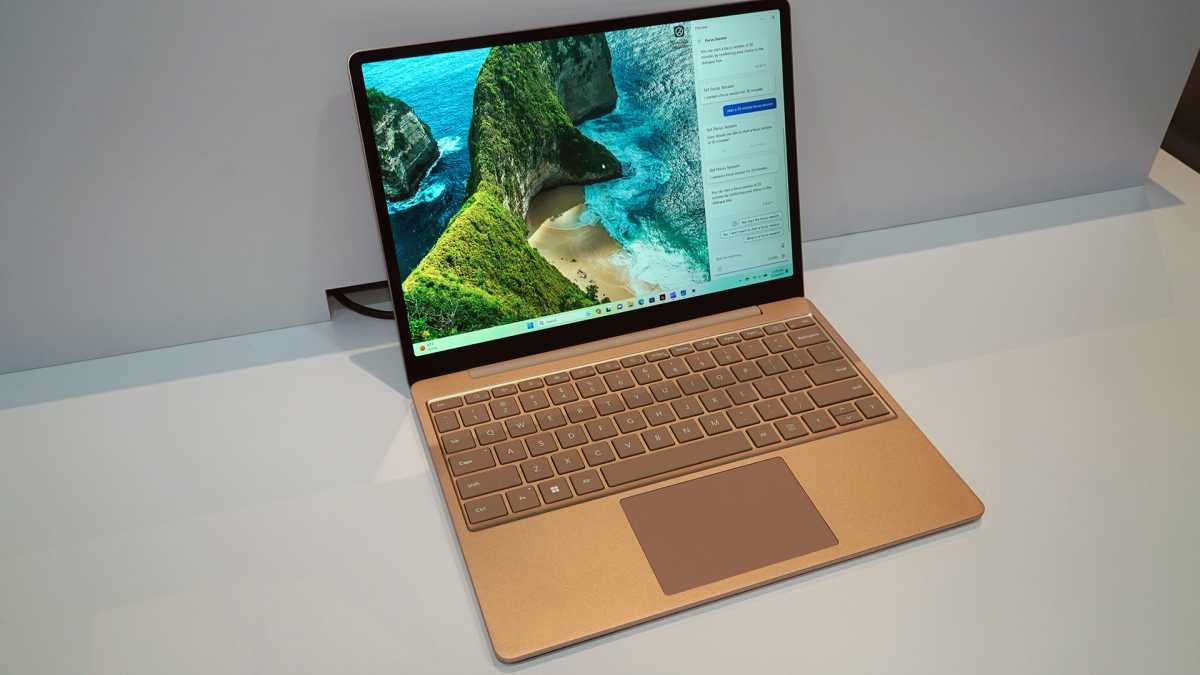 Michael Crider/Foundry
In the hand, the Laptop Go 3 feels much as it ever has, extremely light and well-finished with its aluminum body and soft-touch plastic base. The 12.4-inch touchscreen appears unchanged, complete with its somewhat disappointing 1536×1024 resolution and signature 3:2 aspect ratio. Microsoft says that this version of the laptop can last up to 15 hours on a charge, which seems to be in line with similar laptops in this class. The I/O options remain the same: the Surface charging port on the right with a USB-C, USB-A, and headphone jack on the left. The fingerprint reader on the power button is still in place.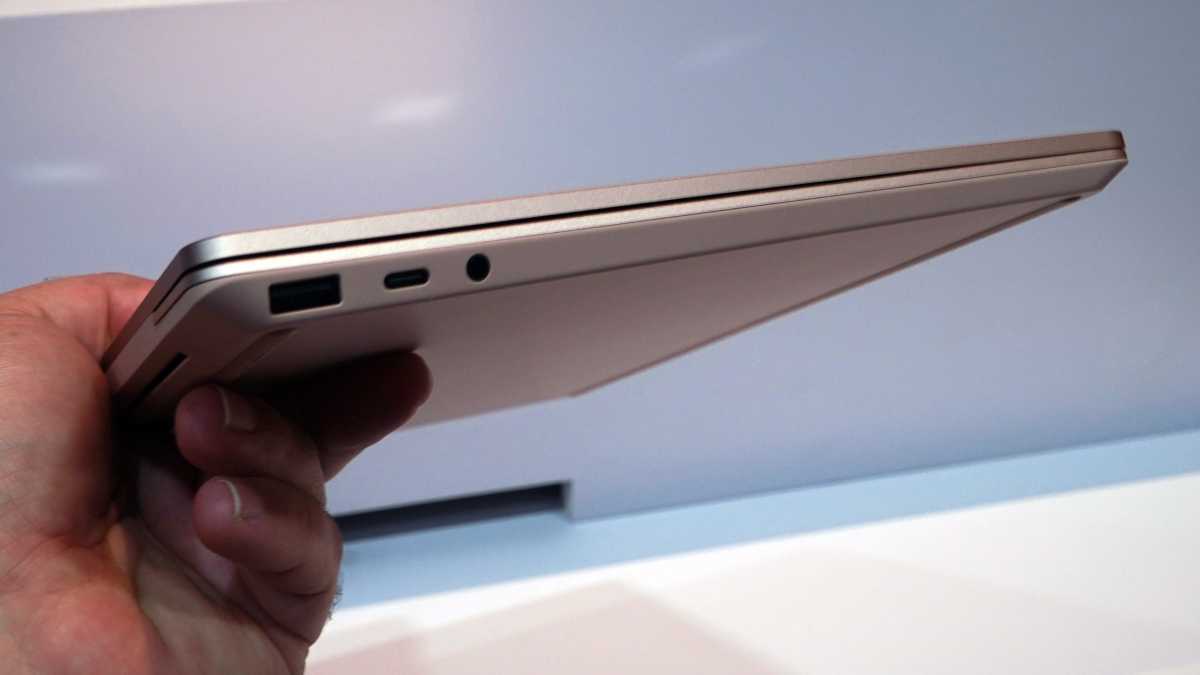 Michael Crider/Foundry
The biggest change might have nothing at all to do with the hardware. The base price for the Laptop Go 3 is now $799, a significant jump over the $600 base for last year's model. That pushes the "budget" option for the Surface laptop line into what many consumers would consider the midrange (for example, you can often find a base model XPS 13 for this price with a lot more power). Frankly it's a lot to ask for what appears to be a new processor (and not the latest one at that) and some faster memory. The $1,000 upgrade, which is the cheapest model with a much-needed 16GB RAM, isn't much better in terms of value.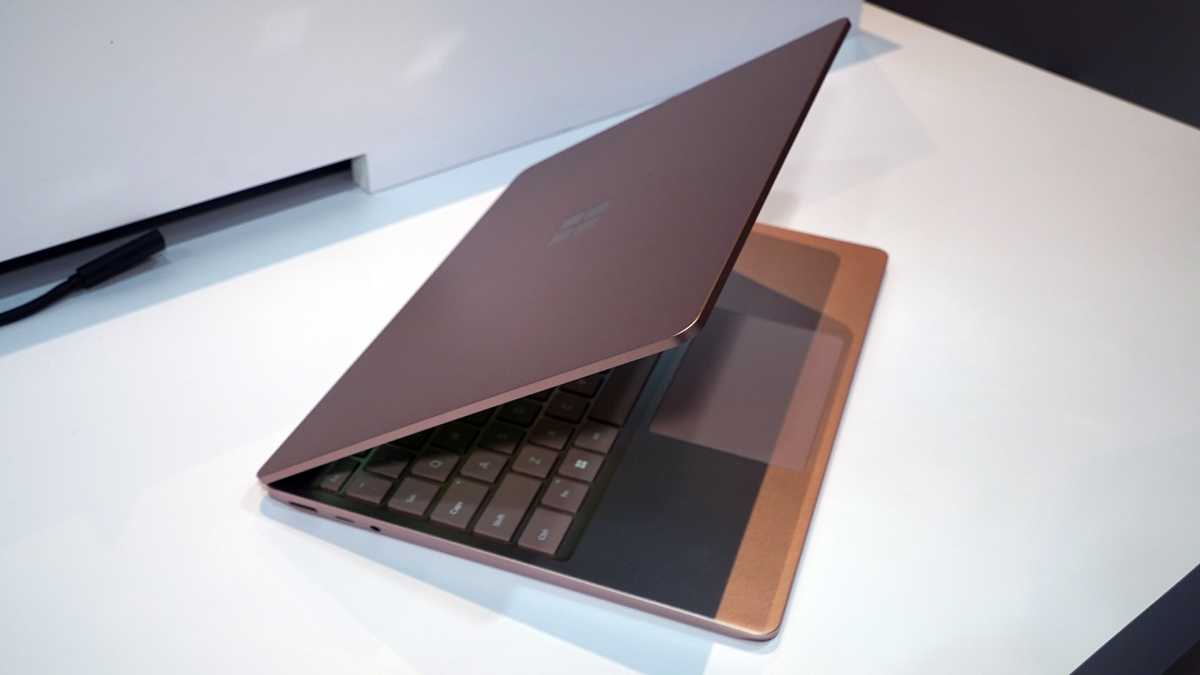 Michael Crider/Foundry
Surface Laptop Studio 2
The Surface Laptop Studio 2 gets a much more substantial update. Microsoft listened to media creators who wanted this large-and-in-charge design to be more flexible, adding a USB-A port on the left side for older hardware interfaces and a MicroSD card slot on the left for easy photo and video transfers.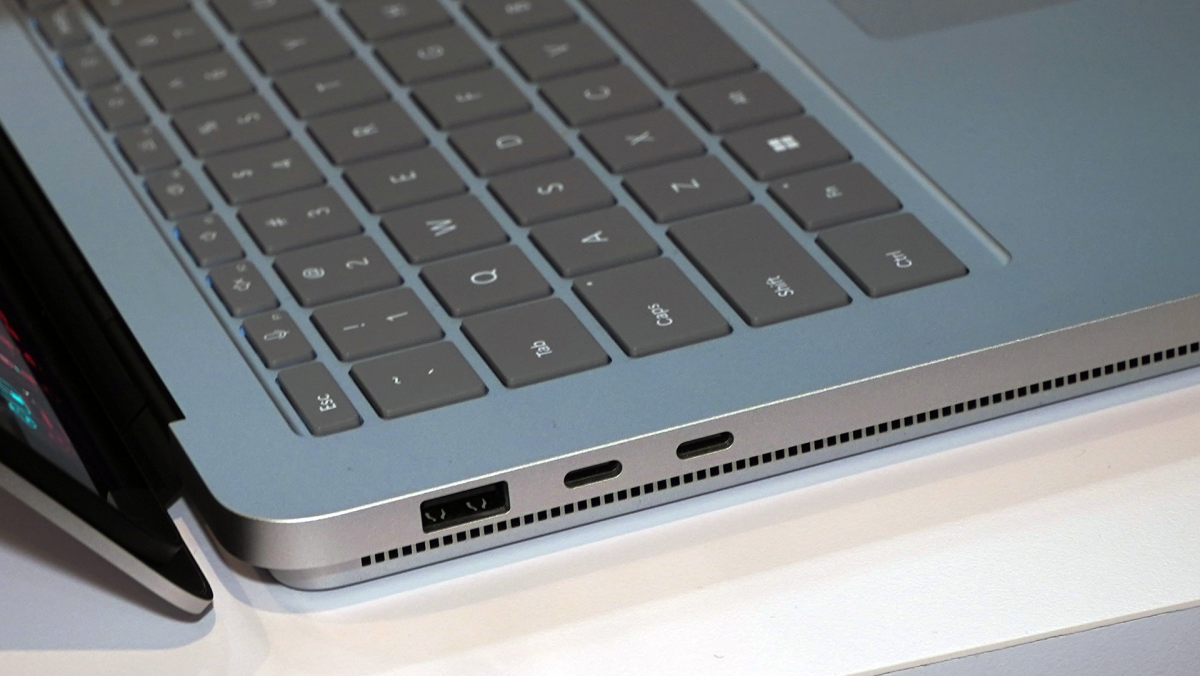 Michael Crider/IDG
The touchpad is also completely new, in both hardware and software, with reactive haptics powering a much more accessible interface for users who have trouble using conventional designs. (Last year's model had some reliability issues, it should be noted.) The exact "special sauce" wasn't something anyone on hand could tell me about, but a dramatic demonstration with a Microsoft employee who lacks fingers on one hand showed why such evolving changes are important. Microsoft's commitment to accessibility, as seen in so many of its new peripheral designs, is fully on display here.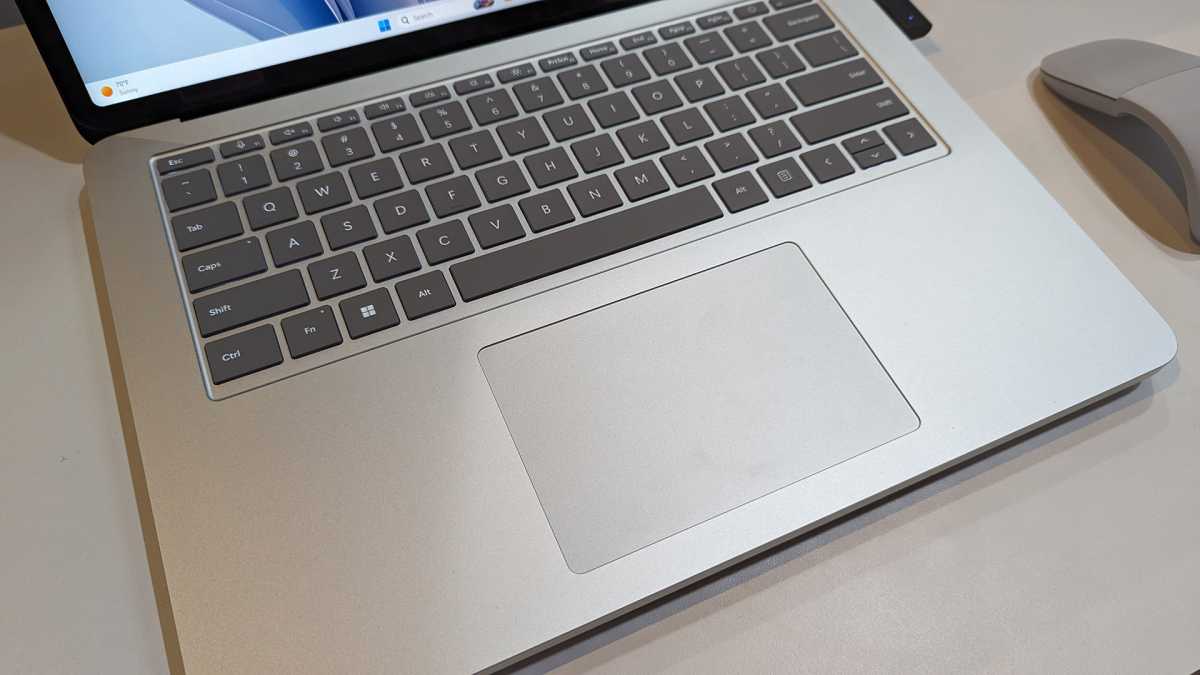 Michael Crider/Foundry
The Studio design is otherwise still in place, with that fold-down hinged screen that can cover the keyboard and stay in place magnetically remaining the showstopper. The new Surface Slim Pen 2 hangs out just under touchpad, where it also charges wirelessly in easy reach. The screen's 14.4-inch, 2400×1600 panel is impressive, even if it foregoes newer OLED tech, showing excellent color depth and contrast in a demo game of Cyberpunk. The 650-nit peak brightness will be particularly useful for working on the go.
Speaking of which, there's new silicon under the hood. The Studio 2 gets access to the latest in both Intel CPUs (maximum Core i7-3700U) and Nvidia GPUs (RTX 4050 or 4060). There's also an option for a more industrial-friendly RTX 2000 chip, plus an i7-3800U option for enterprise customers, or models without discrete graphics at all if you don't need it. The new design includes a dedicated chip to handle all of Windows 11's incoming AI features, which Intel calls the "Movidius 3700VC VPU AI Accelerator."
Michael Crider/IDG
The Surface Studio 2 is an imposing laptop, hefty at nearly four and a half pounds and brimming with sharp edges, even as it becomes more accessible in both ports and interface. You'll want to really know you can take advantage of its power if you are going to spend that kind of dough — notably Microsoft wasn't keen to talk about the battery life during its initial presentation. (The spec sheet says "up to 18 hours," but who knows how long it'll last if you're really putting that power to use.)
Storage comes from a single PCIe 4.0 SSD, which is user-accessible. You'll have a choice of 512GB to 2TB out of the box. RAM is just as flexible, with DDR5 coming in at up to 64GB (sadly, no mention of whether you can remove it or not). Other hardware goodies include a full HD camera with Windows Hello, double USB-C/Thunderbolt ports, and a much more comfortable keyboard than some laptops in this size category.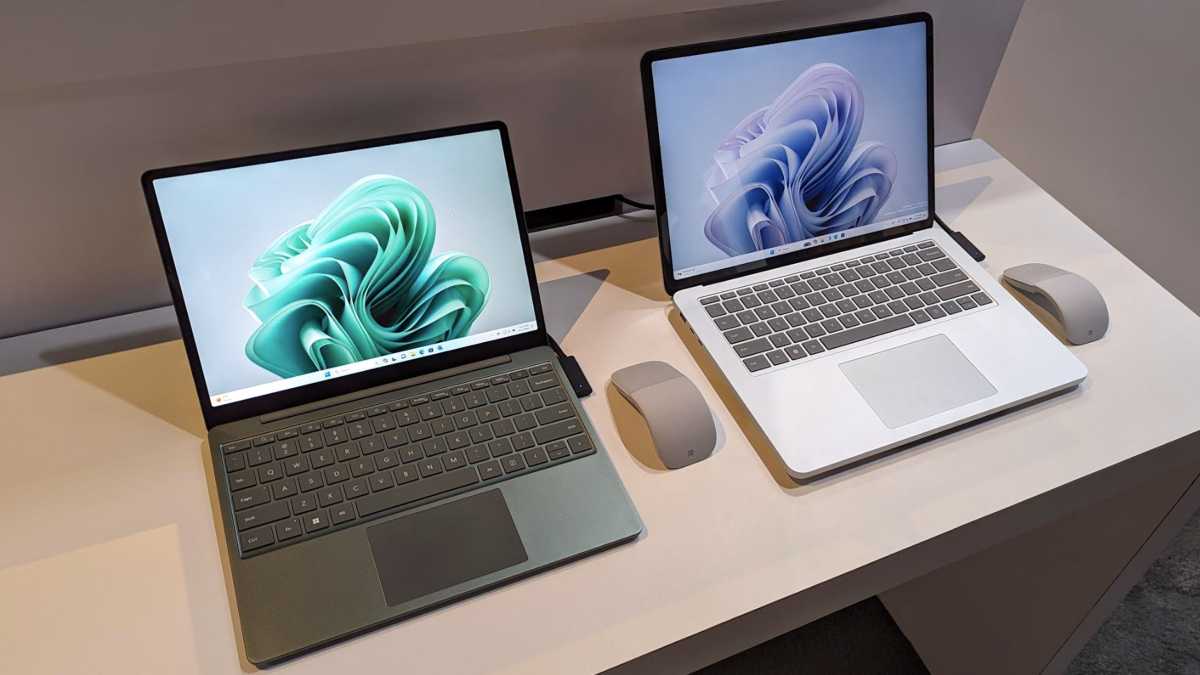 Michael Crider/Foundry
I get the impression that while the new more powerful CPU and GPU will be appreciated, the extra ports will help sell the Studio 2 as a real creator machine. Someone carrying around the ultimate in creator-focused hardware probably doesn't want to carry a dongle or USB-C hub as if it was a teeny-tiny ultraportable (or indeed, a Surface Laptop Go). The Studio Laptop 2 will start at $2,000 for the base model, packing 16GB of RAM, 512GB of storage, and integrated Intel Xe graphics. The most fully loaded model will hit your wallet hard at $3,700.