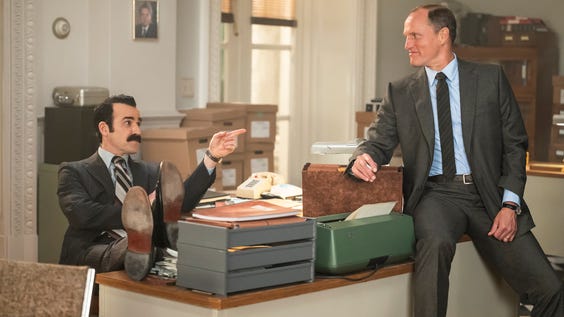 HBO's NEWEST limited series is a reimagining of the Watergate scandal from the perspective of two of Nixon's most trusted men. Starring Woody Harrelson and Justin Theroux, the show follows E. Howard Hunt and G. Gordon Liddy. The two men were part of the White House Special Investigation Unit (nicknamed the White House Plumbers, among other names) and tasked with either stopping or managing leaks of classified information. While at first glance that may all seem above board, in practice the job looked more like breaking into people's offices and rooting through their papers. And, of course, the White House Plumbers' most famous act was the Watergate Scandal.
Kiernan Shipka, Domhnall Gleeson, Lena Headey also star in the show, which will run for five episodes. The miniseries is based on a 2007 book called Integrity, which details the team's history, starting when Nixon launched it in 1971. Rather than a cut and dry reenactment, the show is described as a satirical drama by HBO and looks like it'll bring viewers a few laughs as they watch Nixon's staff bungle the sitting president's chance at re-election.
Despite its short number of episodes, White House Plumbers has a lot of history to work with. The Pentagon Papers, Watergate, and of course the aftermath of those historical events.
So in case you're looking for a short television show to start, or maybe a weekend binge for when it's all available to stream, here's the official release schedule for White House Plumbers.
When is White House Plumbers premiering?
White House Plumbers premieres on HBO on May 1, 2023 at 9 p.m. At the same time, the show will be available on HBO Max (which will soon become simply 'Max') to stream.
How many episodes is White House Plumbers?
White House Plumbers will have five episodes.
When is the next episode of White House Plumbers?
The second episode will air on May 8, 2023 at 9 p.m. and be available to stream on HBOMax at the same time.
Official Release Schedule

Episode 1: Streaming as of May 1, 2023
Episode 2: Premieres on May 8, 2023
Episode 3: Premieres on May 15, 2023
Episode 4: Premieres on May 22, 2023
Episode 5: Premieres on May 29, 2023

Milan Polk is an Editorial Assistant for Men's Health who specializes in entertainment and lifestyle reporting, and has worked for New York Magazine's Vulture and Chicago Tribune.