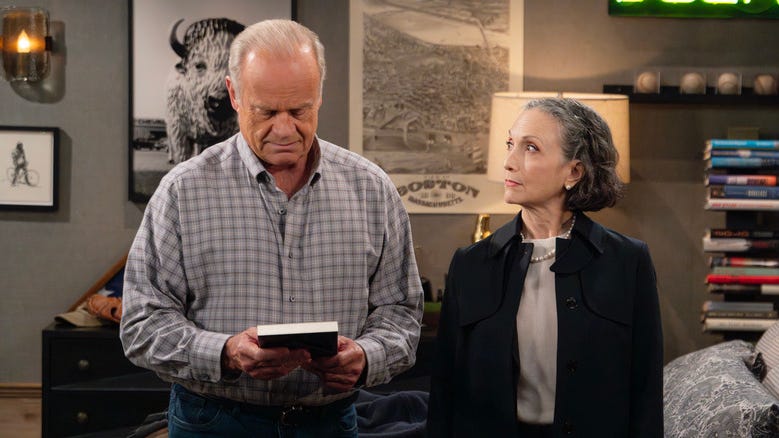 The Frasier revival on Paramount+ has not exactly been the triumphant return to form that fans were hoping for, with Kelsey Grammer's famous psychiatrist once again starting over in a new city, with a new hangout bar and a whole new cast of friends and colleagues. While the main character himself is still there to anchor this latest series, it quickly became clear that what made the original sitcom really sing—and run for eleven seasons—was its ensemble cast.
When David Hyde Pierce declined to participate in the reboot as Frasier's brother Niles, the opportunity for a lot of that much-loved quickfire snarky dialogue was lost. However, there was still a chance that the long-hyped return of Frasier's ex-wife Lilith would provide some familiar rapid-fire, scathing repartee.
It took until the seventh episode, but we finally got there. Actress Bebe Neuwirth reprised the role of Lilith Crane in "Freddy's Birthday," and as anticipated, the non-stop barbs between Frasier and his on-again, off-again partner finally offered a glimpse of what made these characters so fun to watch way back in Cheers, where they both originated.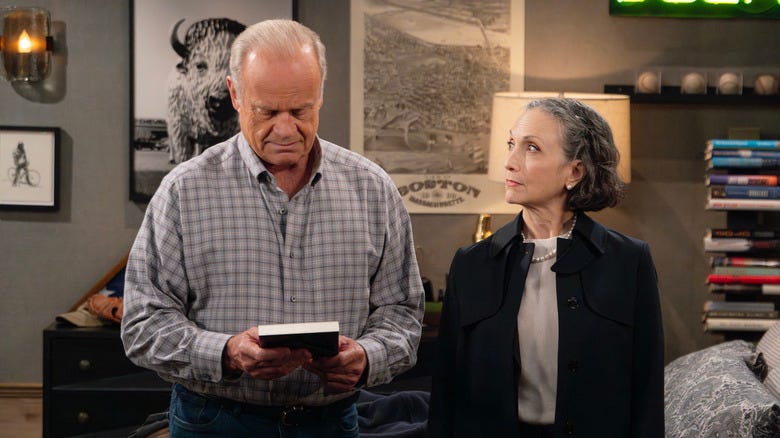 Chris Haston
Sadly, this brief revival-within-a-revival was short-lived and looks set to stay that way.
Over the course of "Freddy's Birthday," it is revealed that Freddy has been keeping Frasier and Lilith apart because his parents can't be in the same room as one another without giving in to their urge to snipe. So even though it is revealed that Lilith has also relocated to Boston, it turns out she's been keeping her distance—and for good reason, because their reunion soon turns into a "who knows our son better" competition, with Lilith bragging about being closer to Freddy and triggering Frasier's own guilt at not being there more.
Despite the pair making up and sharing a surprise kiss near the episode's end, Frasier and Lilith ultimately agree that they're not good for each other, and should stay out of each other's lives for the good of their son.
This does, for the most part, track with what we know of Frasier and Lilith from their original run. While their love-hate relationship lent itself to drama and comedy in equal measure, they were always better at being co-parents than they were at being together. And given that Neuwirth only filmed one appearance as Lilith this season, we can believe the on-screen declaration that she will stay away. Unless a second season gets commissioned, of course. And even if that doesn't happen, we still have the return of Peri Gilpin's Roz to look forward to.
Philip Ellis is News Editor at Men's Health, covering fitness, pop culture, sex and relationships, and LGBTQ+ issues. His work has appeared in GQ, Teen Vogue, Man Repeller and MTV, and he is the author of Love & Other Scams.
Advertisement – Continue Reading Below
Advertisement – Continue Reading Below