MANY VULVA OWNERS have learned to think of their genitals as unclean or unsightly. Anyone who's internalized these untrue ideas might be surprised to learn that the Sanskrit term for a vulva, "yoni," means "sacred space"—and in tantra, massaging this body part is considered an uplifting act.
"Yoni massage is a spiritual practice meant to deepen the receiver's sense of connection to their body and sexual energy," explains clinical sexologist Sarah Melancon. The giver of a yoni massage touches the vulva and vagina in a variety of ways just to bring pleasure, without the goal of orgasm, which can help the receiver "reshape and deepen their sense of embodiment and view their sexuality as sacred."
People may engage in yoni massage in order to relax without the pressure to please a partner, to heal from trauma by receiving pleasure on their own terms in a safe space, and to enjoy external stimulation without the pressure to take part in penetration, Melancon says.
Additional benefits to yoni massage include "fostering connection and passion, building sexual confidence, cultivating sexual mindfulness, and a positive relationship with the body," adds Dr. Tara Suwinyattichaiporn, sexologist and professor at California State University Fullerton. Someone can receive a yoni massage from a partner or give themselves one.
Here are some steps to take in order to give a great yoni massage:
1. Have a conversation
Just as you would before any new sexual activity, discuss what both people's desires are for the experience as well as whether anyone has any specific boundaries. "If a partner has pain or a trauma history, discuss any off-limits areas or types of touch," Melancon advises.
2. Set the scene
In order to create a romantic and relaxing atmosphere, take a moment to set the mood for both parties. "Make sure you're in a comfortable and quiet setting," Suwinyattichaiporn says. "You could play relaxing music. Cozy pillows, candles, and some fresh flowers might make you feel more relaxed."
It's also a good idea to have some body-safe massage oil and lube on hand. And one more thing: You'll want to make sure your nails are trimmed to minimize the chances of scratching your partner, Melancon says.
3. Prepare
Suwinyattichaiporn recommends that both partners meditate for five minutes beforehand in order to become fully present. "The receiver may enjoy breathing exercises, yoga, or dancing beforehand to get in touch with their body," Melancon adds. "This can be done with the partner or in private."
4. Massage the whole body
Instead of going straight to the genitals, help your partner relax and get into the moment with a full-body massage. Suwinyattichaiporn recommends starting at the top of the body and working your way down. "Begin with massage or light touch of non-sexual areas of the body," Melancon suggests. "Stroke, knead, or use gentle pressure and be responsive to the receiving partner's body language." As the massage continues, you can start moving closer to the genitals by massaging the hips and inner thighs.
5. Massage the external vulva
Once your partner is warmed up, you can begin massaging the vulva. (For those who don't know, the vulva is the external genitalia, including the clitoris and labia). Suwinyattichaiporn suggests experimenting with different kinds of touch, such as rubbing the clitoris in circles, kneading the pubic area, gently tugging the labia, or running your fingers up and down the whole vulva. "Sex toys can be used to enhance yoni massage if desired," Melancon adds. "Just try to use toys as tools to support the massage rather than falling into your [partner's] typical masturbation routine."
Even if your partner tends to orgasm through this kind of touch, let go of that goal just for this activity. "If orgasm comes, great, but if not, that's fine, too," Melancon says. "When it comes to yoni massage, we have the experience we're meant to have at any given point in time." Rather than use orgasm as a way to determine when it's over, ask your partner when they are ready to wrap up. "A yoni massage can last as long or as short as desired," says Melancon. "Always follow the lead of the receiver."
Suwinyattichaiporn recommends that the receiver let out moans and other sounds whenever they feel like it: "It can feel quite liberating."
6. Massage the vagina
Ask the receiver for permission before massaging inside the vagina—you want to make sure they are aroused and lubricated so that penetration is optimally comfortable. If they desire, you can stimulate the G-spot—the sensitive area on the upper wall of the vagina, a couple inches in—and the vaginal walls, Melancon says. If you'd like to use a toy to enhance this part of the process, she recommends the Njoy Pure Wand Double Ended Stainless Steel Dildo or the IntimateRose Pelvic Wand.
njoy Njoy Pure G Spot Metal Wand 7.5 Inch Polished Steel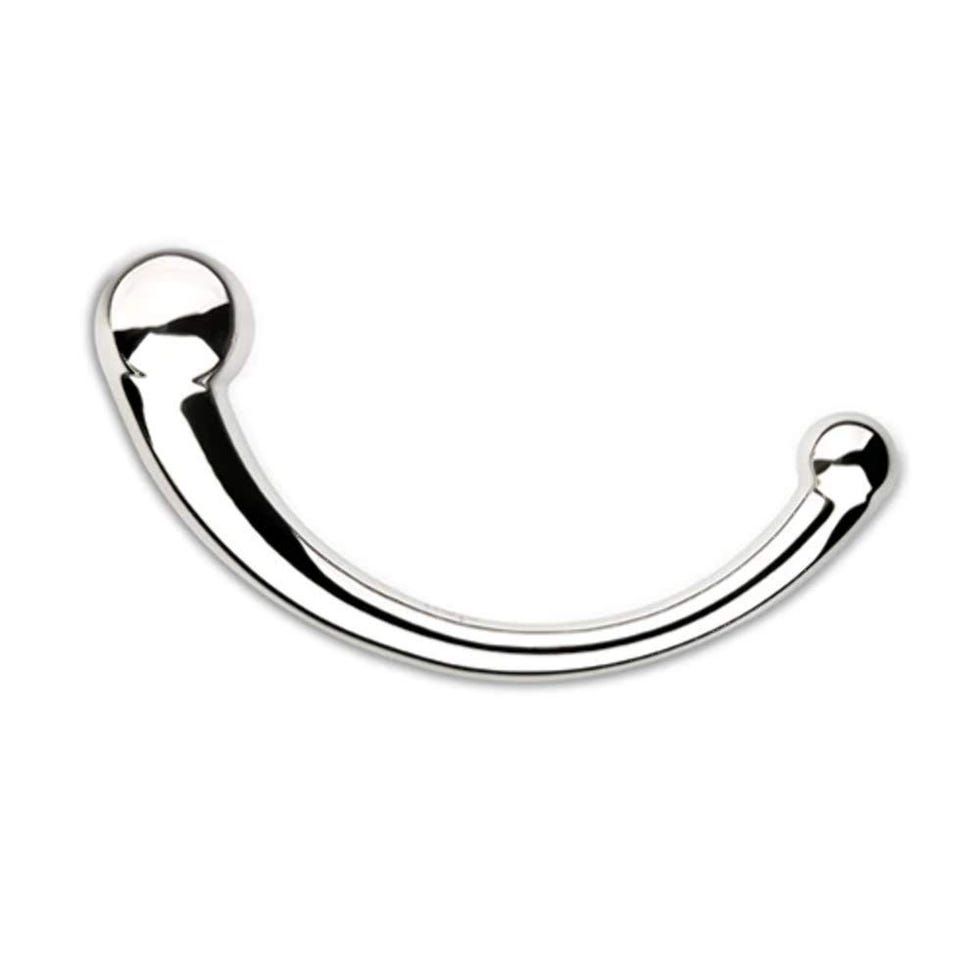 njoy Njoy Pure G Spot Metal Wand 7.5 Inch Polished Steel
Credit: Njoy
"Don't rush the massage," Suwinyattichaiporn adds. "Give verbal feedback. Stay open-minded and non-judgmental in this whole process. It's different and it can be lots of fun!"
7. Make space for any feelings that come up
Because a yoni massage can bring up different emotions, it's important to be non-judgmental and let your partner express themselves. "Our body stores emotion," Melancon explains. "Crying, shaking, twitching, and spontaneous body movements are normal when painful emotions are released. Encourage your partner not to suppress these reactions even if it feels strange—allow your partner's body to do what it needs."
8. Provide aftercare
Because yoni massage can be a physically and emotionally intense experience, your partner may want to do something to wind down. This is sometimes known as aftercare. "After the receiver is done, provide aftercare by sitting or cuddling with them, offering food or drink, and listening to any thoughts or feelings they'd like to share," Melancon suggests.
How to talk to your partner about yoni massage
If you're interested in exploring yoni massage with a partner, Melancon recommends telling them you saw this article and asking if they've heard of the practice. "Bringing up the topic in general can help ease you and your partner into the conversation," she says. "Share with your partner why you are interested in yoni massage, and ask their opinion as well. When we understand where our partner is coming from, it makes communicating about sexual topics easier."

Jordyn Taylor is the Executive Digital Editor at Men's Health. She is the co-author of 'Best. Sex. Ever.: 200 Frank, Funny & Friendly Answers About Getting It On,' and an adjunct professor at New York University's Arthur L. Carter Journalism Institute. She's covered sex, relationships, health, wellness, and LGBTQ+ issues since 2013, and has previously worked as a reporter and editor at Mic and the New York Observer.