Whether you love spending time on Facebook or merely do so out of obligation, there are lots of ways to make the experience more tolerable.
I've been spending a bit more time on the site lately, having been roped into a handful of Facebook Groups that I need to keep tabs on. As such, I've also dug into Facebook's labyrinthine settings menu, looking for ways to protect privacy, lock down profile access, and generally make the site feel less obnoxious.
Below are the 11 quick changes that I ended up making, and that I recommend for anyone who spends time on Facebook as well:
Finding Facebook settings
Most of the tweaks below reside inside Facebook's main settings menu, so here's a quick refresher on how to get there:
In the mobile app: Tap the "More" tab, then tap the gear icon at the top of the screen.
On the web: Click the down arrow in the top-right corner, then select Settings & privacy > Settings.
I'll just refer to these menus as "Facebook Settings" from here on.
Eliminate annoyances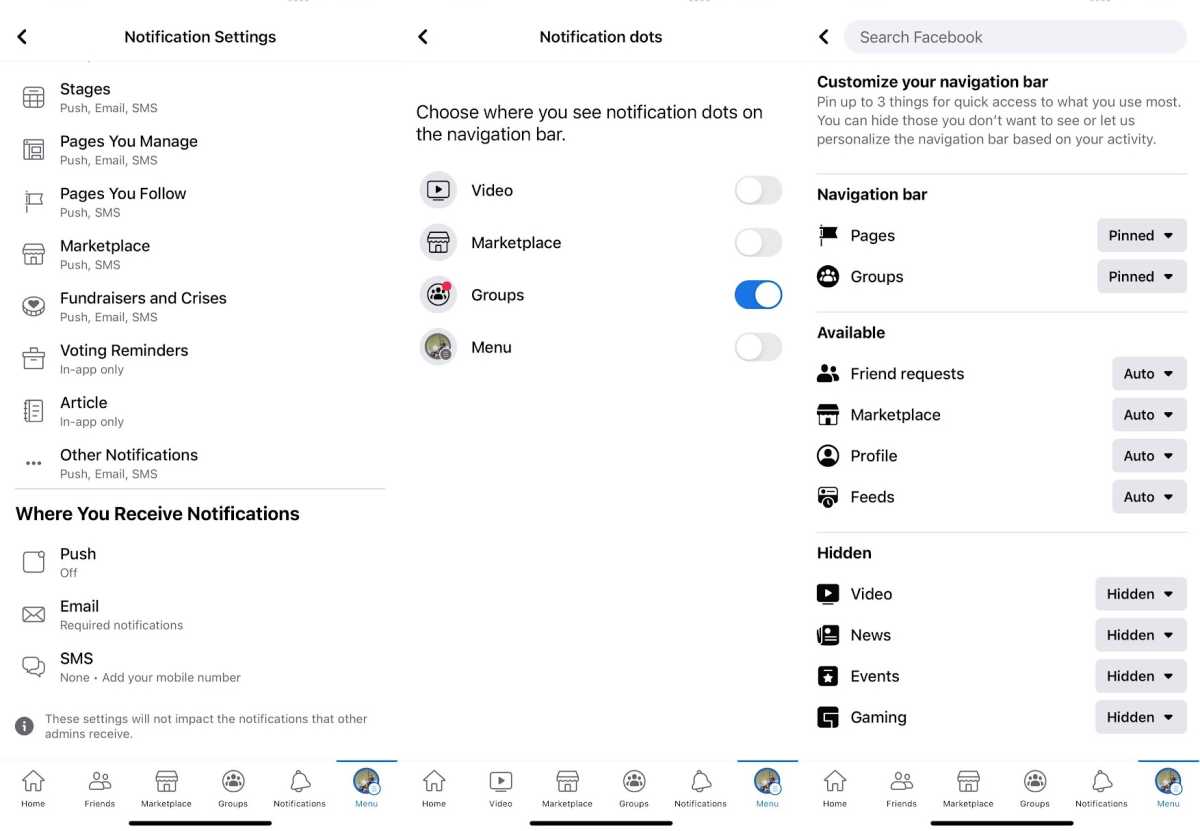 Jared Newman / Foundry
Turn off external notifications: Head to Facebook Settings > Notifications, and you'll find a list of controls so granular that I can only assume Facebook wants to scare people away.
I'd suggest scrolling right past those settings to the "Where you'll receive notifications" section. For both the Email and SMS options, select "Required notifications," and you won't get any texts or emails about status updates, comments, and the like. Then, you can scroll back up and play with the options for in-app notifications (though I prefer to disable all those alerts in my phone's settings menu).
No more video nags: In a shameless attempt to juice its viewership numbers, Facebook puts a little dot above its video tab even when it has nothing important to share. To hide the dot, head to Settings > Navigation bar > Manage notification dots, then uncheck "Videos."
Customize the menu bar: Alternatively, you can hide videos and other unwanted tabs by heading to Facebook Settings > Shortcuts > Navigation bar in the mobile app. Select "Pin" for the sections you care about and "Hide" for the ones you don't.
Disable autoplay: To further reduce video-related annoyances, turn off autoplay by heading to Facebook Settings > Media, then selecting "Never Autoplay Videos." On the web, head to Settings > Videos, then change "Auto-Play Videos" to "Off."
Protect your privacy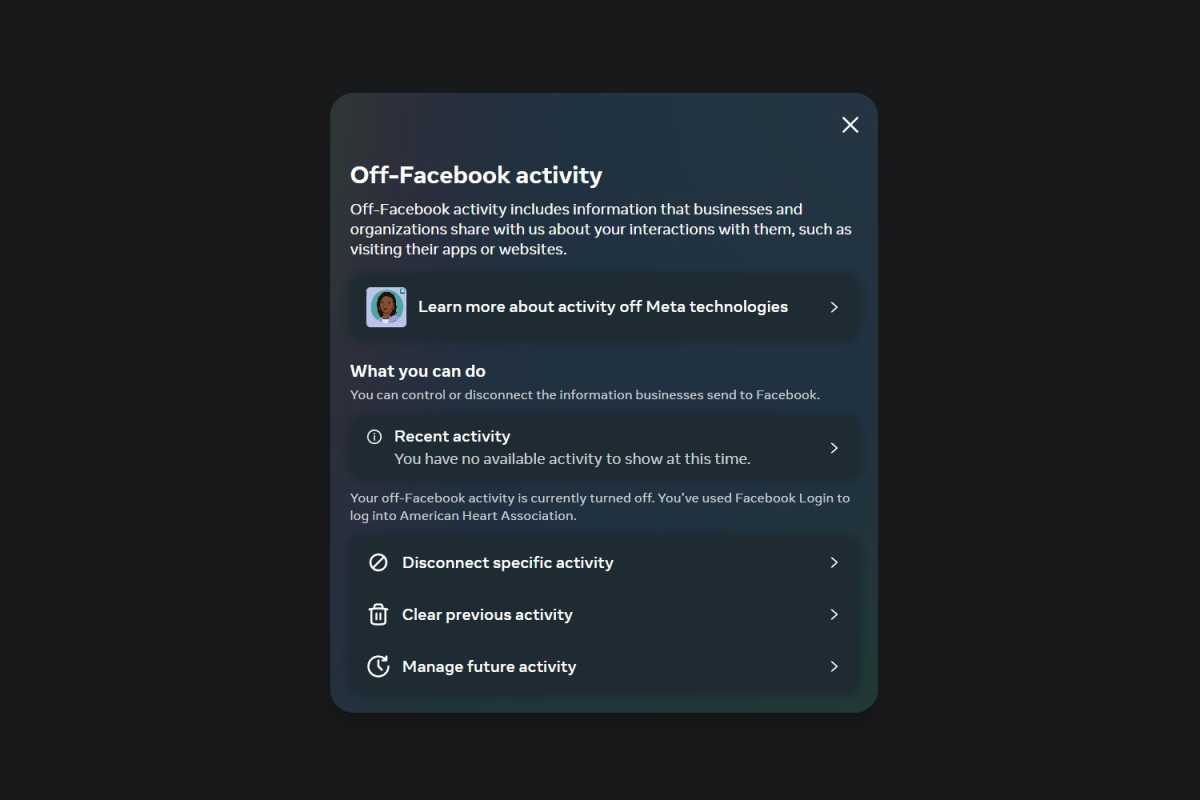 Jared Newman / Foundry
Stop creepy data collection: By default, Facebook collects all sorts of data from the apps you use, websites you visit, and businesses you patronize, all for ad-targeting purposes. If you've ever felt like Facebook is recording your real life conversations, this widespread tracking is probably why.
To stop it, head to the "Off-Facebook Activity" page (in the mobile app, you'll find this under Facebook Settings > Off-Facebook activity), then, follow these two steps:
Select "Clear History" or "Clear Previous Activity."
Select "Disconnect future activity," then make sure "Future Off-Facebook Activity" is unchecked.
You will be logged out of any websites where you use the "Sign in with Facebook" option, but I'd suggest using other sign-in methods anyway to further minimize what Facebook knows about you.
Disable autofill: If you tap on a web link in the Facebook mobile app, it can collect any form data you enter—such as emails or addresses—for targeted ads. To disable this, head to Facebook Settings > Browser, then hit "Clear" at the top and uncheck the "Autofill" toggles underneath.
Delete your phone number: Facebook can use your phone number for targeted ads even if you only provided it for account security purposes. Assuming you've set up a different two-factor authentication method, consider deleting your number from Facebook by heading to Facebook Settings > Accounts Center > Personal Details > Contact Info. Select your number, then hit "Delete number."
Control who sees what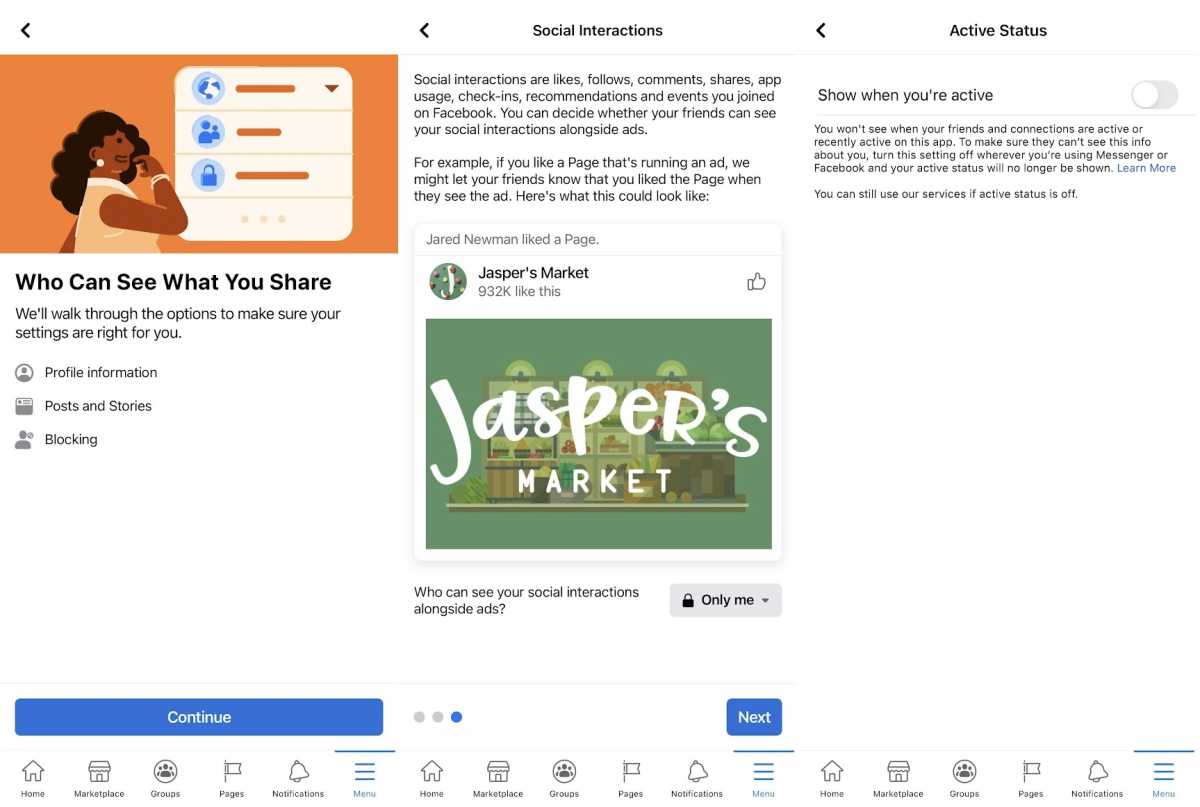 Jared Newman / Foundry
Restrict your posts: Want to prevent certain connections from seeing some of your posts? Here's my preferred method:
On Facebook's website, go to your Friends list, select "Custom Lists," then "Create List." Give it a name, like "Work Colleagues" or "Barely Know."
Click the "Add Friends" button, then choose who you want to exclude.
When posting, click the drop-down menu under your name, then select "Friends except…" Select your newly-created created list, and hit "Save Changes." All future posts will now be hidden from people on that list unless you change this setting later.
Clean up old posts: In Facebook Settings, hit "Privacy Checkup" at the top, then select "Who Can See What You Share." From here you can control who has access to your profile info and future posts, but you can also restrict old posts to just your friends with the "Limit past posts" function.
Don't do free marketing: To prevent friends from seeing that you've "liked" a brand in Facebook ads, head back to the "Privacy Checkup" section and select "Your ad preferences on Facebook." On the last page of this section, choose "Only me" from the drop-down.
Hide your status: To stop friends from seeing when you're active on Facebook, open the mobile app and head to Settings > Active status, then uncheck "Show when you're active." (On the web, you'll find this option by clicking the Messenger icon, selecting the "…" button, and clicking "Active Status." Just note when this is disabled, you won't be able to see friends' statuses either.
While these settings tweaks won't make Facebook drastically more enjoyable to use, they do at least make it feel somewhat calmer and less privacy-invasive.
This story first appeared in Advisorator, Jared's weekly tech advice newsletter. Sign up to get new tips every Tuesday.
Jared Newman has been helping folks make sense of technology for over a decade, writing for PCWorld, TechHive, and elsewhere. He also publishes two newsletters, Advisorator for straightforward tech advice and Cord Cutter Weekly for saving money on TV service.