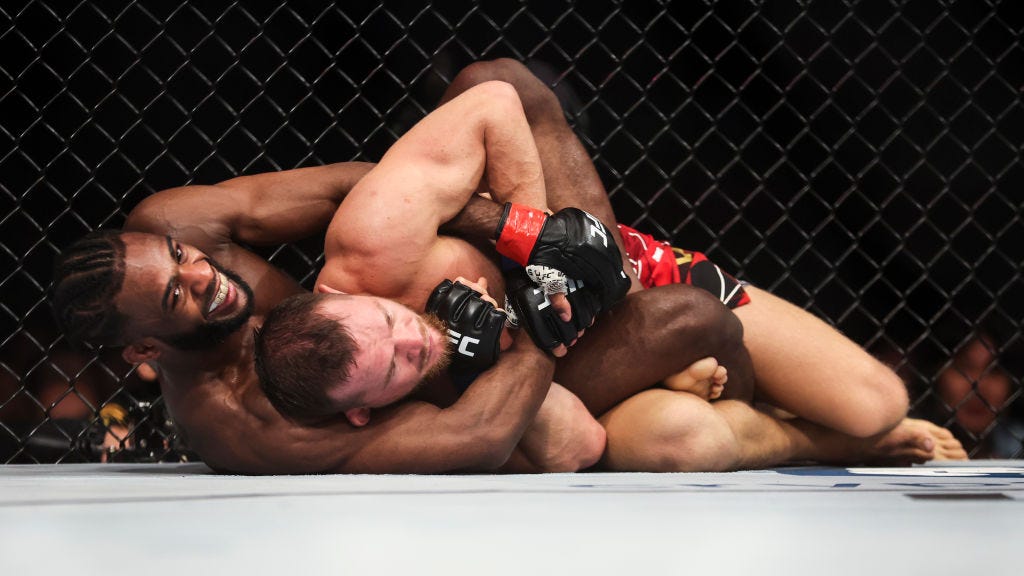 THE LIGHTS ABOVE me seemed to blur, and my lungs burned as I tried to gasp for air. I couldn't move beyond flailing impotently with my arms, working with my hands to try to pry myself free. I was struggling, caught in a vicious hold by a UFC champion—and he wasn't even trying very hard to keep me down. Bantamweight belt-holder Aljamain Sterling held me tight in his rear naked choke, one of his favorite finishing moves once he's gained the upper hand in the Octagon. All I could do was tap, and hope he let up before my lungs gave out.
I was never in any real danger of being choked out, of course. Sterling was giving me a valuable grappling lesson at CULTR Fight Club in Hoboken, New Jersey, ahead of his title defense fight against former two-division champ Henry Cejudo at UFC 288. The event will take place at Newark, New Jersey's Prudential Center—not far from Sterling's home turf in Uniondale, New York.
Sterling is one of the best grapplers in the UFC, currently ranked sixth in the promotion's pound-for-pound rankings. He's a black belt in BJJ, but has gained popularity among fight fans for his own unique style of wrestling, which he calls "funk-jitsu," making Sterling the Funk Master. He hasn't lost a fight in over five years and has eight submission victories to his name. Since taking the Bantamweight title in 2021, he's defended it successfully twice.
Before taking to the Octagon for his third title defense, however, Sterling taught me that devastating rear naked choke. I don't have a ton of grappling experience, so I was nervous—but there are few better teachers than the Funk Master.
Aljamain Sterling's Rear Naked Choke
The Drill – Foam Roll Choke Drill
Sterling taught me how to apply a choke hold, which is much more technical than just catching someone in the crook of your arm and cranking away at their windpipe. To learn the movement, we used a foam roller, which allows for maximum squeeze without putting anyone at risk of injury.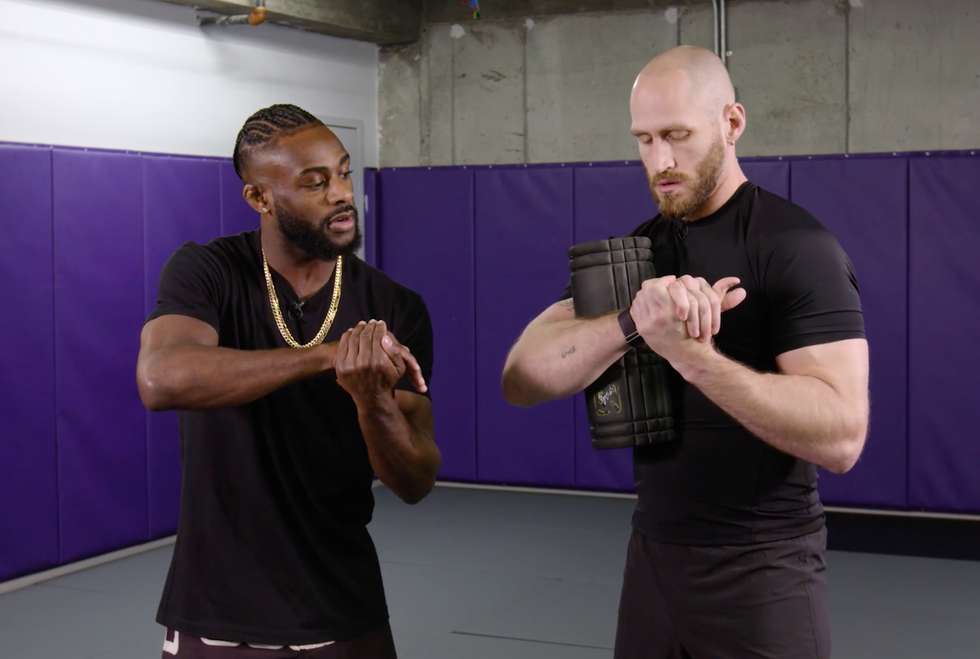 Holding the choke was much tougher on my muscles than you'd expect—the isometric challenge is a great way for fighters to hone their submission power, especially since opponents in the Octagon will be applying all of their force to try to escape the hold.
The Skill – Taking the Back
Next, I needed to learn how to get into position to actually apply the rear naked choke. For this, Sterling had to teach me how to grapple with my opponent to force them down onto the mat and "take their back," MMA-talk for gaining control of their body on the mat. Sterling showed me his favorite method for the takedown to back control, which used the cage (in this case, the mats on the wall) to back the opponent up before jumping on their back and bringing them down to the mat.
Once I was down, he put me in the choke. Even though he wasn't trying to submit me, I could feel the immense power he had at his disposal with just a brief squeeze.
The Challenge – RNC Conditioning
I wasn't yet skilled enough to attempt the full takedown on an opponent, but I could create a fight-like scenario by applying the choking skill I learned on some fitness tools that wouldn't hit me back. Sterling upped the ante by crafting a challenge that happens to be one of his tough training camp conditioning circuits. I had to complete three rounds of the circuit—complete with burpees and pushups to simulate the up-and-down nature of a fight—in under three minutes or face a brutal air bike punishment.
The Funk Master RNC Conditioning Challenge
3 rounds in under 3 minutes
30 second isometric choke
5 burpees
5 pushups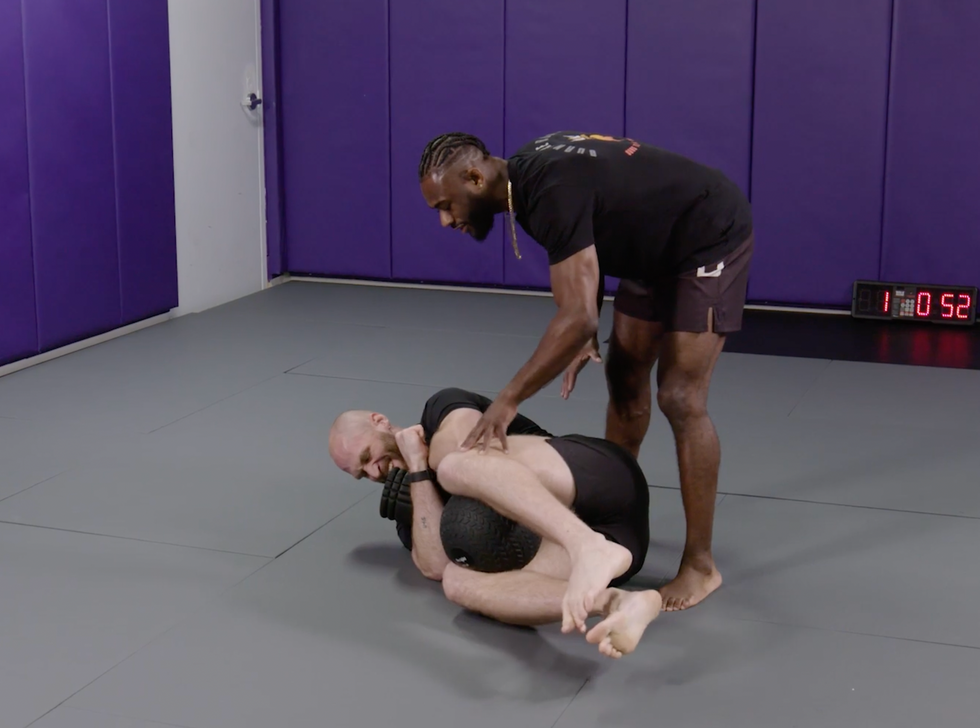 While the first part of the challenge might not look hard, the isometric squeeze gave me more trouble than finishing the burpees and pushups. I could feel it in my whole body. Thankfully, I managed to beat the clock.
That circuit was just a small taste of what Sterling will face when he looks to defend his Bantamweight title. I know that if he's able to take his opponent's back, however, that rear naked choke could be the X-factor to keep the belt in the Funk Master's corner.

Brett Williams, a fitness editor at Men's Health, is a NASM-CPT certified trainer and former pro football player and tech reporter who splits his workout time between strength and conditioning training, martial arts, and running. You can find his work elsewhere at Mashable, Thrillist, and other outlets.