This past weekend, Hamburg in Germany hosted the World Triathlon Sprint and Relay Championships in the city which has been a key part of triathlon's European heritage for more than two decades now.
Highlights on an Elite level included the WCTS victories of Hayden Wilde and Cassandre Beaugrand, while there was plenty for the vocal home crowds to cheer when Germany earned the Mixed Team Relay World Championship title.
Alongside those Elite races, Hamburg also hosted the Age-Group Sprint Distance World Championships, and that is the primary focus of this opinion piece. Should Ex-Pro athletes / Olympians be racing?
Popular Stories Right now
Hamburg success
Before getting to the main course, some positive takeaways from the event itself. Over the years, the whole Age-Group (Europe Triathlon / World Triathlon) Championship racing scene has taken some criticism at times. It's not for everyone – and that's fine – but there have been many global championships where the overall entry numbers and/or the spread of nations has been disappointing. In a post-COVID world when numbers in races generally have fallen, that feels like it would be a difficult trend to reverse.
It's difficult to point any of those accusations the way of Hamburg, however.
More than 1,600 athletes started the Age-Group Sprint distance races. While Great Britain, as is often the case, had the largest contingent (302), that was still significantly less than 20% of the field. 35 different nations were represented, and you had to go all the way up to the Female 75-79 category, before finding an event that didn't have at least 20 starters.
A standout example to me, is that the Men 75-79 saw 36 entries, represented by nine different nations. That's seriously impressive – and it was very competitive too!
Deep fields with broad international and continental representation creates competition and brings additional value and prestige to World Championship status. Kudos to the many people that I know personally that have been working behind the scenes, for many years, within Europe Triathlon and World Triathlon, to broaden the interest and activation of international competition among the global federations. It's not something that can be changed overnight.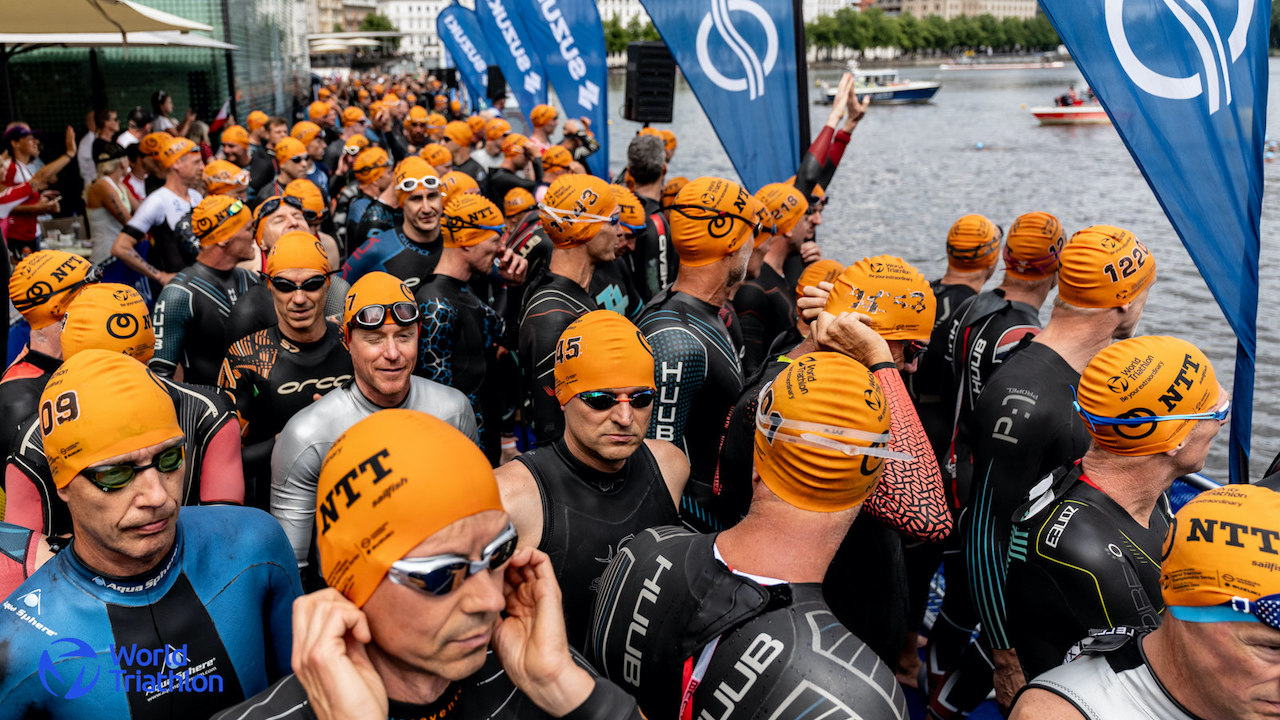 Time and passion
One of the great aspects of triathlon is that it can be competitive at any age. Sure, the passage of time dents performance and speed as it does in pretty much every sport, but the Age-Group concept provides a route to be competitive on your own (age) level.
In terms of retaining athletes, that's an important aspect. The three-sport element of triathlon does provide a training challenge for athletes of any age, but having two very low-impact disciplines certainly means that the average time out with injuries is significantly lower than, for example, the ageing 'run only' marathon runner. Especially as Father Time catches up with us.
Just because you get slower, it doesn't mean that you have stop enjoying what you do. Chances are, at some point in your own individual triathlon journey, you've had periods when it took higher priority than others. Education, career, families, finances and interests change over the years – but, should you choose, there's always a level at which to get your swim-bike-run fix.
About those Pro athletes
That life cycle applies whatever level you reach in the sport. A select few will race as professional athletes, a subset of those may get to represent their nation at championship level and the best-of-the-best may even reach the Olympic Games, or podiums at European or World Championships.
But that was a destination. In almost every case, they will have started with a local club or event and developed a passion for the sport, long before realising they might be 'good' at it, or potentially be in a position to make it a career option for a period in their lives.
While the likes of Cameron Brown and Dede Griesbauer have pushed the limits of how long a Pro career can last, typically most Elite athletes are calling time on their career before 40 arrives. That doesn't have to mean that their sporting desires evaporate completely.
Why the (few) haters then?
And it is with that background, post World Championship week in Hamburg, that I find myself confused by some of the feedback – albeit from a minority – that having some of these Ex Elite / Pro athletes racing in the Age-Groups, long after their professional days are behind them is unfair and going to make it hard to medal. That somehow it is not right that they are there.
I simply don't get that thought process!
Isn't it an honour to measure yourself against some of the stars of yesteryear – and in many cases, beat them?
Shouldn't a World Championship medal be difficult to win?
Why should an 'Ex Pro' park their motivation and love for the sport, typically many years since their own glory days, to make it easier for the rest of us?
Triathlon is often described as a lifestyle sport. It's a lifestyle that many want to enjoy, irrespective of their background. I believe we should welcome that.
I find it inspiring that Michellie Jones – one of the greatest triathletes of all time – is still motivated to race, decades after claiming eight ITU World Championship medals (two wins), winning the IRONMAN World Championship, XTERRA World Championship, Olympic Games silver and even Guiding Katie Kelly to PT5 (Visually Impaired) gold in Rio.
Michelle Dillon won a third Sprint Distance Championship at the weekend (in the same 50-54 category as Michellie), and is still motivated to perform, despite having had double spinal fusion surgery in 2007, which forced her to retire from a career which saw her become a double Olympian, European Champion and World Duathlon Champion. Sure, she finished sixth at the Athens Olympics in 2004 – but she's still racing with the same life impacts that many will be familiar with: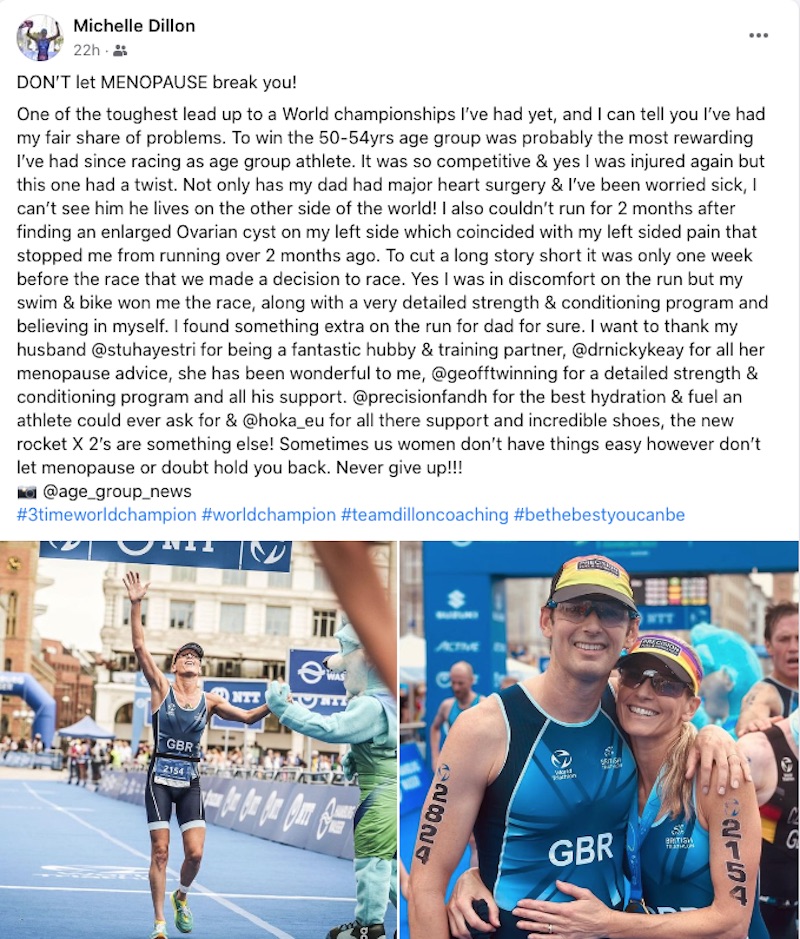 Hamburg put on a great show, and these names – and to them add the likes of Rasmus Henning, Ralf Eggert, Stuart Hayes, Daniel Unger and more – add an extra sprinkle of stardust amongst that 1600+ start list.
While he wasn't in Hamburg, Isn't it brilliant that all-time greats like Rob Barel (NED) are still out there excelling, like they have in recent years?
Surely we should celebrate that these athletes, with nothing to prove to anyone, still love the sport and want to put on the trisuit for some swim-bike-run fun, whether that is towards the front end of the field or, like Daniel Unger, a little further down the rankings – at a venue where he became Elite World Champion 16 years ago.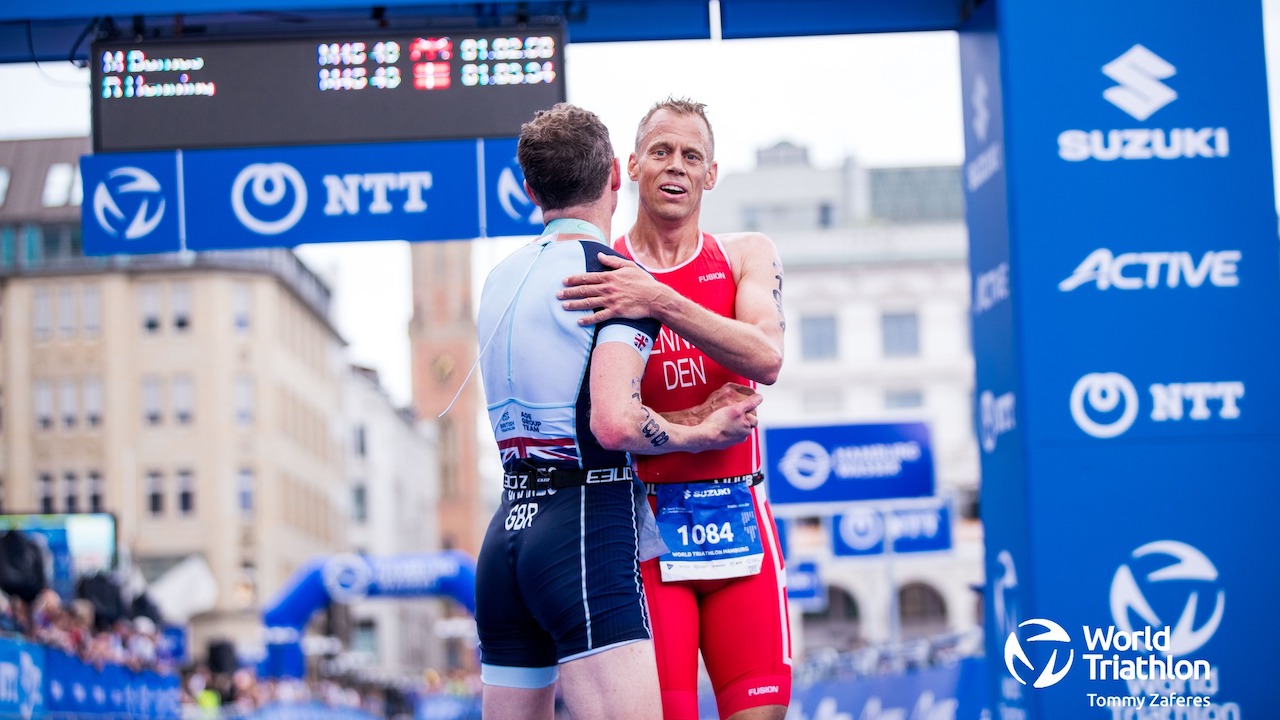 The clincher?
You may have a different view to me of course – and that's the nature of a democracy – but whenever this issue has come up, as it has many times, I always come back to this pretty simple argument which clinches it for me:
If an athlete is caught taking a prohibited substance like EPO, they would receive a four-year ban and could then race again after serving that suspension.
If that's the case, why should there be 'life' ban (from AG racing) because you were once at the top of the Elite ranks of your sport?
That's my bottom line.
So with that, I say to Michelle, Ralf, Rasmus, Daniel, Stuart, Michellie and co., keep up the good work and sharing the passion you have for our sport.