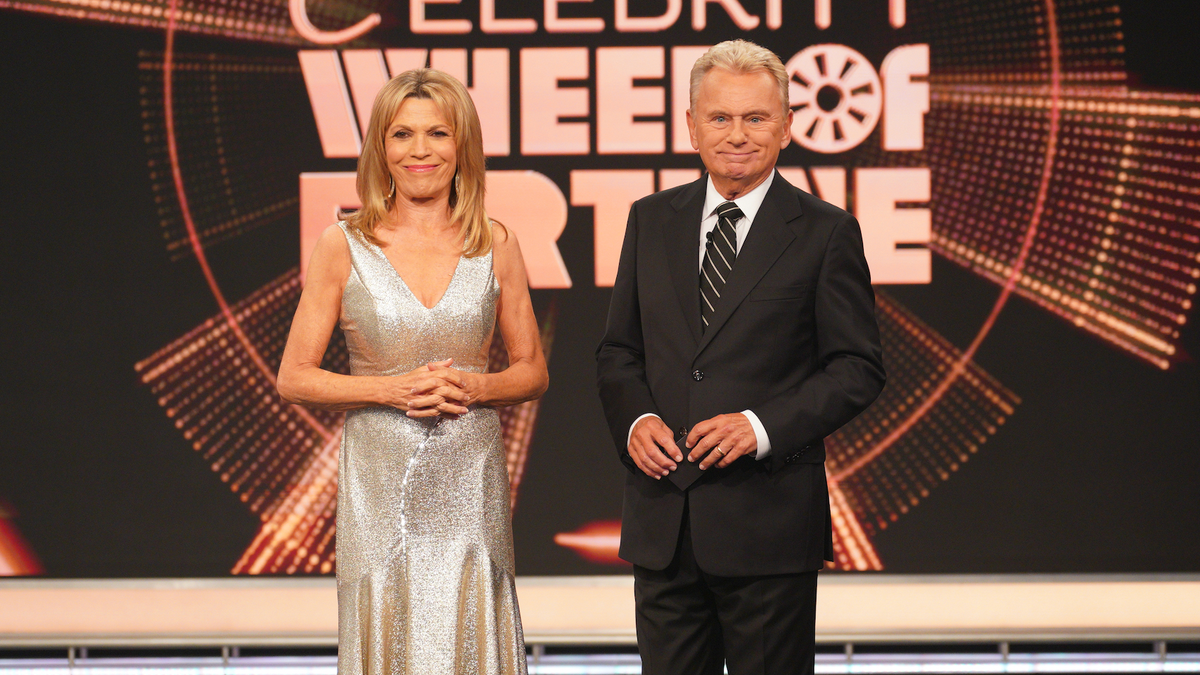 After more than 40 years of turning letters on Wheel of Fortune, Vanna White is taking a break.
Folks tuning in to Celebrity Wheel of Fortune will notice that the game show co-host won't be fulfilling her usual duties. Instead, viewers will get to see a different side of her. In a clip, fans spotted her on the other side of the wheel wearing a more casual outfit. What's more, fellow co-host Pat Sajak welcomed her onto the show while his daughter Maggie stood by the letters. All of this led many to question the same thing: Is Vanna leaving Wheel of Fortune?
As it turns out, she isn't leaving anytime soon, but she is taking a turn on the show as a celebrity contestant for the spin-off's special episode "Ultimate Host Night." In it, Vanna and Pat will go up against Jeopardy! co-stars Ken Jennings and Mayim Bialik to earn big bucks for their chosen charities.
"Does it seem strange to see someone else at your puzzle board?" Pat asked Vanna in the clip. "It does, it does. But Maggie, thank you so much for filling in for me. I know you're going to do a great job," she said.
Longtime viewers may know that both Pat and Vanna have been committed to their roles on the successful game show since they joined in 1975 and 1982, respectively. But this isn't the first time that Vanna and Maggie have worked together.
After filling in for Pat as host in 1996 when he was out with laryngitis, Vanna led the show again in 2019 when he had emergency surgery with Maggie turning the letters then, too. This was two years before Maggie was named the show's social correspondent in 2021.
Unsurprisingly, Wheel of Fortune fans wasted no time celebrating the switch-up. "🤩🤩 I'm literally through the roof excited!!" one person wrote on Vanna's Instagram. "This is going to be EPIC 🔥," another added. "This will be so much FUN!!! I can hardly wait to see this, Vanna the contestant!!!👏👏👏❤️," a different fan said.
While the change will only be for one episode, it'll definitely be one to remember.

Entertainment & News Editor
Selena is the entertainment and news editor for Good Housekeeping, where she covers the latest on TV, movies and celebrities. In addition to writing and editing entertainment news, she also spotlights the Hispanic and Latinx community through her work. She is a graduate of CUNY Hunter College with a B.A. in journalism and creative writing.