Lucy Charles-Barclay says she got "the demons out of her system" as she reflected on her fifth-place finish at the PTO Asian Open last weekend.
The Singapore race was the Brit's first since recovering from a fractured third metatarsal, which she suffered when runner up to Laura Philipp at IRONMAN 70.3 Kraichgau in May.
And in her latest YouTube video, which was released earlier today and is embedded below, she says she can now focus on a solid training block for Kona and her main objective of the season, the IRONMAN World Championship.
'It was a battle'
The PTO Asian Open saw Charles-Barclay in the unaccustomed position of not leading out of the water as she was content to track Sara Perez Sala in the hot and humid conditions.
She led for a while on the bike but would eventually finish fifth after being passed late on by Chelsea Sodaro and Imogen Simmonds, who were third and fourth respectively behind the one-two of Ashleigh Gentle and Anne Haug.
And LCB admitted she did have some doubts during the race, saying: "I think in the back of my mind I was questioning, can I feel pain in my foot? Am I doing damage? It was still those demons in my mind.
"And I remember my physio and a few other of the consultants saying when you break a bone in your foot, even when it's fixed afterwards, your brain can be telling you that it's hurting, there's pain there even though there isn't. I think that was one of the main reasons why it was really important for me to do this race – to get rid of those demons.
"It was a battle. I think I really needed to do that race to kind of get the nervousness out of the way. But I feel like I've kind of got that out my system now and we can do a good block for Kona and hopefully I won't have that in my mind there, because I got through a race and everything feels okay at the moment."
'I always want more from myself'
Lucy of course has finished runner-up in the last four editions of the IMWC in Hawaii and feels there's plenty to build on from the Singapore performance.
She explained: "Given the small amount of running that I've had, when I actually look back on my training, I really only had three weeks of running. The first week was just walk / running, and then I was able to do those three weeks of gradually building up that running. And then it was race week.
"But the running I had done, I had felt pretty good. So I did still expect more of myself on that run, but at the end of the day, I gave it everything that I had and had an amazing experience.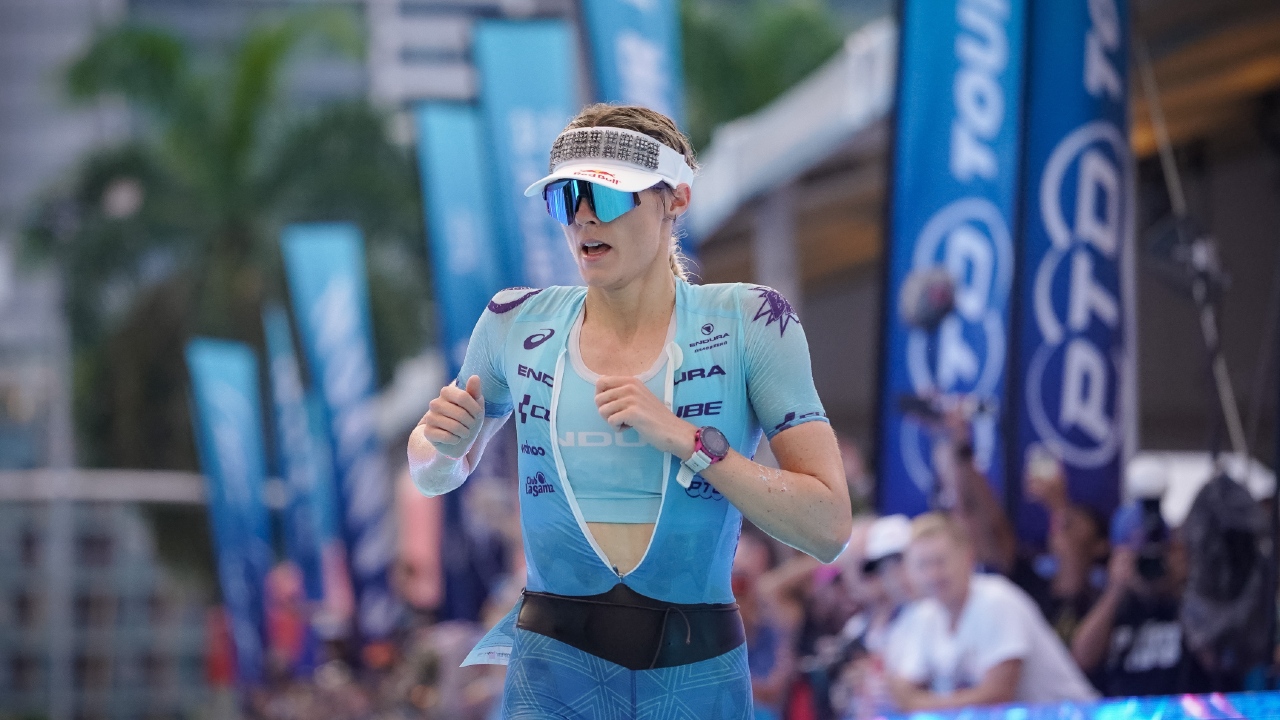 "I think I'm really happy with the result, on reflection. I know that being a top-level athlete, we are super-critical of ourselves. We break down every part of the race, but that's how we improve and progress.
So for me to come away with fifth place in a healthy body, put down a whole race in a hot, humid climate off the back of a really rocky period of three months with my injury, I have to be happy with that.
"But I always want more from myself, and I think that's what makes a successful athlete, and it makes me more motivated to go away, keep working and make sure that the next time I line up, I can put down the performance that my training kind of suggests that I should do.
"So I'm excited to get back to work now, keep working for the next race, and hopefully have a great performance in the next one."