Continuous sound. The Jabra Elite 5 headphones want to convince with strong sound, good endurance, and hybrid active noise cancellation. The telephony should not be neglected and can rely on six microphones. Find out what else the Jabra headphones have to offer in our review.
Daniel Schmidt, 👁 Daniel Schmidt, ✓ Anton Avdyushkin (translated by DeepL / Ninh Duy), Published 🇩🇪 🇸🇪 …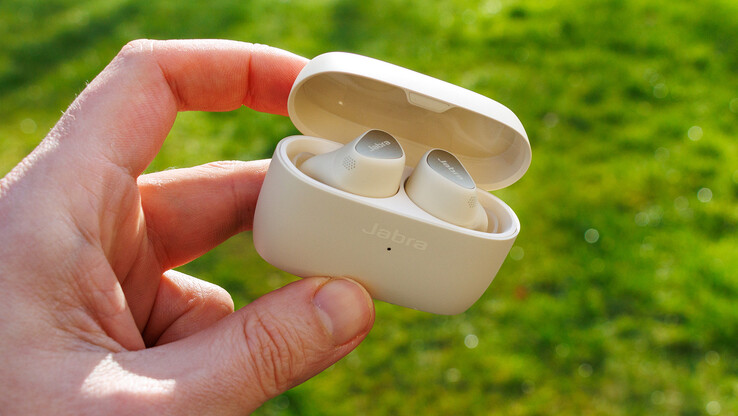 The Jabra Elite 5 headphones have a recommended retail price of around 150 Euros (~$150), but are now available at much lower prices. According to the price range, a lot can be expected and Jabra also delivers, because the True Wireless headset supports the more powerful aptX codec for a potentially better sound output, can reduce ambient noise with ANC, supports voice assistants, is splash-proof and is also supposed to be ideally suited for telephony thanks to six microphones.
| | |
| --- | --- |
| Wearing style | In-ear |
| Connectivity | Bluetooth 5.2 |
| Range | up to 10 meters |
| Speakers | 6 mm drivers, 100 – 8000 Hz (voice mode), 20 – 20000 Hz (music mode) |
| Audio codecs | SBC, AAC, aptX |
| Battery capacity | 70 mAh (earphones), 680 mAh (charging case) |
| Charging port | USB-C |
| Wireless charging | yes |
| Weight | 5 grams (each earphone), 40 grams (charging case) |
| Firmware version | 1.7.2 |
| Scope of delivery | headphones, charging case, USB cable, EarGels |
| Price (RRP) | 150 Euro |
Both the charging case and the earphones of the Jabra Elite 5 are made of matte plastic and are available in black, gold-beige, and titanium-black. Everything looks cleanly manufactured and of high quality. The magnets integrated into the case reliably lock the earphones in their charging sockets. Wireless charging (Qi) is also supported.
The three included attachments of the Jabra Elite 5 allow you to adjust the fit in the ear canal to your own needs. Each earphone should be rotated slightly into the ear canal so that the body of the headphones partially pushes behind the anthelix. This is to ensure the tightest possible fit. We like the wearing comfort of the Elite 5. They do not exert too much pressure but remain noticeable. The fit is very tight, which is why you never feel like you can lose them when you move. 
Setting up the Jabra Elite 5 is easiest with the Google mobile operating system due to the support of Android Fast Pair, since the system directly recognizes the TWS and suggests connecting it. This also works on Windows PCs thanks to Microsoft Swift. A pairing process can also be initiated manually via the integrated buttons to connect the Elite 5 to any computer, tablet, or smartphone. The Jabra headphones can remember up to six devices and connect to two at a time. Likewise, it is possible to use only one earpiece (mono mode) and leave the other in the charging case.
The Jabra Sound+ app allows users to install firmware updates and also has functions like active noise cancellation (ANC), HearThrough, or music equalizer. Spotify Tab is also available as an option.
A wear detection is also on board, which automatically stops media playback when one or both earphones are removed from the ear. Furthermore, calls can be answered automatically as soon as an earbud is inserted. The functions can also be turned on and off separately, so that the wearer detection can only be used for media playback, for example.
Each earbud has a physical button that responds to one to three presses and can be assigned according to the user's needs. Besides media and call control, it is also possible to activate a predefined voice assistant on the connected device via this. Jabra uses the standard voice assistant of the respective device, but it can also be set to Google Assistant or Alexa for Android, the latter is also available as an alternative to Siri under iOS/iPadOS.
For the sound output, the Jabra Elite 5 uses comparatively small drivers with 6 millimeters, which are similar to those of the Elite 4 Active and characterized by low noise. The sound is not particularly voluminous due to the weak low-frequency ranges, but the high tones are quite precise. Android users have an audible advantage in media playback due to the aptX codec, because the low tones, in particular, are a bit flatter again under iOS (AAC).
The voice quality benefits from the treble-heavy sound because voices are recorded very clearly and naturally, provided a call takes place in a fairly quiet environment. The noise suppression quickly reaches its limits in louder offices or even in traffic, so the Jabra user cannot be understood as well.
With HearThrough, the microphones can be used to direct voices from the environment into the ear. Thus, conversations can be held without having to take out the headphones. The button on the left earpiece is factory-set to switch between this mode and ANC, so the feature is quite practical in everyday use and also works well. However, our review sample always sounded a bit hollow and the HearThrough was permanently accompanied by audible noise.
The passive damping of the Jabra Elite 5 is relatively weak and improves noticeably with activated noise cancellation (ANC). Smaller humming or fan noises are completely eliminated, and street noise is at least reduced. However, miracles should not be expected, but the given performance is good for an in-ear headset.
Loudspeakers
THD
Jabra Elite 5

(RMS: -2.9 dBFS)

Huawei FreeBuds 5i

(RMS: -2.4 dBFS)

THD+N
Jabra Elite 5

(RMS: -2.9 dBFS)

Huawei FreeBuds 5i

(RMS: -2.4 dBFS)
* … smaller is better
THD (total harmonic distortion): Harmonic distortion measures the ratio of non-linear distortion (harmonic components) to the original signal. THD only takes the fundamental frequency component into consideration. Distortion factor is often used synonymously with THD, but it is computed in relation to the overall signal.
THD+N (total harmonic distortion + noise): This value is comparable with THD. But it also includes the noise power in the RMS, in addition to the harmonic power.
For the measurement, a low-harmonic sine wave (1 kHz, > 0 dB) is played through the headphones being tested. The resulting audio is measured using a linear microphone (approx. 1 cm away) fitted in a dummy head. 
Both values are given as a percentage. The lower the value, the better the signal fidelity.
Battery Runtime – Spotify loop at 65dB/A (incl ANC)
Samsung Galaxy Buds2 Pro


58 mAh

Jabra Elite 5


70 mAh

Huawei FreeBuds 5i


55 mAh
The Jabra Elite 5 stands out with a wide range of features. These include aptX support, ANC, wireless charging, a well-functioning HearThrough function, long battery runtimes, dual Bluetooth, and decent sound. Features like Android Fast Pair and Microsoft Swift are also on board, which enables quick pairing of the Jabra headphones.
The Jabra Elite 5 offer a very good overall package but weakens a bit in media playback.
The active noise cancellation does a solid job but reaches its limits in loud noise. The Elite 5 earns a big plus in battery runtimes, but the charging speed is not particularly fast. Despite the higher-resolution audio codec, we have to accept compromises in media playback because the speakers are a bit weak in the low tones.
Another advantage of the Jabra headphones is that spare parts are stocked directly by Jabra, so silicone attachments or a lost earpiece can be replaced quickly. If a better IP certification is important to you, you should take a look at the Elite 4 Active. The Huawei FreeBuds 5i, for example, do better in terms of sound.
Transparency
The present review sample was given to the author by the manufacturer free of charge for the purposes of review. There was no third-party influence on this review, nor did the manufacturer receive a copy of this review before publication. There was no obligation to publish this review.
Editor of the original article: Daniel Schmidt – Managing Editor Mobile – 518 articles published on Notebookcheck since 2013
As a child I was fascinated by my Commodore 16, and this sparked my enthusiasm for computers. Using my first modem, I surfed the BTX videotext system and later the World Wide Web. I have always been captivated by the latest technologies, and this is especially true for mobile devices such as smartphones and tablets. I've been part of the Notebookcheck team since 2013 and have also on occasion written for Notebookinfo.de, and I'm looking forward to testing new innovations for our readers. I like to spend my spare time indulging in photography and barbecues and being with my family.
Translator: Ninh Ngoc Duy – Editorial Assistant – 312626 articles published on Notebookcheck since 2008
My main responsibility as an editorial assistant is maintaining the Library section, which aggregates reviews from other publications and channels. In addition, my daily breakfast is Notebookcheck's long list of new content, which I comb through to select the most interesting topics for translation from English to French, Italian, Spanish, Portuguese, and Dutch."
Daniel Schmidt, 2023-06-17 (Update: 2023-06-17)