The lightweight division is all set to witness, possibly, one of its biggest fights yet. Lightweight phenom, Ryan Garcia, is all set to face three-division world champion, Gervonta Davis, in what many say would be, 'The Superbowl of Boxing'. The fight has undoubtedly hyped up both fans and the combat sports community. Meanwhile, the rehydration clause for this fight has given rise to countless debates and contrasting opinions. In fact, podcaster Joe Rogan made it a point to delve into the clause along with UFC superstar, Jorge Masvidal.
Masvidal was recently a guest on the Joe Rogan Experience. In conversation, Rogan mentioned that he wished to see fight promotions do away with weight cuts. And even added that it was extremely taxing on the fighters, which in turn, affected their performance on fight night. Rogan then shed light on Davis' clause. He said, "Gervonta Davis has a clause with Ryan. Where he can't weigh more than a certain amount after the weigh-in. Which is bi*ch a*s."
ADVERTISEMENT
Article continues below this ad
'Gamebred' was also in agreement that the rehydration clause was unnecessary. He mentioned that Davis should not be worried about what Garcia weighs on fight night.
Joe Rogan and Jorge Masvidal open up about Ryan Garcia vs Gervonta Davis
Masvidal further asked Rogan about his thoughts on the matchup in general. In response, Rogan opened up about his admiration for Garcia's skillset. He said, "I mean, I'm a giant Gervonta fan. I think he's super fu*king talented. But, Ryan has that left hook. That left hook is preposterous, that left hook is fast. Like he catches guys in exchanges. You don't even see it land."
Moreover, Rogan was also all praise for Garcia's style, even referring to it as 'unusual'.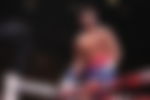 Masvidal, who was in agreement with Rogan's statement, pitched in by saying "And his speed is way above natural. He is up there with the hand speed."
However, he also made it a point to not undermine Davis' skill set. He added, "So is Gervonta. Gervonta in the pocket is a monster. He reminds me of a little Tyson."
ADVERTISEMENT
Article continues below this ad
By comparing Davis to a young Mike Tyson, it looks like Masvidal has high hopes for his performance.
What are your thoughts on Rogan's statements? Let us know in the comments below.
WATCH THIS STORY – Nobody can snatch away those belts from 'The Tank'
ADVERTISEMENT
Article continues below this ad